Instant ramen is a real treat, regardless of your age! There's nothing better than a piping hot bowl of soup with rich chicken, beef, pork, or vegetable broth.
While many think it's only possible to craft this yummy soup on the stovetop, we're here to tell you it's microwaveable!
If you're wondering how to make ramen in the microwave, read on for additional details. Sure, you could add the dried seasoning packet to a bowl with the noodles and boiling water.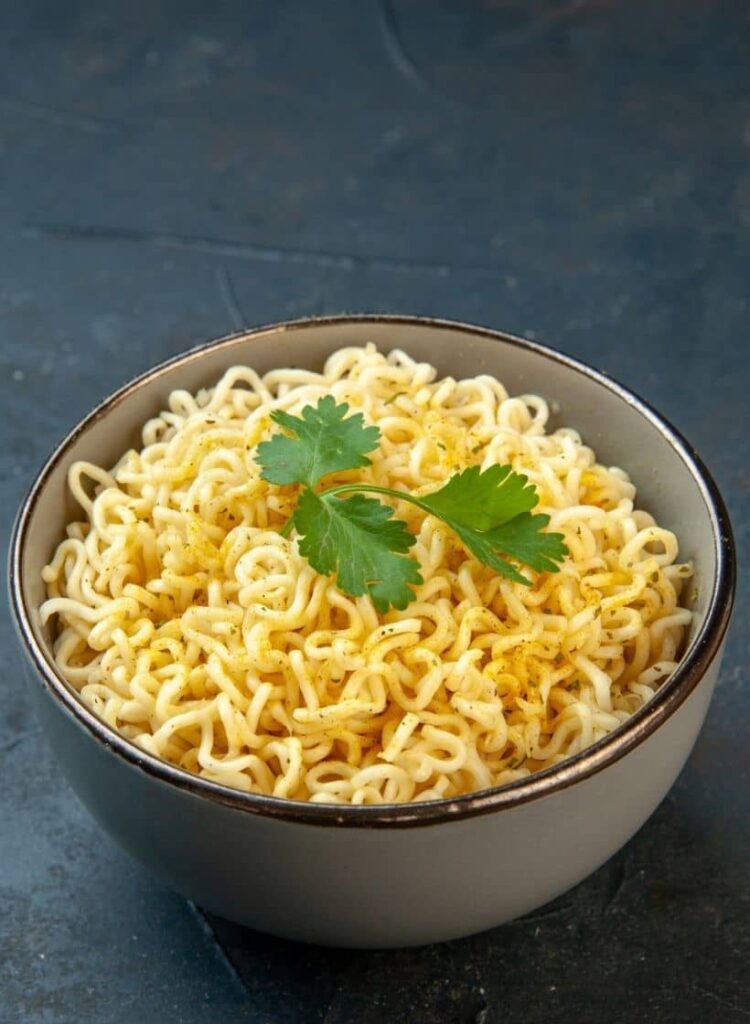 But what happens if you don't have a way to heat water? Perhaps you don't have a stove available, or maybe you don't have a kettle. That's where microwaving comes in handy.
Heating up and cooking this delicious dish in the microwave makes it easy to get around stovetop cooking.
Whether you can't find a clean pan or simply don't feel like waiting for the water to boil, this is an easy method that will have your ramen ready in only a few minutes.
Whether you decide to dress up your ramen with fun toppings or enjoy it plain, this method will make it easier and quicker than boiling it on the stove.
Below, you'll find information on how to microwave ramen and some recipes for inspiration.
Ingredients For Easy Microwave Ramen Recipe:
Luckily ramen only requires a few ingredients – the dried seasoning packet, dried noodles, and two cups of water. These are the only ingredients you need for standard ramen.
Of course, you can add your own touch to the dish by including other toppings, sauces, flavorings, etc. We love adding an egg, pre-cooked seafood, and a dash of soy sauce for a delicious umami flavor.
How To Make Ramen in The Microwave?
Here's the part you've been waiting for – how to make ramen noodles in the microwave.
These delicious noodles can be made with a few easy steps. You'll want to use a large microwave-safe bowl for this cooking method.
Add your water and noodles (broken up if you want smaller pieces) to the bowl and microwave for one minute.
Remove the bowl carefully, stir, and microwave again for another minute. If your noodles are not soft by this point, you can microwave them for up to five minutes.
The final cooking time will vary based on how powerful your microwave is.
Once cooked, allow your bowl of noodles to rest for one minute before adding the seasoning and mixing it well. Voila! You have a tasty snack or meal ready.
Tip: Make sure to add a paper towel, microwave cover, or another plate on top of your bowl while microwaving. This cover ensures the ramen does not splatter the interior of your microwave.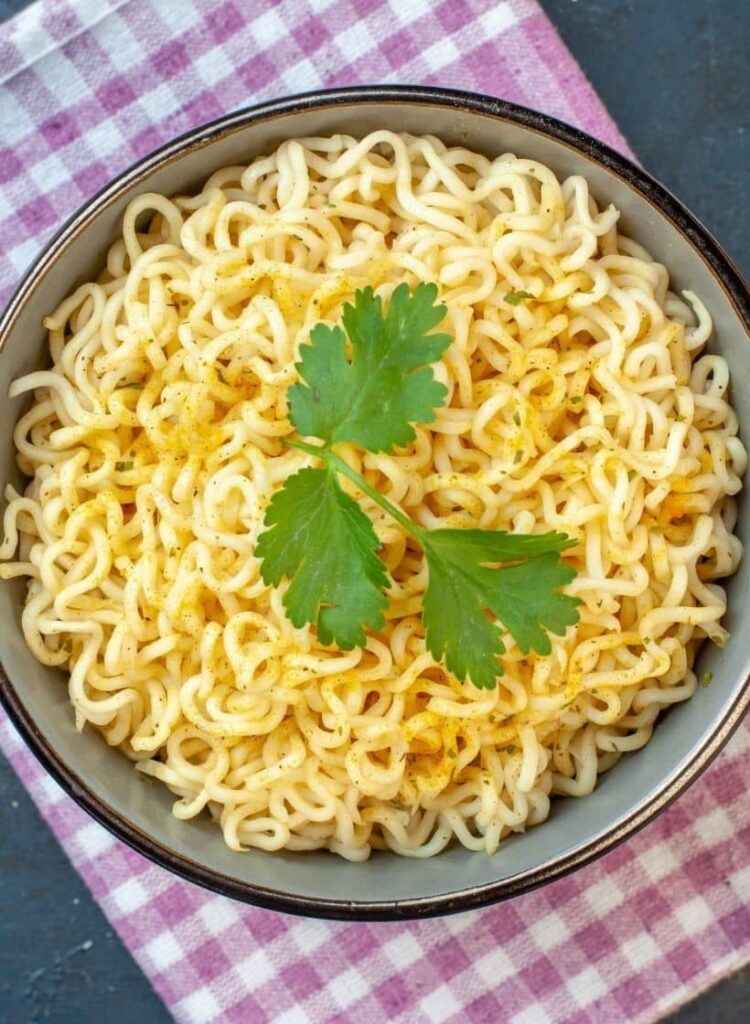 How Long to Microwave Ramen in A Cup?
Cooking ramen noodles in the microwave (in a cup) requires many of the same steps as cooking ramen in a bowl.
The main difference is that you will need to break the ramen noodles into pieces before microwaving them, as they will not fit in the cup otherwise.
Make sure to use a microwave-safe cup like a mug when creating ramen this way. Add your water, break up the noodles, and microwave for 30 seconds at a time.
It's essential to check on your noodles by stirring and seeing if they're soft during this process. Add the seasoning packet last, stir, and it's ready to eat!
Homemade Ramen Seasoning:
Bought dried ramen noodles for a recipe, and now you're craving the delicious flavoring found in the standard ramen packs?
Here's a quick way to make homemade ramen seasoning so you can skip the store and enjoy a delicious bowl of soup at home.
You'll need chicken bouillon powder, garlic powder, onion powder, poultry seasoning, and soy sauce.
Use 1/2 teaspoon of each ingredient, except the soy sauce and chicken bouillon. You'll need one tablespoon of chicken bouillon and one teaspoon of soy sauce.
Add these ingredients directly into your hot ramen water and combine them for a flavorful dish.
If you want a faster solution, you can double, triple, etc., the dry ingredients and mix them beforehand. Then, add the seasoning and soy sauce to each bowl of ramen as needed.
Can I Freeze Ramen?
Surprisingly, you can freeze ramen! Make sure to use a spill-proof container or tightly sealed bag when freezing.
If you've made multiple batches of ramen together, it's best to separate them before freezing.
This way, you can reheat them serving by serving instead of all at once. Not only does this save time, but you'll also be saved from eating a huge quantity of ramen at once.
How To Store?
Ramen is really easy to store; you can add it to the fridge and reheat it as needed.
Make sure to allow your ramen to cool fully before placing it in the refrigerator to prevent bacteria from growing.
You can leave your ramen on the counter for this step, though make sure you do not leave it out for more than two hours.
This can also cause bacteria growth and leave you with an upset stomach or worse.
Keep ramen in the fridge for up to two days; then, it will need to be discarded.
How Do I Reheat Ramen?
Whether you have Maruchan ramen microwave-ready noodles or another brand, you can reheat ramen in a few minutes.
This reheating process also works for ramen that you've ordered from a restaurant (hello, tasty leftovers!).
Add your ramen to a microwave-safe bowl and heat for one minute. If it's still cold in sections, continue heating in 30-second increments. Make sure to cover the bowl when reheating your ramen.
Depending on how long the ramen has sat in your fridge, you may need to add some additional water to it.
Ramen is notorious for drying out quickly, and there's nothing more unappetizing than dry noodles when you're expecting soup.
Check Also How?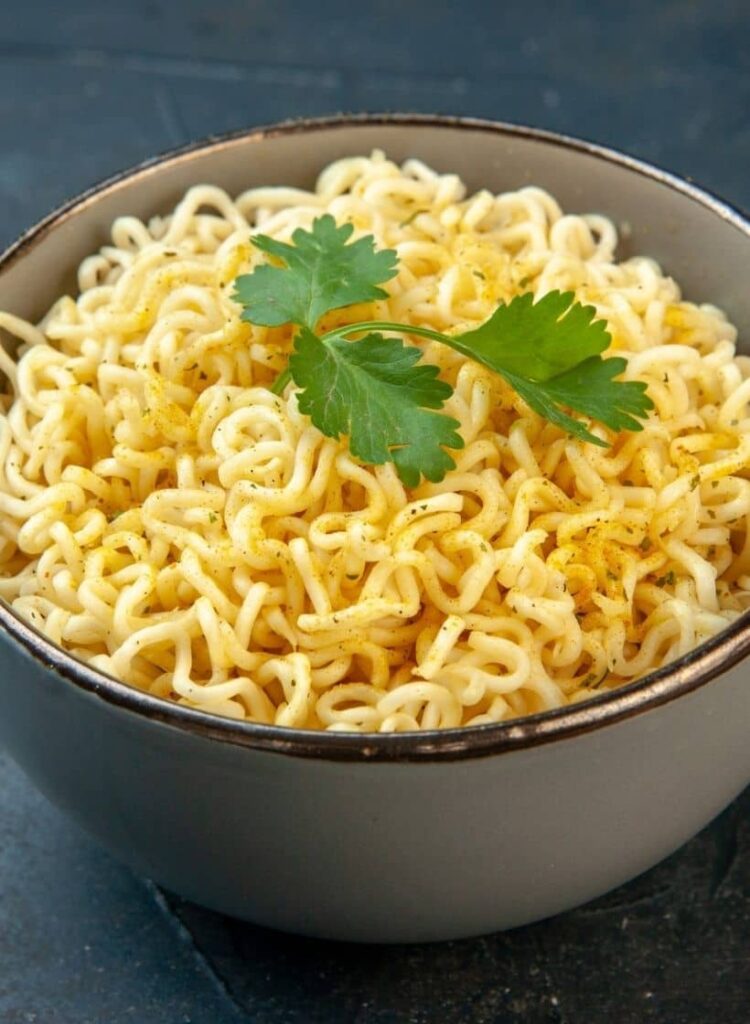 How To Make Instant Ramen Noodles Better?
Now that you've learned how to cook ramen in the microwave, it's time to jazz it up! There are a few ways to make ramen better and more interesting, so let's dive in!
1. Toppings
Of course, we're starting with toppings. This option is the easiest way to take a bowl of ramen from good to great.
Add your favorite protein like slices of beef, chicken, etc. Or, make it healthy with various vegetables like celery or carrots. The options are endless!
2. Sauces
You can always add a dash or drizzle of sauce to your ramen for an extra tasty experience. Soy sauce is an easy option to include. You can add things like sriracha, fish sauce, hoisin sauce, and more for a unique taste.
3. Oil
Adding oil is a delicious way to simultaneously add a subtle flavor and richness to ramen. You can add sesame oil or even chili oil for this option. You only need a few drops for a tastier meal.
4. Fresh Herbs
Fresh herbs and soup are an unbeatable combination. Try adding parsley, thyme, chives, or whatever your heart desires.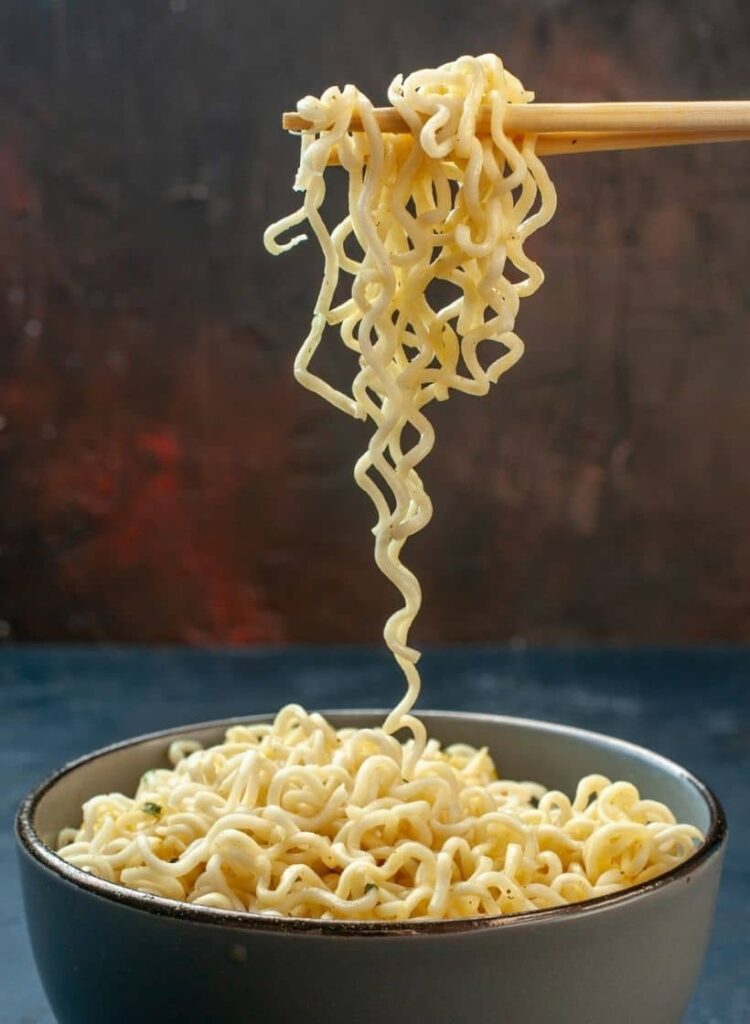 Easy Ramen Recipes:
Here are some delicious ramen recipes that you can make in a few minutes. These recipes are another great option to spice up ramen noodles. Give them a try!
Tiktok has some of the most mouthwatering recipes lately, and this ramen option is no exception!
You'll be skipping the typical seasoning packet and opting for butter and seasonings for a rich, unbeatable taste.
Once the noodles are soft, you'll add the ramen into a pan with butter, soy sauce, garlic, red pepper flakes, and brown sugar for a sweet, spicy sauce. Crack in an egg and top it with everything but the bagel seasoning for an epic dish.
This option is one of the best instant ramen recipes out there! You'll be pan-frying your noodles (like the above dish) in a thick, sweet sauce.
Here's where the recipe is different, you'll be scrambling the eggs into the noodles and including furikake seasoning as a garnish.
Mix in your favorite vegetables like spinach, bok choy, or broccoli for a healthier take on this recipe.
Chicken ramen noodles are a staple, but you've never seen them like this before! This recipe takes less than 30 minutes and is great for family dinners.
This dish features pan-fried chicken pieces, vegetables, and a homemade sauce that will have even your pickiest eaters asking for another serving.
Here's a healthier way to enjoy ramen noodles with a recipe jam-packed with vegetables. Carrots, bell pepper, sugar snap peas, shitake mushrooms, and green onions help spice up this dish.
The prep can be done in fifteen minutes, so you'll be cooking this stir fry in no time. Of course, there's a homemade sauce with fresh garlic and ginger for a delicious flavor.
This yummy recipe is one of the top ramen dishes, plus it's vegan so that you can share it with your veggie-loving friends! A creamy, rich broth envelops the ramen noodles in this soup option.
It's topped with bok choy, scallions, mushrooms, nori, and seasonings for a comforting bowl of Japanese-inspired ramen.
This recipe is so good you'll feel like you've received ramen from your favorite restaurant.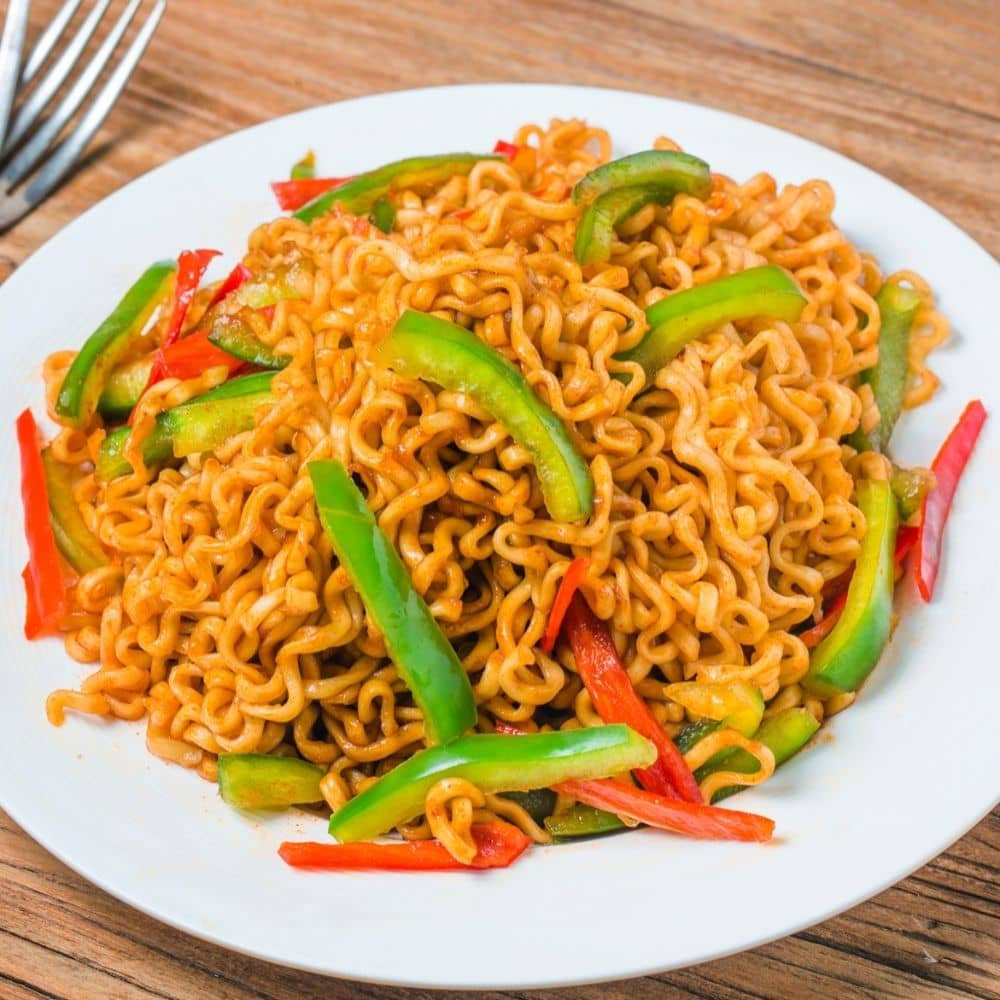 How to Make Ramen in the Microwave: Tips and Tricks
Instant ramen is a real treat, regardless of your age! There's nothing better than a piping hot bowl of soup with rich chicken, beef, pork, or vegetable broth.
Ingredients
1 package chicken ramen noodles (3 ounces)
1-1/2 c frozen California-blend vegetables
1/4 c chopped celery
1/2 c water
1/4 c frozen peas
1/2 lb boneless skinless chicken breasts
1 tsp sugar
2 tbsp reduced-sodium soy sauce
2 tbsp canola oil
1/4 teaspoon crushed red pepper flakes
Instructions
Keep the seasoning packets off to the side for use later. Add the noodles, frozen vegetables, water, celery, and peas into a microwaveable dish. It should be about 2 quarts large to account for all the ingredients.
Cover the dish and microwave on high for about two minutes. Stir the mixture, then cook for another 2-3 minutes until the noodles are soft.
Add your chicken to a separate microwave-friendly dish, cover, and cook for about three minutes. Double-check that the chicken is cooked through and no pink is in the center. Then, add it to your ramen mixture.
Grab a smaller microwave-friendly bowl and add the remaining ingredients (soy sauce, oil, seasoning packets, sugar, and spicy pepper flakes). Mix, pour over the chicken mixture, and microwave for about 45 seconds. The dish should be heated through and ready to eat. Enjoy!
FAQ:
Still have unanswered questions like how to make top ramen in the microwave? Here is additional information that will make you a microwave ramen expert.
How To Cook Ramen with Egg in the Microwave?
Creating ramen with egg in the microwave can seem like a daunting task, though it's much easier than you might think!
You can either poach the egg or make a soft-boiled egg in the microwave. To poach an egg, heat the water for a few minutes until it's boiling, crack your egg in, then microwave for another half a minute.
Soft-boiled eggs take a few minutes longer. You'll want to add them to a microwave-friendly container with a lid and plenty of water, then cook for about two minutes.
Once your eggs are done, shift them from the water to your soup (peeling soft-boiled eggs first). Enjoy your bowl of elevated ramen!
How To Make Ramen Without a Microwave?
There are a few methods for cooking ramen without a microwave.
The easiest method is adding the dried noodles to a bowl with boiling water. Once the water is hot enough, you can add it directly to the noodles, and within a few minutes, they should soften up.
Otherwise, add a few cups of water to a pot, boil the noodles for a few minutes (they should separate and become soft), and add the seasoning packets.
How Long to Microwave Ramen?
To make ramen noodles from a packet like Top Ramen, it will take about 3-5 minutes to cook completely.
As noted above, making ramen noodle recipes via this method will have a varying time depending on how many watts your microwave has.
How Long Do You Put Ramen Noodles in The Microwave?
If you're reheating noodles, it should take about one minute. Again, this will vary depending on your microwave's strength. Though reheating is typically a quick process.
Here's a bonus way of making a Ramen Chicken Dinner! These easy-to-follow directions will have you creating a tasty dish in no time.
Now that you're a microwave ramen expert, it's time to put your skills to use by creating some easy ramen recipes.
Once you have cooking ramen in the microwave down, you can get creative with your seasonings and toppings.
Using the above tips and information, you can create a convenient, easy, and flavorful dish in a few minutes.