If you want to learn how to reheat crab legs, you've come to the right place.
Crab legs are a seafood delicacy usually reserved for a special occasion like a birthday, holiday, or anniversary.
These tasty crab legs are filled with tender white meat that pairs perfectly with a hot, summer night and a splash of lemon juice.
In addition to taste, crab legs are packed with protein and high levels of vitamin B-12, making them a healthy alternative to many traditional dinners.
However, when you get crab legs at a restaurant or even if you make them at home, you get full pretty fast. Instead of letting them go to waste, it's important to know how to reheat them.
Today, you have more options than ever to reheat crab legs. Whether you're tossing them in your oven or into your air fryer, there are countless ways to reheat your crab legs and keep that delicious flavor.
Best of all, leftover crab legs can last up to four days. Below, we will answer commonly asked questions about the best way to reheat crab legs on the grill, in the microwave, and more.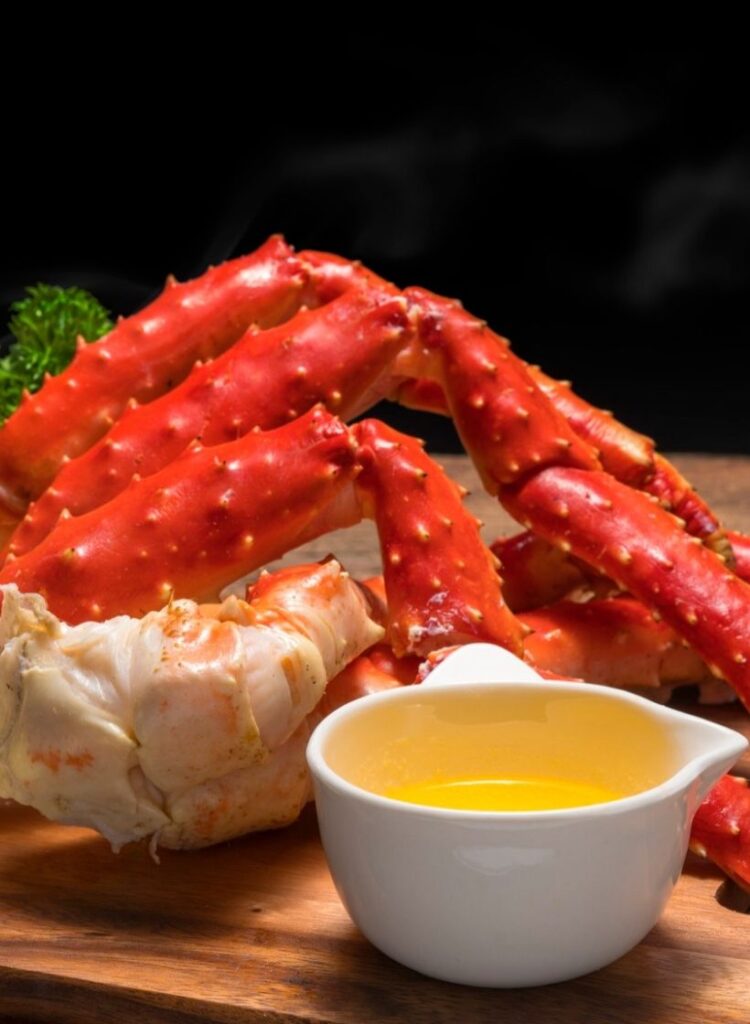 How Long to Boil Crab Legs?
On average, it should only take you about 3-5 minutes to boil crab legs.
However, because of how big they are, you want to make sure you're boiling them in batches. As such, if you're looking to make 15 crab legs, you can expect the total boiling time, when broken down into batches, to take anywhere from nine to 15 minutes.
When they're done, the meat inside will turn a red/pink color.
However, this color only applies to fresh crab legs you'd buy at your local grocery store in the seafood aisle.
If you're buying frozen crab legs, keep in mind that they're already cooked so the color will be orange or red when they're fully cooked.
How to Cook Crab Legs
To cook crab legs, you only need a handful of ingredients: crab legs, salt, lemon wedges, butter, water, and Old Bay seasoning.
When you're ready to cook your crab legs, fill a large pot about halfway with water. Bring this water to a boil. On average, water takes about 8-10 minutes to boil.
While this is boiling, grab a saucepan add butter and let that sizzle over medium-low heat for about a minute with the crab legs.
Once cooked, set to the side and add crab legs to the boiling water for about 5 minutes. Remove from the pot, sprinkle with some butter, lemon, and seasoning and serve.
All in all, crab legs are a tasty meal that won't take a lot of time to prepare or cook.
How to Reheat Crab Legs in the Microwave?
You used the recipe above for dinner last night, but tonight you want to reheat them. If your only source of reheating is a microwave, or that's your preferred appliance, here's what you should do:
Sort your crab legs into bunches and wrap each bunch in a damp paper towel.
Then, wrap plastic wrap around the paper towel. Make sure this is snug.
Put each crab bundle in the microwave and heat for 2 minutes.
Use tongs to grab the bundle and enjoy.
Keep in mind that this 2-minute heating window only applies to the industry standard 700-watt microwave.
This time may vary if you have a 1000-watt or 1200-watt microwave. Generally speaking, the higher your microwave's wattage is, the faster the cooking time will be.
How to Reheat Crab Legs in the Oven?
Another source of reheating is your oven. While this won't be as quick as the microwave, they will help keep the crab legs crispy.
The process for reheating crab legs in the oven will vary depending on whether the crab legs are fully thawed or frozen. To steam crab legs in the oven, here's what you have to do:
Preheat your oven to 350 degrees Fahrenheit.
Fill a glass casserole dish with ½ inch of water and add your leftover crab legs until they're partially covered.
Cover your casserole dish with aluminum foil and poke a few holes so steam can escape.
If fully thawed, bake for 15 minutes. If frozen, bake for 25 minutes.
Remove from oven with an oven mitt, add melty butter and lemon juice and serve.
Reheating crab legs in the oven has a lot of benefits, mainly because it helps keep the meat nice and tender, as opposed to soft and chewy.
How to Reheat Crab Legs on the Stove Top?
If you want to reheat crab legs on the stovetop, there's an easy way to do this that won't dry out the crab meat.
For leftover crab legs still in the shell, reheating them via stovetop is an excellent method. Here's how to reheat crab legs on the stove:
Grab a large pot and fill it with ⅔ water. Add a dash of salt for flavor and cook on high heat with the lid on.
Once the water is boiling (after approximately 10 minutes), add your crab legs. Be sure to use a pair of tongs or other types of kitchen utensils to safely drop them into the boiling water. At this point, make sure the legs are completely submerged in the water.
Boil for about five minutes, remove from the pot, and serve.
How to Reheat Crab Legs by Steaming?
Steaming is another great and easy alternative to reheating leftover crab legs. Steaming allows the crab meat to stay juicy. To reheat crab legs by steaming, here's what you have to do:
Fill a pot with about 2 inches of water.
Place a colander or steamer over the water, leaving a nice gap between the kitchen gadget and the water.
Cover your pot and cook over high heat until the water is boiling
Add crab legs to the colander or steamer and cover.
Cook for about seven minutes, remove and serve.
How to Reheat Crab Legs in an Air Fryer?
Air fryers are all the rage right now due to how easy they are to use and the health benefits they offer. In fact, air fryers help reduce calories by 70% since they don't require oil.
Luckily for you, reheating crab legs in an air fryer can be done by following these simple steps:
Wrap your crab leg bunches in foil paper and add them to your air fryer.
Add additional seasoning to your crab legs, including butter, olive oil, garlic, or anything else you prefer.
Air fry them for 3-5 minutes at 380 degrees. Then serve.
How to Reheat Crab Legs on the Grill?
You can cook crab legs on the grill, and you can reheat them there, as well.
This is a preferred option during the summer, when it's warmer outside and not too uncomfortable to grill.
After all, no one wants to fire up a grill while bundled in a winter coat! To reheat crab legs on the grill, all you have to do is:
Individually wrap each crab leg in several layers of aluminum foil
Place on grill for about 10 minutes
Remove from heat, unwrap, and place the unwrapped legs back on the grill for another five minutes
Coat with melty butter and serve.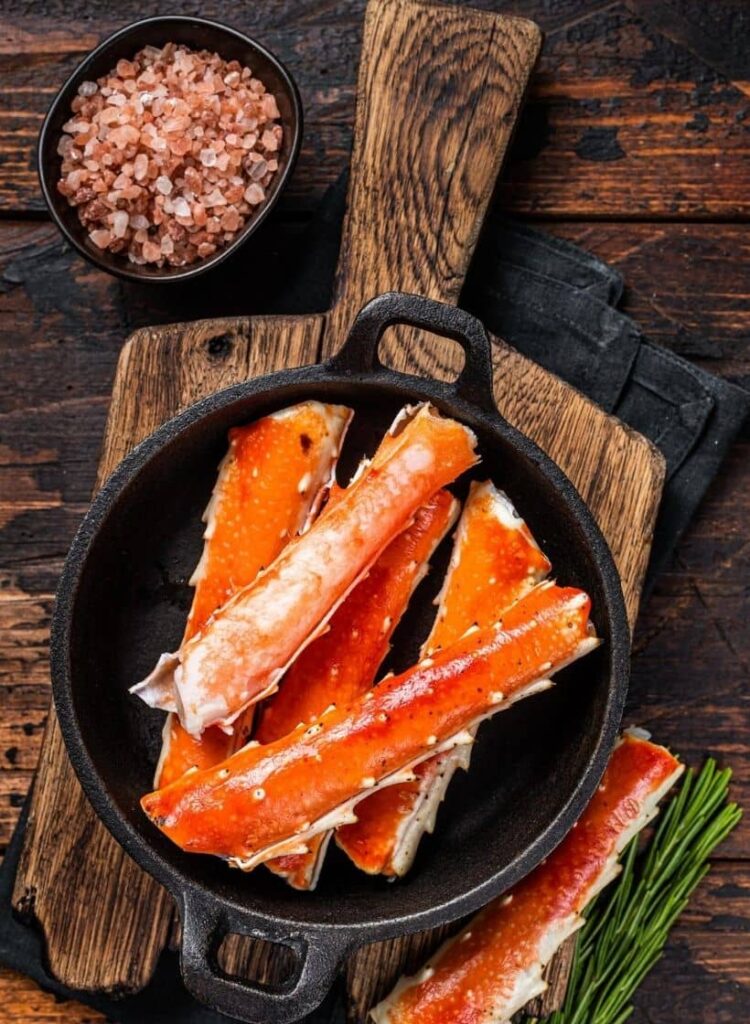 More Tips for Reheating Crab Legs
As you can see, there are countless ways you can reheat your leftover crab legs. However, there are a few helpful tips we want to share with you:
First, if you plan on reheating crab legs for another meal, it's always preferred that you buy frozen.
This is because frozen crab legs have a longer shelf life than those bought fresh.
If you are buying frozen, be sure there aren't any ice crystals on them. This indicates that they've been frozen too long and may not be good enough to eat.
If you're reheating fresh crab legs, try to buy one that has thick legs. The thicker the leg is, the more meat you'll get. Another important tip is to always run your frozen crab legs underwater before reheating them.
Crab Legs with Garlic Butter Sauce Recipe
Now that we've covered all the different ways you can reheat crab legs, it's time for the perfect recipe to make for you and your family.
The secret ingredient when it comes to crab legs is the crab legs themselves, as you will get a different kind of experience depending on whether you buy king crab legs or snow crab legs.
While butter is a staple when it comes to crab legs, you can swap it out for tartar sauce.
Tartar sauce already tastes great with shrimp, so pairing it with another type of seafood is an excellent choice. It has a refreshing, taste to it with subtle notes of dill pickle.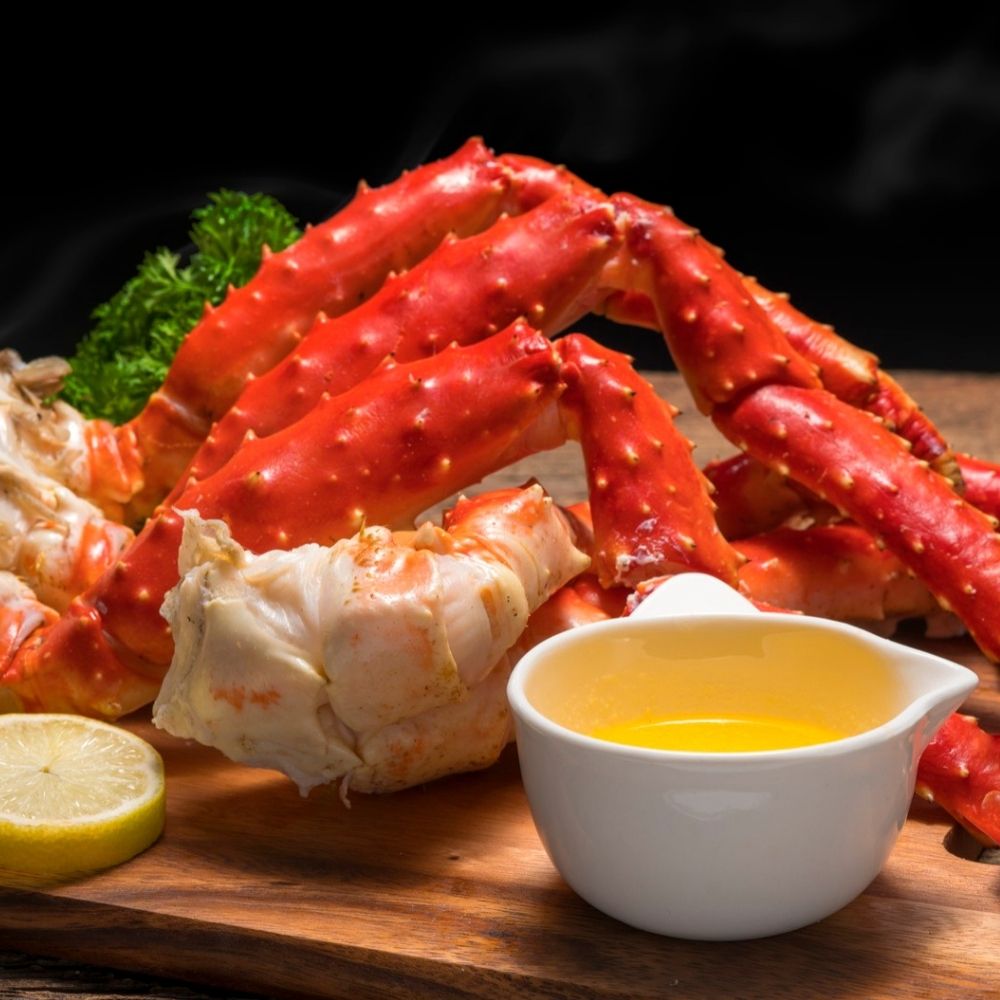 How to Reheat Crab Legs (8 Easy Ways)
Yield: 2

Prep Time: 5 minutes

Cook Time: 15 minutes

Total Time: 20 minutes
Ingredients
1 lb Snow Crab clusters, thawed if necessary
¼ c butter
1 clove garlic, minced
1 ½ tsp dried parsley
⅛ tsp salt
¼ tsp fresh-ground black pepper
Instructions
Cut a slit into the crab shells
Melt butter in a pan over medium heat and add garlic. Cook until translucent and stir in salt, pepper, and parsley. Heat until the butter starts to bubble.
Add crab legs and coat them with the garlic butter mixture.
Simmer for about five minutes. Remove from heat and serve.