Mm, bratwurst! It is an incredibly versatile type of sausage, and there are so many heartwarming dishes you can make with them.
You can eat them in place of hot dogs, in stews, or even just by themselves.
That being said, cooking them in the oven is a great way to make your life easier, get a better flavor, and improve your final recipe's texture. Anyone can learn how to prepare brats in the oven and craft recipes that will impress.
We'll walk you through the benefits of cooking brats in the oven, how to cook bratwurst in the oven, how you can make beer brats in the oven, what to serve with brats, how to save leftover brats, and all kinds of tips and tricks you can bring into your kitchen.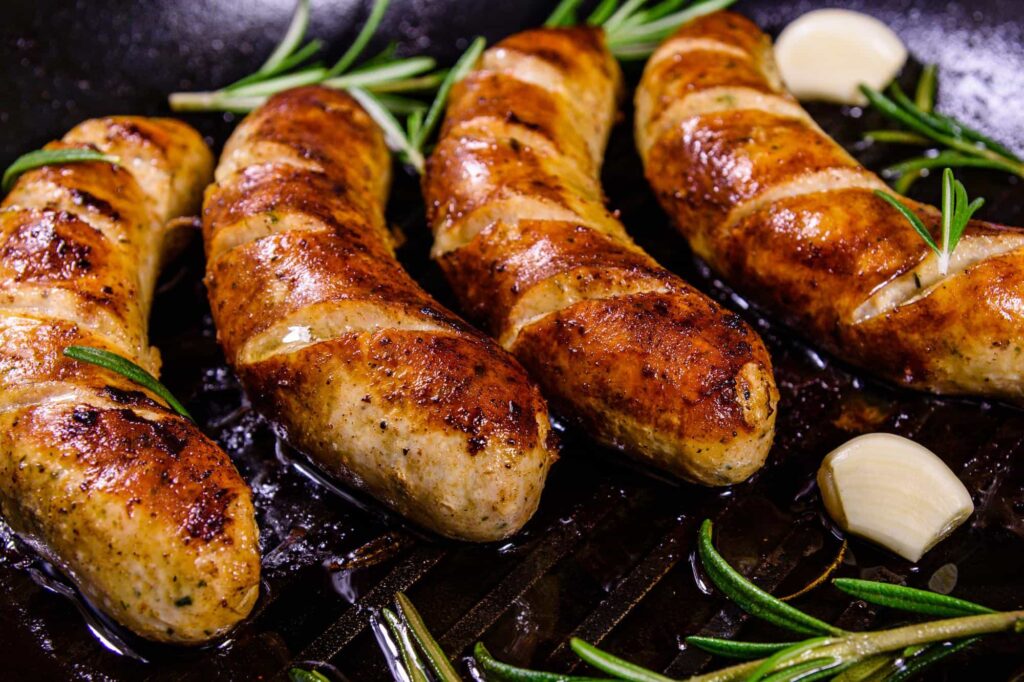 Why Should I Cook My Bratwurst in the Oven?
Cooking brats in the oven has many benefits in terms of ease, flavor, and texture.
This is only one way to prepare them, but it is one of the best ways. It is a tried and true method that pretty much anyone can master.
No one wants to go outside and cook on the grill during the coldest parts of the year. Sometimes, you want a meal that is low maintenance, and that doesn't require as much clean-up.
Baking in the oven doesn't require leaving the house or getting any special equipment for your kitchen.
You can walk into your cooking space, let it preheat and then let it go. You don't have to watch it militantly like you do when cooking over an open flame.
If you bake your brats in the oven, you can put them on an oven-safe pan and line the pan with aluminum foil.
Complete the cooking process, and you can remove the foil and put your pan back into the cabinet. No washing dishes needed!
The flavor can also be different if you bake the brats instead of roasting them on the grill.
Sometimes bratwurst can be particularly charred from the fire and give them a distinctive flavor. The flavor from the oven cooking process is more subtle and typically results in a richer flavor.
Some people also don't like the flavor of char on their meat, so oven-baking can help avoid that. You'll also avoid the extra smokiness of grilling or smoking the meat. Smoking wood can give all kinds of new flavors.
A great example of this is applewood smoke. While it is incredible for cheeses and bacon, it's not always the best for other meats, like beef.
Texture Benefits
Sometimes, the baking process will give you a better overall texture than grilling or boiling.
The cooking process can help break down the casing and make it easier to chew. You can get a very crisp, golden brown brat instead of a grill-marked one.
How to Cook Your Bratwurst in the Oven?
Baked brats are an excellent choice for all occasions and can be simple to pull together. Preparing them in the oven has so many benefits, and they are so simple.
The first thing you should do is line a deep baking tray with or use one made of aluminum foil. Not only does this step make clean-up more manageable, but it also will protect your pans from staining or other damage from repeated use.
Next, if you are starting your meat outside the oven, you should complete the steps needed. If you aren't, then you can move on to the next step.
Line the tray with onions, carrots, celery, and any other vegetables you want to add to the mix.
There's no wrong answer on what you can put in there. Make sure to add seasonings like salt, pepper, or garlic to give your vegetables their own flavor.
You don't need to add too much butter or extra grease to this dish. Bratwurst is typically very fatty and will give off a lot of natural juices, but a dash of olive oil never hurt.
How Long to Cook Your Bratwurst in the Oven?
The answer to this depends on one primary variable: are your brats precooked, or are they raw? Precooked brats do not need to be cooked as long as raw brats, but you should still ensure they get up to the correct temperature.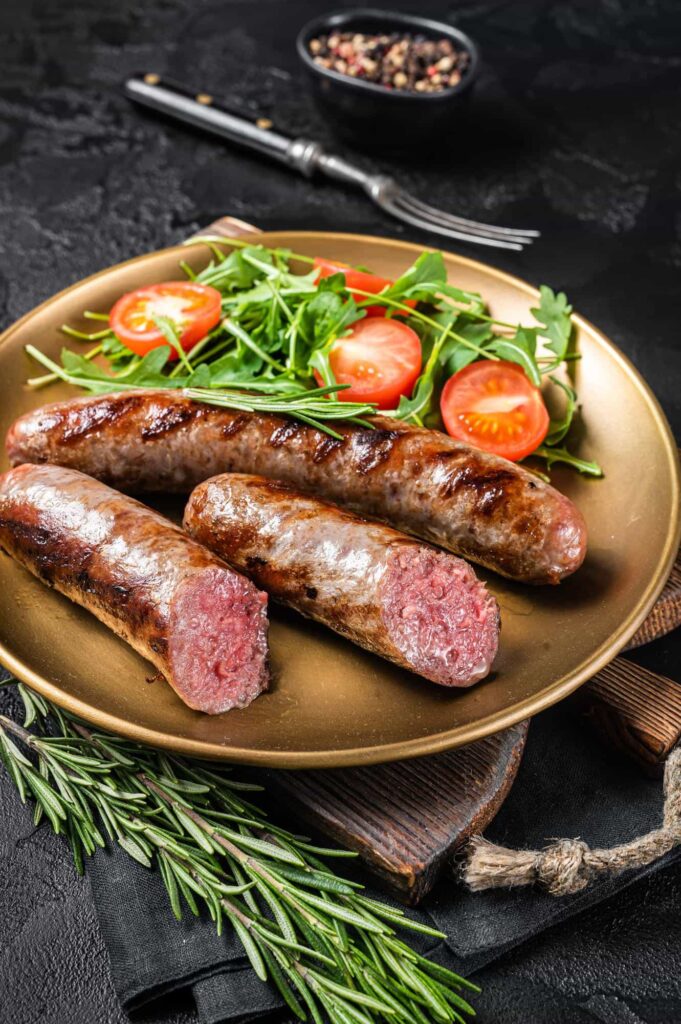 How to Make Oven-Braised Beer Brats?
You should follow all the other steps we outline with the oven-braised brats, but with one significant difference.
Add multiple bottles or cans of beer to the tray and over the other items in the tray. You want enough beer for the brats to sink into them and sit.
It would help if you covered the brats to trap all the delicious moisture and flavors inside the tray. Cover the tray with aluminum foil and seal tightly around all edges. Cook for about thirty minutes.
Carefully uncover the brats after the timer goes off and cook for another thirty minutes.
As a final touch, you can take your brats to the grill and give them a quick sear. This will provide them with lovely grill marks and lock in any last flavors from the overcooking process.
What Is the Best Beer for Beer-Braised Brats?
In general, the best beers to cook bratwurst in have more robust, maltier flavors.
These will imbue all kinds of delicious flavors into the brats and make the best sauces with the vegetables in your pans.
Samuel Adams seasonal beers are great choices since they are typically interesting flavors and have a stronger malt flavor. Malt and brats go well together and will give you an incredible taste.
Another great option is Guinness. This is a classic for a reason: it has a richer flavor than many other beers in the same family. This robust stout will give your brats and vegetables an incredible flavor.
What to Serve With Brats?
There are many great options to serve with brats, and you can modify them for any occasion. You can pick seasonal favorites or all-year all-star sides.
Some of the best options are:
These are all great choices and will give you a lot to choose from
Cabbage Dishes
You can never go wrong with cabbage with bratwurst. Roasted cabbage, sauerkraut, and coleslaw are perfect sides. Not only that, but cabbage is typically pretty inexpensive all year round.
Cabbage dishes are best enjoyed. You don't need to throw too much onto them because the cabbage will absorb what you add. However, cabbage tends to release a lot of water during cooking.
Peppers and Onions
Peppers, onions, and brats go perfectly together and unlock so many new flavors.
Bell peppers, in particular, go beautifully with bratwurst. They cook down very well and can be quickly scooped out to be served on top of brats in a hot dog bun, for example.
Other peppers can add new heat that brats don't typically have. You can also caramelize these peppers and have a no-fuss topping for your brats.
Corn Dishes
Corn is excellent for summer occasions with brats. You can quickly cook up corn on the cob or open a can of corn to create a nice topping. Corn can be modified in many ways and can also be served.
Potato Dishes
Potatoes go very well with bratwurst and can turn brats into a whole meal. The uses of potatoes are infinite, and they can be the perfect vessel for brats to shine on.
The richness of potatoes au gratin pairs very well with brats, especially if you have extra heat or more acidic sides with it.
Mashed potatoes can also be amazing, especially if you put the brats on top and smother them in the beer and vegetable mixture leftover from cooking.
Storing Leftover Brats
So now that you know how to cook bratwurst, you need to know how to store leftover bratwurst.
There are several different ways to keep it, but the two most common options are in the refrigerator and the freezer.
Refrigerating Leftover Brats
Like most other leftovers, you should not keep your brats in the fridge for too long. They will last about 3-4 days in the refrigerator with no problem.
You can maximize this time by putting them in the fridge as soon as possible after cooking in an airtight container. However, the best way to extend the shelf life of bratwurst is to freeze it.
Freezing Leftover Brats
Freezing your leftovers is the most effective way to extend their shelf-life. Bratwurst can last up to two months in the freezer when properly stored, and you'll have a delicious meal ready to go.
The best way to store bratwurst in the freezer is to place them in an airtight container.
These can be plastic containers, or they could be plastic bags. Either way, put the brats into the container and find a spot for them in your freezer.
Substitutions
Bratwurst is becoming more available in stores, but some areas can be hard to find. Not only that, but most bratwurst is made with some meat that does not meet specific dietary restrictions (such as kosher or halal diets).
That's why you need to know the best substitutes for a bratwurst.
The best alternative is a kielbasa. This Polish sausage is well-seasoned but doesn't have a strong flavor.
Kielbasa is ideal if you want to use a similar texture without the link being the dish's focus. They even have non-pork kielbasa!
Another option is andouille sausage. Best known for being in the best gumbos, andouille sausage has a robust set of Creole spices in the meat. This can give it a distinctive flavor that doesn't always mesh with different recipes.
That doesn't mean that andouille isn't a great choice. If you need sausage with a strong flavor that will be front and center, andouille is a fantastic option.
Tips to Cook Bratwurst in the Oven
Bratwurst is relatively easy to prepare sausage. There aren't many ways that you can ruin it. That being said, there are ways you can improve it and end up with a better result.
The first thing you can do is make sure your vegetables are evenly cut. Not only will they taste better, but they will also cook consistently. They will release the most flavor and absorb more too.
Second, you can source your brats fresh from a local butcher or even your local meat counter. Fresh brats will have a shorter shelf life in the fridge (about two days), but you can't beat the flavor and the quality.
Finally, use a disposable foil pan for cooking your brats if you want to have the most effortless clean-up possible.
You don't have to worry about an extra dish, and the pan you might have used can be used for other parts of the meal instead.
Final Thoughts
Cooking brats in the oven doesn't have to be a complex process. You can pull a fantastic meal together in an hour or even less by using your range and having a solid grasp of what goes well with bratwurst.
You can even find several excellent options for bratwurst substitutes.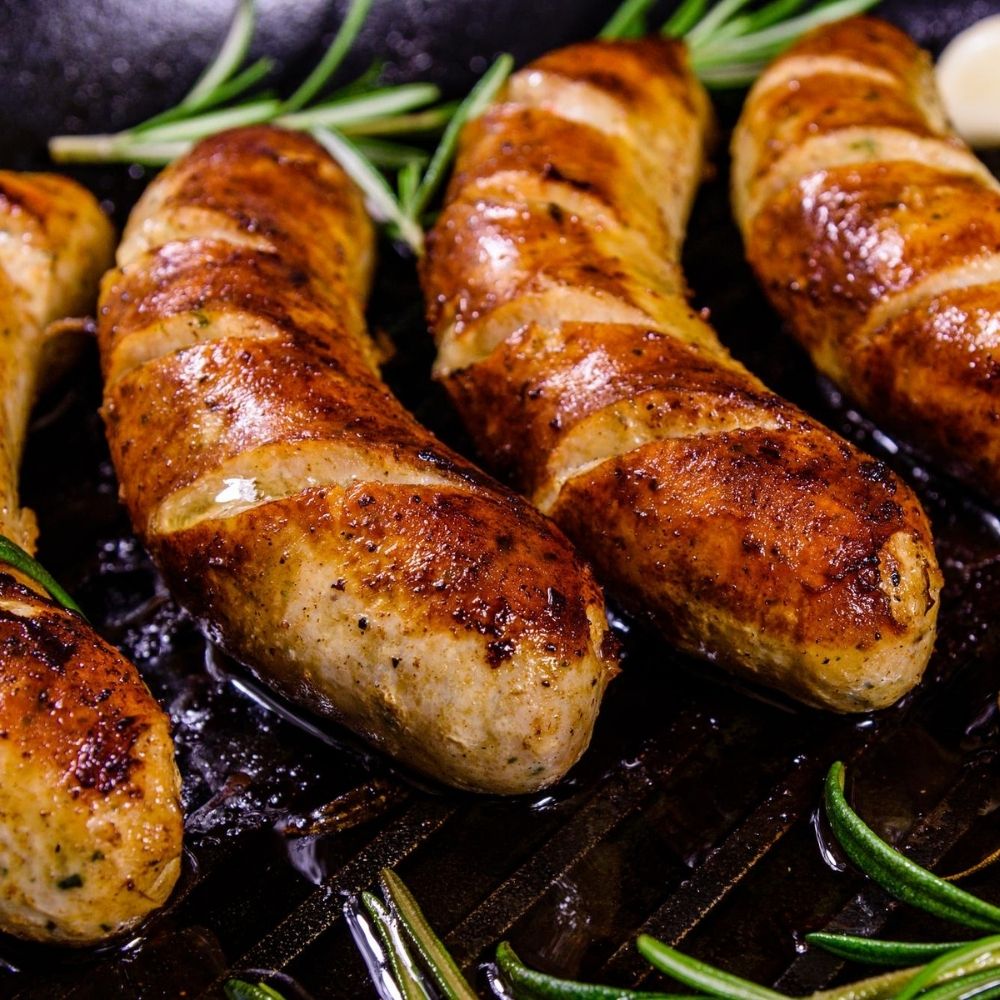 How to Cook Bratwurst in the Oven
Yield: 10 sausages

Prep Time: 5 minutes

Cook Time: 25 minutes

Total Time: 30 minutes
Ingredients
4 (12 oz) cans beer
10 bratwurst
1/2 onion
1 tsp garlic powder
2 tsp red pepper flakes
1 tsp salt
½ tsp ground black pepper
Instructions
Preheat and oil an outdoor grill grate at medium heat. The best time to oil the grill is after partially heated.
In a large pot, combine four cans or bottles of beer and a large, diced onion. Bring to a boil and submerge ten bratwursts.
Add 2 tsp. red pepper flakes, 1 tsp. garlic powder, 1 tsp. salt, ½ tsp. of black pepper to the mixture. Reduce heat and cook for another 10-12 minutes.
Remove the brats from the mixture and set them aside. Continue cooking until the onions are soft or the desired texture. Set aside.
Finish the brats on the grill for 5-10 minutes, turning once.
Serve alone or with the beer mixture.