Boiled potatoes are a significant component of so many dishes that have existed for so long. Knowing how to boil potatoes correctly is a crucial cooking skill that every cook should master, whether professional or hobbyist.
There are probably all kinds of questions you have about preparing potatoes, so we'll try to answer all of them in this simple guide.
From cooking methods to frequently asked questions, you'll find all your answers in this article.
How long to boil potatoes depends on different factors, including the type of potato and what you will be using them for.
It can also depend on if they are peeled or not. It would help if you thought about these things before you start boiling so you can get the proper cook time.
As Samwise Gamgee would say, 'boil 'em, mash 'em, stick 'em in a stew.' He was right; potatoes are one of the most versatile vegetables out there. This humble root has become a staple in so many culinary traditions worldwide.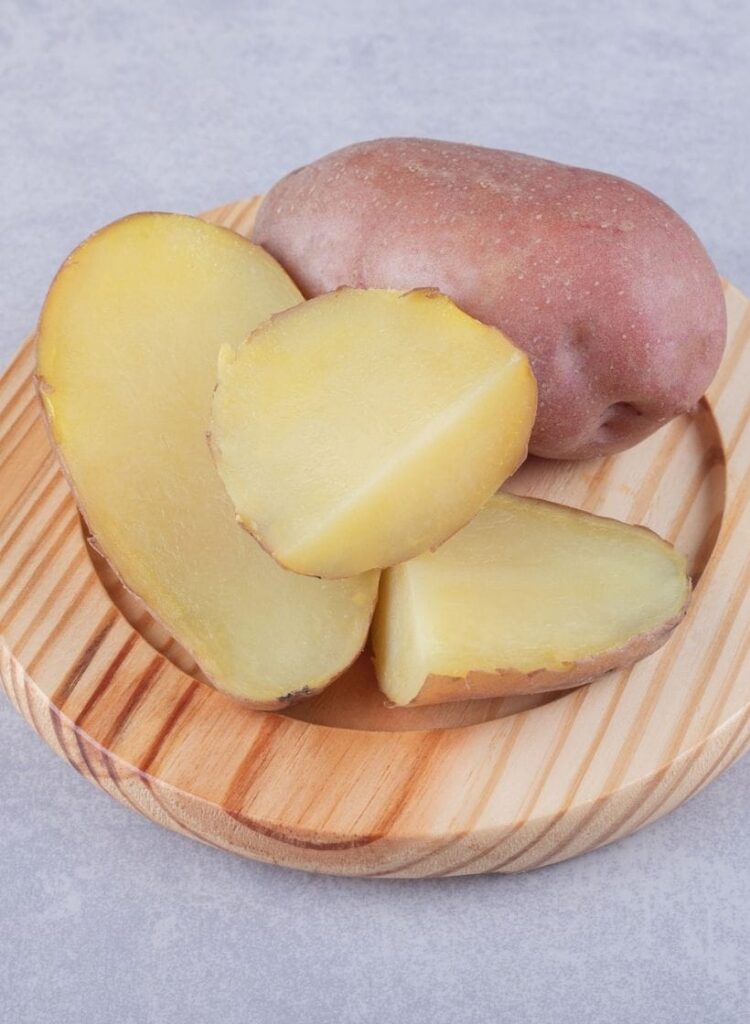 Why Boil Potatoes?
Not only does boiling operate as a prep stage for so many delicious recipes, but boiling can bring out all kinds of new flavors, textures, and even nutrients that aren't present from other cooking methods.
Boiled potatoes are a great way to prepare vegetables for different recipes.
This is the only way to make mashed potatoes since they are too hard to mash raw. Boiling is a necessary step that can make or break a good recipe.
Which Potatoes to Boil?
Some potatoes are better to boil than others. The best potatoes to boil are waxier than others. Waxiness means that the potatoes are low in starch and won't crumble when cooked for more extended periods.
Here are some specific varieties of potatoes that are better to boil:
Yukon Gold
Round Red Potatoes
Fingerling Potatoes
New Potatoes
Yellow/Gold Potatoes
These are the best for boiling, though you could also use Russet to make mashed potatoes. Some of these potatoes require a different cooking time and need to be cooked differently to get the best results.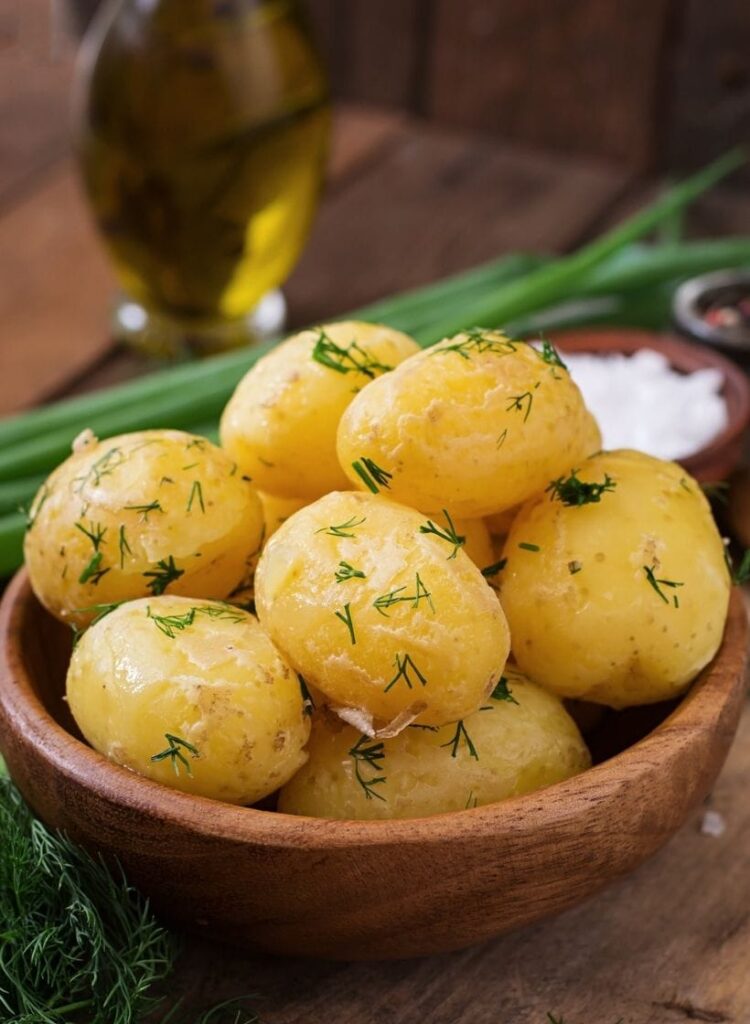 How Long Does It Take to Boil Potatoes?
Typically potatoes take between 10-15 minutes. Informally, you'll know when potatoes are done because you can easily pierce them with a fork. However, several other factors affect the cooking time.
So, how long do potatoes take to boil with the different factors?
Some recipes require potatoes that have been cooked for a shorter amount of time.
This is for recipes that only require blanched potatoes, or they need something with an al dente texture.
A harder texture usually means the recipe has a longer cooking process to finish the potatoes in the oven or other appliance. This can shorten your cooking time by only a few minutes or as many as five.
The cooking time can also be affected by the size of the potatoes and if they are cut or not. Cut potatoes cook faster than uncut ones, and smaller potatoes cook faster than the larger ones — the smaller the pieces, the faster the cooking time.
Peeling a potato will also affect how long the cooking time is. Peeled potatoes cook faster than potatoes with the peel on.
If you want the fastest cooking time, you should peel and dice your potatoes, or you could slice them.
Making them all like this will give them the best chance at cooking quickly. Some recipes require this, but some have to be whole with the peel on.
Different Ways of Boiling Potatoes
There are a couple of main ways you can boil potatoes. The stove is ideal for boiling, but a microwave will also get the job done. Either way can give you the results that you need.
Boiling Potatoes on the Stove:
This is the ideal method. Not only does it give you more control over the process in many ways, but you can use the same pot for extended cooking and other purposes. You can also cook more potatoes at any given time.
It would be best if you boiled your potatoes in salted water. Be careful not to oversalt the water since the potatoes will absorb all of the flavors as they cook.
These potatoes need to come to a rolling boil to get the best results.
They should be fully covered with water, and there should be room between the water level and the top of the pan. You don't want your potato water to overflow.
Sometimes, the starch in the potatoes changes how the water reacts. Like different types of pasta, potato starch can cause the pan to overflow.
This could cause all kinds of issues, like burning on pans, messing with a stovetop, and causing a safety hazard.
You might also want to have a pan lid nearby so you can use it to let the potatoes continue to cook in the ambient heat.
This will allow your potatoes to stay warm for longer, especially if your recipe calls for a warm vegetable to get the best results.
For example, mashed potatoes are better prepared when they are warm because the heat melts the butter as they are mashed.
Boiling Potatoes in the Microwave:
Boiling potatoes in the microwave are similar to making microwaved baked potatoes. You only need the potatoes, a plate, a fork, and an optional glass of water.
Put the potatoes on a plate and microwave for about five to eight minutes. Make sure you don't cook them too much, or you'll end up with dehydrated potatoes. The best method is to use a lower minute amount, test them, and then cook longer as necessary.
If you don't want the peel to split, poke a few holes in it to let steam escape.
Another way to prevent the peel from splitting is to microwave them with a small cup of water on the plate. This will release steam and prevent the peel from splitting.
How Long to Boil Potatoes for Potato Salad?
You should boil potatoes for potato salad for about fifteen minutes to boil the potatoes whole. It is imperative that these are not too hard to bite into but not too soft to lose all of the body.
Depending on the potato, you might need to adjust the cooking time to a better texture. Smaller potatoes will cook faster, as we explained above. Since potato salad requires cubes, you'll need to cut the potatoes before boiling them.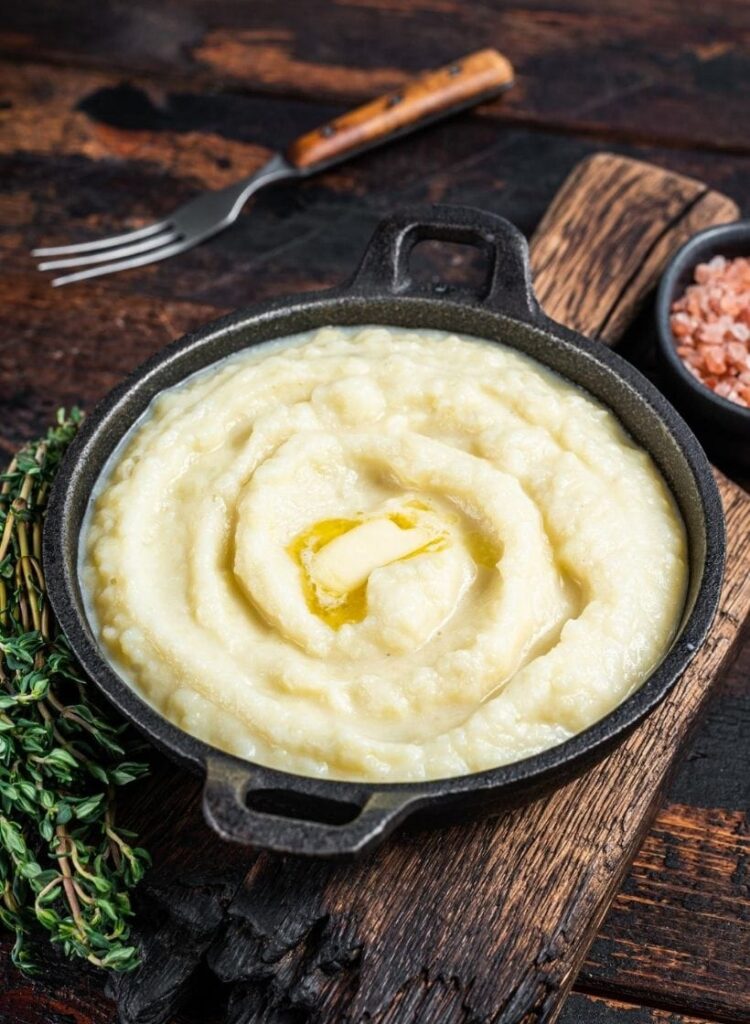 How Long to Boil Potatoes for Mashed Potatoes?
Ideally, you should cook these potatoes for about 10-15 minutes to get the best texture for your mashed potatoes. They should easily crumble under your fork.
If you want an even fluffier texture, you could also let them sit in a water bath overnight to pull out a lot of the starch.
This will make them easier to work with and reduce the starchy flavor that some baking potatoes hold onto during cooking.
Recipes with Boiled Potatoes
There are so many great recipes out there for potatoes, and it's an excellent choice for any meal.
They are versatile vegetables, and these recipes all highlight that. Not only that, but they are all so easy to pull together.
Crab Boil Potato Salad
Potato salad is something that you can completely customize for your every need.
So if you've ever been to a fantastic crab boil, this is something that you can enjoy. Lump crab meat makes this recipe delicious and ties it all together.
The real trick to get the flavor right with this recipe is using fresh lemon and a good amount of Old Bay. While the recipe calls for one tablespoon of Old Bay, nothing says that you can't measure it with your heart.
Creamy Garlic Sauce Baby Potatoes
This recipe is utterly delicious and is a perfect side dish for any dinner that you're making. It is rich and savory and perfect for any number of picky eaters, so everyone should enjoy it!
The potatoes in this recipe are so simple to prepare. You don't even need to cut them!
You should, however, make sure the potatoes are nice and clean before you boil them. Some brands of baby potatoes will wash them before you buy them, so keep an eye out.
Brabant Potatoes
A New Orleans staple, Brabant Potatoes are delicious and straightforward.
You cube potatoes, boil them in heavily salted water, and then fry them in a hot pan. You don't even need to peel them!
The secret to getting the right flavor is to use rich garlic butter. You can either follow this recipe's tip of melting butter with garlic bits cooked in, or you could try your hand at making an overnight compound butter with garlic. Either one will give you the flavor that you need.
Gratin Parmentier
This recipe comes from France and is a nice, easy weekday meal.
Anyone can execute it, and you could even make it with frozen meatballs to save time. It's incredibly simple to prep and organizes so that you can pull it together in only a few minutes.
The peeled and boiled potatoes are cut and arranged. The hardest part of this recipe is making a rich bechamel sauce, but it is relatively simple since it is one of the mother sauces. A dash of nutmeg makes the recipe shine.
Greek-Style Boiled Potatoes
If you've ever wondered what potato sides would go best with gyros or stuffed grape leaves, this is the recipe for you!
This recipe is so simple and takes only a few ingredients. Anyone can make these potatoes.
This recipe is so much lighter than other potato recipes tend to be. Lemon, feta cheese, garlic, and other herbs give it a light but robust flavor. Good olive oil can add new flavors too.
Bangaladumpa Vepudu (Boiled Potato Fry)
This South Indian recipe is another excellent example of how diverse boiled potatoes can be and how many different ways they can be prepared. A fantastic sample of Andhra cuisine, it is savory and packed with delicious flavors.
Asafoetida is crucial to making every flavor come out. Good spices are essential, but asafoetida makes all new undertones come out.
Whole cumin and mustard seeds are also necessary for this recipe.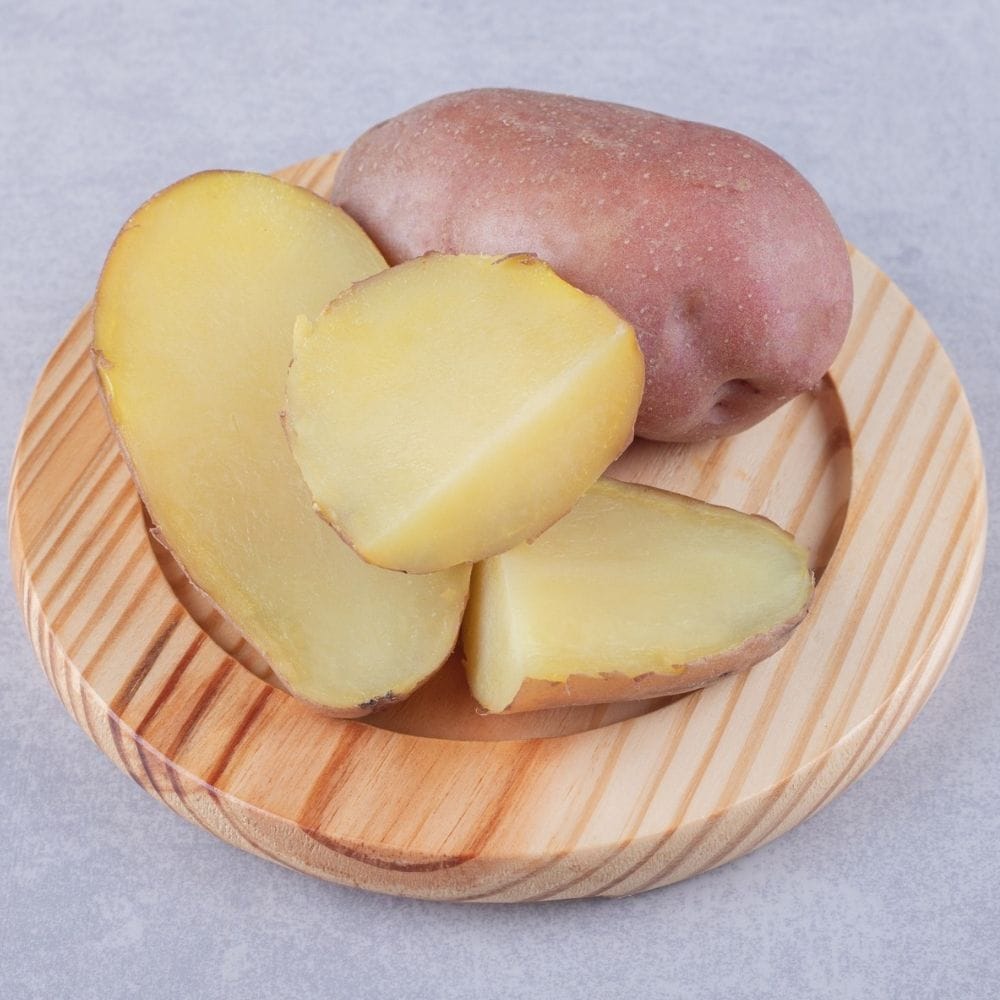 How Long Does It Take to Boil Potatoes?
Yield: 4

Prep Time: 15 minutes

Cook Time: 20 minutes

Total Time: 35 minutes

Basic Mashed Potatoes Directions
Ingredients
2 lbs baking potatoes
1 c milk
2 tbsps butter
salt and pepper to taste
Instructions
Peel and quarter two pounds of potatoes, ideally Russets.
Salt a substantial amount of water and bring to a boil. Add the potatoes to the water.
Cook for about 15 minutes or until your fork can easily pierce the flesh. Drain and set aside.
In another pan, warm butter and milk over low heat until combined.
Carefully mash or blend the potatoes into the butter-milk mixture until you reach your desired texture and add salt and butter to taste.