This easy-breezy zucchini soup recipe is a one-pot recipe is simple with just 10 ingredients and 30 mins to cook.
This bowl of soup is vegan, gluten-free and absolutely hearty. The zucchini lends its natural creaminess to it and the earthy flavour of the garlic acts as a cherry on the cake.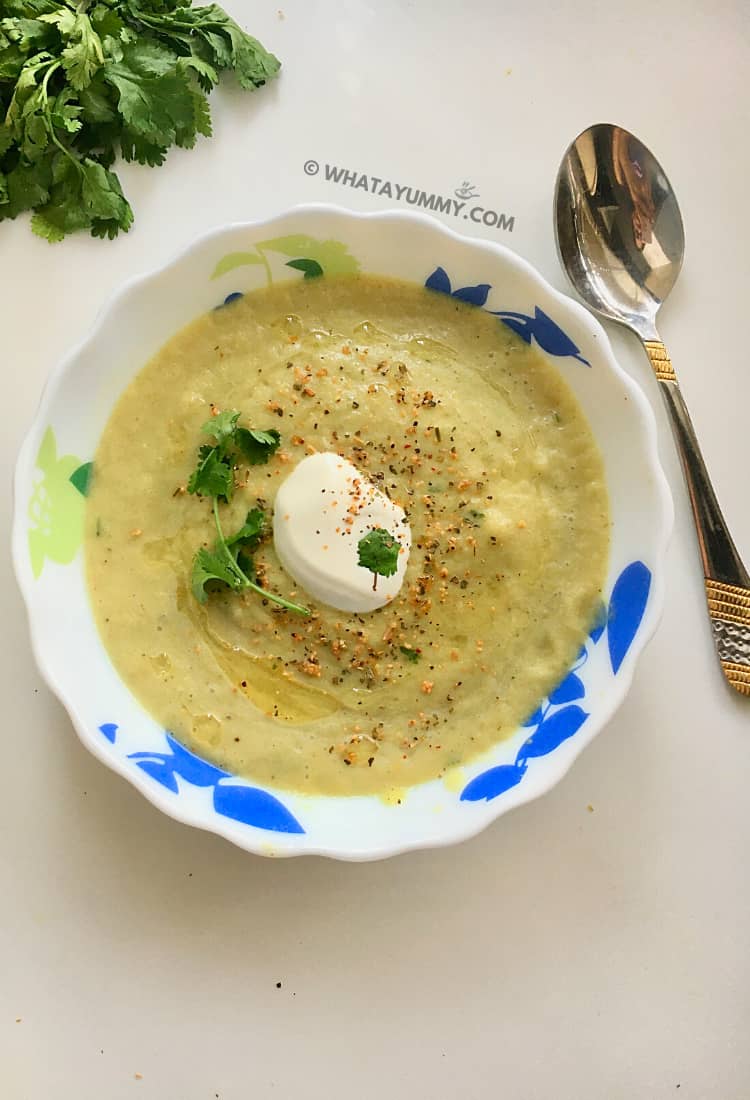 WHAT INGREDIENTS DO I NEED TO MAKE THIS ZUCCHINI SOUP RECIPE?
This simple zucchini soup requires only a couple of pantry staples and 30 minutes to be made.
Zucchini- Any variety of zucchini can be used for the recipe, I prefer to peel the vegetable but you can go for either way as you like. You have roughly cut into pieces and let it cook until it's soft.
Olive oil, onion and garlic – I prefer to use classic olive oil for the recipe but it can be replaced with butter for an extra punch of flavour. We have to sauté the garlic and onion until they turn translucent and fragrant.
Heavy Cream- It is one of the main ingredients of the recipe because it makes the soup smooth, creamy and tasty. I prefer to use heavy cream but you can go for sour cream as well, vegans can opt for non-dairy heavy cream.
Salt, black pepper, basil– It's very important to rightly season your soup as per your taste to bring out the flavours of this soup, I've used dried basil, salt and crushed black pepper.
Vegetable stock– I never throw away the water after boiling vegetables and instead use that stock for recipes like these, it gives an amazing flavour and is packed with nutritional benefits.
For garnishing, I've used coriander, olive oil, sautéed cherry tomatoes, heavy cream and garlic salt.

HOW TO MAKE A CREAMY ZUCCHINI SOUP?
These following simple steps need to be followed to prepare this Zucchini soup:
First, we have to sauté garlic and onion until they turn translucent.
Add the zucchini and sauté it for about a minute.
Then goes in the vegetable stock and the seasoning, simmer cook it for 20 minutes.
Once the zucchini is soft, it further needs to be blended with an immersion blender until smooth.
Stir in the cream and adjust the seasonings as per your taste.
The soup can be garnished with greens, olive oil, cherry tomatoes and garlic salt.
STORE AND FREEZE
This zucchini soup is best when enjoyed warm but can be made prior and stored easily.
The zucchini soup can be stored in the refrigerator for up to 3 days in an airtight container.
In order to freeze the soup, it needs to be stored in an airtight container which will last for almost 2 months. Just make sure to thaw it overnight in the refrigerator and reheat before serving.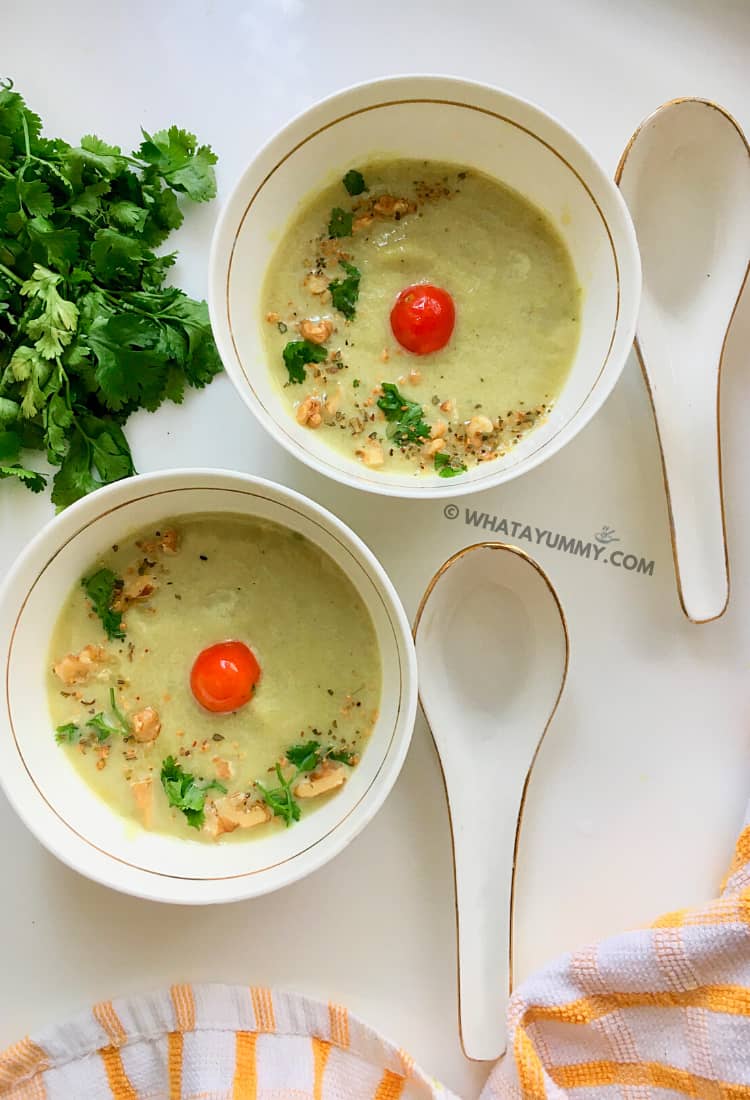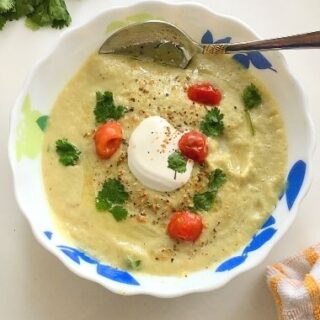 Zucchini Soup Recipe
This soup is perfect for days when you are looking for something simple, healthy, warm and delicious.
Ingredients
1 tbsp. olive oil/butter
3 cups roughly chopped zucchini
¼ cup finely chopped onion
1 tbsp. minced garlic
1 ½ cup vegetable stock
1/3 cup heavy cream
¼ tsp black pepper
¼ tsp dried basil
Salt as per taste
For garnishing- Olive oil, heavy cream, cherry tomatoes, greens, and garlic salt.
Instructions
Heat oil in a pan and add garlic into it.
Sauté it until it turns fragrant, add chopped onions and let it cook until they turn translucent.
Now add the zucchini, stir it with the onions and let it cook for up to 1 minute.
Add the vegetable stock and the seasonings. Let it come to a boil and cover it.
Simmer cook it for 20 minutes or until the zucchini turns soft.
Take the pan off the heat and blend it with an immersion blender until smooth.
Get it back onto the stovetop and stir in heavy cream, adjust the seasonings if required.
Pour the soup into a bowl, garnish it, and enjoy warm.