So, you want to make salmon for dinner tonight. That's great — but how long should you bake it for at 375 degrees?
When it comes to seafood, salmon is always a fan favorite due to how versatile it is. Not only is it a mild-flavored fish that's full of omega-3 fatty acids that help reduce your risk of developing cancer, inflammation, and high blood pressure, but it absorbs whatever additional flavors you accompany them with, such as lemon juice or butter.
Best of all, there are endless ways to cook it: on the grill, on the stove, on a smoker, or baked in the oven.
Baking salmon in the oven helps contain all the natural juices while giving it a nice flaky layer on the outside. Plus, baking is less time-consuming, so you can work on other tasks, such as preparing your side dishes while it's cooking.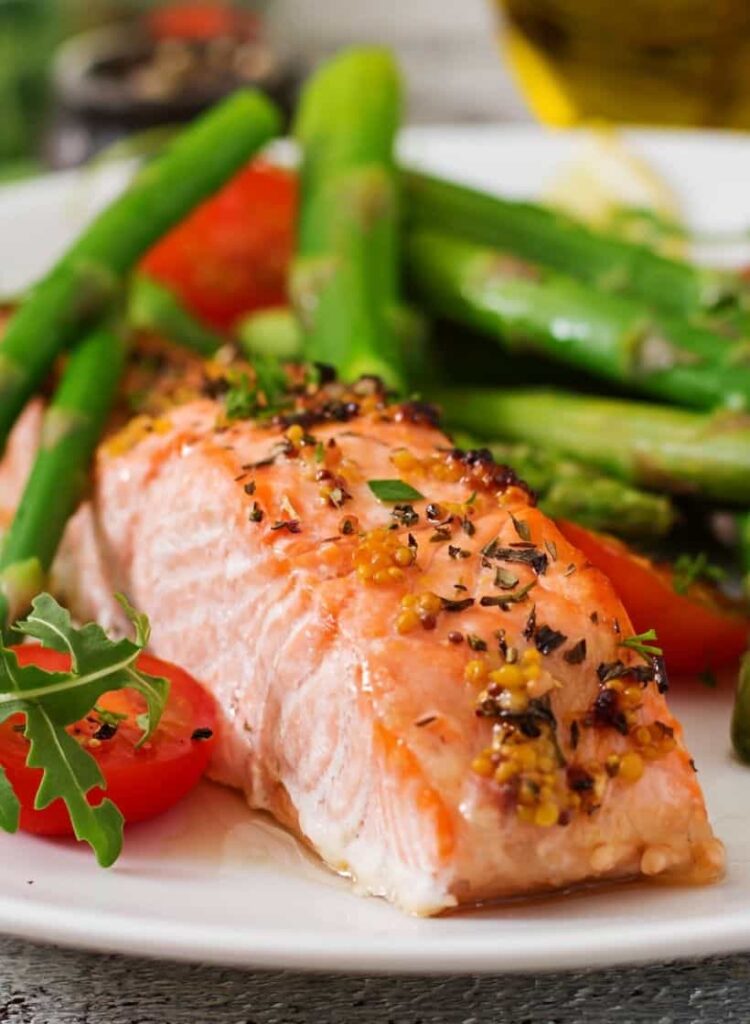 So whether you're making salmon for dinner tonight to celebrate your spouse's birthday or as the main star of your next holiday gathering, knowing how long to bake salmon at 375 per pound, how to prep salmon, and what to serve with it is critical.
So, enough talking about tasty, juicy salmon – let's get to making it!
Baked Salmon Ingredients
If you've never baked salmon before, or if you have but are just looking for a different way of making it, it's important to cover the basics.
In most cases, the most common way to make salmon is by baking it in the oven. Not only is this easy, in terms of how much you have to be involved, but it helps keep the salmon moist. When it's done baking in the oven, it's melt-in-your-mouth delicious.
So to get started, here are the most common ingredients you'll need to enjoy some baked salmon:
Salmon: Generally speaking, the ideal serving of salmon is approximately 4 to 6 ounces per person, with the latter usually consisting of a medium-sized filet. Either purchase your salmon fresh from the grocery store or in the frozen aisle.
Either a non-stick baking sheet or a non-stick pan.
Lemon juice or butter, whichever you prefer.
Salt and pepper for seasoning.
You should also include your preferred sides in your ingredient list. This could be everything from fresh vegetables such as broccoli florets to squash, long-grained rice, or a fresh glass of chilled, red wine.
Now that you know what ingredients you need to make your salmon dinner, here's a step-by-step guide on how to do it:
How to Make Baked Salmon?
Making baked salmon is easy. Best of all, it doesn't take a lot of time, either. When it comes to baking salmon, you want to be extra careful to avoid overcooking the fish. An overcooked piece of salmon will taste dry and almost chalky. In other words, it'll be inedible.
Here's an easy recipe to make baked salmon:
Preheat your oven to 450 degrees Fahrenheit.
Then, season your filet of salmon with salt and pepper.
Place on either a baking sheet or non-stick pan and bake for 12-15 minutes.
Once cooked, remove from the oven, add your side dishes and enjoy.
Out of everything you make for dinner this week, we guarantee salmon will be one of the easiest. Furthermore, you can use this baked salmon recipe as a basis for other ways to prepare it.
For example, add a little bit of lemon juice or olive oil during the preparation stage before you slide it into the oven for some extra flavor.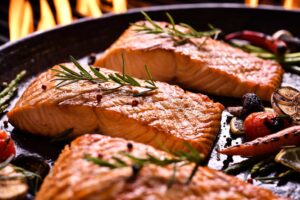 How Long Does it Take to Cook Salmon on 375?
The recipe mentioned above is for individual filets. However, if you're cooking a whole pound of fresh salmon that you'll cut up later, you'll want to bake it at 375 degrees for 18-20 minutes.
However, if your pound of salmon is frozen, you'll want to bake it for about 40 minutes to account for thawing time.
According to the Food and Drug Administration (FDA), salmon should have an internal temperature of at least 145 degrees for optimal flavor and tenderness. Baking your fish at 375 can help you achieve this.
Check Also:
How Do You Know When Salmon is Done?
After you take your baked salmon out of the oven, you'll want to make sure it's fully cooked before serving it to your guests.
Remember, as noted before, salmon can easily be overcooked and become inedible, so go ahead and test it first.
To do this, gently press down on the top of the salmon filet with a fork to see if the skin starts to flake. If the skin easily separates from the white lines, then it's fully cooked.
If it doesn't do that, put it in for another minute or two. Just keep an eye on the time to avoid overcooking it. Some suggest using your finger to test this instead of your fork, but this poses a burn hazard, so I think this suggestion is best to avoid.
What Should I Serve With Salmon?
We gave a couple of ideas above. However, here are some of the best side dishes you can serve with salmon: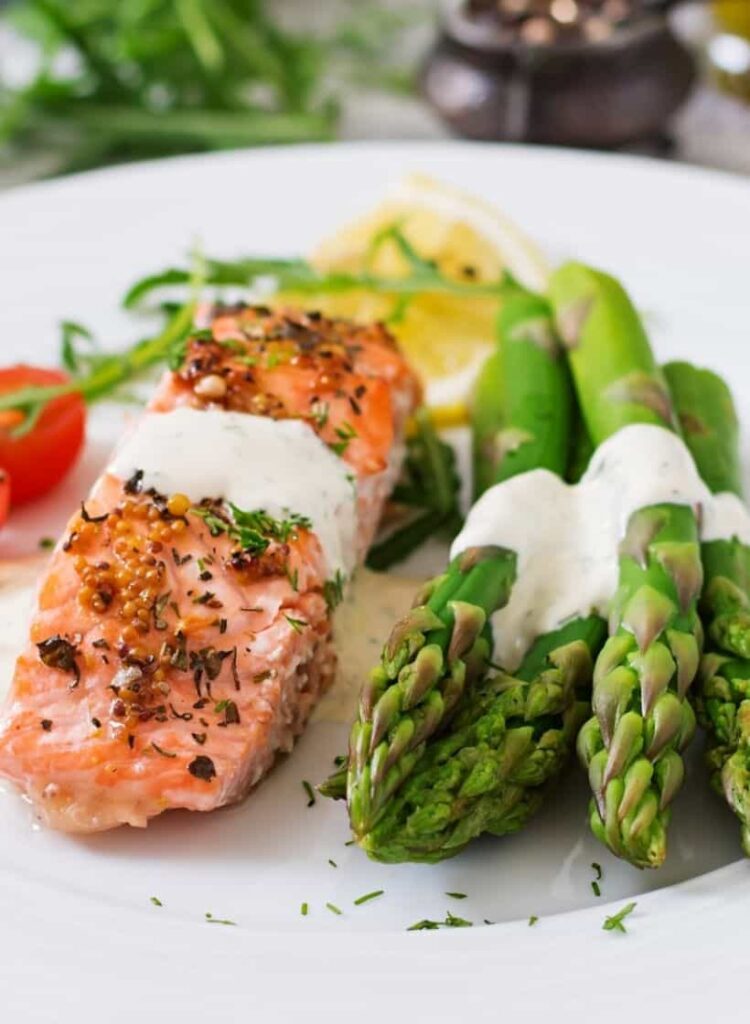 Unsurprisingly, side dishes that have a citrus base, such as lemon-infused pasta and vegetables, are commonly paired with salmon because they pair so well together by balancing out all the different flavors.
If you're preparing vegetables as a side dish, we recommend adding something that has a bit of extra flavor to it, such as brown sugar, lemon, or honey glaze. In most cases, sweet, sour, and salty flavors pair really well with baked salmon.
However, out of everything mentioned on this list, asparagus is one of the most popular side dishes.
Drizzle some lemon over the top or a sprinkle of parmesan cheese, and you've got yourself an excellent side dish that everyone will ask for more of.
How Long to Bake Salmon at 375 In Foil?
While it's not necessary to bake salmon in foil, it is an option for those who want to use it.
The use of foil in baking is meant to hold the meat's moisture. Foil also helps keep in the salmon's natural flavor, so you'll get a tastier filet each and every time.
Baking two pounds of salmon in foil at 375 will take about 25 minutes. While two pounds seems like a lot, this is usually used for special occasions such as holiday get-togethers or larger family dinners.
This cooking time will vary depending on the size of your fish.
How Long to Bake Salmon at 375 Per Pound?
As mentioned above, the cooking time for baked salmon at 375 will vary depending on the quantity.
On average, the rule of thumb is to bake your salmon for 10 minutes per inch. One pound of salmon will bake at 375 for approximately 20 minutes, two pounds at 25 minutes, and anything less than that will cook for approximately 10-12 minutes.
How Long to Bake Salmon at 375 Uncovered?
If you're not using foil for baking your salmon, then it's critical to know how long to bake it for if it's going in the oven uncovered.
On average, uncovered salmon will bake in approximately 15-17 minutes. However, if you're baking an entire salmon, you'll want to leave it for about 35 to 40 minutes.
There are some advantages to baking your salmon uncovered. First, it cooks the skin to perfection and makes it crunchier.
Second, baking it uncovered helps the salmon develop a nice browning on the top, which provides some additional flavor. It also looks nice presentation-wise if you're presenting it for dinner.
How Long to Bake Salmon at 375 in the Air Fryer
Since air fryers are all the rage right now, you may be wondering if you can prepare and cook your salmon filet in the air fryer – and the answer is YES! Air frying has garnered mainstream popularity due to how healthy it is since it doesn't use oil.
Since salmon is an already pretty healthy fish, the combination of these two things can make you feel really good about what you're putting into your body.
Baking a salmon in an air fryer is quick (and easy). After you season and prepare your salmon, set your air fryer anywhere from 360 to 400 degrees and cook it for about 10 minutes. Depending on the temperature and quantity of your salmon, this cooking time may vary.
How to Cook Salmon in the Oven
To cook salmon in the oven, you first need to decide if you want to leave the skin on or off.
Furthermore, you need to figure out if you want to cook it uncovered or wrap it in aluminum foil. Once you've made your choices, it's time to cook it.
Cooking salmon in the oven is easy. Here are a few tips you can use to cook the perfect filet every time:
Purchase 1-2 pounds of salmon, based on how many people you're serving.
Preheat your oven to 425 degrees Fahrenheit. Make sure the rack is placed in the middle of the oven to get optimal heat.
Regardless of whether you cover your fish with foil, be sure to line a baking sheet with foil to prevent it from sticking to the pan.
Pat your filet with a dry paper towel to soak up any excess moisture.
Toss in oil, salt, and pepper for seasoning. Don't add an excessive amount. All you need to do is gently coat the top of your salmon filet with oil.
Add the salmon skin-side down to the lined baking sheet.
Bake for approximately 5 minutes per half-inch of thickness. The longer you cook it for, the more well done it'll be, whereas the less time you bake it, the rarer it will be.
Check that it's done by testing to see if the skin starts to flake. Or, you can use a kitchen thermometer to confirm the internal temperature has reached 145 degrees.
Serve and enjoy!
So if you've ever been wondering how long to cook salmon at 375, we hope these tips helped answer some of your questions!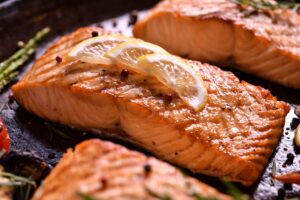 How Long to Bake Stuffed Salmon?
If you want to elevate your next salmon dinner, why not try stuffing it?
One of the most popular ways to stuff salmon is with crab meat or other types of seafood, so you get to enjoy multiple flavors of the ocean.
If you plan on stuffing your salmon, it's recommended that you use fresh filets. However, if you only have frozen, make sure to thoroughly thaw them out first before stuffing them.
Despite the additional ingredients, you will only need to bake stuffed salmon for approximately 18-20 minutes.
How Long to Bake Frozen Salmon?
Are you wondering how long to bake frozen salmon at 375? Well, wonder no more!
If your salmon filets are completely frozen, go ahead and place them in the oven to bake at 425 degrees F for approximately 15 minutes, with the skin side facing down.
It's also recommended that you cover your frozen filets with foil to help keep all of the moisture in. Then, once it's been baked, roast it for about 10 minutes to get it extra crispy.
How to Reheat Cooked Salmon?
Fortunately, after making salmon, it'll stay good for up to five days if properly refrigerated.
So, when the time comes to reheat your cooked salmon, how long should you cook it to keep the right consistency? The answer is just five minutes!
Preheat your oven to 325 and sprinkle a little bit of olive oil on your filet before heating it for five minutes.
If you're trying to reheat it in the microwave, you'll only need to heat it at 30-second intervals until cooked all the way through. Take it out every 30 seconds to see if it's warm enough on the inside.
Citrus Baked Salmon Recipe
As we mentioned earlier, citrusy flavors go great with freshly baked salmon. This easy-to-make recipe features a lot of tasty ingredients such as lemon, oranges, and white wine. However, oranges are by far the best secret ingredient.
It just adds a unique flavor that compliments the acidity of the lemon.
If you don't have fresh oranges, you can swap them out for orange juice. Just make sure you're not buying one with pulp. That and salmon certainly do not mix!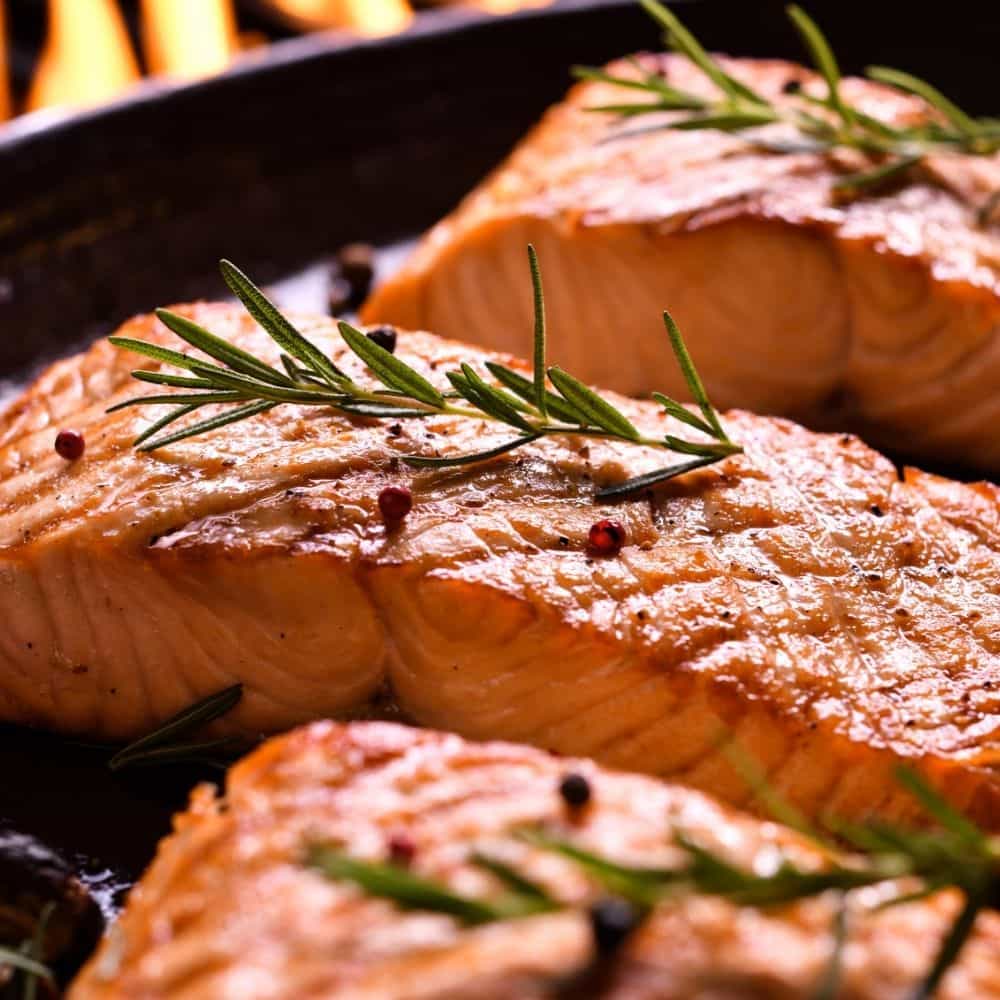 How Long to Bake Salmon At 375?
Yield: 4 servings

Prep Time: 10 minutes

Cook Time: 10 minutes

Total Time: 20 minutes

So, you want to make salmon for dinner tonight. That's great -- but how long should you bake it for at 375 degrees?
Ingredients
2 slices fresh lemon
2 slices fresh orange
4 (6 to 8-oz) skinless salmon fillets
Freshly ground black pepper and sea salt
2 tbsps freshly chopped dill
2 tbsps sun-dried tomatoes in oil, plus 1 tbsp oil from jar
2/3 c white wine
Instructions
Preheat your oven to 375 degrees F
Cut up slices of lemon and oranges and lay them side by side in a 9x13" baking dish.
Place each of your salmon filets on top of the citrus layer.
Season with salt and pepper.
In a separate bowl, mix tomato oil, dill, and sun-dried tomatoes. Spread on top of each filet.
Drizzle white wine over top of each filet and bake for 8-10 minutes.