Keto diets are all the rage lately– and for a good reason. They've been known to lower inflammation, regulate hormones and blood sugar, and help shed those pesky extra pounds.
Many people associate ketogenesis with a diet high in animal products. But keto isn't all about bacon and beef! Simply put, keto is a low carb, moderate protein, high-fat diet– and this can definitely be achieved while being vegetarian. There are plenty of keto vegetarian recipes out there.
The longer keto diets have been around– the more creative keto vegetarian meals have become. So if you're looking to go both vegetarian and keto, I've got great news for you! Not only is it possible, but you've got options.
Here are 26 easy vegetarian keto recipes to choose from. Bust out those veggies and that coconut oil, and get ready to whip up some healthy, tasty treats!
If you like crunch, this salad has plenty of it! Brussel sprouts, pecans, and seeds give your mouth that satisfying texture you've been craving.
This salad has citrus, sweet, and bitter notes. Your diet may be restricted, but the flavor of this low-carb vegetarian recipe doesn't have to be.
Are you hoping to add more substance to this salad? Try mixing mayonnaise with the lemon and olive oil to create a creamier, more filling dressing. It'll be more satisfying while still getting those healthy veggies.
Are you looking for vegetarian keto dinner recipes? How about some family-friendly burritos?
Burritos are known for being starch-heavy, but these have all the flavor without the carbs if you can believe it!
Cauliflower rice makes an excellent substitute for starch in burritos. Bites of this chopped veggie are filling and hearty– almost fooling your taste buds into thinking you're eating authentic rice.
Keto tortillas do take some time to prepare, but packaged ones are becoming more and more available in stores. So if you're short on time, check out the specialty food section of your supermarket and stock up!
How does a warming, flavorful soup sound? Well, you're in luck! It exists– even for those on a keto diet.
Whipping cream, almond milk, and broccoli give it enough thickness to forgo the otherwise carb-filled thickeners.
Broccoli loses some of its bitterness and takes on sweeter notes when cooked. When combined with salty parmesan, this soup has that hearty quality you love on a cold winter day. However, I wouldn't turn down this soup in any season!
I had no idea just how versatile cauliflower could be until going keto. This miracle vegetable can take the place of rice, pasta…and now mashed potatoes!
Mashed cauliflower gives you the texture of your favorite mashed potato dishes without all the carbs.
What's great about this soft, creamier dish is that it creates an excellent base. Combine it with keto veggie curries or keto vegetarian bolognese sauces. It soaks up the sauce and makes a full meal effortlessly.
Who says spaghetti bolognese can't be a low-carb vegan recipe? Simply sub zucchini for pasta and veggies for the bolognese.
The textures and flavors are all there, just without the carbs. It's a win-win!
If you prefer a heftier base, try putting the bolognese on top of mashed cauliflower instead of zucchini strings.
The cauliflower tends to be more filling, while the zucchini is lighter and crisper. Both are delicious. It simply depends on your preferences!
Keto vegetarian recipes don't always skimp on the protein! This classic egg salad is an excellent choice if you're looking to up your protein intake.
Boil the eggs ahead of time if desired. When it comes time to prepare this salad, all that's required is some chopping and mixing. It can be ready in minutes!
This salad can be eaten alone or alongside some mixed veggies. It works excellently as a sandwich with your favorite keto bread or in a wrap. Versatile, vegetarian, and keto!
This recipe is easy to prepare and delivers serving-sized portions straight to your plate.
I love it when the presentation is built into the dish. These peppers are the perfect vessel for delicious spinach and cheese.
If you're looking to add a little more flavor, add some spicy herbs such as cayenne or chili powder into the stuffing. The spinach and cheese will balance out the heat nicely.
Keto broccoli salad has a good balance of creamy and crunchy. The broccoli and red onions mixed with the cheese and mayo make it oh so satisfying.
The recipe calls for bacon, but feel free to omit the meat if you are vegetarian! I promise the salad will still be tasty. You could also substitute with mushrooms for that protein and fiber boost.
It carries well and is liked by keto fans and carb-eaters alike. It's a fantastic option to bring to the company picnic or the neighborhood potluck!
What should you do if you can't have grain-based lasagne? Eggplants to the rescue!
Eggplants have a meatiness that gives this keto recipe bulk and binds the ingredients together.
Zucchini strips also work in this way and can be used as a replacement or in combination with eggplants.
The original recipe includes beef. However, this can be replaced by finely chopped and grilled veggies such as onions, peppers, and mushrooms. You'll get your entire fill of veggies in this comfort food dish!
Are you looking for some vegetarian keto dinner recipes to impress your guests? Whether they are all keto, vegetarian, or neither, they will enjoy this tasty soup.
Broccoli goes very well in keto soups. It's low in net carbs and high in fiber, with lots of nutrients and minerals to boot. It's one of the most nutrition-dense foods per calorie.
If you want to make this soup even thicker, try adding keto-friendly flour to the broth. Coconut flour is my favorite option, but almond flour adds an interesting and nutty flavor.
When I started a ketogenic diet, I was surprised to learn about zucchini's nutritional benefits. It's a keto vegetarian's dream! A medium-sized zucchini has roughly four net carbs and two additional grams of healthy fiber.
Plus, it's so versatile in the kitchen! This recipe, adds a meatiness you just can't get from all veggies.
It pairs with the cheese and cream well too. I like to load the top with extra cheese and bake a bit longer to get an additional crispy coating over the casserole. Delish!
Do you remember your parents telling you to eat your green beans? With this recipe, nobody will have to remind you.
Cooking the beans softens their bitter flavor. Parmesan gives it a salty touch, while the avocado oil adds a grassy, nutty flavor to balance the overall taste. Did you know green beans could be so tasty?
Who knows, maybe your kids will even ask for more. I know I did after tasty this dish.
Are you sick of the simple fried eggs for breakfast? Me too! Just because you're eating a vegetarian keto diet doesn't mean you can't get adventurous with breakfast.
Switching up the presentation can bring a whole new element to a recipe.
This recipe uses simple ingredients. However, instead of making a scramble or omelet, it takes the mixture into the oven. Baking it creates a casserole-like texture and presentation.
Alternatively, you can also pour the mix into individual cupcake containers to create breakfast muffins. It's a great single-serving option for breakfast on the go!
Depending on how much you eat, this dish might veer on the side of lazy keto meals rather than strict. It's good to indulge in slightly more carbs from time to time!
These spaghetti squashes are soft and buttery on the inside— and super easy to scoop out with a spoon.
They are also loaded with tasty veggies and topped with decadent cheeses. It's easy to say these serving-sized portions pack a flavorful punch!
Nothing stacks up to these pancakes! These savory pancakes can be consumed any time of the day.
Whether you want a breakfast side to go with your eggs or a nice handheld side dish to dip into soup, spinach pancakes pair well with many meals.
While keto, they still have a crispy exterior and a starchy-tasting interior. You'll feel satisfied without the guilt– or the heaviness of flour-based pancakes.
With all the keto-friendly pasta being sold nowadays, cooking for everyone is easy! Even non-keto guests or kids won't know the difference.
This pasta dish has all the essentials: tomato, cheese, and veggies. Simple and satisfying. Don't be afraid to add even more of your favorite veggies to jazz it up. I personally like spinach and mushrooms. You can also swap out the long pasta noodles for keto bowtie or macaroni.
Whatever you decide, you really can't go wrong!
Grilled cheese has always been a childhood favorite of mine. I was happy to discover that I did not have to give it up. I could actually replace it with vegetables.
The shredded and fried zucchini makes the perfect fritter-like bread substitute. And the cheese melts perfectly in the middle.
This pseudo-sandwich is best served warm and with a cup of keto-friendly soup. It's just like mom used to make it…but keto!
These are nacho average nachos! This twist on a classic is even healthier without sacrificing any of the flavors.
They're full of color– making them the perfect presentation for parties and picnics.
Mini peppers make the perfect handheld bites. Black beans are nutritious, but if you're worried they'll add to your carb count, mushrooms or eggplants make a good substitute. Add some peanuts before baking for an added toasty crunch!
The prep for this dish is super easy! Just chop the ingredients and pop them in the oven.
To make this dish vegan, simply skip the cheese or opt for nut-based, vegan cheese options. Vegan mozzarella has evolved to the point where I can't even tell the difference!
I recommend serving this dish with some store-bought keto bread to soak up all the tomato and cheese gravy. Plopping it on top of cauliflower mash also creates a nice meal!
This recipe is soup-er! The warm, cozy vibes of winter pair well with a bowl of steamy, flavorful soup. This recipe can give you just that.
The variety of vegetables and colors is sure to give you loads of nutrition packed into a keto, vegetarian meal. While the recipe calls for chicken broth, you can easily replace it with a vegetable broth– making the dish vegan.
Vegetable soup also makes a good batch cooking recipe as well. Make extras and freeze for later. You'll be grateful on those cold, lazy nights when all you have to do is pop some on the stove and enjoy!
This rice bowl is surprisingly both vegan and low carb! The secret to low-carb rice is actually a cauliflower substitute.
The sauce really brings this dish together well. It's got a nutty, umami quality reminiscent of Asian cuisine.
Just remember to go light on the dressing as an excessive amount can overpower the meal. Replace the soy sauce with a gluten-free version or liquid aminos if you're avoiding gluten altogether.
Pesto doesn't get the credit it deserves in the pasta world. Everyone has tried tomato and cream-based sauce, but pesto is just as delicious. It is its own unique blend of herby, salty, nutty, and rich.
Zucchini noodles are an excellent low-carb pasta replacement. They are low in calories but high in nutrition. If you want a more filling option, try keto pasta noodles.
If you haven't tried this homemade sauce before, the pesto's yet to come!
Missing some of your favorite sandwiches? You don't have to! With a little creative thinking and the right replacements, you can enjoy your favorite dishes without sacrificing your health.
Zucchini boats make a great bread substitute. They work as an open-faced sandwich but without the carbs to weigh you down.
As far as keto diets go, this meal has a nice balance of protein, fat, and carbs. While it's a pescatarian, you can substitute mashed legumes to create a vegetarian version.
Want to put some spice in your rice? Welcome to Mexican rice. This dish is special in that it uses more spices and tomato sauce to create a softer, flavorful base.
Luckily, the same can be created using cauliflower. The cauliflower doesn't absorb quite as much tomato juice and spices. However, leaving chunks of veggies and herbs will give it that delicious, Mexican flavor.
Top it off with avocado or sour cream for the full experience. Buen provecho!
Burgers are the best! What's great is that burgers have evolved. They no longer have to be simple beef patties. Many variations have emerged, and there's something for everyone– including keto vegetarians as well.
This veggie burger is not only low-carb but also paleo and gluten-free. It's perfect to serve when you're not sure of your guest's dietary restrictions.
The recipe avoids all the major allergens while still maintaining that delicious burger quality and gratifying taste.
There you have it! Some may think eating a vegetarian or keto diet is limiting, but you know better. There are so many healthy, tasty options to choose from it's actually difficult to know where to start.
So pick a recipe, give it a whirl, and work your way down the list. Bon appetit!
More keto recipes: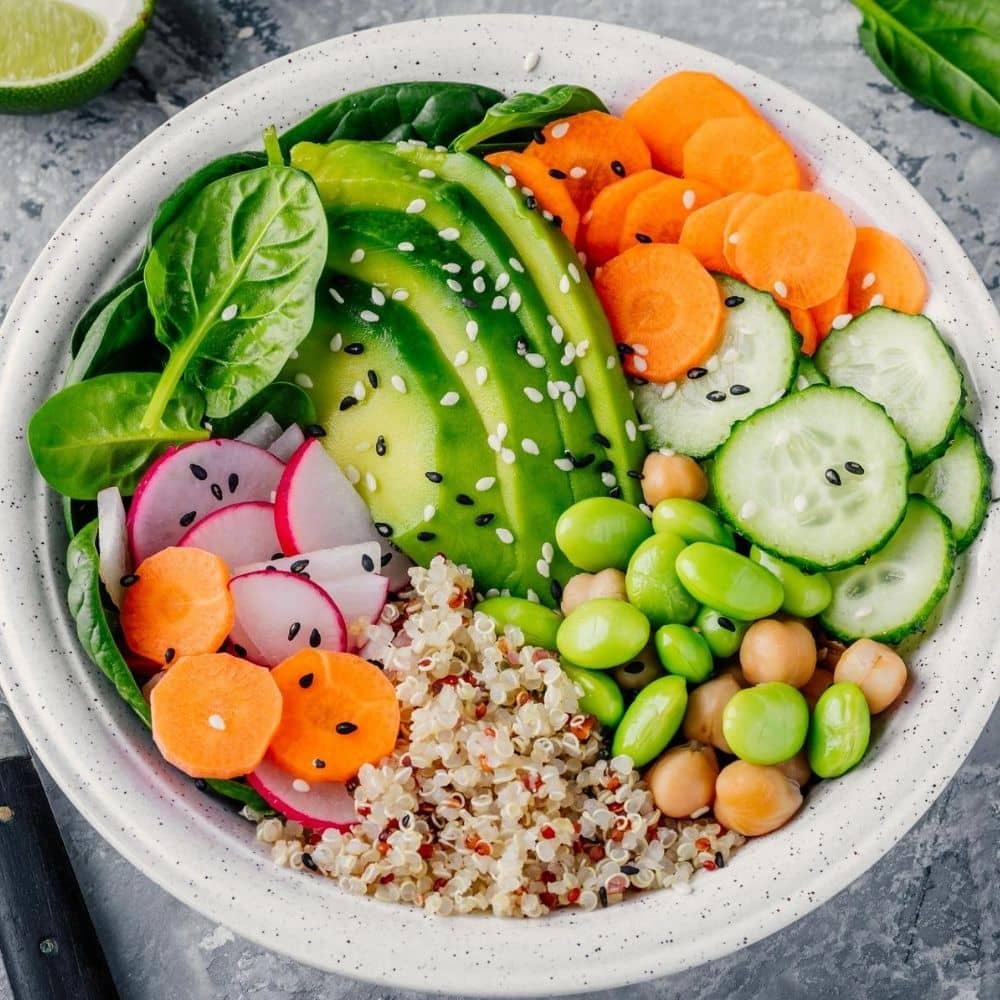 25 Easy Vegetarian Keto Recipes
Yield: 4

Prep Time: 15 minutes

Cook Time: 20 minutes

Total Time: 35 minutes

Here, we have a delicious keto salad for any occasion. The recipe uses bacon, but feel free to replace it with thinly sliced mushrooms for a vegetarian alternative.
Ingredients
3 heads of broccoli
½ cup cheddar
3 slices of cooked & sliced bacon
2 tablespoons chopped chives
¼ red onion, sliced
¼ cup toasted, sliced almonds
Dressing:
⅔ cup mayonnaise
3 tablespoons apple cider vinegar
1 tablespoon dijon mustard
Salt & pepper
Instructions
Boil bite-sized broccoli florets in water for about 1 minute, or until slightly soft.
Remove broccoli and use a salad spinner to dry the florets as much as possible.
Mix salad ingredients thoroughly. Add salt and pepper to taste.
Combine all the salad ingredients with the dressing. Lightly toss to mix.
Nutrition Information:
Yield: 4
Amount Per Serving: Calories: 428