This vegan mushroom bourguignon is full of flavour and can be made without any hassle or fancy ingredients.
You may have heard of beef bourguignon traditionally cooked in red wine but in order to make this recipe vegan, I slightly tweaked the original recipe and replaced the beef with mushrooms to make an absolute vegan hit for my family.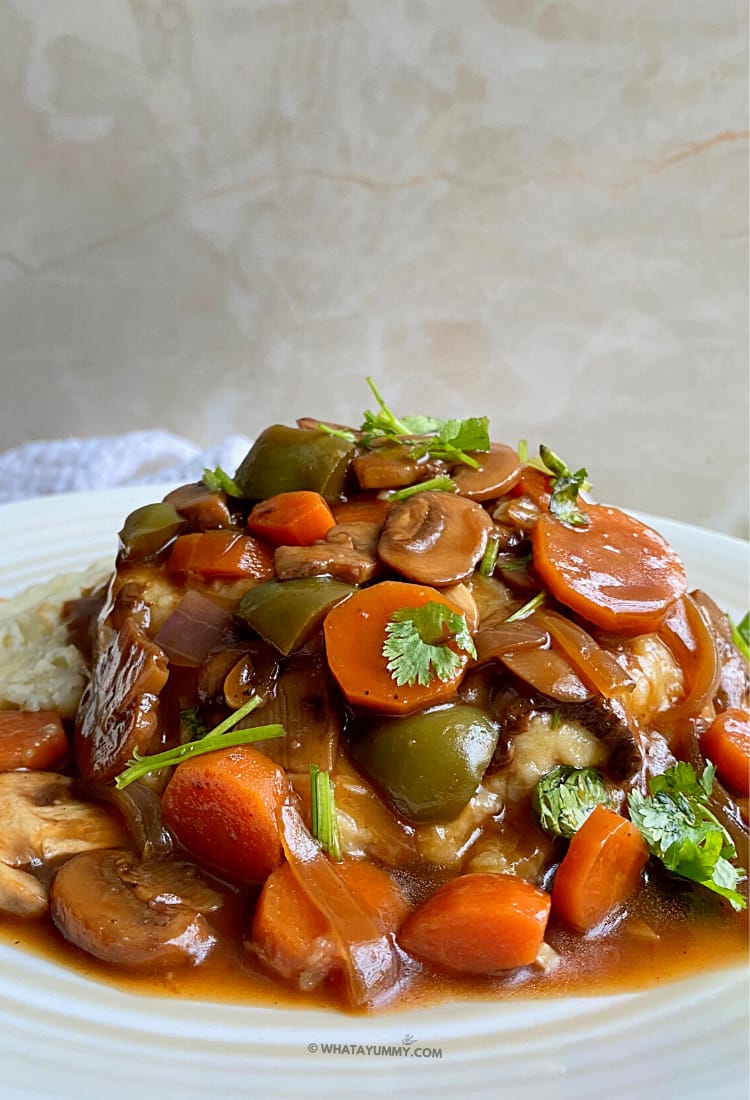 INGREDIENTS
This Vegan Mushroom Bourguignon is a hearty and a one-pot meal which is absolutely delicious and super easy to make. Also, it requires just the basic ingredients to prepare this meal.
Onions and garlic – Sautéing these gives a beautiful aroma to the meal and also adds an earthy flavour to it.
Mushroom, carrots and bell peppers- these can be replaced with any of your favourite vegetables or you can add the vegetables of your choice to this meal.
Red wine- you can make use of brandy or a mixture of both wine and brandy to cook the bourguignon.
Tomato paste or Soy Sauce- tamari sauce can be replaced with soy sauce to make the dish gluten-free.
Cornflour- this ingredient helps thicken the curry.
Greens- I've used a handful of spinach to the dish to give it that extra goodness and earthiness.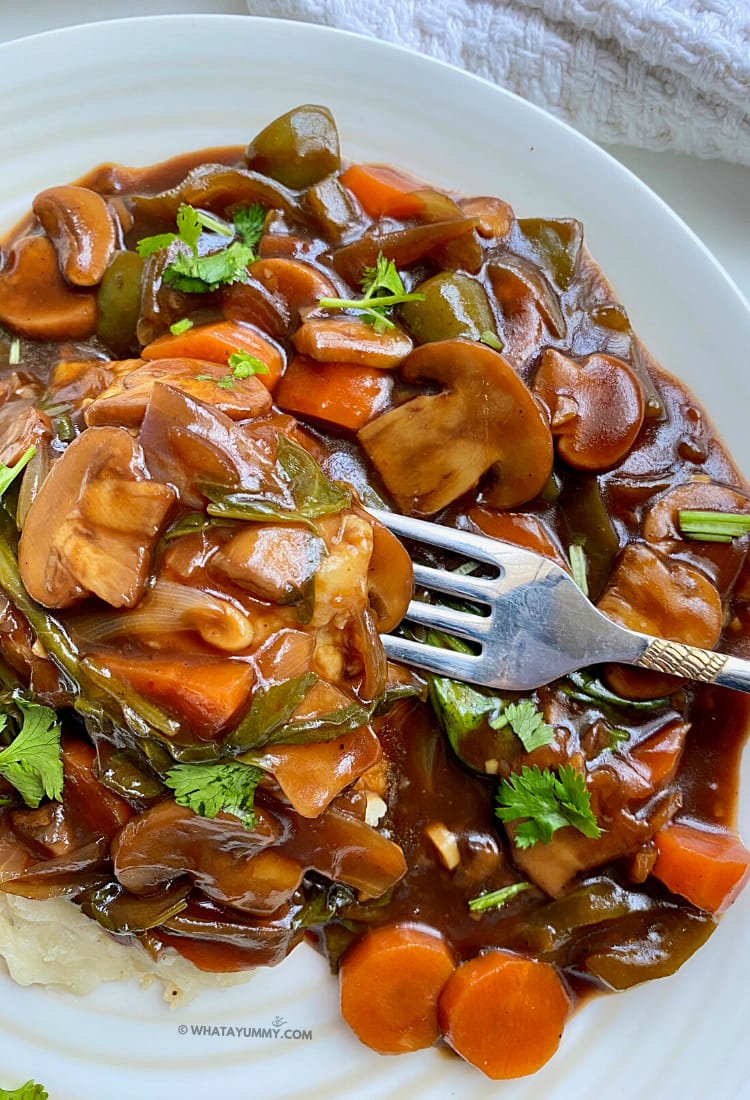 HOW TO MAKE MUSHROOM BOURGUIGNON
I've served this delicious vegan mushroom bourguignon with a potato mash.
For the Bourguignon– Place an instant pot over the stovetop, heat the oil and add onions and garlic into it, sauté until they get fragrant. add mushrooms and cook them until some edges start to go brown. Add the wine and let the alcohol cook for a few seconds. Now the vegetable broth, soy sauce, carrots, bell peppers, tomato paste, thyme and salt. stir well. Cover the pot with a lid and let it pressure cook for about 10 minutes. Now stir in the cornflour slurry and let the mixture come to a boil. Add spinach leaves, cook for few a seconds and take it off the stove. Garnish with some thyme and it's ready to serve.
For the Potato mash– Boil the potatoes for 12-14 minutes. Mash the up roughly and add non-dairy milk, thyme, garlic salt. adjust the texture as per your preference and it's ready to serve with your delicious Vegan Mushroom Bourguignon.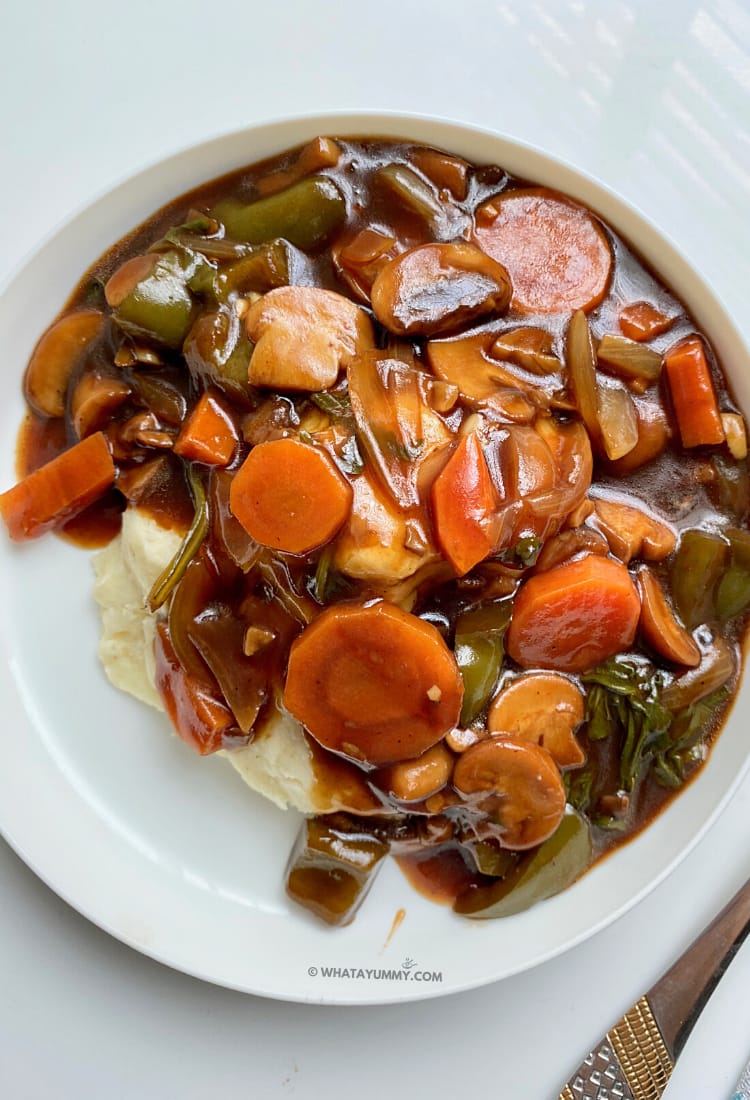 HOW TO STORE LEFTOVERS
This vegan mushroom bourguignon tastes best when served fresh and hot. However, you can also make it 5 hours prior and store it in a casserole at room temperature.
Make sure to bring it to a boil right before serving, don't hesitate to add a little water to adjust consistency.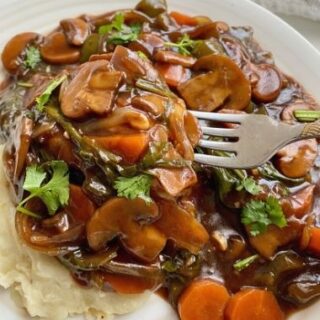 Vegan Mushroom Bourguignon With Potato Cauliflower Mash
This vegan, gluten-free and nut-free recipe is perfect to serve it alongside potato mash as a main course for either lunch or dinner. This recipe can also be made in a large quantity to serve at your family gatherings or parties.
Ingredients
Mushroom bourguignon:
2 tbsp olive oil
1 sliced onion
1 cup sliced Mushrooms
4 cloves finely chopped garlic
¼ cup red wine or broth
½ cup slices carrots
½ cup diced bell peppers
1 tbsp fresh thyme
1 tbsp soy sauce, tamari for gluten free
2 tbsp tomato paste
¾ cup vegetable broth
½ cup baby spinach leaves
1 tbsp cornflour
salt and pepper to taste
Potato Mash:
2 large potatoes
¼ cup non dairy milk
1 tbsp olive oil
¼ tsp garlic salt
¼ tsp black pepper
Instructions
Heat the instant pot and add oil into it. Now add garlic and onions and sauté until fragrant. Add mushroom and give it a nice mix. Cook for 3-4 minutes until the edges start to turn to gold.
Add the wine and give it a few seconds for the alcohol to cook.
Now, add the carrots, bell peppers, and thyme. Mix well. Add the soy sauce, salt, pepper, tomato paste, and the broth. Give it all a nice stir.
Now cover the lid of the instant pot and let it cook for good 10-12 minutes.
Mix the cornflour with 3 tbsp of water and add it to the mixture. Mix the slurry well in the curry and let it come to boil for thickening.
Add the spinach leaves and let it cook for a few seconds.
Turn off the heat and garnish with some fresh thyme.
Meanwhile, boil the potatoes for 12-14 minutes. Drain the water and let the potatoes come to room temperature.
Peel the skin and mash roughly.
Add oil, milk, pepper, thyme, and garlic salt. Mash again to get the preferred consistency.
Serve the potato mash with the delicious mushroom bourguignon.