Are you confused about what to cook during your keto diet?
Well, these 27 keto diet recipes are the best ones for you. They will make your diet delicious.
Trying these keto lunch recipes will be the perfect thing. You can try them for yourself or serve them during your family gatherings too! Everyone will enjoy them!
What can I eat for lunch on a keto diet?
Well, for your keto diet, you'll always be confused about what to cook. We have the solution for you.
All you have to do is to try our recipes. These keto lunch ideas are the best ones you'll ever have. You'll make your keto diet tasty! And won't get enough of them, you can try the egg salad, keto chicken bowls, maybe some of the sushi filling low carb recipe,
If you love chicken salad, you must try the Ranch Bacon and Cheddar Chicken Salad, the keto shrimps, and cheesesteak roll-ups ….
All of these recipes can make your day just by trying them. The fact that they are so delicious and easy to make is unbelievable.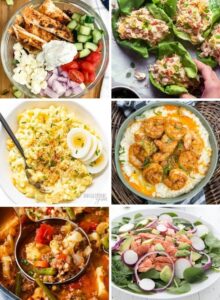 1 Keto Chicken Gyro Bowls
Being on a diet is hard, and confused about what to cook and what to eat.
This easy lunch keto diet recipe for beginners will make it easier for you. It is so easy and quick to make, plus it is so tasty! You'll only need chicken as a base and cucumber.
This combination makes your dish delicious and so healthy. Adding garlic powder and tomatoes is so great because this bowl has all you need for your diet!
2 Low Carb Hamburger Soup
On your diet. You think you can't crave hamburgers, but stop there!
This will be your favorite low-carb lunch idea. It will make your dish so unique you won't be needing much because it has all of your favorite low-carb vegetables and ground hamburger. It is a homemade soup which is rich and so delicious.
It combines all the good things you'll need for your diet! You'll cook all the beef and tomato-based broth ingredients, making its texture great and to die for!
3 Salmon Salad with Avocado and Spinach
Your diet will be special trying this combination of Salmon and Avocados.
It makes your dish more rich and great to try, the fact that it is rich with proteins, you won't be missing your carbs, the salmon gives the salad a great taste, and the avocados are the ones delivering it a great texture!
It is so healthy and perfect. Adding the spinach, the grilled salmon makes you want to get more of this salad. It is perfect for your keto lunch running out late for work!
4 Ranch Bacon and Cheddar Chicken Salad
These keto meals will make your diet perfect. If you're craving chicken salad but trying to find new ideas, well, this recipe is going to be your friend because you'll love how it tastes and how it is made!
It is so easy and rich with proteins that you'll be craving each day. Well, hold it there!
You'll be needing bacon, chicken, green onions ranch! Your combination is perfect. You can add the seasoning you like, and at the end, add some of your favorite cheese (cheddar) that makes it to die for!
5 Easy Keto Egg Salad Recipe
This classic recipe can be on your keto recipes as your favorite keto meal! It is so quick to make in only 5minutes !!!!
It is the perfect keto recipe for your low-carb sandwiches and lettuce wraps.
You can serve it to your guests too! They will love it. It is so great for your keto lunch!
6 Keto Shrimp and Grits
If you haven't found your comfort food yet during your diet, well, you can have a look at this Keto recipe!
The cheesy shrimp recipe and grits are the best low-carb recipe you can ever taste and make! It won't take you much time. You'll crave it all the time! it is so rich in proteins and is low carb.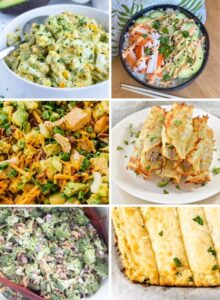 7 Sushi Roll in A Bowl With Cauliflower rice
Been thinking of low carb and healthy recipes?
You'll love this one because it is so quick and perfect for your lunch and late-night dinner just by combining low-carb meat, avocado, and cucumber! It can be meal prep for your week.
It doesn't require any baking or cooking! You can add your favorite seasoned mayo and some chili! Then serve it and enjoy your meal.
8 Avocado Egg Salad
You can change your early egg salad by adding avocado to it, it makes it tastier, and the texture is impressive.
You will boil some eggs. They have to be hard! Add to them some lemon juice, mayo Dill and parsley.
You can serve it with your sandwiches and your lettuce wraps. This is amazing for your diet. It makes it unique and adds flavor!
9 Keto Broccoli Salad Low Carb
This low-carb salad is the perfect salad for your low-carb diet. It has a great mixture ! and it combines all of your favorite ingredients, such as Broccoli, red onion bacon, and seasoning it with apple cider vinegar.
This is the perfect combination for your long day at work! For the toppings, you can add sunflower seeds and cheddar cheese!
10 Keto Philly Cheesesteak Roll-Ups
This is the perfect idea for your lunch. This keto diet recipe is one of the best.
These roll-ups are made with cream cheese and are easy to make. You can customize them the way you want! These sandwiches are going to be your favorite.
You'll make them for the weekends and also for your lunch box they are low carb ones!
The filling is great if you are a fan of cheese and cream. This is for you. You can season it the way you want.
11 Bacon Avocado Chicken Salad
Trying this keto salad combining every port makes it easy and quick. This is the perfect dish for your keto diet.
It is the ultimate keto low carb recipe perfect for your long day at work.
You can serve it for your lunch and dinner as well. You must know that the topping is low carb if you were wondering.
This keto dish is excellent to serve with your main dish and take with you on your workdays in your favorite lunch box. Everyone will love it!
12 Low Carb Cauliflower Breadsticks
This low-carb lunch idea will be your favorite. If you have never tried breadsticks differently, you must try this recipe.
You'll love it! It is very easy and delicious to make. You'll enjoy making it …. it is perfect for your late-night coming home and not into cooking,
It can be frozen then served later! cheesy, and you can do it with your favorite low-carb soup and enjoy it during these cold winter nights in your cozy corner with your favorite movie, or you can serve it on thanksgiving eve!
Everyone will love this recipe and won't figure out it's a low-carb one!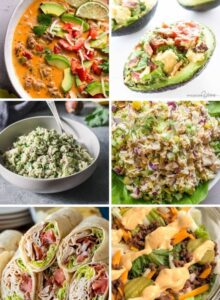 13 Keto BLT Stuffed Avocado Recipe
This wholesome YUM and healthy lunch recipe make your lunch or snack perfect. It is so quick to make it only needs 15 min to be ready, perfect for your Keto diet.
All you'll be needing is a fresh avocado, bacon, tomato, lettuce, lime juice, and some garlic. You can add sea salt or regular salt and some black pepper.
This is so yummy, and if you are an avocado lover, then you will enjoy it as much as I do on my diet! It is very different from any recipe. You won't feel that you are on a diet!
14 Creamy Taco Soup
Being on a diet, you'll always be craving some dishes, but aren't allowed well, we got you!
The low-carb-friendly soup is so warm and will be on the list of your favorite food. It is loaded with veggies, and you can top it with fresh lime juice and some avocado.
You'll enjoy it more than a regular taco! This is soooooo creamy. You won't need to miss the cream to make your keto soup! but you'll have to add it to make it better, everyone who'll taste it will love it
15 Avocado Chicken Salad Recipe
This quick and easy recipe with avocado is excellent to make. The combination of chicken and avocado without mayo is delicious with the creamy avocado texture.
It is low-car friendly and suitable for your diet. You can take it to work and enjoy it on your lunch break!
You won't feel that you're on a diet, and you'll be so energetic after eating a delicious meal full of love and made with passion!
16 Chicken Bacon Ranch Wraps
If you've never tried bacon wraps before, then you have to try this Keto lunch idea for your meal.
You'll need bacon, lettuce leaves, some sliced chicken breast. You can season it as you wish, then wrap all the ingredients together in tortilla wraps adding ranch to it, and it's ready!
These wraps will make your diet easier because they are so quick to make, they won't take you time, and you'll enjoy them during your lunch break or late dinner!
17 Keto Big Mac Salad
Craving a big mac? Well, you can now eat your big mac during your diet.
Turning it into a salad, it tastes the same with fewer carbs full of ground beef, cheese, and creamy big mac dressing.
You'll enjoy it as much as you want your regular one, but with fewer carbs, it is so delicious and worth the try ! you can take it with you to work and eat it during your break. It is different from your regular lunches of all time!
18 Dill Pickle Canned Chicken Salad
This low-carb salad is great for your lunch or snack.
Serving it with lettuce leaves or a sandwich, adding pickles to the mixture makes it unique and so yummy! Chicken, celery, mayo, mustard, all ingredients key to a delicious chicken salad.
Your salad will make you feel so great after eating it, it is so delicious and enjoyable with your favorite bread and sauce on top of it, and you can take it as a snack or for your late dinner after a long day!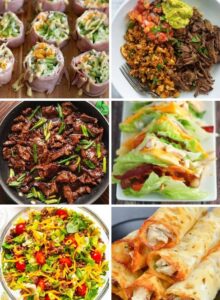 19 Lunch Meat Roll-Ups
These keto roll-ups are one of the best recipes you can use while on a diet.
These ham rolls are quick and delicious. They combine avocados, bell pepper, cucumber, and dried chives.
You can enjoy this recipe as much as you want because it is low-carb, creamy, and delicious.
You'll have to enjoy them either on your lunch or dinner or both. You don't have to think about that but enjoy the crunch and the creaminess from the inside!
20 Keto Burrito Bowl
This Mexican meal is suitable for your cravings and diet.
It is easy to make and customize everyone will love it, you can have it as a lunch or dinner meal, it is a great idea for guests too because they won't notice it is from your diet,
The mixture is so delicious and healthy the keto burrito is unique and yummy!
21 Low Carb Chicken Keto Sandwich
Made with lettuce makes your dish and meal delicious without adding carbs,
This low-carb chicken sandwich is the simplest way to eat your clubhouse sandwich. It is bread-free instead.
It is made with lettuce, bacon, chicken, adding mayo. This sandwich will make you fall in love with your keto diet! You won't get enough of it.
22 Keto Mongolian Beef
This low-carb dish makes your diet special. Instead of eating a takeout meal, you can try to make it keto-friendly. It is the same as your regular traditional Mongolian beef.
This dish is not as sweet as the original one. You can replace it to make it keto-friendly, which has zero carbs.
The use of cauliflower rice instead of white rice makes your dish different and has a better taste and more texture! You will enjoy your meal not only you but your guests will too! They won't notice it is keto-friendly!
23 Keto Chicken Bacon Ranch Taquitos
The keto chicken taquitos are the best ones you can make during your keto diet.
They will be the perfect snack and appetizer! They are low carb and easy to make. It doesn't take many ingredients but only five, including bacon, chicken, mozzarella, green onions, and ranch.
This combination makes your dish unique and tasty. You can have them for your dinner too since they are easy to make and won't take much time, or can be served to your guests as well.
24 Ground Beef Keto Taco Salad
craving a salad besides your regular one? Then try this ground beef keto salad.
It is easy and quick to make and perfect for your diet and family. This healthy salad doesn't require keeping the stove on for too long.
It is a complete meal full of proteins, low carb and gluten-free, full of veggies and meat. All you have to do is mix everything, and voila, everything is done!
25 Italian Sub Salad
You can try this salad during your keto diet.
It is so great to make you can combine all the ingredients at once. It has so many things which are so appealing and delicious, like salami, dried basil, onion, pepperoni,
This dish is perfect for your dinner and lunch. You can serve it to yourself and your family too. They will love it even if it is a low-carb recipe!
26 Chicken Alfredo Bake
This creamy chicken alfredo bake is delicious and will be one of your comfort foods! It is low carb and easy to make.
It gets ready in 30 min, one of the beautiful meals!
Your kids will love it too and eat their veggies, adding it to pasta. The whole family will enjoy it! And will be an easy dinner idea for all of you!
27 Keto Avocado Toast
Looking for keto ideas for your breakfast?
Then you'll have to try this keto avocado toast, it is full of flavor and an outstanding balance of high fat and low carbs to start your day with!
The egg adds texture and more taste to it. With that crunchy texture, you'll change your idea about not having breakfast because it will be your regular meal!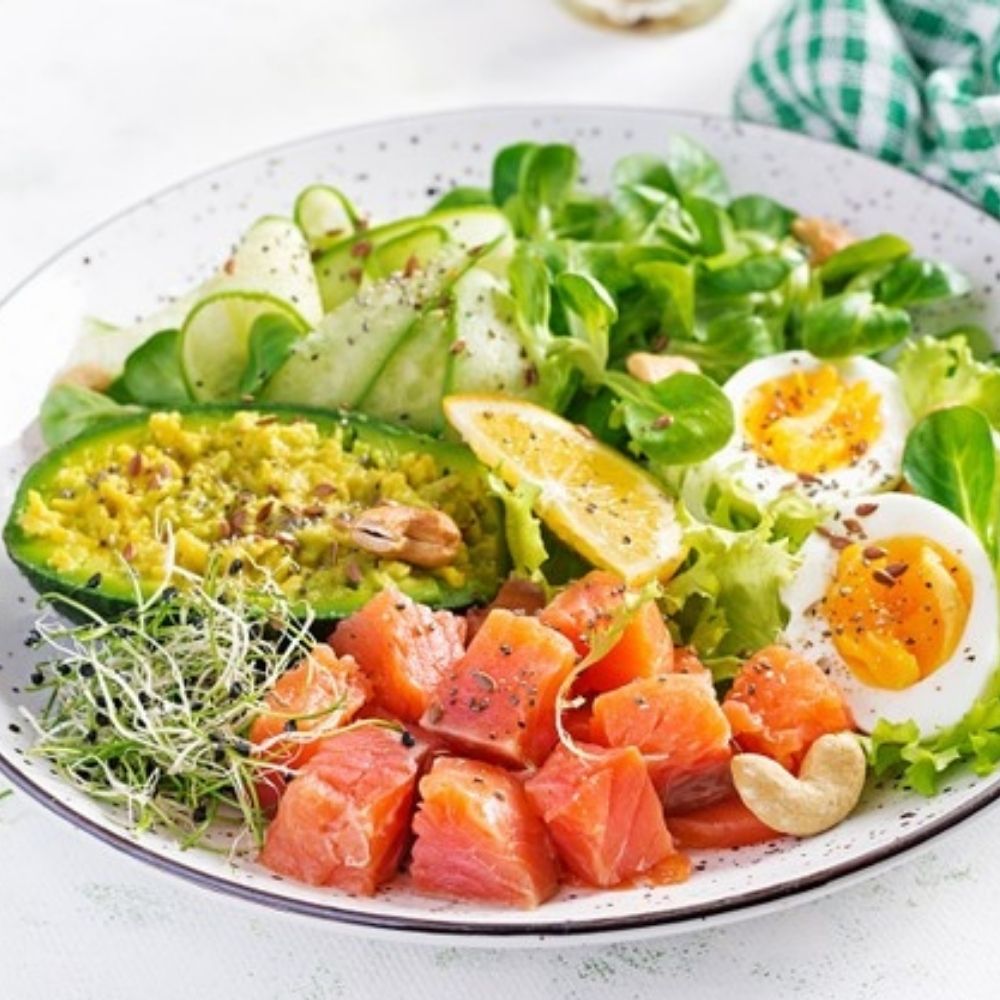 27 Keto-Friendly Lunch Recipes
Prep Time: 15 minutes

Cook Time: 20 minutes

Total Time: 35 minutes

Trying these keto lunch recipes will be the perfect thing. You can try them for yourself or serve them during your family gatherings too! Everyone will enjoy them!
Ingredients
8 bacon strips
2 c peeled cubed butternut squash
4 sliced carrots
1 poblano pepper, seeded and chopped
1 tsp smoked paprika
1/2 c finely chopped red onion
1/4 tsp salt
1/4 tsp pepper
2 plum tomatoes
2 c chopped fresh kale
Instructions
Cook bacon in a frying pan over medium heat until crisp, simmer gently. Transfer the bacon to paper towels using a slotted spoon. Remove all but 1 tablespoon of the drippings.
Cook carrots and squash in drippings for 5 minutes, covered, over medium heat. Cook until the poblano pepper and onion are tender, about 5 minutes, stirring occasionally. Seasonings should be mixed in. Cook, covered until the kale is wilted, about 2-3 minutes. Garnish with bacon.