The recipe uses an entire orange blended into the batter, which creates a beautiful soft texture and also keeps the cake so light and moist.
Along with the sticky-sweet orange glaze, this cake will just melt in your mouth. What's even better it's so quick and easy to make with readily available ingredients – just follow these simple steps!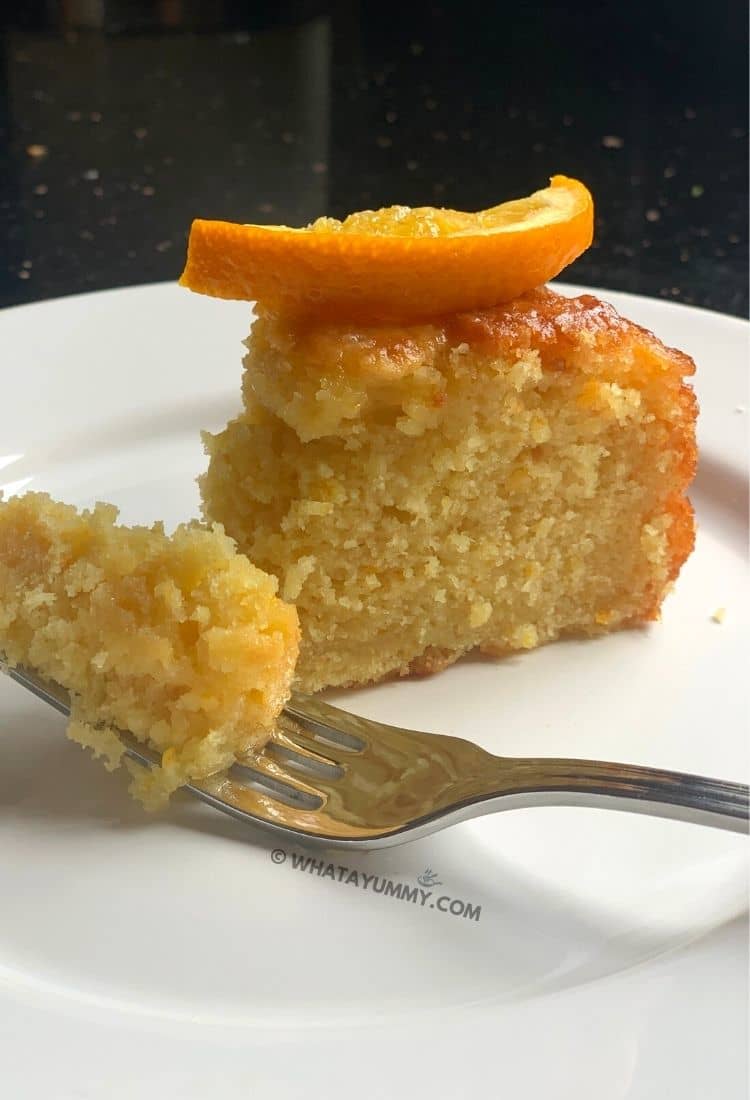 HOW TO MAKE ORANGE CAKE
This moist orange cake recipe is so easy to get right; it will soon become one of your favorites!
To make this cake you will first need to chop and blend an orange. Make sure you buy large oranges with lots of juice in them and use the whole orange in the cake (apart from seeds) to create a fabulous fruity flavor.
Next, you will be creaming the butter and sugar, and add the wet ingredients: eggs, yogurt, and orange puree.
Then fold the dry ingredients into the wet mixture (plain flour and baking powder). Remember to keep this as light as possible!
Finally, after baking the cake, you will be adding the sweet orange glaze on top. When making the sugar glaze, keep tasting it as you go along and add more sugar if you want. Give the glaze time to fully soak into the cake as this adds a lovely moist texture and sweetness throughout.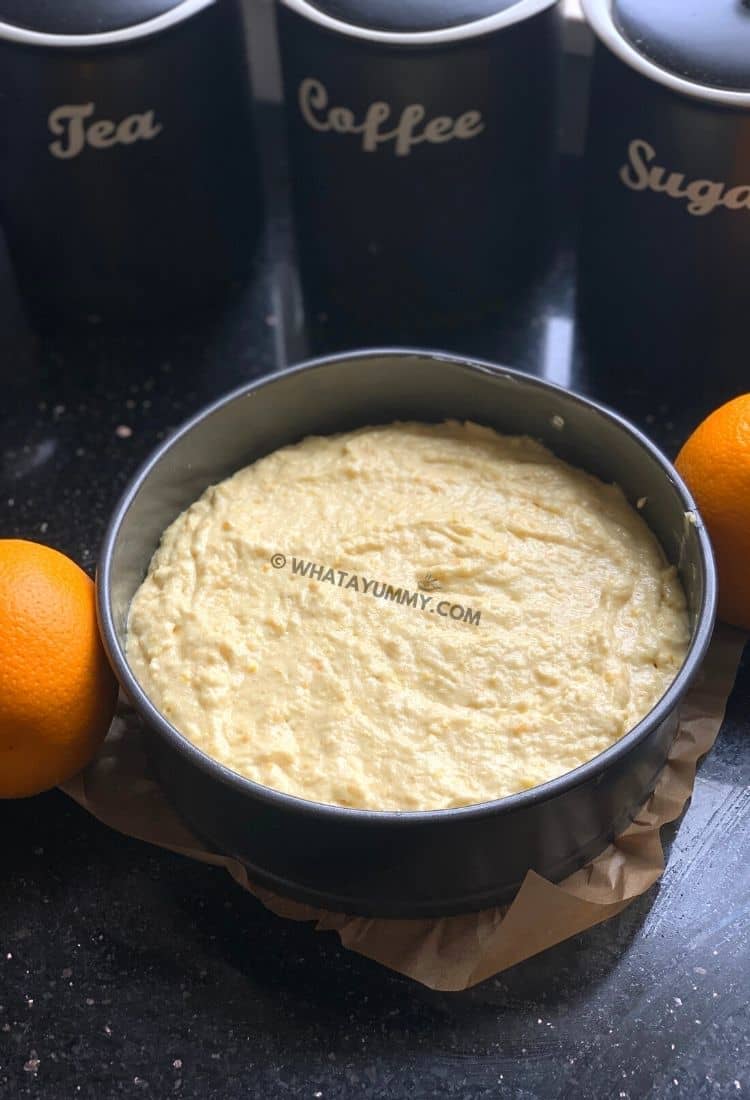 TIPS
1. Take your time beating the butter and sugar. You will see a change in color as the butter becomes paler and creamier while beating, the butter and sugar mix should be as fluffy as possible before adding the other ingredients.
2. Carefully mix in the sifted flour, do not overbeat the batter as you will lose air from the mixture. The best way to do this is to gently fold in the flour using a spatula until it forms a batter.
3. Keep checking the cake after 30 minutes of baking. If it starts to become too brown on the top, turn down the temperature of the oven by 10 degrees.
4. Decorate the cake using fresh orange slices to give it a luxury finish, fit for a celebration!
HOW TO STORE THE ORANGE CAKE
You can keep this cake out in your kitchen, but store it in an airtight container to stop it from drying out. This will last about 1 week out of the refrigerator, however, if you choose to keep it in the fridge that's totally fine, it will just last even longer!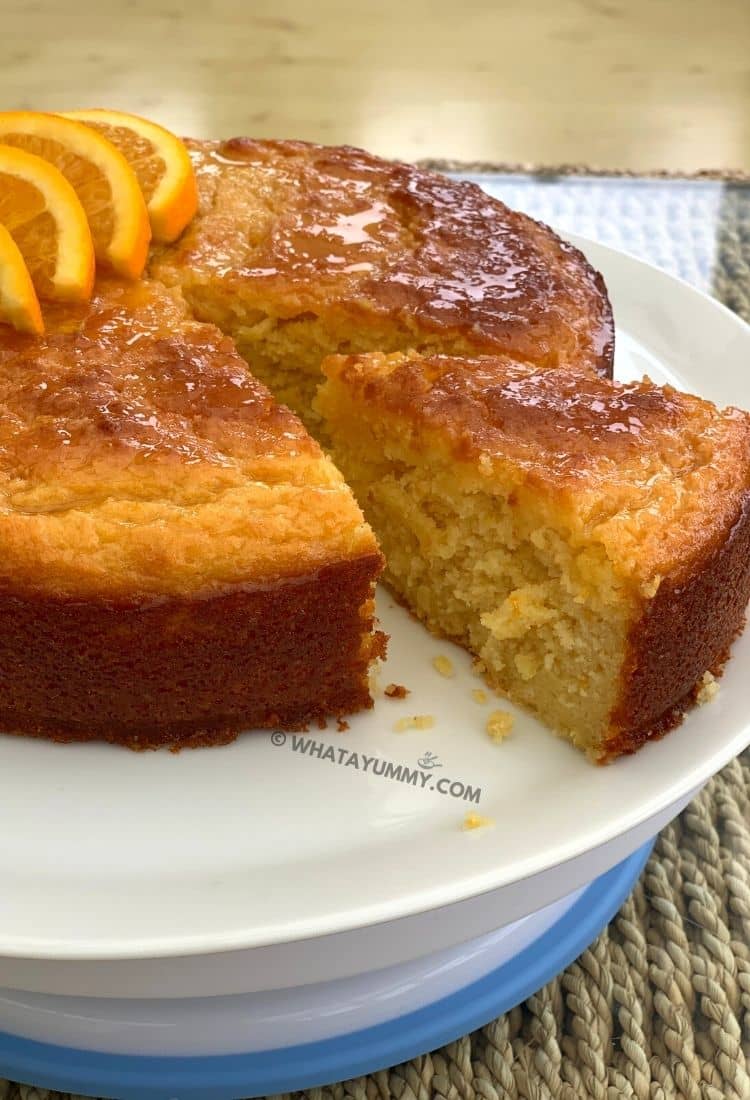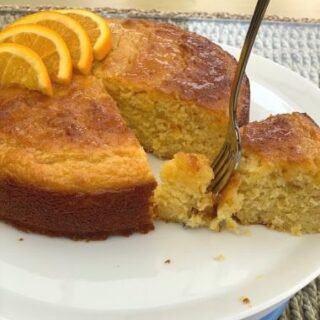 Sicilian Whole Orange Cake
Total Time:
1 hour
10 minutes
This easy orange cake recipe is packed full of citrus and perfect for a summery day.
Ingredients
Orange cake
1 large orange 
3 eggs
100g unsalted butter
100g Greek yoghurt 
250g sugar
250g plain flour 
2 ½ tsp baking powder 
Glaze
Juice of 1 large orange
110g sugar 
Instructions
Pre-heat the oven to 175 degrees Celsius (350F).
Chop the whole orange into pieces and remove any seeds. Using a food processor, blend the chunks of orange into a pulp, it should almost be a smooth puree.
Beat the butter and sugar together until pale, fluffy and doubled in volume. This should take just a few minutes using an electric beater.
Add in the eggs, yogurt, and orange puree and beat again until smooth.
Sift in the flour and baking powder and mix together, keeping it as light and airy as possible, until a batter has formed.
Line an 8 inch round baking tin with greaseproof paper and butter the sides. Pour in the cake mixture.
Bake for 45-55 minutes. Check the cake is cooked by piercing the center with a toothpick or knife, it should come out clean!
While the cake is baking, make the sweet orange glaze. Mix the sugar and orange juice in a saucepan and boil for 5 - 10 minutes until a slightly thick syrup has formed.
Once fully baked, remove the cake from the oven and spread the orange glaze on top using either a spoon or a brush.
Leave it to soak for another 10 minutes, and then enjoy a slice of your delicious glazed orange cake!

Nutrition Information:
Amount Per Serving:
Calories:

116
Total Fat:

1g
Saturated Fat:

0g
Trans Fat:

0g
Unsaturated Fat:

1g
Cholesterol:

47mg
Sodium:

134mg
Carbohydrates:

22g
Fiber:

1g
Sugar:

6g
Protein:

4g