The keto diet has gained popularity over the past few years as more people have been looking for ways to cut back on carbohydrates in their diet. And while there may be plenty of main dishes and entrees for the keto diet, newcomers may struggle with finding keto-friendly snacks.
If you are eating a keto diet, you may think that some of your favorite snack foods are off the menu.
But there are so many delicious and filling Keto Snacks. You will never tire of the options! And best of all, these leave you feeling satisfied.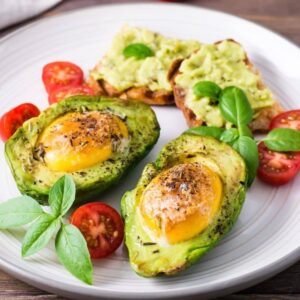 Some snack ideas are specific and unique for the keto diet, while others are creative makeovers of classic snack foods.
If you miss your favorite ice cream from a drive-thru or a fun party mix, keto versions of these popular snack foods are included!
There's no need to go hungry or deny your snack cravings… check out these recipes!
1. Keto Popcorn
Just because you are on a keto diet doesn't mean you have to give up salty, crunchy snacks during your next Netflix binge!
This keto "popcorn" uses small, dried white cheddar cheese cubes, which are then baked for a few minutes to satisfy your craving.
These poppable bites also have a delicious cheesy flavor.
There is only 1 gram of net carbs in every serving. This would be great to make a big batch and serve at a party. It's a unique snack!
2. Flourless Peanut Butter Cookies
These peanut butter cookies are sure to satisfy your sweet tooth!
These cookies have no flour, so they are gluten-free and keto-friendly snacks.
Peanut butter is combined with an egg, baking powder, salt, and sugar or a granulated sugar substitute. There are instructions included for using a monk fruit-based sugar substitute.
After the dough chills in the refrigerator, the cookies are baked for 8-10 minutes and cooled. These are the perfect cookies to have on hand for an afternoon snack or after-dinner dessert.
3. Addicting Keto Trail Mix
This trail mix is sweet, savory, salty, and, yes, super addicting! Best of all, it is easy to make.
A mix of cashews, peanuts, almonds, macadamia nuts, pumpkin, and sunflower seeds is combined with a savory seasoning of butter, Worcestershire sauce, and powdered butter sugar-substitute, and spices.
Once roasted and crispy, the nuts and seeds are cooled, then tossed with chocolate chips.
You can use whatever nuts and seeds you like or have on hand, making this low-carb snack recipe endlessly versatile!
4. Bacon & Guacamole Fat Bombs
If you are craving something salty and satisfying, you have to make this bacon and guac fat bomb!
Avocado, butter, garlic, chili pepper, onion, lime juice, pepper, cayenne, salt, cilantro, and baked bacon are combined into satisfying balls.
These are great served as a snack or appetizer when you have guests or want to treat yourself!
You can also use these as part of the meal's main course. These will keep in the fridge for up to 5 days, so make a big batch!
5. Keto Tortilla Chips
What better to pair with guacamole than keto tortilla chips?
These chips are delicious and keto-friendly. Shredded mozzarella is melted and combined with almond flour, salt, garlic and chili powder, and black pepper.
This forms a dough that is then flattened in between sheets of parchment paper and then cut into triangles. These triangles are then spread out and baked for 12-14 minutes.
These are sure to satisfy your craving for salty chips, so enjoy these crispy, crunchy snacks!
6. Keto Beef Taquitos
If you love Mexican food, you need to try these keto beef taquitos!
Ground beef is browned in a skillet with onion and spices. Meanwhile, shredded cheeses are formed into balls and baked for a few minutes to create a tortilla.
The cooked beef mixture is then spooned into the middle of the tortilla, and it is rolled into a cigar shape and allowed to sit until the cheese hardens.
7. Chocolate Peanut Butter Cup Fat Bomb
Chocolate and peanut butter are a flavor match made in Heaven!
These keto-friendly fat bombs are the perfect dessert for those looking to cut carbs. These were named one of the Top 20 Best Keto Snacks!
Coconut oil is combined with peanut or almond butter, cocoa powder, vanilla extract, and a few drops of stevia.
This forms a chocolate layer. Then another layer is created with coconut oil, peanut or almond butter, vanilla extract, and stevia drops. You will love these peanut butter chocolate cups!
8. Keto Air Fryer Mozzarella Sticks
These mozzarella sticks are a satisfying snack or appetizer!
Cheese sticks are coated with a mixture of almond flour, spices, and seasonings.
Then they are ripped in an egg wash and coated with the secret ingredient- pork rind crumbs! The cheese sticks are frozen and baked in the air fryer for only 5 minutes.
Serve these with your favorite marinara sauce. These are so crispy on the outside and gooey on the inside… a classic dish with a keto twist!
9. Best-Ever Keto Tortillas
You don't have to give up tortillas on a keto diet, and these tortillas are so delicious!
These tortillas are made with almond flour, coconut flour, baking powder, salt, lime juice, egg, and xanthan gum.
The food processor makes this recipe a breeze! The dough is pressed between parchment or wax paper and then heated in a skillet. These tortillas are perfect for tacos, quesadillas, and more.
Top with your favorite taco filling, veggies, and salsas… and don't forget the guacamole!
10. Best Keto Frosty Wendy's Copycat
Do you love the chocolate frosty from Wendy's but have given them up on keto?
You don't have to give it up. Just whip up this recipe! This recipe only has 3 grams of net carbs, so it is the perfect keto treat.
Heavy cream, cocoa powder, almond butter, vanilla extract, and stevia beat together in a mixer and then frozen for half an hour.
This dessert is so frosty, creamy, and velvety. You will love it. You won't be missing those Wendy's Frosties anymore!
11. Keto Pecan Sandies
These pecan candies are the perfect cookies to pair with a cup of coffee or tea!
Almond flour is combined with butter, vanilla extract, salt, pecans, and granulated erythritol to make the dough for these crumbly, nutty cookies. The dough is baked for 10 minutes and then is left to cool.
These cookies will keep in an air-tight container for 1-2 weeks, so make a big batch to share with others… or enjoy these tasty treats by yourself!
12. Keto Puppy Chow
Also known as muddy buddies, this snack mix is loved, especially around the holidays. Now, you can enjoy one of the best keto snacks too!
Sugar-free chocolate chips are melted and mixed with butter, peanut butter, monk fruit sweetener, and Catalina Crunch cereal. These snacks do not need to be baked, so they are very easy to make.
This would be a fun recipe to make with kids as they can toss the cereal and toppings around in a large plastic bag to get everything evenly coated!
13. Keto No-Bake Granola Bars
These no-bake bars are a great breakfast option and perfect for beginners' keto diet.
These bars are chocked full of nutritious ingredients like almonds, flaxseed meal, chia seeds, pumpkin seeds, shredded coconut, cinnamon, and nut butter.
Coconut oil, dark chocolate chips, and the sweetener of your choice are also added. These bars can be stored in the fridge or freezer, perfect for meal prepping for a busy week ahead.
Just grab one of these bars for breakfast or a snack on the go!
14. "Chex Mix" Roasted Walnuts
Many people wonder, "What snacks can I eat on keto?"
If you have assumed, you'll have to give up your favorite snacks and flavors while on keto, you would be surprised!
This recipe for roasted walnuts to mimic the Chex Mix party mix is a fan favorite! Heart-healthy walnuts are roasted and tossed with butter, Worcestershire sauce, seasoned salt, onion and garlic powders, and Tabasco or your favorite hot sauce.
This snack is perfect for munching on while watching a movie or the big game! Your house will smell amazing while these nuts roast. Make a big batch to share with others.
This recipe also has several variations listed, so you will never get bored with this keto snack!
15. Baked Zucchini Chips
These zucchini chips are low in carbs and keto-friendly!
Zucchini is sliced thinly and tossed with olive oil, Parmesan cheese, salt, pepper, paprika, and garlic powder.
The chips are baked in the oven for a few minutes until crispy and crunchy. These chips pair well with your favorite low-carb dips or can be enjoyed on their own.
Best of all, these chips use healthy zucchini as a base so that you can feel good about your snacking.
16. Keto Chocolate Cheesecake Mousse
This dessert is so decadent, you won't believe it's low in carbs… but it is! It is a no-bake with only 4 grams of carbohydrates and takes 10 minutes to prepare.
Heavy cream is whipped with cream cheese, granulated erythritol, vanilla extract, and cocoa powder. You can also add a little cold-brew coffee to make this more of a mocha-inspired mousse.
The mousse is piped into dessert dishes or cups. Garnish each cup with a little shredded coconut for a perfectly pretty dessert.
17. Baked Cheddar Parmesan Crisps
These cheese crisps are so delicious. You'll be making them for everyone, kets-follower or not!
Parmesan cheese, cheddar cheese, and Italian seasoning are all you need to make these tasty snacks.
The mixture is spooned onto a parchment paper-lined baking sheet and baked for about 7 minutes.
Once cooled, these chips are crispy, crunchy, cheesy, and satisfying. They are a great snack for watching movies or make a lovely addition to a charcuterie board. You'll be surprised by how fast these chips are devoured!
18. Thai Chicken Lettuce Wraps
Looking for a more substantial snack or a light meal? These Thai chicken lettuce wraps are perfect!
These taste like they are from one of your favorite restaurants, but you can easily make them at home.
Ground chicken is combined with garlic, ginger, onion, sesame oil, soy sauce, lime juice, and other seasonings. The warm chicken mix is spooned into soft butter lettuce leaves.
Cashews, scallions, cilantro, and carrots are sprinkled on top. These lettuce wraps are so delicious. You will make them over and over again for friends and family.
19. Avocado Crab Boats
If you love avocado or crab, you have to try this recipe! This dish makes for a satisfying snack, decadent appetizer, or delicious main course.
Crabmeat is combined with Greek yogurt, onion, chives, lemon juice, and seasonings.
This mixture is spooned into avocado halves and sprinkled with shredded cheddar cheese, then broiled slightly.
These avocado boats are genuinely show stoppers to serve at a dinner party, and they are so tasty. They are full of protein and healthy fats. Everyone will be battling for the last one!
20. Keto Italian Breadsticks
If you love breadsticks, then you have to try this recipe. Mozzarella cheese combined with cream cheese, coconut flour, eggs, garlic powder, butter, Italian seasoning, and salt.
Once the dough is prepared and allowed to sit for a few minutes, the breadsticks are baked in 15 minutes. And presto!
You have warm, delicious breadsticks for the family.
There is a lot of information in this recipe about using different alternative flours to make keto bread. It's great information for those on a keto diet!
21. Buffalo Chicken Celery Sticks
Here's a recipe with all the flavors of buffalo chicken… perfect for a snack, appetizer, or light lunch!
Cooked shredded chicken is combined with ranch dressing, cream cheese, spices, and buffalo wing sauce.
This mixture is spooned into celery sticks and served! You will enjoy the creamy, tangy, and spicy chicken partnered with cool, crunchy celery.
This is the perfect low-carb option for packed lunches or meal prepping, and it makes a great snack. You can serve this dish at a party, and everyone will love it!
22. Jalapeno Poppers with Bacon
Fans of spicy food, you will want to make this recipe! Jalapeño poppers are a popular appetizer, perfect for tailgate parties or festive occasions.
And these are low in carbohydrates, making them perfect for the keto diet. Jalapeños are halved and stuffed with a mixture of cream cheese, garlic, salt, pepper, green onion, cheddar cheese, and bacon, and then baked.
Parmesan cheese can also be sprinkled on top to take these over the top. These poppers will fly off the platter, so be sure to make plenty!
23. Cauliflower Hummus
If you love hummus, then you have to try this dish! This hummus is made with steamed cauliflower instead of chickpeas, lowering carbohydrates.
In a food processor, steamed cauliflower is blended with garlic, olive oil, lemon juice, tahini, and salt.
This hummus will last for 6 days in the refrigerator, so it is a great recipe to meal prep for the week ahead. It is a beautiful snack, spread, or dip, and you can use it in so many ways!
24. Keto Cauliflower Tater Tots
Tater tots are a childhood classic, but you may have to skip the traditional fried potatoes if you are cutting carbs.
However, this recipe allows you to enjoy the tater tots without the carbs! Rice cauliflower is combined with egg, cheese, salt, pepper, and paprika.
This mixture is shaped into tots and then placed in the air fryer. In less than 10 minutes, you have a healthy side dish that the whole family will enjoy.
Serve with your favorite dipping sauce and relive your childhood!
25. Dill Pickle Cheese Ball
This cheese ball is the perfect recipe for any pickle lover! Cream cheese, sour cream, garlic, lemon, cheddar cheese, dill pickles, and dill are combined into a ball and chilled.
This ball can be garnished with shredded cheddar, lemon zest, and fresh dill. It is tangy, sour, and full of dill flavor.
This is great served with fresh veggies or your favorite keto crackers. You can make this for any party, and it will be a fun hit with your guests!
26. Crispy Brussel Sprout Chips
Have you ever thought about making the leaves of Brussels sprouts into chips?
You should try it! These leaves are so crispy and crunchy. You can't stop popping them in your mouth. And since this recipe is made with Brussels sprouts, olive oil, and a few seasonings, you can feel good about this snack!
The leaves are tossed in olive oil, salt, and your favorite seasonings and then baked in a hot oven for a few minutes.
These chips are best served hot out of the oven. Wow, your guests with this fun snack!
27. Keto Buffalo Chicken Dip
If you love buffalo chicken, then you have to try this dip! It is creamy, spicy, and keto-friendly.
Shredded chicken is combined with bleu cheese dressing, cream cheese, mozzarella, greek yogurt or sour cream, and buffalo sauce.
This dip is baked and served hot! It pairs well with cool, crunchy vegetables or your favorite keto chips or crackers.
This is a great dip to make for a party, as your guests will love it. It's all of the flavors of buffalo chicken wings in a hot, cheesy dip!
28. Greek Yogurt Onion Dip
There's nothing quite like tangy onion dip! Greek yogurt is combined with shallots, balsamic vinegar, milk, and chives. Once the ingredients are mixed, the dip chills in the fridge.
This dip goes well with vegetables, Parmesan crisps, or your favorite keto crackers.
This dip will last for 4 days in the refrigerator so that you can make it ahead of a party or event.
This is a delicious, calm, and creamy dip to make, especially for those who aren't a fan of spicy foods!
29. Keto Vanilla Ice Cream
Who says you can't have ice cream on the keto diet? Full-fat coconut milk is combined with coconut cream, cashew butter, vanilla and almond extracts, keto maple syrup, and monk fruit sweetener.
These ingredients are blended in a food processor and then poured into an ice cream maker.
If you like firmer ice cream, this can be enjoyed as soft-serve or frozen for more extended periods. You will love this classic creamy sweet dessert!
30. Keto Burger Fat Bombs
These keto burgers take the classic drive-thru dish and make it keto-friendly. Ground beef is combined with spices.
This dish is made in a muffin tin and includes a pat of butter in the middle of each patty! Cheddar cheese tops the burgers.
These are fun, cute, and delicious! Wrap in a leaf of butter lettuce and some sliced tomato, then dip into mayo or mustard. These burger bombs leave you satisfied and are a fun way to serve this classic American food!
31. Low Carb Jalapeno Popper Egg Cups
It's jalapeño poppers but breakfast-style! Egg cups are like little omelets baked in a muffin tin, and the flavors are endless.
They are great for meal prepping, as they are portable and freeze well. These egg cups are perfect for a spicy breakfast on the go!
Whole eggs are beaten together with milk, salt, and pepper and then combined with cooked and crumbled bacon, diced jalapeño, and cheddar cheese. It has all the flavor of jalapeño poppers in a healthy breakfast dish!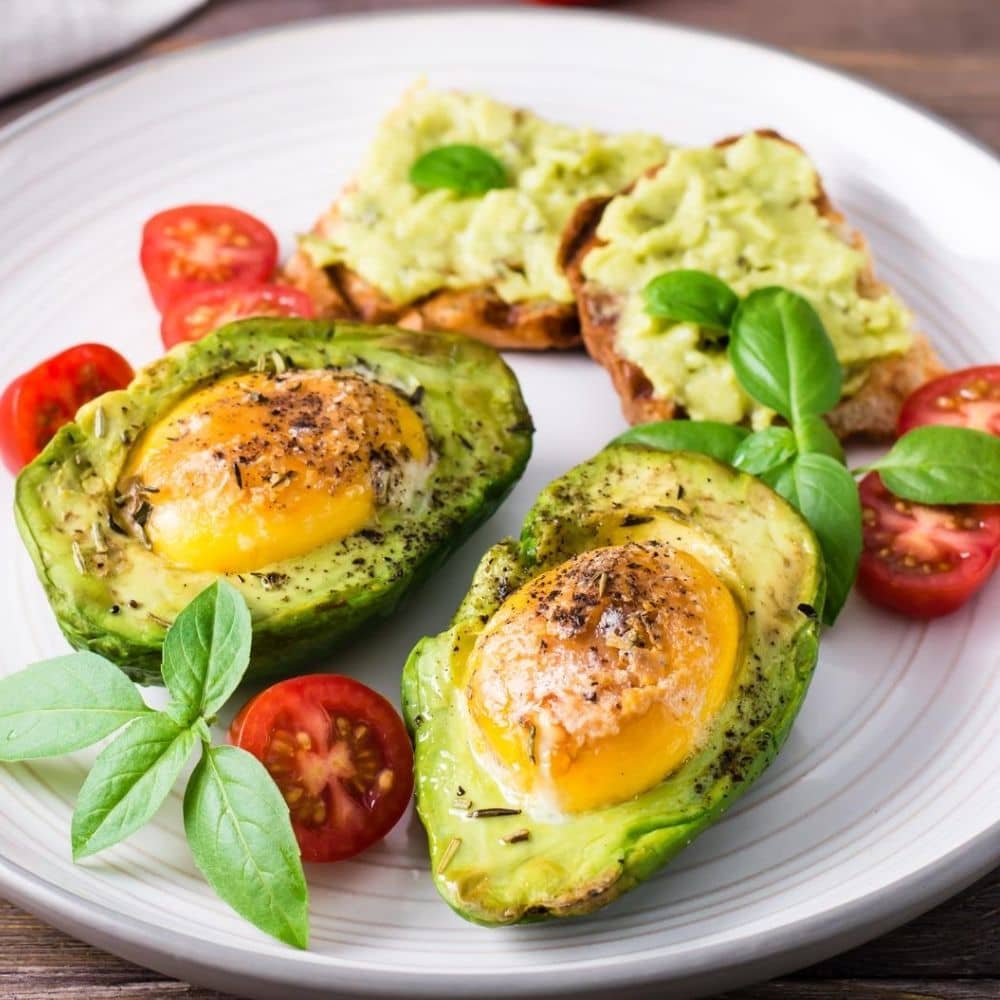 31 Best Keto Snacks
Prep Time: 15 minutes

Cook Time: 40 minutes

Total Time: 55 minutes
Ingredients
1/4 c grated Parmesan cheese
3 tbsp olive oil
2 minced garlic cloves
1/4 tsp salt
1/4 tsp pepper
1 head cauliflower (about 1-1/2 lbs)
sauce:
1/2 c fat-free plain Greek yogurt
1 tbsp lemon juice
1 tbsp tahini
1/4 tsp salt
Dash paprika
Dash cayenne pepper
Instructions
Gather all of your ingredients, mixing bowls, and baking pan. Cut your cauliflower into wedges. Preheat the oven to 375° F.
In a small mixing bowl, whisk the Parmesan cheese, olive oil, garlic cloves, salt, and pepper. Rub this dressing all over the cauliflower wedges.
Arrange the cauliflower pieces on a foil-lined baking pan that has been coated with cooking spray or rubbed with olive oil. Leave the cut sides up in the air.
Roast the cauliflower wedges for 4-45 minutes. It should be golden brown and fork-tender when finished.
In a separate bowl, mix the yogurt, lemon juice, salt, pepper, paprika, and tahini. Stir until well combined. If desired, serve this sauce spooned over the cauliflower wedges, with more on the table in a bowl. Sprinkle the dressed and roasted cauliflower wedges with some fresh parsley.