The keto diet is a newer diet that everyone seems to be jumping on! Perhaps you've recently joined and are searching for keto ground beef recipes.
Maybe you've been on the keto diet for a while and seem to have run out of ideas for new keto recipes with ground beef to try.
Regardless of the reasoning, we've got you covered! For those who haven't heard of the keto diet, it consists of consuming low-carb meals either as a treatment for certain diseases like epilepsy or to maintain a healthy weight.
In place of these carbs, higher fats are consumed. Because of these, meals generally have carb replacements like lettuce instead of bread. It can be easy for meals to blend together after a while, making it challenging to stay on track.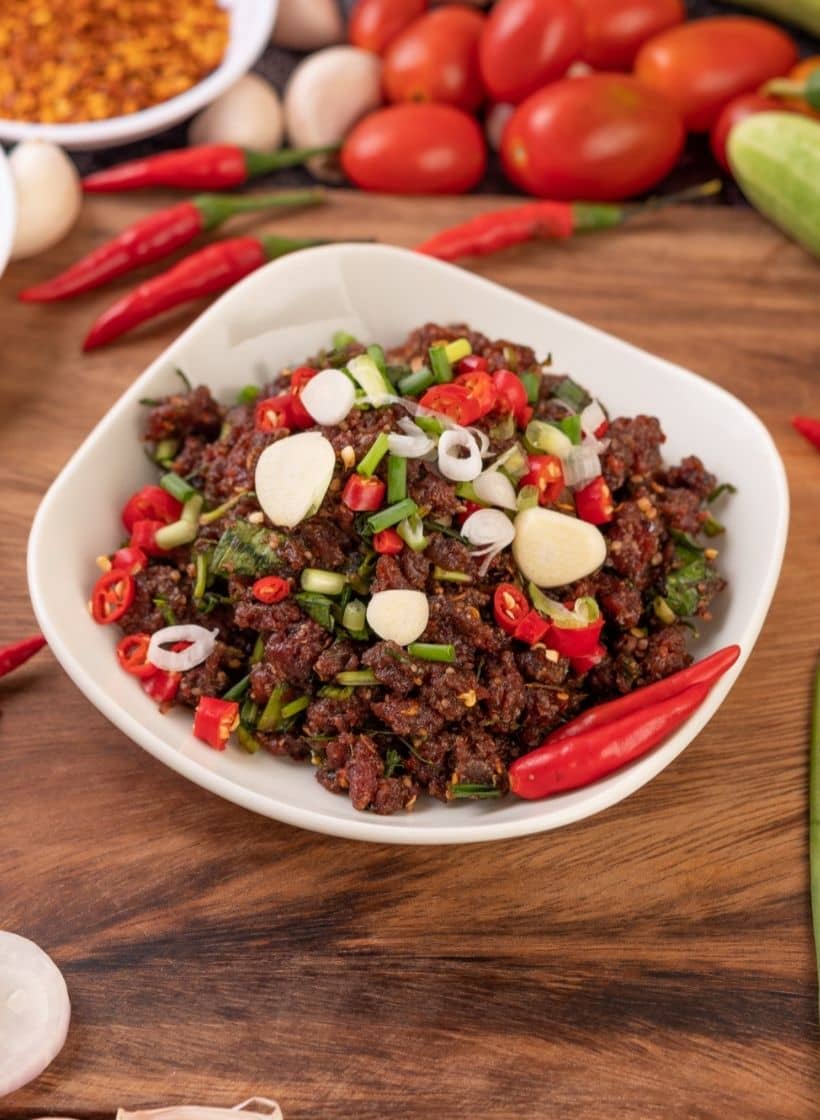 Perhaps you have an extra pack of ground beef in the freezer that needs to be used up, and you're wondering what to make with ground beef?
Have no fear! We have put together a list of the 20 best recipes that will keep your belly happy and your tastebuds dancing.
Here are the top recipes to try out this week without further ado!
1. Low Carb Philly Cheesesteak Skillet
Sometimes you need to eat a delicious, gooey Philly cheesesteak sandwich.
Though, with the amount of bread that comes with it, there's no way you can eat it on a keto diet!
This dish is one of the ground beef keto recipes that will make you feel like you're indulging without the guilt.
What's the secret to the yummy taste? It's the gruyere cheese that's layered on this skillet. If gruyere has too strong a flavor, you can skip it for a milder cheese like mozzarella.
2. Keto Ground Beef Stir Fry
Stir fry is a great way to stay on track with keto; it's stuffed with veggies, ground beef, and a delicious seasoning that will have you licking your plate clean! This recipe is great for even your pickiest eaters.
If you've been eating keto for a while, you're likely familiar with Bragg's aminos.
This option is the keto-friendly soy sauce replacement used to flavor this dish. If you want a sweeter flavor, opt for coconut aminos.
Tip: You'll likely find coconut aminos in the same section as Bragg's aminos, making it an easy swap.
3. One-Pot Cheesy Taco Skillet
How much do you love tacos and Mexican food? With how delicious it is, chances are you said a lot!
Here's one of the best easy keto ground beef recipes that will make you feel like you're eating your favorite comfort food.
Don't have taco seasoning on hand? You can easily make a homemade version of this "secret" ingredient for a similar flavor.
Combine cumin, chili powder, paprika, onion powder, garlic powder, salt, and pepper for an easy fix.
4. Keto Chili
Can you make homemade chili that also checks off the keto category? Absolutely, and this recipe backs it up!
This recipe may not be quick, but it's easy, delicious, and the perfect way to warm up on a particularly chilly night.
The hidden ingredient is the canned tomatoes that are included in chili.
This helps bulk up the soup and provides a delicious flavor. Swap them out for the canned diced tomatoes with green chilis for a slightly spicier flavor.
Tip: Plan for this recipe, as it will take about an hour to cook.
5. Keto Beef Recipes
This option is a bonus for you because it's not one keto recipe; it's multiple keto meals with ground beef.
What could be better than a bunch of extra, tasty recipes that you weren't expecting? Choose between recipes like keto casserole, beef and broccoli, and beef stew.
Each dish has hidden and unexpected ingredients. For example, one of the beef stroganoff ingredients is parmesan cheese.
Use your favorite shredded cheese instead if you've run out of parm. Run through the list and see what you think.
6. Keto Korean Ground Beef Bowl
Need a recipe that you can make in a pinch? Here's a Korean ground beef bowl recipe that's ready in 20 minutes.
The simple seasoning goes a long way in this Asian-inspired recipe.
The secret ingredient is olive oil. While this ingredient is common in cooking, you may not always have it on hand. Instead, you can use butter to replace a more decadent flavor.
While it has a cucumber topping, you can also add extra veggies for a more nutrient-dense meal.
7. Low Carb Hamburger Soup
Is it true that you can never have enough keto hamburger recipes? Well, we like to think so! This convenient recipe lets you enjoy the flavor of hamburgers in soup form for the ultimate crossover.
So, what's the hidden ingredient that gives this soup an extra punch of flavor?
It's the delicious beef broth that's included as the soup base. If you prefer, you can swap it out for chicken broth or vegetable broth, though you'll notice a flavor difference.
8. Ground Beef Casserole
Do you have a recipe that you ate as a comfort food before pursuing a keto lifestyle? For us, that would be any kind of casserole with a gooey, cheesy topping.
This tasty casserole gives that same sense of comfort while providing fewer carbs than a traditional casserole.
The unexpected ingredient in this recipe helps add heat to the dish – the cayenne pepper.
This pretty red spice is well-known for its fiery flavor. You can add chili powder instead for some heat and additional flavor if you prefer.
Tip: If you prefer, add both cayenne pepper and chili powder for an extra spicy flavor.
9. Keto Unstuffed Cabbage Rolls Skillet
If you love easy and quick keto recipes as much as we do, raise your hand!
This delicious skillet features herbs, tomatoes, tomato sauce, and ground beef that perfectly meshes together. Did we mention that this is a one-pot dish?
Dried parsley helps add flavor to this dish. However, if you want a fresher taste, you can swap dried parsley for parsley from your garden. Make sure to keep some extra pieces for a pretty green garnish.
10. Keto Taco Casserole
Okay, say it with us – keto taco casserole. Yep, you read that right! This delightful casserole is part ground beef, part taco seasoning, and fully keto for a delicious dish that you will want to enjoy all week.
This recipe does call for chopped bell peppers. However, if you're not a fan of this vegetable, you can swap it out for another option like mushrooms. Any vegetable will be an easy substitution in this recipe.
Tip: Try it with some low-carb tortillas for a fun dish.
11. Keto Beef & Broccoli
Don't let this recipe intimidate you; it's one of the best easy keto recipes. When we say easy, we mean very easy! You can have this meal prepped, chopped, cooked, and ready to eat in only 15 minutes.
Surprise, surprise, this recipe includes soy sauce as a flavoring agent.
While soy sauce is considered low-carb, some may want to avoid the few found in this condiment. Instead, you can use amino acids, coconut acids, or fish sauce.
Each sauce option provided will help you create some very tasty recipes.
12. One Pan Keto Bacon Cheeseburger Skillet
Did someone say bacon AND cheese?! You're going to want to note this option down as one of the most delicious hamburger meat recipes.
This skillet tastes nearly identical to a bacon cheeseburger; it's got mustard and tomato paste that help create the classic tomato and ketchup combo.
Of course, you're likely not surprised that ground beef is in this recipe.
However, you can also use ground chicken or ground pork for a little bit of a lighter dish. You'll still be able to maintain a low-carb lifestyle while enjoying this skillet.
13. Low Carb Sour Cream Beef Bake
Something about sour cream and beef makes them pair incredibly well together.
We like to think it's the tanginess that helps cut the richness of ground beef. While unsure about the previous statement, we can guarantee there will never be leftovers when making this dish. Seriously, it's that good!
What makes this dish so delicious? It's the inclusion of cottage cheese. If you don't have any on hand, you can use ricotta instead. You'll still have a yummy, cheesy flavor.
Tip: If you're not a fan of cauliflower rice, you can use bell peppers instead. However, the delicious sauce does not soak up as well.
14. Keto Ground Beef Recipes – 3 Easy Meals!
Are we really giving you another option for additional beef recipes? Yes! We want to make it easy for you to thrive on a keto diet. By having plenty of options to choose from, you'll never get bored eating low-carb again.
Some of the hidden ingredients include zucchinis for zucchini pizza boats.
While this vegetable is delicious, its bitter taste might not match everyone's taste buds. Try using spaghetti squash instead for a spaghetti-like meal.
Tip: If using zucchinis, make sure to hollow out the seeds before stuffing them so they can hold the sauce and cheese.
15. Keto Korean Ground Beef Bowl Recipe
Did we include another Korean ground beef bowl recipe in this list? Yes, yes, we did. It's not easy to get enough of the beef, garlic, and soy sauce flavor combination.
This recipe might throw you for a loop for the hidden ingredient. Blackstrap molasses is included to create sweetness in the sauce. If you've run out, you can use yacon syrup instead as a low-carb option.
Using this syrup still provides sweetness and only has 4g of carbs.
16. Keto Cheeseburger Zucchini Boats
This option combines two of our favorite foods – pizza boats and cheeseburgers for the ultimate dish.
This is one of the best low-carb ground beef recipes you'll ever eat. It has two types of cheese and delicious seasoning.
The secret ingredient is the mustard that you use for seasoning. Instead of using standard mustard, you can make it elevated by using spicy brown or grey poupon. Whatever option you have available will make a tasty swap.
Not a fan of mustard? You can also skip this ingredient, though it may have a slightly blander taste.
17. Keto Empanadas Recipe
For those who haven't had empanadas before, they're delicious flaky pastries filled with meat, vegetables, potatoes, and more.
We're even impressed by this recipe! They're cheesy, filled with vegetables, and stuffed with ground round.
You may not have heard of xanthan gum before. It's a common thickener used in many recipes, and it's in the dough of these empanadas. Most thickeners will work as a replacement, though a great option is guar gum.
This option will help thicken the dough to create a delicious golden exterior.
18. Best Ground Beef Taco Recipe
Please tell us that we're not the only ones obsessed with tacos right now!
They're the perfect food to eat year-round, super tasty, and easy to make. Now, you can enjoy tacos that are keto-friendly in the comfort of your home.
Part of what makes tacos so delicious is the toppings they have. In this case, the avocado on top is the unexpected ingredient. There is quite an easy swap for this food which is guacamole.
Tip: If you make homemade guacamole, leave the pit in any extra you have to help avoid browning.
19. Meal Prep Ginger Ground Beef Bowls
What do you make when you need to meal prep for your weekly lunches? Why not try these ginger ground beef bowls? They're super tasty, easy, and healthy, making them the perfect meal on the go.
This recipe requires fresh ginger to help spice up the meal. This spicy herb is a great way to add flavor without adding too many carbs. If you can't get ahold of fresh ginger, use ginger powder for a similar taste.
Tip: If you have extra cooked ground beef, you can freeze it to make meal prep easier the next week.
20. Down Home Keto Vegetable Soup With Ground Beef
Is there anything that a delicious bowl of piping hot soup can't solve? Probably not.
We recommend adding this delicious recipe to your list to whip out during bad days, colds, or simply because you want extra easy keto ground beef recipes.
There should be no surprise that a vegetable soup includes canned green beans. While this is a more convenient option, you can also use fresh green beans.
Make sure to trim the ends of the green beans before adding them to the soup, and you're good to go.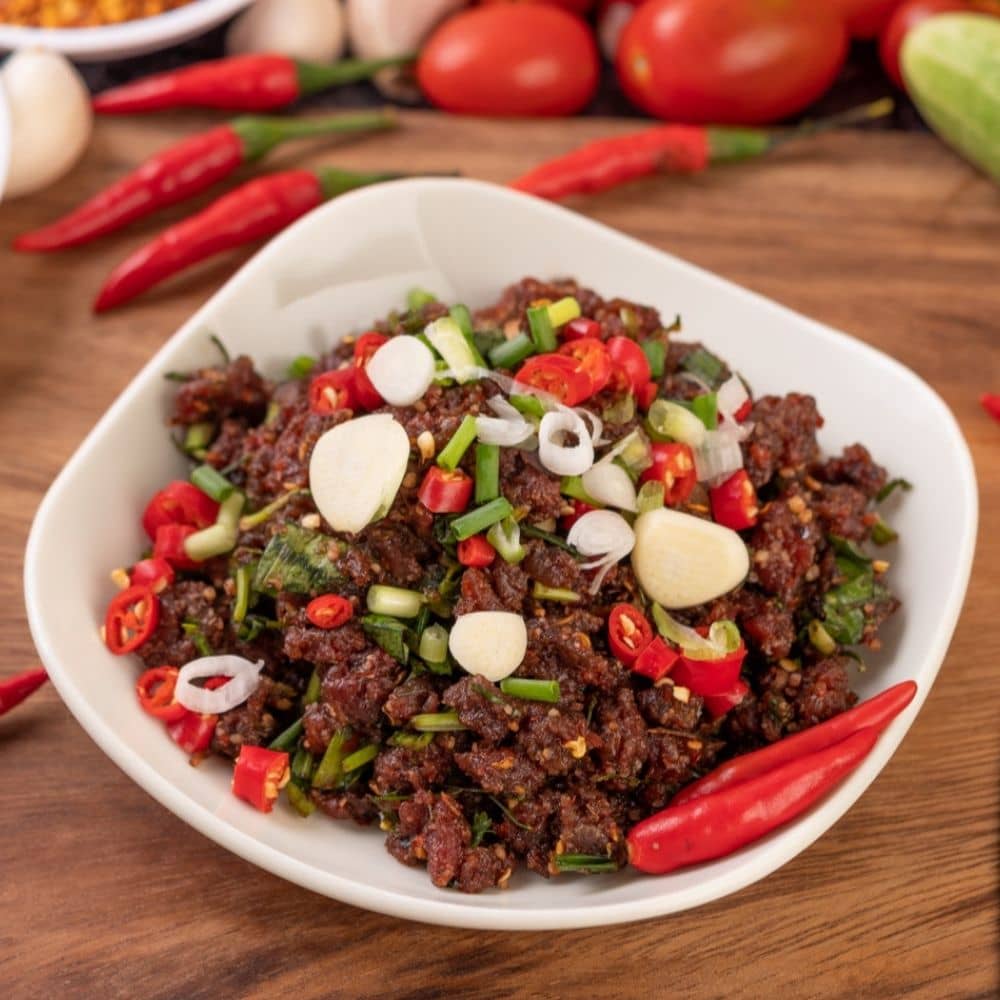 20 Easy Keto Ground Beef Recipes
Yield: 6

Prep Time: 15 minutes

Cook Time: 50 minutes

Total Time: 1 hour 5 minutes

We're so nice; we saved one of the best low-carb recipes with ground beef as a bonus! Here are quick and easy directions to make this
Ingredients
6 slices bacon
1 lb lean ground beef (80% lean)
3 c reduced-sodium beef broth
1 c shredded Cheddar cheese
4 oz cream cheese
2 spears kosher dill pickles, chopped
3 tbsps tomato paste
1 tbsp steak sauce
2 tbsps spicy brown mustard
1 tsp onion powder
1 tsp chili powder
1 tsp ground black pepper
1 head romaine lettuce, chopped into bite-sized pieces
6 grape tomatoes, halved
¼ c chopped red onion
Instructions
Add bacon into a preheated soup pot, ensuring it's on medium-high heat. You'll want to cook the bacon until it's nice and crispy. Then, remove and place on paper towels to remove the excess grease.
Keep the grease in the pot and add the ground beef, cooking until browned underneath. This should take about five minutes. Then flip and cook for another five minutes. Add the remaining ingredients (minus the toppings), including the broth, cheddar, cream cheese, pickles, tomato paste, steak sauce, black pepper, onion powder, chili powder, and mustard. Mix ingredients, making sure meat breaks into smaller pieces.
Reduce the heat to a simmer and cook for about three minutes until the cream cheese is melted. Then, cover the pot and cook for an additional 25 minutes.
Serve up your soup with crumbled bacon, lettuce, tomatoes, and onions.
Now that you've looked through the top keto recipes that include ground beef, it's time to don your chef's hat and get to work!
With these recipes, you'll never struggle to stay on track with your keto diet. Each recipe is low-carb and utterly delicious. Enjoy!