Perhaps you're new to vodka cocktails and aren't sure what to add to your drinks. Or, maybe you've had many vodka-based drinks at bars but are looking for a new favorite. Whatever the reason may be, you're on the hunt for the best vodka cocktails.
We've got you covered! We've compiled a list of 25 of the top vodka-based cocktails that will impress your friends and family.
You'll feel like a professional bartender while making these delicious drinks.
What's so special about vodka? It has a nice, subtle flavor that meshes well with many other mix-ins, so the spirits do not overpower one another. It's also low-calorie, making it easy to whip up some low-calorie cocktails in no time.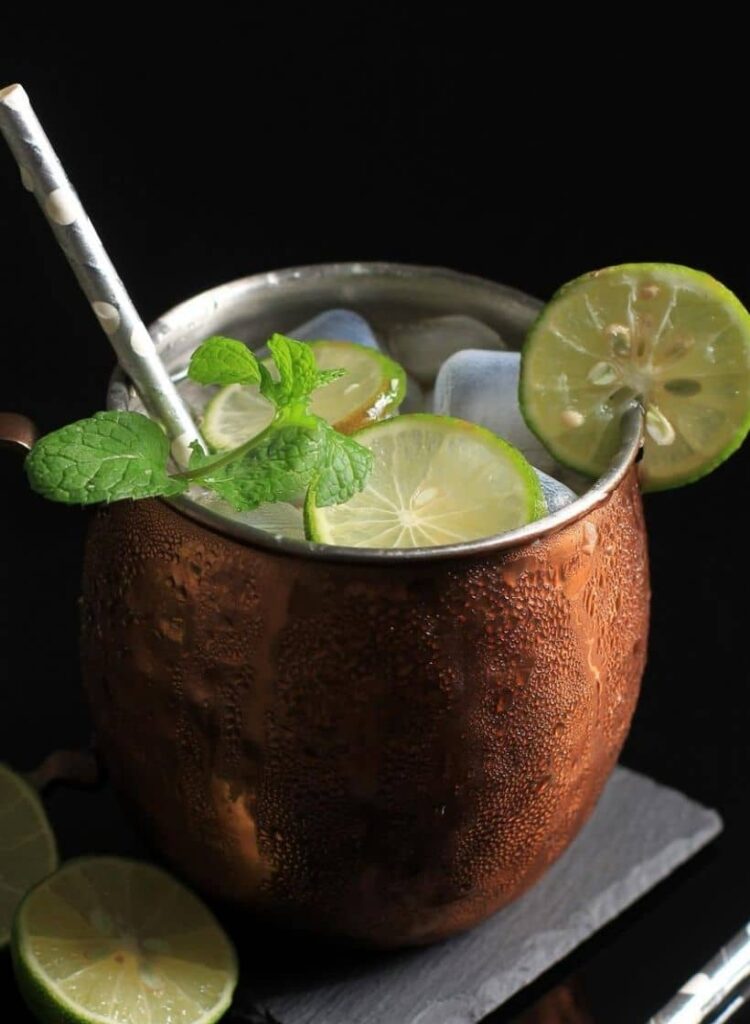 While you can certainly create at-home drinks with cheaper vodka, you won't get the same flavor as when you use a higher-quality vodka.
We recommend investing in a nicer vodka that won't break the bank and tastes delicious.
There are plenty of mid-tier vodka options that will do the job well and will have you excited to craft more drinks! There's nothing better than being excited to whip up some fun drinks for family and friends.
Let's get into the top 25 vodka-based cocktails so you can start creating them in your home!
What's the Most Popular Drink With Vodka?
There are quite a few cocktails with vodka that can be made, and there are many popular options. While there is not one consumed more than other drinks, some of the most popular drinks are bloody marys, screwdrivers, cosmopolitans, and white Russians.
You'll love these other cocktails:
Looking for one of the best Christmas cocktails vodka-based? Here's an option that's pretty to look at and delicious to drink!
This cocktail is sweet, tangy, and fizzy for the ultimate holiday drink.
The secret ingredient is the maraschino cherry juice added to the cocktail. It helps provide a beautiful red color and sweetness.
You can sub out this juice for cherry-flavored brandy for similar color and equally tasty drink.
It's blue, delicious, and one of the best vodka drinks on this list! This cocktail will take you back to the simpler days of drinking slushies in the summer. Of course, this is the adult version with vodka added in!
What makes this cocktail so creamy and dreamy is the cream of coconut that's added in.
It helps sweeten the drink and makes it thicker. If you aren't a fan of coconut, you can use sweet and condensed milk instead.
This swap will help produce a sweeter drink and help thicken it slightly.
This recipe is one of our favorite vodka mixed drinks! One sip of this pineapple cocktail, and you'll be instantly transported into a tropical paradise.
The best part about this tasty drink is that you only need four ingredients to make it!
You may not be surprised that one of the main ingredients is pineapple juice. This juice adds the pineapple flavor and sweetness.
Maybe you don't have this juice on hand, or perhaps you're craving a different flavor.
If that's the case, you can use any similar juice like mango or papaya for a fun cocktail.
Vodka tonics are one of the best classic vodka cocktails. This option is one drink you can serve and be guaranteed that nearly everyone will love it.
It's also so simple and easy that you'll want to recreate it any time you have a craving for a vodka-based drink.
The not-so-secret ingredient is the tonic in this drink. It helps take away a strong vodka flavor and adds a nice fizz to the cocktail.
Change it up by using soda or another similar fizzy drink for added flavor and a fun twist on this drink.
Looking for a new drink that can take the place of brunch mimosas? Why not add screwdrivers to the menu?
They're one of the top vodka-based drinks that you can make that still feel brunch-like, and they're delicious.
What makes this drink feel brunch-like is the addition of orange juice – just like a mimosa!
Get creative with the juice you add-in for a fun twist. Try using mango orange juice or even blood orange juice for a slightly different take on this drink.
It's warm, comforting, and it has vodka added in? Sign us up! If you thought hot chocolates couldn't get any better, this recipe will change your mind.
What's one of the best parts of drinking hot chocolate? The whipped cream that's on top! If you want a more decadent drink (and this one's already pretty decadent!), you can use a dollop of marshmallow fluff instead.
Make sure not to add the vodka in at high heat. Otherwise, it can cook out of the drink or evaporate.
Have a sweet drink craving but don't want the "sweet"? Here's a way that you can enjoy a berry-flavored drink without the extra sugar. This recipe is one of the tastiest and easiest mixed drinks with vodka that you can make.
You won't be adding the berry flavor via syrup or juice for this drink! Instead, you'll be muddling fresh berries, including blueberries, raspberries, and blackberries. For a more summery drink, try muddling orange slices instead of berries.
It will produce a different color, but you'll still have a tasty and impressive drink.
Sometimes you want to host a party but don't want to whip up individual drinks for everyone. And that's okay!
This party punch recipe is fast to make, and you can even turn it into an adult slushie for hotter days.
This party punch gets its fun color from Hawaiian punch. If you want the option of additional flavors, you can make Kool-Aid beforehand and use it as a base instead. It will still provide a fun color and will be delicious with vodka and ginger ale.
Have you been skipping making bloody marys at home because they seem too complicated?
Here's an easier recipe that you can make in 10 minutes or less. It's a delicious morning drink that's got the perfect amount of bite to it.
Typically, bloody marys are garnished with a piece of celery. Instead, you can use other toppings like bell pepper slices, pickles, or carrots. The options are endless for this drink!
Make sure to choose garnishes that you enjoy and will want to snack on while enjoying your bloody mary.
Did you know that you could combine whiskey and vodka into a tasty yet strong cocktail?
Here's a way to skip the watery, bland drinks and get straight to the serious cocktails. This peach-flavored drink is great for the summer, or anytime you're missing the summer.
The unexpected ingredient is lemonade in this cocktail. Try using pink lemonade for a prettier color if you want to make it for a girl's day. You'll still get the delicious tang of lemonade so that you won't miss out on any flavors!
How refreshing does this cocktail sound? We can guarantee it will be one of your new favorite vodka cocktails (summer edition).
Besides refreshing, you get some added health benefits from the added cucumber juice!
You'll be using lime juice as one of the main ingredients in this recipe. You can use lemons as an easy swap if you have lemons on hand instead.
Make sure to use a fine-mesh strainer or a cheesecloth to get the cucumber seeds and pulp out before turning it into a delicious drink.
Looking for vanilla vodka cocktails? Here's an option that will offer nostalgia and an incredible taste! These floats are a delicious, sweet treat that will put some pep in your step.
What makes this drink option so tasty is the vanilla vodka that's included in the float.
If you want to mix it up, try using marshmallow-flavored vodka. It provides a more decadent flavor than vanilla vodka.
If you have plain vodka, you can use that as well. It will have a slightly less sweet flavor.
Tired of drinking standard vodka cranberries but want to stick with easy vodka cocktails? Give this cranberry cocktail a try! It's got a similar delicious flavor, with a citrusy twist.
The hidden ingredient is Rose's Sweetened Lime Juice. This ingredient uses real lime juice in combination with a sweetener for a delicious citrus flavor that helps balance out the cranberry juice.
You can easily make a homemade version with lime juice and granulated sugar.
You'll need to simmer the two together until the sugar dissolves. It's a great, quick-swap, and no one will know the difference.
This drink has been around for 50+ years (supposedly!). While the exact year this drink was created is a bit cloudy, we can tell you one thing with certainty.
Once you take a sip of this incredibly flavorful drink (that only requires two ingredients), you'll never want to drink anything else.
The only other ingredient required for this option (besides vodka) is Kahlua. Using Kahlua provides a yummy sweet coffee flavor that takes precedence over vodka.
If you can't find Kahlua or don't have it on hand, you can easily substitute it with Bailey's.
What's the Madras Drink? Well, it's a tasty fruity cocktail that combines juice and vodka for a simple, refreshing drink.
This recipe is one of our favorite easy cocktails with vodka because of its simplicity.
Of course, vodka is not a surprise ingredient as it is a vodka-based drink. However, if you're feeling like a fruitier drink, you can use cranberry or orange-flavored vodka to boost flavor.
This drink does not need to be shaken; stirring is sufficient and will yield a delightful cocktail.
Still wondering what cocktails can I make with vodka? Here's a sweet martini option that's perfect for fall.
It has a yummy sweet caramel apple flavor and looks pretty to boot. The recipe makes two drinks, so it's perfect for sharing with a loved one or significant other.
This drink calls for caramel schnapps to help produce that delicious caramel flavor.
You can mix it up a bit if you prefer another flavor like butterscotch schnapps or toffee schnapps.
Get a little crazy and mix all three in for a fun flavor – just make sure to use 1/3 of each flavor, so the taste and drink are not too strong.
Summer is just around the corner, and this cocktail will help you prepare for it! You get a double dose of peach with this drink.
It includes fresh peaches and peach flavored cocktail for one of the best summer drinks ever.
This cocktail uses lime soda water to create a yummy fizzy drink. If you want an even stronger peach flavor, you can use peach soda water. How tasty does that sound?
You can blend this drink instead to create a slushie-like cocktail.
For those not familiar with the Preakness, it's similar to the Kentucky Derby though it's held in Baltimore.
Imagine large hats, fancy dresses, and fun cocktails, and you'll have a good idea of what this drink will taste like. It's the unofficial, official Preakness drink.
The Germaine liqueur that the vodka is mixed with gives it a unique taste. It provides a delicate floral taste as it has an elderflower base. You can use any elderflower syrup as a replacement; just make sure it's non-alcoholic.
You can't get a more classic fruity drink than a sea breeze. These simple vodka cocktails are fun and fast to make. Plus, they're quite tasty too (though we are a bit biased!).
This recipe calls for a bright, tangy citrus flavor for freshly squeezed grapefruit juice.
If you have a grocery store nearby that makes fresh grapefruit juice, you can save time by grabbing a container instead.
If you're really in a bind, standard packaged grapefruit juice can also work. Try to get one that is unsweetened for the closest flavor match.
We firmly believe that you can never have too many summery cocktails in your repertoire.
There's nothing more relaxing than enjoying a pretty, refreshing cocktail during a backyard summer get-together. This vodka raspberry lemonade cocktail does not disappoint!
You can't have a sweet drink without simple syrup! However, if you've run out or don't have time to buy any syrup, there are some easy replacements you can use.
Maple syrup and agave syrup are the easiest swaps, plus they add a tasty flavor.
How does a cocktail with homemade cherry syrup sound? It sounds pretty fantastic to us!
This pretty drink makes a fabulous spring drink, though you'll want to drink it year-round.
Most vodka drinks use premade syrups so they can be made more quickly.
You'll be using fresh pitted cherries as the base for the syrup. If you don't have the time to pit each cherry, you can use frozen whole pitted cherries instead.
Make sure to defrost the frozen whole cherries before creating the syrup.
The beach cocktails are a classic summery drink that you can easily make at home!
They're fruity, tasty, and look like a beautiful summer sunrise. You can't go wrong when serving someone The beach cocktail!
The secret ingredient that adds an extra pop of flavor is the Chambord.
For those unfamiliar with this ingredient, it's a raspberry-flavored liqueur. Step the flavor up an extra level by using grenadine instead – it's got a sweet, tangy pomegranate taste.
A low-calorie, tropical watermelon drink that makes you feel like you're sitting on a beach? Count us in! This tasty option combines coconut, watermelon, and citrus for the ultimate summer party cocktail.
This cocktail requires chilled watermelon to help make this cold drink. Instead, you can use frozen watermelon chunks.
This saves you time from chopping the watermelon, cutting off the rind, and waiting for it to chill.
Add extra garnishes for a more party-like drink. Try using orange slices on top for a fun pop of color.
Here's another refreshing cucumber and mint combo that's perfect for hot days by the pool! Plus, it only requires five ingredients, AND it's ready in five minutes or less. Can it get any better than that?
Adding fresh mint provides a delicious cooling and refreshing flavor. If mint isn't your thing, you can add other fresh herbs like rosemary.
Don't be afraid to play with the flavors a bit and add your personal flair to this tasty cocktail.
We promise you and your friends will love this one!
Still wondering how to make cocktails with vodka? This recipe includes clear directions to create a homemade Bailey's chocolate white Russian.
Its sweet, creamy coffee flavor will have you hooked from the first sip!
What makes this decadent drink so creamy and dreamy? It's the luscious half and half that's mixed in with the other ingredients! If you want to up the decadence of the drink, you can use ice cream instead.
This turns the drink into a smooth milkshake-like drink for when you're craving a dessert cocktail. Yum!
Need more inspiration for drinks to make with vodka? Below, you'll find the easy instructions so you can start making your own asap.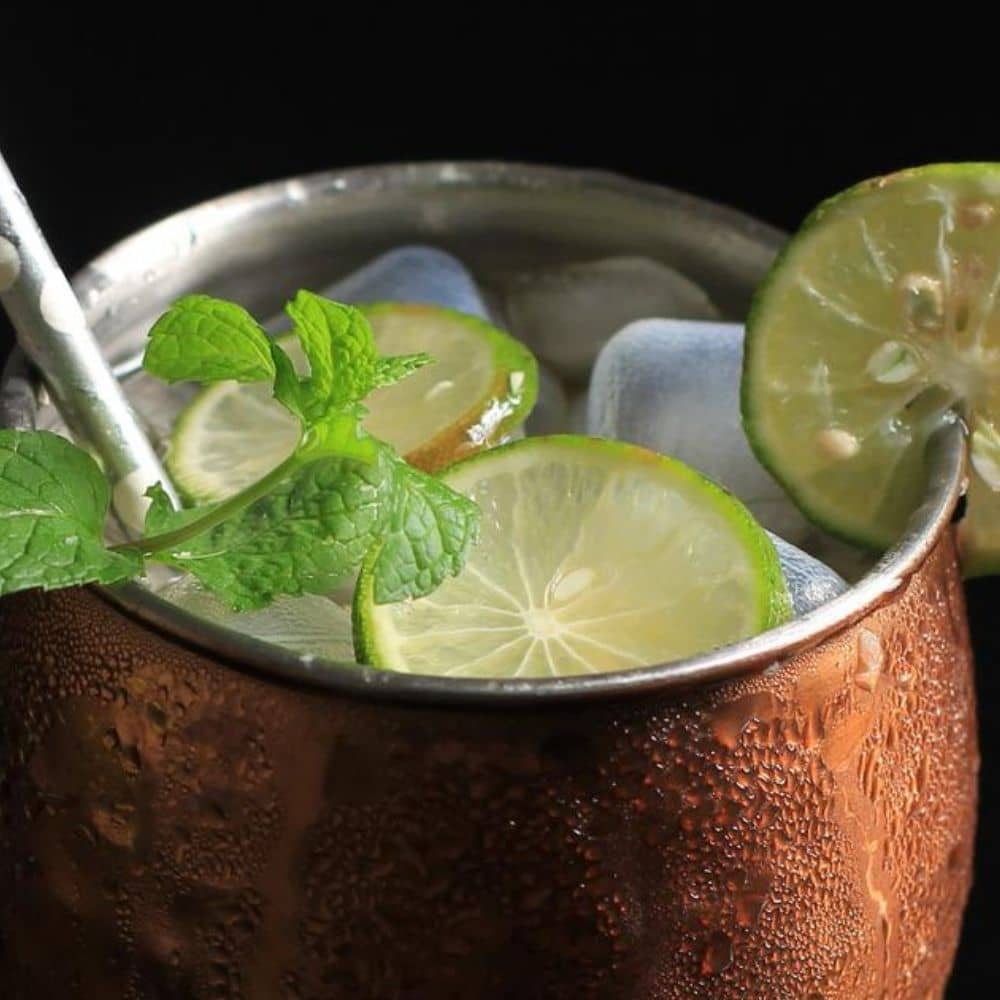 25+ Easy Vodka Cocktails
Yield: 6 servings

Prep Time: 15 minutes

Total Time: 15 minutes
Ingredients
3 lemon wedges
3 tbsps kosher salt
2 tsp coarsely ground pepper
Ice cubes
3 c chilled tomato juice
2 c chilled beer
3/4 c chilled vodka
1/3 c lemon juice
4 tsp hot pepper sauce
2 tsp Worcestershire sauce
Instructions
Take a few lemon slices and use them on the rims of highball glasses. Mix salt and pepper on a small plate and spin the rims of the glasses in it, so the lemon juice is covered. Add ice to each glass and set it aside.
Grab a large pitcher and add tomato juice, vodka, beer, lemon juice, hot sauce, and Worcestershire. Mix well, then pour a portion into each of the six glasses. Top each drink with the brat, cheese, and pickle skewers.
We don't know about you, but we're excited to start creating some of these fun drinks! Most of the cocktails listed only require a few drinks and will only take a few minutes to create.
Use these drinks for get-togethers, parties, holidays, or even just after a long day of work. Cheers!