Not sure what to do with the gin you received as a gift? Why not turn it into tasty gin drinks?
Don't let the fancy cocktails intimidate you! We've compiled a list of yummy cocktail options that will allow you to recreate a fancy bar experience at home.
The best part about these drinks is that they're pretty easy and require only a few easily accessible ingredients!
With a little bit of practice, you'll be creating all the below recipes in no time. Let's dive into the list of gin-mixed drinks so you can get your drink mixologist on!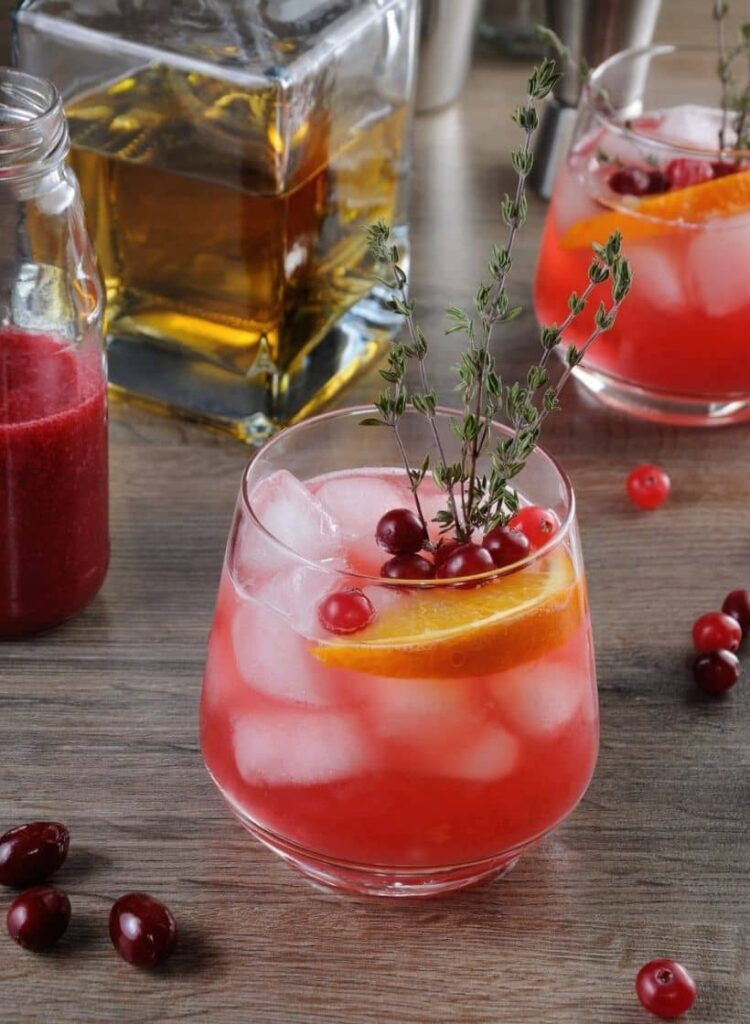 How Do You Make Gin Taste Better?
Gin, by itself, may not be everybody's cup of tea.
That doesn't mean you can't create delightful gin cocktails that you enjoy! Multiple mixers alter the gin flavor, mellowing out the taste to create a tasty beverage.
One excellent option is using lemon or lime to balance the gin flavor. If you've ordered a gin drink at a bar before, they typically come with a wedge of citrus.
This is because the tastes work incredibly well together! Otherwise, you can use mixers like Coca-Cola or pink lemonade for a sweeter taste.
What Is a Good Mix With Gin?
There are many delicious flavors that you can incorporate with gin, depending on your taste preference. Vermouth is a top option; it complements the flavor of gin and is a common mixer in martinis.
Pineapple juice, citrus, and cucumber are additional options that provide a more summery flavor in drinks.
The best way to determine which mixture you prefer is by testing standard mixers. Check out these options and see what you think!
What Soft Drinks Go with Gin?
As mentioned above, Coke is a great option to mix with gin.
However, gin has many other soft drinks that go well with its citrusy, spicy flavor.
Sprite is another excellent option as it will allow gin's taste to come to the forefront of the drink.
You can also use tonic as a mixer, though this soft drink will add a slightly bitter flavor offering a more savory taste. Ginger ale also works well as a mixer.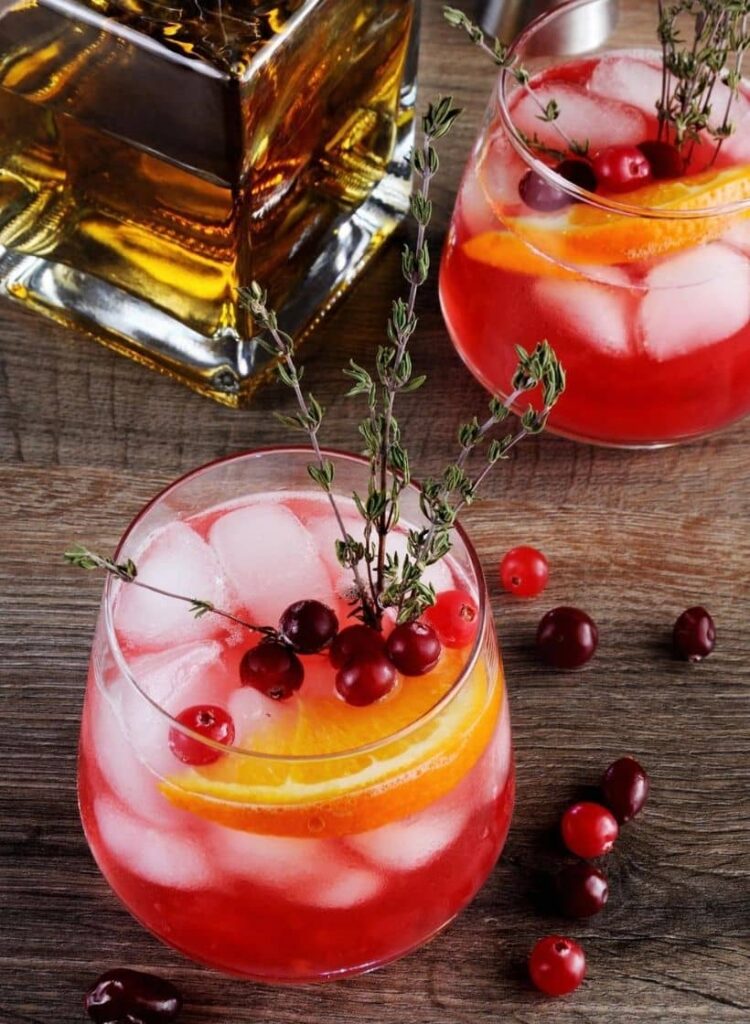 What Is the Most Popular Way to Drink Gin?
One of the most popular ways to drink gin is in a martini.
This drink is commonly shown in movies (like James Bond!), reflecting its popularity.
Otherwise, it's common to see gin in gin and tonics. This drink combines tonic water and gin for a not-too-sweet cocktail.
Other popular drinks include gin and cucumber, and some enjoy the flavor of gin straight up. You may also see drinks like gimlets and negronis on the menu when searching for drinks made with gin.
1. How to Make a Gin Fizz
Here's one of the best cocktails on Earth – a gin fizz.
This drink features a lemon flavor with a frothy topping for the ultimate cocktail. It's made with a few simple ingredients that create a lovely taste and a unique drink experience.
Looking for the secret ingredient in this beverage? It's the egg white that creates the foamy topping.
If you want to avoid using an uncooked egg white, you can also use aquafaba (liquid in garbanzo bean jars) for a similar effect.
Tip: Use a frother for an extra fluffy topping.
2. Christmas Gin Cocktails
If you're looking for even more delicious gin recipes, these Christmas-themed cocktails are a fun way to use a bottle (or two!) of gin. There's also a coffee-based recipe that offers a delicious take on a dessert drink.
This tasty drink incorporates Kahlua for a delicious coffee taste – almost like an alcoholic latte.
Instead of Kahlua, you can use Bailey's for a creamier, sweeter flavor. Both will provide a latte-like taste to the cocktail.
Other recipes include a rosemary gimlet and frosted pine Gibson martini.
3. Elderflower Gin Cocktails
This collection of mixed drinks with gin offers a collection of elderflower gin cocktails that provide a delicious floral taste.
Each drink is elegant and great for serving at a fancier get-together. Or, spoil yourself by mixing them up for a girl's night in.
The secret ingredient is the same for all three cocktails – elderflower syrup. It's the perfect way to add that pop of elderflower taste. You can use St. Germain instead, a high-quality French liqueur infused with elderflowers.
4. Cucumber Cooler Cocktails
Here's a perfect summertime cocktail that will leave a refreshing taste in your mouth! Cucumbers, tonic, and lemon mingle together, creating the ideal combination of citrusy goodness.
This drink uses a muddler for a more robust flavor, though a wooden spoon works as well!
The surprise ingredient in this tasty beverage is fresh mint leaves – hence the muddler note.
While this herb gives the drink its cool flavor, there are some other alternatives that you can experiment with to make the cocktail your own.
Try using herbs like thyme, rosemary, and even dried lavender flowers for a unique flavor.
5. Toms Collins Cocktail
If you enjoy lemonade, you'll love this refreshing drink! Imagine a sparkling lemonade combined with gin, and that's what you'll receive when you whip up this beverage.
It's more of a summery drink, though nothing is stopping you from enjoying it year-round!
The mystery ingredient that ties this drink together is the cherry on the top! A cocktail cherry adds the perfect finishing touch to this Tom Collins recipe.
You can also use another type of berry, like a raspberry or blackberry, for a pop of color.
Tip: Use seasonal fruit to make the cocktail perfect for any event.
6. Gin Basil Smash
Looking for a new alternative to a mojito with the same type of flair?
How about a gin basil smash? This is truly one of the best gin drinks as it combines four ingredients into a work of art.
Part of what makes this drink so tasty is lemon juice, which adds a delightful tanginess. If you're seeking a sweeter drink, try using fresh orange juice instead of lemon juice.
This will still offer a citrus flavor, though it provides a different drink color and slightly different taste.
7. Classic Gin Fizz Cocktail
Gin Fizzes are such classic gin cocktails that you can never have too many versions on hand!
This recipe offers a unique take (sans egg white!) for a popular drink with a twist. You'll still get the traditional gin fizz cocktail taste, though with a slightly different flavor.
This version is different from the sweetener used in the drink – powdered sugar. It's a less common sweetener for mixed drinks. So, if you don't have any on hand, you can use your trusty simple syrup as a swap.
8. Bramble Cocktail
Here's a yummy drink you may not have heard of! Gin and raspberry combine for the ultimate fruity cocktail.
You serve this drink with layers of blackberry liqueur and gin for a pretty drink that will wow dinner guests.
To create the layered look, you'll need Chambord, a blackberry-flavored liqueur.
Swap it out with crème de cassis if it's easier to find (another blackberry liqueur) or use any berry liqueur for a similar flavor and appearance.
Tip: Don't forget the fresh berries on top for a tasty garnish!
9. Blueberry Rosemary Gin & Tonic
Level up your gin & tonic drink skills by recreating this updated version.
Fresh rosemary, blueberries, and gin mingle to create the perfect herby, sweet gin beverage. The finished result is a light pink drink that you can serve at any time.
So, what is the unexpected ingredient for this beverage? It's the tonic that provides the perfect fizziness to accent the flavors.
You can use sprite instead for an equally fizzy yet sweeter-tasting drink.
Tip: Try using lemonade for a tangier, non-fizzy beverage.
10. Classic Negroni
Negronis are one of the most popular gin drinks you'll encounter on a menu.
These drinks are savory, offering a fruity, bitter taste and a bright red color. This simple drink is easy to make and only requires three ingredients.
Campari is the unique ingredient in Negroni cocktails that provides a distinctive red color and complex flavor. It's an aperitif that's typically consumed before a meal. You can swap Campari with Aperol for a sweeter taste.
11. Orange Cranberry Gin & Tonic
What two flavors go better together than orange and cranberry?
This gin & tonic recipe offers a tasty, tangy, citrusy flavor and is ready in minutes.
A favorite part of this recipe is that you don't need to shake the cocktail; once you mix, it's ready to be served with a pretty garnish of cranberries.
This beverage notes gin as the not-so-secret ingredient. Instead of a standard bottle, try using the famed Empress Gin for a more complex taste. Then, you can add it to your list of Empress Gin cocktails to create to impress house guests.
12. Cranberry Gin and Tonic with Rosemary
You'll want to save this recipe for the holiday season as the cranberries and rosemary sprig make the perfect holiday-inspired topping!
This drink provides a tasty tart, bitter, refreshing flavor accented by the taste of woody, peppery rosemary. Once you make this drink, you will create it for every holiday dinner.
Cranberry juice aids in creating the tart flavor present in this beverage. You can use other juice like pomegranate juice for an equally pretty drink color and tartness.
13. Pomegranate Gin Cocktail
Since we're on the topic of pomegranates, this cocktail is one of the most delicious gin drink recipes you'll ever come across.
Like many of the above options, the ingredients are simple, making for a quick recipe that's beginner-friendly.
The mystery drink ingredient is lime juice, which ties all of the other flavors together and keeps the drink too sweet. If you have lemon juice on hand, you can use that instead.
Tip: Use crushed ice if possible for a more elegant drink appearance.
14. Gin and Sin A Simple Layered Cocktail
Try your hand at creating a pretty layered cocktail by making this drink!
Citrus juice and grenadine make this drink sinfully delicious. The layered appearance creates such a beautiful appearance; it will look like the work of an expert bartender.
Grenadine is what creates the cool layering effect of this cocktail. You can also use fruit syrups like raspberry syrup or fruit juice to mimic the flavor and color.
Tip: Get creative and add some fresh fruit, herbs, or citrus peel to decorate the top of the drink.
15. Ginger and Lime Gin Mule
Looking for a citrusy, spicy version of a mule? Then this tasty drink is right up your alley! This three-step cocktail is perfect for sipping on a hot day to stay cool and refreshed.
Part of the appeal of this drink is the unique garnish of fresh ginger slices. Forgot to grab fresh ginger at the store? Try using fresh herbs or add slices of other citrus fruit like lemons or oranges.
Serve in a copper mug to keep this drink frosty and refreshing.
16. Gin, Apple Cider, and Ginger Beer Cocktail
Worked your way through the list and still wondering what drinks you can make with gin? Here's a fun option that will give you the illusion of drinking a typical fall drink – apple cider.
Though, this apple cider beverage has a hint of nuttiness and tanginess.
You may have guessed (based on the title) that this drink contains ginger beer.
This helps add a nice hint of spiciness to the drink and creates depth that you might not otherwise have. You can also use ginger ale for an equally tasty beverage if you want a less strong ginger flavor.
17. Winter Cranberry Gin Fizz Cocktail
Those feeling confident in their beverage-making skills can create this unique drink with home-infused simple syrup.
While this drink does require a few additional steps and ingredients, it's worth the wait and will leave your taste buds buzzing. After making this drink once, you'll want to whip up homemade syrup all the time!
Turbinado sugar is the secret ingredient – you're using this sweetener to create a simple syrup.
Other sugars like coconut or even cane sugar work perfectly. Use whatever you have on hand that's unrefined for the best results.
18. Fall Gin and Tonic
It seems like there are many more summer-themed drinks than fall-inspired drinks.
While this may not be true, it still causes excitement whenever a fall drink pops up. Get your gastro skills on by creating apple-infused gin at home!
This recipe holds two unexpected ingredients – London dry gin and sliced apples.
These ingredients help create these delightful drinks with gin. If you're looking for a quicker way to make this gin and tonic, there are options available for pre-made apple-infused gins.
Tip: It's important to strain the apple-infused gin to avoid apple chunks in your drink.
19. Blueberry Gin Cocktail
Have you ever seen an ombre-colored drink before?
This blueberry gin cocktail is stunning in appearance and flavor. Plus, it's festive enough to serve for any occasion or a relaxed night at home.
One topping that adds to the delightful appearance is the lemon twist added on top.
Here's where you can be creative and add a sprig of mint or berries to finish off the look. This garnish does not add much flavor. You can add whichever topping you like best.
20. Limoncello Gin Collins
Do you love limoncello and want a way to incorporate it with gin in a cocktail? Try this limoncello gin collins for a twist on the classic drink.
This ingredient creates a sweeter, even more citrusy tasting beverage than you'd find in a standard gin collins.
The secret ingredient is club soda, which adds a nice amount of carbonation to these gin collins. You can use any fizzy water as a swap for this drink.
Tip: Try adding flavored fizzy water for a fruitier drink. Don't be afraid to experiment with flavors like mango or other tropical options.
21. Cucumber Mint Coolers Recipe
You can never have too many cucumber mint coolers recipes!
This fun drink recipe uses a cucumber, lemon puree offering a light, refreshing taste. You'll feel like you're in a spa when you sip on this gin-based beverage.
The sweetness is pulled from standard granulated sugar. Though, you can use beet sugar if you have it on hand. This offers an earthy flavor, creating a complex taste in the drink.
You can even use brown sugar for a warmer flavor, though this will slightly alter the drink's color.
Work your way through these 21 gin-based beverages and see which one is your favorite! You may even find you love all of them. Now, you'll surely be able to use your extra bottle of gin up. Enjoy!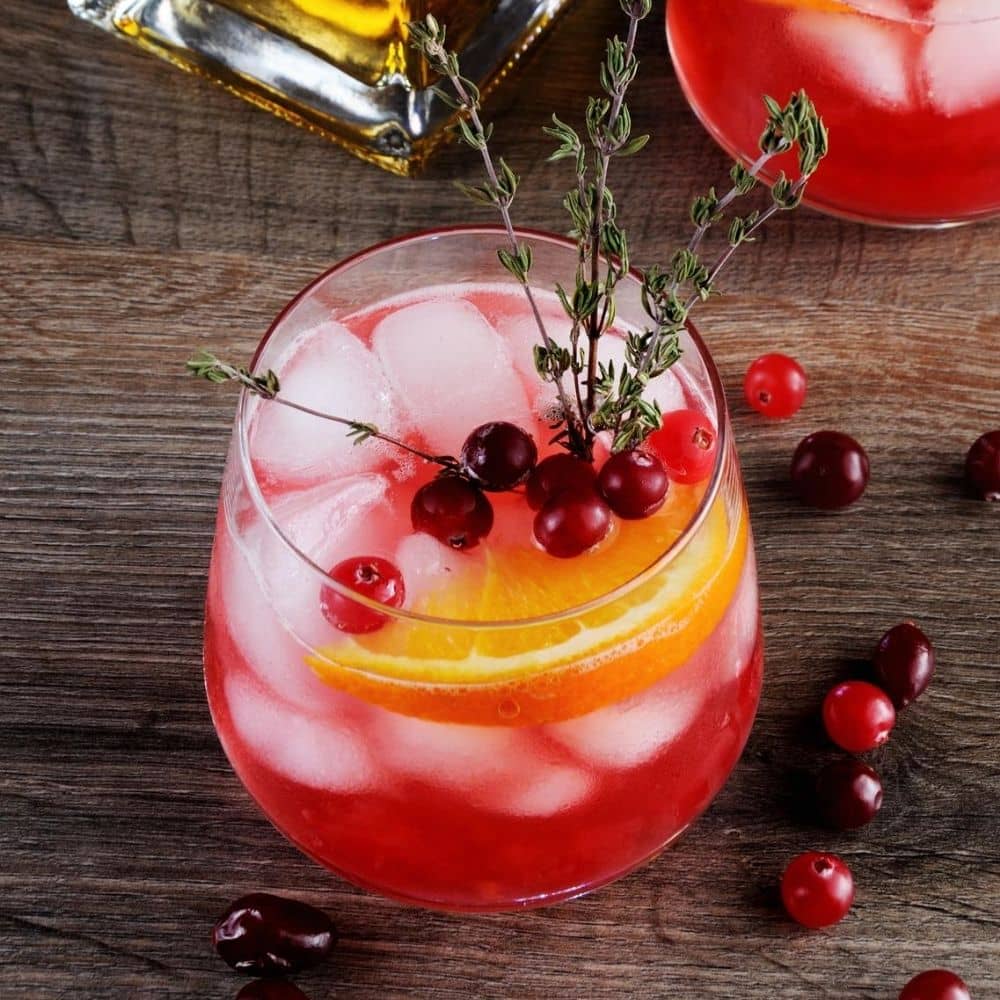 21 Best Gin Drinks to Impress Your Guests
Yield: 1 servings

Prep Time: 5 minutes

Total Time: 5 minutes

Here's a quick bonus recipe for these simple gin drinks (a gimlet.)
Ingredients
Ice cubes
2 oz lime juice
1 tsp confectioners' sugar
Lime slices
2 oz gin
Instructions
Add ice to a shaker until it is about ¾ filled. Add in the gin, confectioner sugar, and lime juice. Shake for about 15 seconds, then strain into a cup with ice and a lime wheel topping.