I love a warm and creamy cocktail in the winter months. It's comforting and the perfect addition to a night of holiday movies, games, or decorating the house for the holidays.
Drinks with Baileys are the perfect way to accomplish this! Baileys is a delicious, creamy liqueur with coffee, chocolate, and vanilla hints. It pairs well with so many different flavors, and there are tons of options for getting creative cocktails with this liqueur.
You can mix it into drinks quickly, like hot chocolate or coffee, or make a complex cocktail with depth and fun toppings.
Baileys is a beautiful addition that adds a luscious decadence you can't get without it, whether it's toffee, gingerbread, or eggnog.
However you choose to enjoy your Baileys, I'm sure there will be a drink in this list that will excite you this holiday season!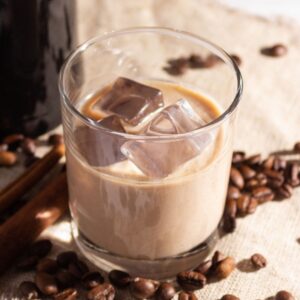 1. Baileys Hot Chocolate
Hot chocolate is arguably the most classic of winter drinks. It makes me want to curl up next to a fire and watch holiday movies under a big fluffy blanket.
This hot chocolate recipe is made to be mixed with Baileys. It has added vanilla and cinnamon, which pair perfectly with the Irish cream.
This hot cocoa is creamy, dreamy, and rich. Don't forget to top with whipped cream. It makes this hot chocolate taste like something from a ski resort.
2. Hot Chocolate
There is another recipe for hot chocolate here, but this one has a different twist. Dark. Chocolate is used here instead of milk chocolate, adding a depth of flavor and a slight bitterness to cut the sweetness.
It doesn't have the added warm flavors, making this a more straightforward recipe reminiscent of my childhood.
I like to top this with both chocolate sauced and chocolate shavings to ramp up that chocolatey flavor.
This recipe comes together in five minutes, making it an excellent option for a last-minute movie night!
3. Spiked Eggnog
This cocktail is extremely simple but tastes just like the holidays! Eggnog is a classic holiday drink, and the sweet flavors make for a great cocktail. The secret to this delicious drink is whipped vodka.
Whipped vodka is whipped cream flavored vodka. It's a great addition to several holiday cocktails. The whipped vodka and eggnog are great additions to Baileys, and they all sing together beautifully.
Make these for your holiday party and top each one with whipped cream, a sprinkle of nutmeg, and a cinnamon stick!
4. Baileys Buttered Toffee
This is easily one of the best Baileys cocktails I have ever made.
Buttered toffee is one of my favorite Christmas candies as it is, so turning those flavors into a cocktail is delightful!
This drink is creamy with half and half, and the Baileys is paired with Kahlua.
Toffee bits are sprinkled over the top for a sweet kick and a fun crunch as you drink through a glass of this. Make this drink as a dessert cocktail at your Christmas dinner this holiday season!
5. Baileys Martini
A martini is normally made with gin and vermouth, with olives and sometimes olive juice, making it very savory and salty.
This version is sweet, making it more appropriate for the winter months. Baileys, vodka, and crème de cocoa are mixed to make a similar base martini flavor, but without the savory.
Chocolate sauce and whipped cream add additional sweetness and make this a creamier martini version. Make this for any of your fancy friends. They will be impressed!
6. Santa's Magic Potion
What could Santa's magic potion be?
It's a simple yet magical concoction made of eggnog, Baileys, nutmeg, and cinnamon.
The Baileys adds an excellent bitter coffee and chocolate flavor to the eggnog, enhancing it and giving it more holiday flavor.
If you're someone who loves to have eggnog around during the winter months, this is a great recipe to have on hand. It takes less than a minute to mix, making it quick and easy. I love to have this as a nightcap on the weekends.
7. Baileys Cocktail Recipes
This is a collection of drinks that you can add Baileys to.
Think frozen hot chocolate, jello shots, and s'mores floats! The options for Baileys are unlimited, and this list proves that.
A lot of these drinks are great for a fun night at home, playing games, and watching movies. Several of them use similar ingredients so that you can make more than one drink in an evening.
Most of these can be made non-alcoholic so the kids can join in the fun, and you can still add a shot of Bailey's to your cup, so you don't miss out on the fun either.
8. Baileys Irish Temper
An Irish temper is a drink that isn't thoroughly mixed but instead a cocktail topped with a thickened cream.
It has a bit of caffeine, so avoid this before bedtime or use a decaf espresso instead.
Make sure and read the tips for success provided. It walks you through how to get your cream to float correctly.
The spiced rum adds a layer of flavor that brings the holiday spice. I love to serve this in a clear glass coffee cup so you can see the beautiful layers of cream and spiked espresso.
9. Salted Caramel Baileys White Russian
If I had to pick a favorite dessert flavor, it would probably be salted caramel. I love a combination of toasty sweetness and saltiness; I can eat or drink it any day of the week.
This white Russian makes excellent use of those flavors in this cocktail.
This is a beautiful cocktail to serve on New Year's eve early in the night, it has a nice amount of caffeine to keep everyone up until midnight, and it also has a unique flavor everyone will love.
You can garnish these with a caramel candy or edible glitter for an added New Years' twist.
10. Baileys and Coffee Ice Cubes
I'm always looking for new drinks to make with baileys, and this one is a fun version I hadn't come across before.
I like that the drink transforms in flavor as you drink it because the coffee ice cubes slowly melt as you get through it. It's like a creamy coffee that's perfectly spiked with alcohol.
Pro-tip, make a big batch of the ice cubes, and keep them in a bag in your freezer so you can have this cocktail anytime you want!
11. Green Baileys Cocktail
These green minty alcoholic milkshakes may look like they're meant for St. Patrick's Day, but these are also great around the holidays.
I love to serve these at my Christmas gathering with my fellow parent friends with Grinch-themed foods. This milkshake is sweet, minty, and creamy, thanks to the Baileys.
I love to top this with whipped cream and green sprinkles for added flair. If kids are attending the party, make non-alcoholic versions for them!
12. Espresso Baileys Cocktail
A very short cocktail that you can easily remember the recipe for is great to have around throughout December and January.
This recipe only uses three ingredients. It's very easy, delicious, and satisfying. Try using milk instead of heavy cream if you want a lighter version.
I like to mix these drinks up for the afternoons we make Christmas cookies. It gives me a nice hit of caffeine to keep me energized, and it's a bit of adult celebration.
13. Baileys White Russian
What drinks can you make with Baileys? The answer is, really, any drink that's meant to be creamy!
This cocktail is luscious and decadent, everything you want from a creamy drink like this.
If you don't have Kahlua on hand, don't worry! You can substitute a strongly brewed coffee instead.
You can top this pumpkin spice, chocolate flakes, or cinnamon sprinkled whipped cream. I love to make this with the salted caramel flavor of Baileys for even more sweetness!
14. Salted Caramel Mudslide
I've professed my love for salted caramel elsewhere in this list, so my love for this cocktail shouldn't be a surprise. This tastes like a salted caramel coffee milkshake. It's dangerously delicious!
I love to make this for my holiday parties because it's always a huge hit. Kahlua and Baileys are a natural pairing. They complement each other perfectly.
Make sure you dip the rim into caramel and sugar. If you're serving this for friends, it adds a professional flair.
15. Baileys Mint Martini
This minty martini is perfect for any special occasion! It's very vibrant in its green color, and it has the ideal balance of mint and Baileys.
I love to top this with shaved chocolate and a crushed candy cane for a fun play on the colors. Crème de Menthe liqueur brings that minty flavor, and the Baileys adds a friendly coffee tone.
Half and half make it all rich and creamy. These look so beautiful in a martini glass. Make this anytime you want an elevated drink experience.
16. Irish Cream
Baileys Irish cream recipes are perfect for the holiday season, but they're also great anytime you want that warm coffee liquor.
This recipe uses instant coffee, so you don't have to brew anything or dirty the coffee pot. This recipe uses a blender to combine the ingredients into a cocktail, but you can use a shaker instead.
I've found that using a blender can result in a more whipped texture I don't prefer.
This makes a big batch, so either make this for a group or plan on keeping it in the fridge for later use.
17. Gingerbread Baileys Holiday Cocktail
Gingerbread is one of my favorite holiday flavors! It's not too sweet and has all those warm winter spices that make me excited for the holiday season.
This cocktail accomplishes those flavors by using Captain Morgan gingerbread rum, mixing it with Bailey's, tones down the spiced flavor slightly, so this is a beautiful drink to sip on.
It makes me want to make gingerbread houses. I love to serve this topped with whipped cream and crushed gingerbread cookies.
18. Baileys Irish Temper
This Irish Temper recipe reminds me of drinking a caramel latte with added alcohol.
You usually drink this hot, perfect for cold nights and games or movies. You can also drink this iced if you prefer cold drinks.
If you prefer to make this non-alcoholic, replace the Baileys with an Irish Cream coffee syrup.
I've replaced the sugar with honey, and it made an excellent addition, so if you're avoiding refined sugars give that a try.
19. Homemade Baileys Irish Cream
This recipe walks you through how to make your homemade Irish cream. Whether you don't have access to Baileys or like to make everything from scratch, this recipe is for you.
The key ingredients are instant coffee and sweetened condensed milk. These two give you that creamy coffee flavor necessary for Baileys.
You can use this homemade version in any recipe, just like a store-bought Baileys. Enjoy it mixed into a cup of coffee or in any of these beautiful cocktails listed here!
20. Butterball Cocktail
A butterball cocktail is a traditional holiday cocktail that mimics the flavors of holiday candies like toffee and butterscotch.
This is one of the easiest drinks on this list and affordable as it only requires two ingredients: Baileys and butterscotch schnapps. I recommend always enjoying this drink chilled. It's best cold.
If you want to spice up this drink or make it look fancier, try swirling chocolate syrup in the glass before pouring it. You'll feel like you're drinking a chocolate-covered butterscotch candy!
21. Baileys Irish Cream
This Irish cream is perfect for making for any whiskey lover in your life.
This is one of my husband's favorite drinks to make, and as soon as the holidays come around, he asks me to pick up the ingredients.
The vanilla and whiskey make an excellent combination here, and they play well with the Baileys and espresso.
This recipe also includes powdered sugar, but I have made it without for a stronger, less sweet result that I also enjoy. If you don't have espresso, try swapping for extra-strong coffee.
22. Shaken Espresso Cocktail
Drinks made with baileys are perfect for the holidays. The flavor of coffee reminds us of warmth and holiday mornings, which translates well to a cocktail.
This cocktail is very Baileys forward thanks to the half cup of espresso.
This cocktail has a nice hit of caffeine, so it's not ideal for a nightcap, but it is great to serve guests at a holiday party where everyone wants to be up and energized for a good time.
Please don't skip the chocolate-covered espresso beans. They are the best part!
23. Baileys Chocolate Dessert Cocktail
The name of this drink is exactly as it sounds: dessert in a cocktail! I love this drink; it takes a few extra steps, but it's worth the effort.
The chocolate cream you make makes this so unique; it adds a lusciousness to this cocktail that cannot be replaced.
If you prefer dark chocolate's slightly bitter and rich flavor, you can make the chocolate cream with that instead of semi-sweet. I like to top this drink with whipped cream and a sprinkle of cocoa powder.
24. Baileys Martini with a Vanilla Twist
This is an effortless and straightforward drink with the warmth of vanilla and slightly spicy flavors of cinnamon.
Thanks to its ease, this is a great drink to enjoy while making dinner over the holidays or make for yourself as a treat after the kids go to bed.
Vanilla vodka is the key here, but if you only have plain vodka at home, try adding a tiny splash of vanilla extract to your drink.
Don't skip the cinnamon! It adds that little kick of flavor that takes this cocktail from plain and vanilla to holiday spiced!
25. Baileys Flat White Martini
This flat white martini is reminiscent of the Australian espresso drink but with added flavor from Baileys. Half and half creamer make this drink creamy, and the espresso adds the necessary bitterness and coffee flavor to make this a true flat white. All you need is a shaker to make this drink.
Don't have one? Don't worry! All you need are two glasses that fit together like a shaker to make this work. Don't forget to top with the espresso beans!
Pro tip: I like to top with chocolate-covered espresso beans for added flavor.
26. Mudslide Drink
This holiday drink reminds me of my grandma. She always drank mudslides at our Christmas gatherings and got sassier with each one. This drink consists of vodka, Kahlua, Baileys, and chocolate syrup.
You can make this drink classic served with ice or frozen if you like a slushie texture.
Garnish with some crushed candy canes for a kick of mint and a fun color. Every time I make this for friends, they ask for a whole pitcher!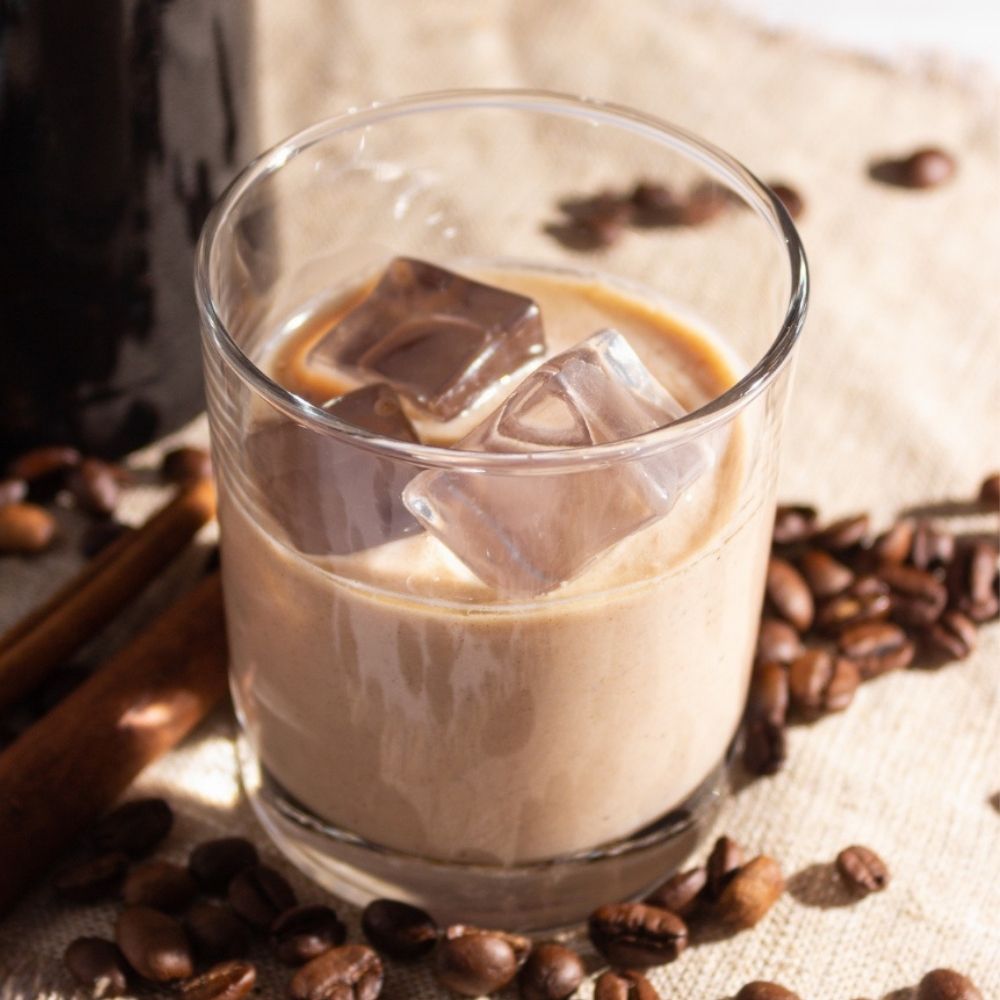 26 Easy Baileys Cocktails
Yield: 4 - SERVINGS

Prep Time: 5 minutes

Cook Time: 3 hours 10 seconds

Total Time: 3 hours 5 minutes 10 seconds
Ingredients
3 cup. cold-brew coffee
1/2 cup of milk
Chocolate sauce
1/4 cup of Baileys Irish Cream
Caramel
1/4 cup of vodka
Whipped cream
Instructions
Fill an ice cube tray with 2 1/2 cups cold brew. Freeze until solid, 3 hours.
Combine frozen coffee cubes with the remaining 1/2 cup cold brew, milk, Baileys, and vodka in a blender and blend until smooth.
Drizzle chocolate and caramel sauces into each of your glasses. Divide slushy evenly between glasses, then top with whipped cream, more caramel, and more chocolate.