Tequila drinks are fantastic to enjoy by yourself or with a larger group. They pair beautifully with all kinds of citrus, berries, and herbs. Not only that, but they are incredibly refreshing and great for the pool or beachside!
This liquor is made from the agave plant, and you can only produce authentic tequila in some areas of Mexico.
Certain states in Mexico are the only places that can give certification of tequila on agave liquor, which is why every tequila you see in the store will come from one of those five states.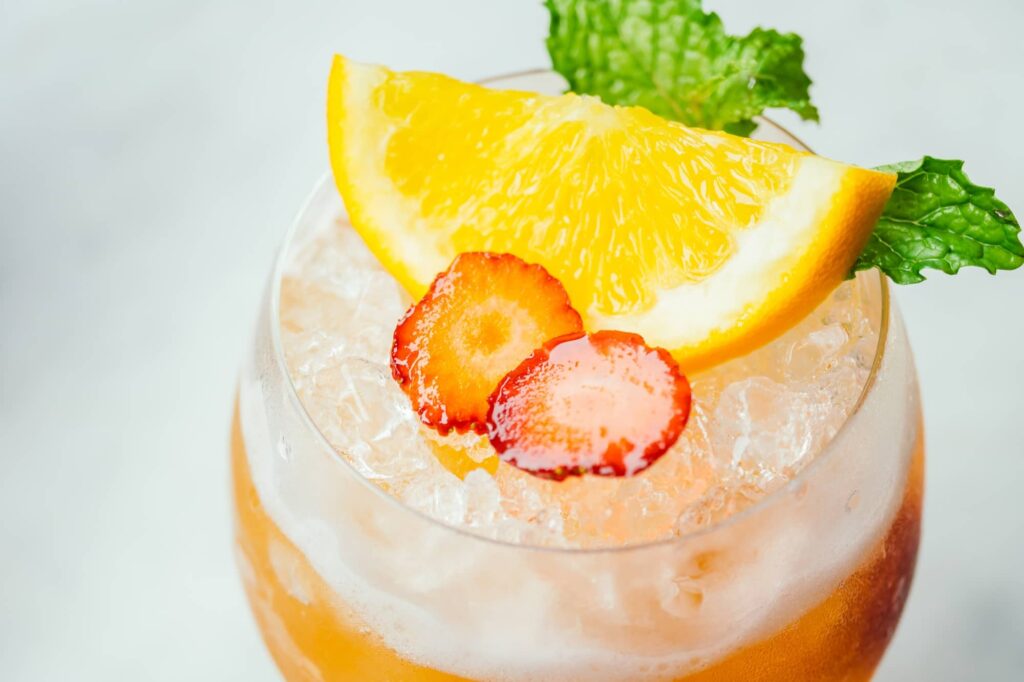 Tequila mixed drinks can be incredibly simple or incredibly eccentric. One of the perks of this variety is that there is a drink for literally every type of taste and preference.
Bartenders may mix some with other liquors or let the tequila stand alone. However, you can change everything to fit your unique tastes.
You'll love these other cocktails:
Every recipe on this list is exciting, delicious, and will give you so much inspiration! Whether you're a beginner to home bartending or an experienced mixologist, there's something here for every skill level!
This recipe is the most basic recipe you can think of for a Tequila Sunrise.
If you were to ask any bartender what the basic recipe for a Tequila Sunrise is, they would tell you something identical to Nilsson's recipe. This drink is a staple of any home bartender's repertoire and is refreshing.
If you want to boost this recipe to the next level, you could try fresh squeezing your orange juice and use that as the mixer instead of other store-bought orange juice.
While it might seem like it is just like a Tequila Sunrise, this is the stronger cousin! Featuring Peach Schnapps, tequila, and amaretto, this drink has a few more ingredients than most home bartenders might have on hand, but nothing too hard to find.
Good grenadine is one of the most critical parts of the tequila cocktails from this family.
The great thing about grenadine is that it has a strong flavor, and you only need a little bit, especially with all the other potent ingredients in this drink.
This drink is perfect with desserts and is an excellent digestif.
The Raspberry Mint Tequila Smash is similar to the berry smash we've already talked about in this article, but this recipe has one key difference: agave nectar.
Yes! This recipe calls for agave nectar! The same delicious sugar alternative from before has made a second appearance. If this recipe is any indication, raspberry and agave were made to be together.
Once you try this drink, you won't go back, and this is sure to become a summer staple for BBQs to come.
Where the Sky Meets the Sea is a bit of a mouthful, but it is a delicious cocktail that you'll make again and again!
This drink is a bit intimidating if you have never tried it before. At first glance, it looks like a simple glass of water, but there is tequila and elderflower liqueur, along with bitters that give it a softer flavor.
If you wanted to change the drink's color to match the theme, you could add a small dash of blue Curaçao.
This vivid liqueur will give it a brilliant sky-blue color and add more citrus flavors to this drink.
A mixed berry smash is perfectly refreshing and will give you a delectable treat for all seasons! Not only does it have a beautiful color, but it is also packed with juicy berry flavors that pair well with tequila. Fresh lime juice is the perfect touch on this already great drink.
These berries are also delicious as a snack once you've finished the main drink off.
All of these berries have been sitting in the liquor and lime, absorbing all those flavors. This drink is two in one!
There's nothing more refreshing during summer than a juicy watermelon, and this drink captures that treat in one go.
This drink is made with fresh watermelon puree, and it is so refreshing. This recipe is designed to make one large pitcher of Palomas, so there is more than enough to entertain with!
If you wanted to make a unique form of presentation, you could put the final drink in a cleaned-out watermelon rind. Not only is this super cute, but all of your guests will know immediately what the primary flavors are!
There are no other more simple tequila drinks than this one. There are two ingredients, tequila, and ginger ale, and they can serve as an excellent base for other exciting drinks!
Ginger ale is such an underrated soda, especially for mixology. Not only is it a simple option to mix with liquor, but ginger ale goes with so many other types of booze too!
You can pair it with gin, vodka, whiskey, and pretty much anything else you can dream of. There is no need to worry about buying too much; there are infinite options to use the rest of it up.
Ranch Water might not sound like an appealing type of drink, but it has a special place in Texan culture and is a great conversation starter.
The real key to this drink is to use Topo Chico mineral water. This is a Mexican mineral water company that has been around since the 1890s, and your drink can't be called Ranch Water without it.
It can be a bit difficult to find Topo Chico outside of Texas, so you may have to shop around before you see the bottles that you're looking for. If you can't find it, there are many other types similar to the drink.
This recipe is as tart as strong and is a perfect, refreshing summer and fall drink. Combining pomegranate, orange liqueur, and lime with tequila is a winning mixture!
While fresh pomegranate juice is recommended, producing fresh pomegranate juice at home. Not only are there so many tiny seeds, but the juice stains very quickly, making clean-up difficult.
Not everyone can make their juice fresh, so instead, you could replace it with store-bought pomegranate juice and get the same delicious flavor.
The best tequila drinks are balanced. You get your sweet, and you get your tart, you get your salty. All of these things give your drinks a distinct flavor and will take you on an incredible flavor journey.
This drink is from the heart of Mexico, and as a result, Mexican Coca-Cola is mandatory to make the drink taste right.
Mexican Coca-Cola is different from American Coca-Cola because it is still made with pure cane sugar and other formulas.
Many stores around the US are starting to carry Mexican Coca-Cola, but if you can't find it at your local Walmart or grocery store, you might want to check out a Mexican specialty store.
Grapefruit is a flavor that many people find to be hit or miss. However, this recipe gives this underrated citrus a chance to shine and take center stage.
One of the best ways to improve this drink is to include grapefruit-flavored sparkling water.
La Croix is a great choice and recommended by the author, but there are sparkling grapefruit juices that you might also want to try.
If you want a sweeter option, Squirt is a great choice. You may not know this, but Squirt soda is grapefruit-flavored and an excellent alternative for sparkling waters in this drink.
When you think of cocktails, you may not expect to see a drink with jalapeño. However, this recipe combines the flavor of the jalapeño with tequila and still keeps the heat in the glass.
Many jalapeño drinks will take the heat out of the peppers, leaving the slightly bitter flavor.
This recipe is different. The peppers are allowed to be their spicy selves and give you quite the kick.
Like all the other recipes on this list, fresh lime juice is critical to give this drink its signature taste.
This is not something you want to skimp on. Even if it takes a few extra moments, your taste buds will thank you!
What drinks can you make with tequila? Mexican ones, that's what!
The Mexican Mule is a spin on the typical Moscow Mule, and it has all of the classic Moscow Mule ingredients. The only real difference between the two drinks is that one has tequila and the other has vodka.
Fresh mint is the only way to go for a great Mule, and you can easily find fresh options in grocery store herb selections.
Fresh herbs are so easy to prepare for cocktails. You don't even need a fancy muddler or any other tools. The easiest way to work with them is to roll the herbs between your palms and put them into the mixture.
This recipe could have two ingredients or up to four. No matter how many you want to use, this recipe is always easy to prepare, and anyone can make it.
One of the optional ingredients is agave nectar. Not only is agave nectar a natural sweetener, but it is also made from the same species of plant that tequila is made from.
Agave plants are a large family, and most tequila is made from the blue agave plant. However, some agave plants harvest agave nectar, which is naturally very sweet and a great alternative to refined cane sugars.
Bloody Mary's Mexican cousin, the Bloody Maria, is made with tequila instead of vodka. This recipe might surprise you; I was certainly impressed!
While some Bloody Mary recipes can become over the top and excessive, this recipe is no-frills and straightforward.
Anyone could make this drink, and it could be used as a base for pretty much every other type of Bloody Mary garnish you can imagine.
Since this recipe is so large, you need to pick a huge glass to hold it. The larger the glass, the more you can fit in there and the more garnishes you can add.
If you want to minimize the tipping hazard for your drink, you could also pick a more expansive glass.
Some tequila drink recipes take hours to prepare, but this one is so easy!
While this recipe might say that it is a pineapple-focused drink, orange juice, and orange liqueur are also involved.
These round out the pineapple juice flavor and give the cocktail a better overall taste.
Since pineapple juice is so sweet, it can dominate the drink. You need to bring balance back to it, which the orange juice is perfect for.
While fresh is better for orange juice, making fresh pineapple juice is incredibly difficult, so store-bought is perfectly fine.
Of all the easy tequila drinks on this list, this is up there with the tequila and ginger ale recipe from before.
There are only two relatively easy-to-find ingredients, and you can make it on a large scale. This drink is perfect for larger occasions, smaller get-togethers, or even for sipping on when alone.
There are a couple of ways you could hypothetically spice it up if you were looking for alternatives. Fresh mint or rosemary always go well with tequila cocktails, and they are inexpensive but exciting garnishes.
Drinks made with tequila can blur together at one point. It can feel like you've seen them all, and it may feel like there are only so many ways you can put tequila, some form of citrus, and a mixer together. You can get pretty stumped, especially if you are an experienced bartender.
However, the Mojitarita is the intersection of two great drinks and creates something incredible and unique.
This recipe pairs the sweetness and mint of a mojito with the tartness and tequila of a margarita to create a well-balanced drink.
This time from Meggan Hill, another great version of a Tequila Sunrise features fresh lime juice and orange juice.
Lime typically isn't in a Tequila Sunrise, but this optional addition is refreshing and sets Hill's recipe apart from other drinks to make with tequila.
There are several ways you can dress up this drink. For one, you could add a dash of raspberry or blackberry syrup. This will round out the mixed berry flavor and make the colors pop.
If you pour these other liquors over the back of a spoon and down into your drink, you can get some lovely layering too!
Drinks with tequila can be hard to balance, but somehow, this refreshing cooler does it all. Not only are there tart and sour lemon flavors, but there are tart and sweet raspberries, fresh mint, and even basil in this drink. It is perfect for picnics or beach trips!
Basil is not an herb you might think to put into a cocktail, but it is more common than you'd think. Basil and raspberries pair together so well, and there is so much you can do with this combination.
While the name may be Mexican Martini, there are more similarities between this drink and a margarita than anything else. Some slight modifications make this drink so easy to prepare so that anyone can make it.
Make a margarita on the rocks and add a dash of olive juice to get started. This is the 'martini' part of this drink.
Once done, mix it up and strain it into a chilled martini glass. You can then add a garnish of your choosing, but the author recommends olives stuffed with jalapeño peppers instead.
Mixed drinks with tequila are prevalent, and the Siesta is a great drink that brings grapefruit back to the stage. Not only that, but this drink highlights the liqueur Campari too!
Fresh lime is not just a perfect ingredient; it is also a great garnish. A thin slice of lime perched on the rim of your glass is pretty and allows you to add more lime to this recipe later. That is if the fresh lime juice wasn't enough already.
Another, more savory margarita option involves fresh cucumber as the main ingredient. This option is refreshing, not sugary, requires no blending, and can be modified to include a sugar-free version.
All of these things are why this cucumber lime margarita drink is still a delicious treat for any time of year.
However, this drink shines in the summer and is so refreshing. It's also sugar-free, so anyone can enjoy this drink, even if they have specific sugar requirements.
The second Mexican Mule recipe on this list is also one of the few drinks here that include another type of alcohol as the main ingredient. This recipe contains wine and tequila to create a potent cocktail.
You could hypothetically use either red or white wines. Dry wines are best for this recipe since several robust fruit flavors can overtake the wine or make it too sweet. Members of the pinot family will shine in this refreshing summer classic.
A strawberry margarita is a prevalent option of all the cocktails with tequila. In fact, it is the most popular drink in the United States! Knowing how to make a strawberry margarita is a crucial skill for any home bartender and is infinitely applicable.
Whether you make this drink on the rocks or blend it, it is perfect for late spring and early summer, and fresh strawberries as a garnish is an exquisite final touch.
Fresh strawberries are crucial for this recipe, and the best strawberries are found during April.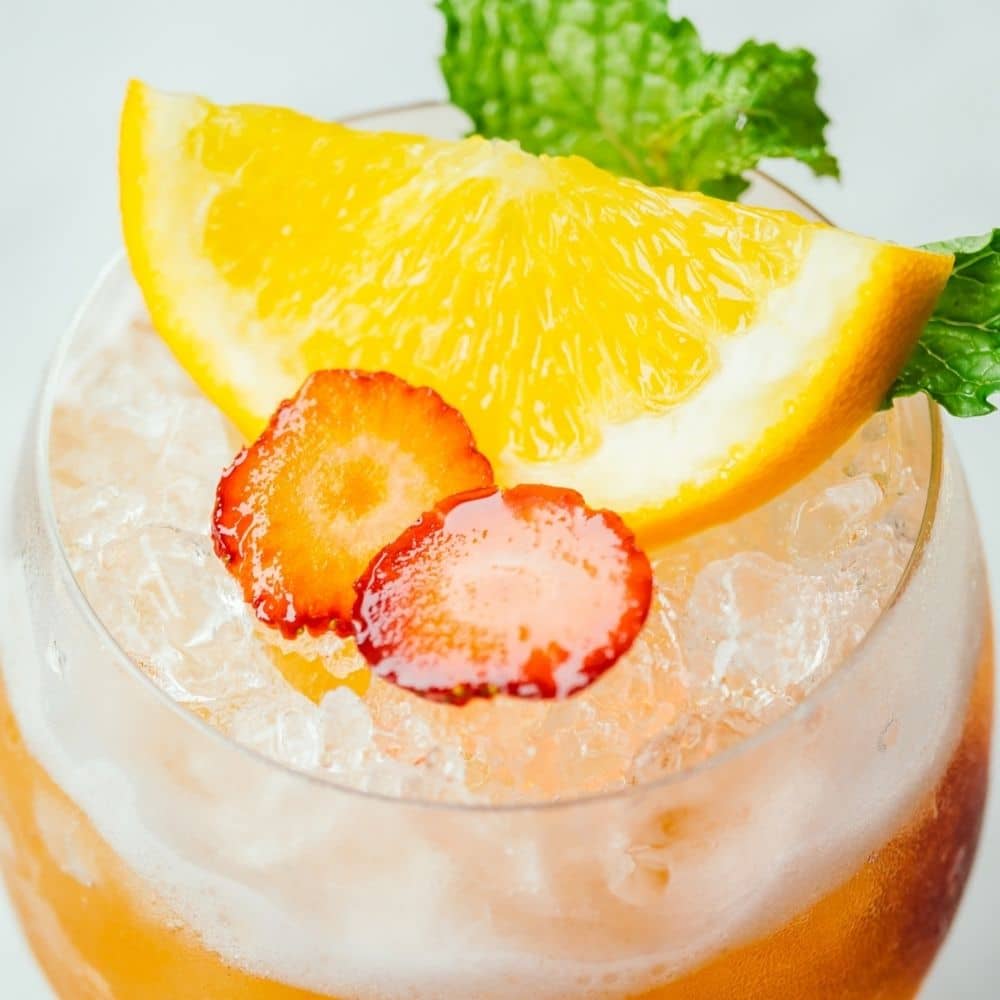 Top 25 Tequila Cocktails
Yield: 1 cocktail

Prep Time: 5 minutes

Cook Time: 5 minutes

Total Time: 5 minutes
Ingredients
1 ½ c ice
4 fluid ounces orange juice
1 c ice
2 fluid ounces tequila
¾ fluid ounce grenadine syrup
Instructions
Put one and a half cups of ice into a glass.
Combine 2 oz. tequila and 4 oz. of orange juice in a mixing glass.
Add one cup of ice and mix.
Strain into the ice glass from before.
Carefully pour ¾ oz. of grenadine over the back of a spoon into the glass.
Let settle and then serve. For best results, stir before drinking.