Peanut butter Is absolutely as delicious as whiskey. You might not think of the two together, but this is where you are wrong!
We are here to announce that there is such a thing as peanut butter whiskey!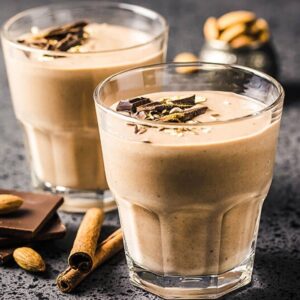 Are you wondering what drinks you can make with peanut butter whiskey? Well, they exist, and they're delicious.
Peanut butter whiskey recipes can vary from old-fashioned beverages to skrewball peanut butter cocktails.
If you're holding onto a bottle of this unique liquor and in need of drinks with peanut butter whiskey, you've come to the right place.
Go nuts with one of these unique cocktails!
This strong dessert drink tastes like Reese's peanut butter cup in a glass.
A variety of bitters, including chocolate, coffee, and walnut, add to the creamy, nutty flavor while balancing out the sweeter notes.
While almost all booze, you would never know it. The tasty ingredients smooth out the alcohol perfectly. But be careful— you might not realize this peanut butter whiskey cocktail packs such a punch.
Garnish it with a mini Reese's peanut butter as a visual foreshadowing of the flavors. It'll prep the tastebuds for what's to come.
It's peanut butter jelly time! But this time, it's in the form of a peanut butter cocktail.
This recipe uses skrewball peanut butter whiskey and only two other ingredients– jelly simple syrup and salt. Just mix and go. How easy is that?
It brings you back to childhood with a very adult taste adult twist. If you're someone who loves a good PB&J sandwich, don't hesitate to try this sweet and nutty whiskey cocktail!
It's peanut butter cups meet whiskey meet milkshakes! If you love creamy and sweet beverages, this is the way to go.
You can't go wrong with skrewball peanut butter whiskey. Chocolate liqueur gives it the rich, dessert-like quality you crave. Opt for the Godiva brand for an extra decadent and rich flavor. Shaking it with ice makes it nice and cold, resembling Reese's milkshakes.
If you don't do dairy, have no fear! Dairy-free options are also here! It's one of many peanut butter whiskey cocktails that makes an excellent summer day's dessert.
What drinks can I make with peanut butter whiskey?
Well, here we have another three-ingredient recipe that'll blow your tastebuds away.
The flavored whiskey, coffee liqueur, and milk can be combined in less than three minutes. A dash of coffee liqueur makes you think you're drinking a fancy Irish-style Mocha.
A fancy rim goes a long way—mix chocolate syrup with crushed peanuts and sugar on a plate. Dip the edge of a chilled glass on the plate to create a delicious coating— and a beautiful presentation!
It may be called old-fashioned, but this cocktail never goes out of style. It's one of my personal favorites because of its simple yet sophisticated flavor. The peanut butter liquor adds a unique nuttiness that elevates the overall taste.
Don't forget to top it off with a garnish! Maraschino cherries on a toothpick make the perfect option for these whiskey drinks by giving them a burst of color and tartness. Substitute these with candied cherries to add a jammy quality instead.
Are you looking for a boozy cocktail for those cold winter days? Don't discount good ol' hot cocoa!
Cocktails with peanut butter whiskey are underrated, and this recipe is an excellent example of why.
Who says hot chocolate is just for kids? This adult version is salty, sweet, and cream all in one. Feel free to skip the corn syrup if you like it less sweet. Top it with some mini marshmallows for a fun floating treat.
Warm up with this tasty spirit on a chilly day!
Do you need more peanut butter whiskey drink recipes? Here you go!
It may be called a martini, but the flavor is anything but tiny! In classic martini style, the ingredients are strong and simple– in fact, it's actually just two types of alcohol: the whiskey and the chocolate liqueur. As such, it's on the lighter side for this recipe list.
I like adding some crushed peanuts to the chocolate rim for an extra nutty flavor. Enjoy!
What brings everyone to the yard? This peanut butter whiskey milkshake does!
Believe me when I say this milkshake is better than most you've tasted. Whiskey gives the milkshake hints of caramel and bourbon– complimenting the ice cream perfectly.
Feel free to go wild with the ice cream flavors. While vanilla is the suggested option, go extra nutty with peanut butter ice cream.
If you're feeling wild, try brownies and cookie dough ice cream to take that dessert to the next level.
As far as peanut butter whiskey drinks recipes go, this one is a winner.
Godiva liqueur is to die for–and this cocktail brings it to life. Drizzle chocolate syrup down the sides of the glass before you pour the drink. As you drink, you'll get a yummy taste of dark chocolate syrup with each boozy sip.
Mini Reese's cups slipped onto the side of the glass make a great garnish. However, I like to add a chocolate syrup rim as well.
Why eat that PB&J when you can drink it? Skrewball peanut butter whiskey drinks taste like home.
The nostalgic combination is famous in America, and for a good reason.
Chambord liqueur is the secret ingredient in this recipe. The raspberry flavored beverage is rich, tart, and adds just the right amount of sweetness to the cocktail. Creme de cassis or any other berry liqueur will work as a substitute if you can't find the real thing.
Wondering what to mix with peanut butter whiskey? Peanut butters and apples are a delightful match. And the liquid version is just as tasty!
This cocktail is an excellent choice for a cool fall evening. Curl up indoors or outside with a warm blanket and a toasty cup of this spiked apple cider.
For a stronger variety, add a bit of some cinnamon liqueur. It'll give the cider a spicy kick without being overpowering.
Top of the mornin'!
Peanut butter whiskey mixed drinks are also appropriate for breakfast– or even brunch! Instead of your morning cup of jo, go for a coffee cocktail!
If whiskey in your coffee is called an Irish coffee, peanut butter whiskey must make it an Irish-American coffee. But maybe don't say that too loud…
Use milk for a lighter drink, cream for a richer flavor, or go for black coffee and exclude the dairy altogether.
Wanting a twist on the classic old-fashioned cocktail? Try this unique option!
What sets this cocktail apart is the addition of not one– but two extra whiskeys. Bourbon, peanut butter whiskey, and chocolate whiskey unite to form an extra powerful old-fashioned.
I'd recommend using skrewball peanut butter whiskey if you want the best-tasting version of this drink.
The vanilla and chocolate bitters blend nicely with the peanut butter whiskey–tying this unexpected combination together.
How do you eat a Reese's? In a cocktail glass, of course!
Skrewball peanut butter whiskey recipes can often taste just like a real peanut butter cup. They're salty, creamy, and just the right touch of sweetness!
Try substituting cream if you want an extra-dense dessert beverage. If you love super sweet drinks, use a touch of sweetened condensed milk as well. If you haven't had it before, you'll be pleasantly surprised.
White Russians are reliable. Add a little peanut butter flavor to give a classic the twist it deserves.
The substitution of whiskey for vodka adds depth to the original drink. It's strong and creamy with just the right amount of nuttiness.
It's a great drink to follow a meal or end the day. Why eat your dessert when you can drink it?
The dude abides. And you should too.
Although an unlikely pair, peanut butter, and whisky make an excellent team. They're two great tastes that taste great together.
If you're looking for delicious cocktails that embrace both these flavors, try one of the options above! Bottoms up!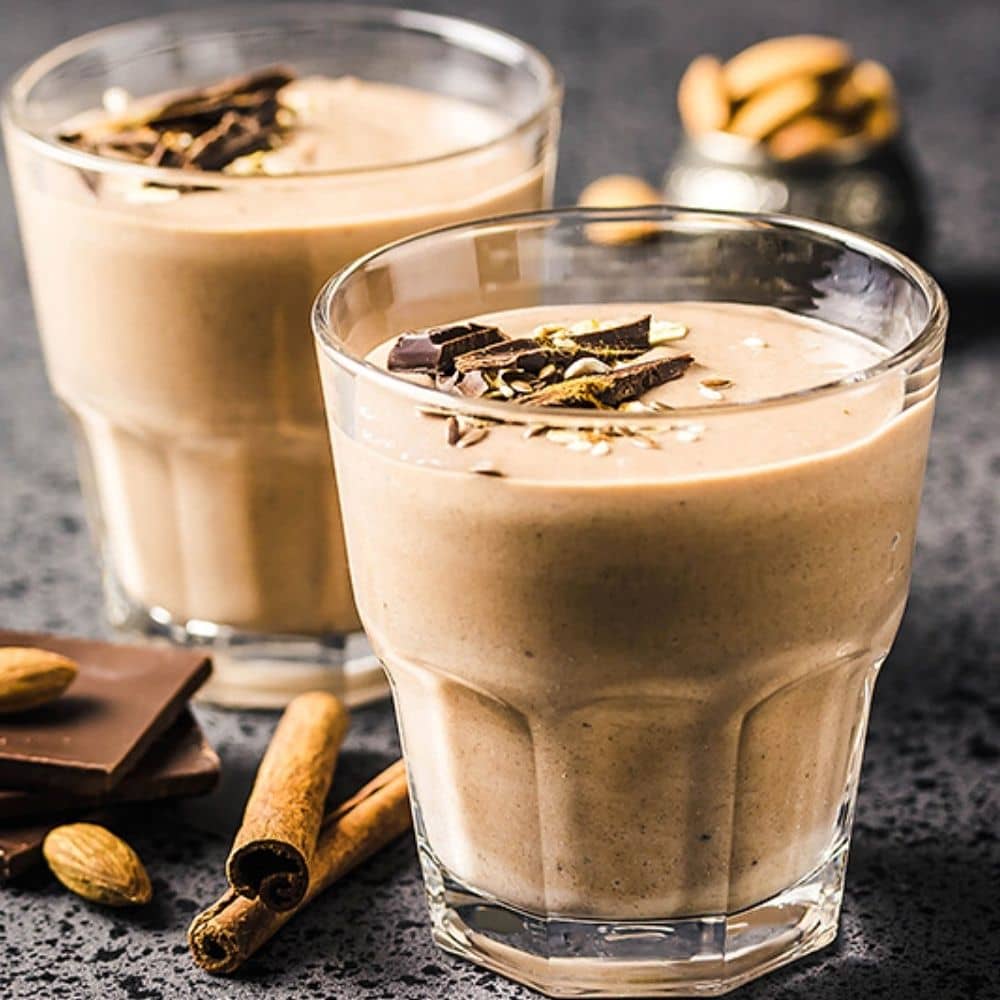 15 Easy Peanut Butter Whiskey Cocktails
Peanut butter and jelly is an all-time favorite! If you love the sandwich, you'll love the cocktail as well. Give it a go with this easy and delicious recipe!
Ingredients
1/2 oz. peanut butter whiskey
1.5 oz. bourbon
½ oz. dry vermouth
½ oz. Chambord liqueur
2 dashes chococlate bitters
Instructions
Mix all the beverages together.
Add ice and stir.
Strain into a glass.
Add raspberries as a garnish.