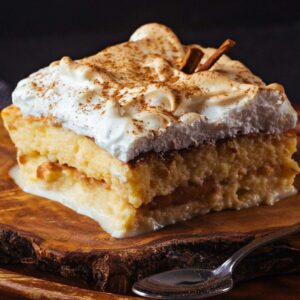 When most people think about Mexican cake, Tres Leches is usually the first that comes to mind and with good reason- it's delicious!
In this roundup post, we've gathered the best Tres Leches recipes from around the web plus a variety of other Mexican cake ideas you may not have heard of before!
From traditional Mexican cakes you know and love to some lesser known variations like, Mexican Sweet Corn Cake and Calota de Limon.
there's a dessert here for every preference that will wow your dinner guests at the dessert table.
So read on to discover 22 of the best Mexican cake recipes the internet has to offer!
Nothing screams traditional Mexican cake flavors like this Tres Leches Cake recipe from I Wash You Dry. Hints of vanilla and cinnamon throughout this light and fluffy dessert make it a perfect dessert to end any meal with.
Tres Leches means "three milks" and forms the syrup that is poured over the baked cake to absorb.
The resulting unique texture is out of this world and why the cake is so beloved.
With whipped cream frosting and sliced strawberries for garnish, no one will be able to resist a slice!
What could be better than Tres Leches Cake? Caramel Tres Leches Cake! This Turkish-style version of Tres Leches has all the flavors of traditional Tres Leches but with a caramel layer on top!
It takes a little extra time, but making caramel from scratch is well worth it.
The caramel is poured over top of the cooled cake and the result is a decadent tres leches cake that everyone will love.
This recipe is perfect for gatherings where you want to impress!
As Mexican cake recipes go, this one is unique and a great choice as a side dish to serve with any Mexican meal where you want to offer something sweet to compliment savory or spicy dishes.
For this recipe, you'll need masa harina, which you can find in specialty stores or the international aisle of your grocery store.
Tip- don't use cornmeal in place of the masa harina, it will not yield the same results.
Whole corn throughout this cake gives it a wonderfully sweet crunch and is absolutely delicious aside your favorite enchiladas or even chili!
Another tres leches recipe, this time from Dinner Then Dessert, is great if you know you have a crowd to feed.
This recipe will make a full 9×13 pan and can easily be doubled if needed.
If it's for an event, you can make it in advance and the author also gives a recipe for a stabilized whipped cream frosting that will hold up to being out of the refrigerator for longer periods of time.
Make extra, because this cake will disappear quickly!
The key to a fantastic Tres Leches cake lies with the simple cake base. It's critical to get the texture right because you need it to be light and fluffy and yet, stable enough to absorb all that wonderful milk syrup.
Sam, over at Sugar Spun Run, took this challenge to heart to give us the perfect vanilla cake base recipe that holds up to the task.
As always, the cake is topped with whipped cream and sprinkled with cinnamon for a delicious dessert that keeps you coming back for just "one more slice".
A Mexican cake that is ridiculously easy to make and tastes like a churro? Sign us up! This recipe from The Cafe Sucre Farine is simply divine!
With cinnamon swirls and hints of vanilla, each bite will remind you of fresh made Mexican churros.
The cake makes a beautiful presentation for your next event and while it appears simple, the layers of flavor throughout with the glaze and sugared topping will wow even the most critical of taste buds.
It's sure to become a new favorite!
For a taste of pure summer in cake form, try this Peach Cake Roll from Mexico in My Kitchen!
Luscious peaches take center stage in this jelly–rolled style cake. A vanilla cake is baked in a jelly roll pan and then is filled with whipped filling and chopped peaches before being rolled up into a cake roll.
The flavors are refreshing and because it is chilled before sliced and served, it is an excellent after dinner treat on a hot summer's night.
Another delicious sweet corn cake recipe, this one is also served with a lovely caramel sauce. It's also delicious served with ice cream!
The cake itself is not overly sweet, but when you add the toppings, the flavors of the corn and vanilla shine through.
This makes a great dinner accompaniment or a nice afternoon snack.
We like the bundt cake presentation, but the recipe is versatile and can be baked in a skillet or into individual mini cakes for special events.
It doesn't get easier to make Tres Leches cake than with a store-bought cake mix.
This recipe from Practically Homemade is perfect for when you need a cake but are short on time to make it!
Vanilla cake mix is combined with a few other ingredients and baked. Then the three milk syrup is poured over top and left to absorb and finally, the whipped cream topping and cinnamon finish it off
This recipe uses raspberries as a garnish, but you can also use other fruits as well. A good recipe to keep on hand for unexpected guests coming into town!

This Mexican Chocoflan Impossible Cake from A Spicy Perspective will elevate the dessert table at any meal or gathering.
The chocolate cake batter is dense so that the flan and the cake can bake simultaneously into what seems like impossible layers.
After the rich chocolate cake is baked with a creamy flan layer, it is then flipped out of the pan with another layer of silky caramel sauce for a truly decadent experience.
You'll be hard-pressed to find another cake as impressive as this one!
This ultra-moist Mexican chocolate cake with Cinnamon Frosting from Nourish and Fete kicks things up a notch with a surprising ingredient- cayenne pepper!
You might not think cayenne would go with chocolate, but it does!
A simple sheet cake recipe, the chocolate cake is flavored with hints of cinnamon, vanilla and cayenne for subtle depths of flavor.
Espresso powder deepens the chocolate flavor and the cinnamon buttercream frosting tops it off perfectly.
This is a great recipe for larger gatherings as one cake makes 18 servings.
Another sheet pan cake recipe that serves larger gatherings, this Mexican Wedding Cake from Persnickety Plates is bursting with flavor thanks to the addition of crushed pineapple.
It only has six ingredients, is easy to make and the cream cheese frosting it is topped with is delicious!
It's also a versatile recipe that can be made up to a week in advance for an upcoming event and kept in the fridge until the day of serving.
Try mixing in shredded coconut or chopped pecans for flavorful alternatives!
For a cake that is sure to impress at your next dinner party, look no further than this Chile Chocolate Cake with Chocolate Bourbon Frosting from Highlands Ranch Foodie.
Pure Chimayo ground red chile powder infuses this cake with New Mexican heat that is out of this world. Your tastebuds will dance with every warm bite!
The rich, moist cake is delicious on its own but it's the frosting that takes center stage here.
Chocolate and bourbon come together in a delectable frosting that compliments every bite out of this spectacular cake. A recipe to keep on hand for special occasions!
Are you looking for an easy dessert for a hot summer night that is refreshing and delicious? This Carlota de Limon cake from Mexican Made Meatless is the one!
Vanilla cookies are layered with a lime milk mixture made from lime juice, condensed and evaporated milks.
The cookies soak up the milk mixture and form a soft set "cake" that can be sliced and served for a yummy chilled dessert,
Icebox cakes are wonderful desserts for the summer months because they are typically lighter faire with simple ingredients. Sure to become a favorite!
Tres Leches cake is sometimes referred to as the original poke cake. This one from House of Nash Eats is another great recipe to keep on hand.
Stiff egg whites are folded into the cake batter to give this cake an extra springy form that is perfect for soaking up all the milky goodness.
A pro tip that is helpful when making Tres Leches: Give the cake sufficient time in the fridge to soak up all of the milk mixture before frosting and serving.
This Mexican theme cake tastes like hot chocolate! Another cake recipe for special occasions, this Mexican Hot Chocolate Cake from Preppy Kitchen will wow your tastebuds.
With flavor notes of coffee, vanilla, cayenne, cinnamon and more, it is like your favorite hot cocoa with a kick.
The buttercream filling balances out the deep chocolate cake nicely and the browned butter frosting is to die for.
A little more involved and time consuming, this recipe is well worth the extra effort in the kitchen!
This one is for the chocolate lovers! Just like a traditional Tres Leches cake, this recipe from The Best Cake Recipes adds cocoa powder to make a Chocolate version that is moist and decadent.
Sometimes, you just want a little something…extra. This cake comes with a chocolate base and yummy whipped cream topping.
The three milk mixture is also flavored with baking cocoa so that every bite is infused with chocolatey goodness.
Drizzle with chocolate syrup and mini chocolate chips and you've got a cake that everyone will love.
This jelly roll cake recipe is the perfect sponge cake recipe for when you are searching for something light and airy to serve your guests.
The sponge cake is baked jelly roll style and filled with strawberry marmalade, then rolled up to form a swiss roll cake that is then topped with more marmalade and shredded coconut.
It's light and flavorful without being overpowering. Perfect to serve at teatime or as a light dessert. You can also swap out the fillings for different variations!
This Mexican Chocolate Cake is a great recipe to keep on hand for when unexpected guests are popping in.
It has all the flavors of Mexican chocolate with cinnamon and cayenne, but also includes a full cup of strong coffee in the batter for depth of flavor.
The cinnamon buttercream frosting is rich and delicious.
The cake keeps well in the fridge, but be sure to wrap it so that it will not dry out. You can also bake the cake in advance and freeze ahead of your event. To serve, thaw and frost the day of your gathering.
If you are searching for a gluten-free option, this Mexican Chocolate Cake recipe from The Delicious Spoon is a great choice.
Gluten-free flour and baking powder are used in place of regular wheat flour and baking powder to make this a good option for those guests with food sensitivities.
Cinnamon, nutmeg and cayenne add subtle hints of flavor and heat to the chocolate base.
The classic chocolate buttercream frosting finishes it off beautifully. The cake freezes well sans the frosting. Finish with sprinkles for a festive flair!
These Mexican wedding cake cookies aren't technically cake, but we feel they deserve a spot in this round up anyways!
A traditional shortbread cookie, these melt-in-your-mouth treats are perfect when you don't want to serve a whole cake but want to provide something sweet after a meal.
They also pair well with an afternoon cup of tea!
Chopped pecans and fresh orange zest are baked into buttery cookies that are rolled in powdered sugar. What could be more divine? A favorite around the holidays!
All the flavors of Tres Leches in cupcake form, this recipe from I Wash You Dry is a fun way to serve Tres Leches at a party!
Each individual cupcake is saturated with the milk mixture and topped with a delicious whipped cream frosting with cinnamon sugar sprinkle.
If you are making these cupcakes for an upcoming event, it is recommended to store them in the fridge for up to a week without frosting until you are ready to serve them.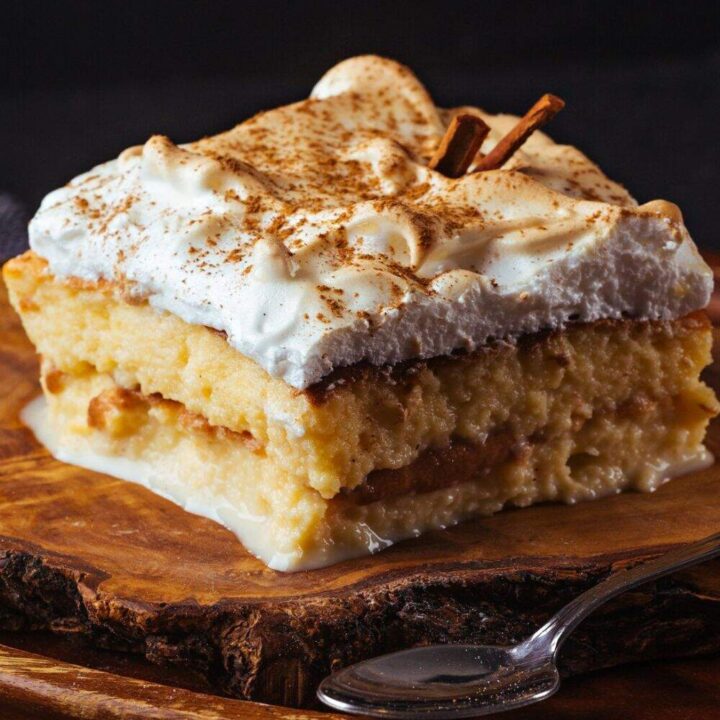 22 Mexican Cake Recipes That Are Easy and Delicious
Ingredients
2 c butter, softened
1 c confectioners' sugar
1 tsp vanilla extract
4 c all-purpose flour
1 c finely chopped pecans
Additional confectioners' sugar
Instructions
Preheat the oven to 350°.
In a mixing bowl, cream butter and 1 cup confectioners' sugar until light and fluffy. (About 5-7 minutes.)
Beat in vanilla.
Gradually, beat in flour, in small batches, until fully incorporated into the butter mixture.
Fold pecans into the dough.
Shape spoons of dough into 2-in. Crescent shapes and place 2 inches apart on ungreased baking sheets.
Bake for 12-15 minutes or until light golden brown, remove from the oven.
Roll cookies in additional confectioners' sugar while warm and then cool completely on wire racks.