Who doesn't love a cold, refreshing beverage with their coffee?
That's precisely what the McDonald's Frappe is, and it is a perfect choice. It's a sweet, creamy treat like a milkshake with rich, but not overpowering, coffee flavors.
Not only is it a great treat, but specialty flavors have been introduced over the years. The chocolate chip frappe was a fantastic summer treat before it was discontinued.
This offers a wide range for people to choose from, and there may be more in the future!
If you've ever wanted to learn how to make them for yourself and want to know more about what goes into them, this is the guide for you! We'll take you through the ingredients, variations, frequently asked questions, and everything else you need to know.
We'll even take you through a copycat recipe that is just like the real thing, so read along and find out everything you need to know about the McDonald's Frappes!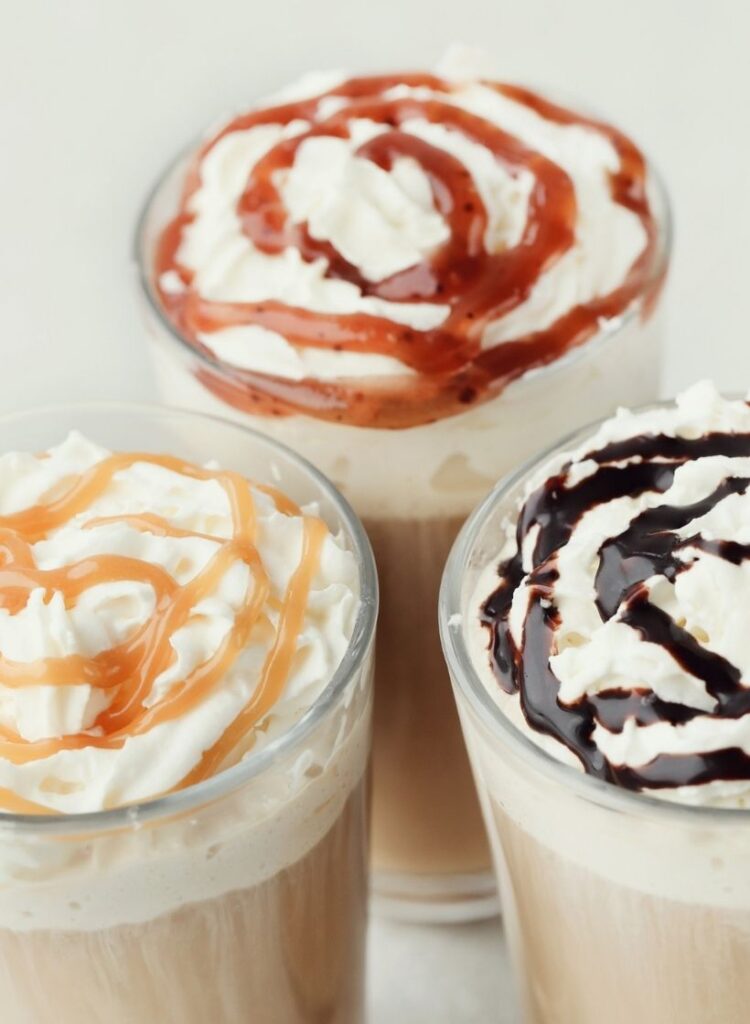 McDonald's Frappe Ingredients and Variations
One of the crucial parts of the Frappe is the coffee Frappe base. This pre-made mixture is then blended with ice to create your drink.
This takes so much work from preparing the drink and wasting time that the employees could use for other tasks.
It is a common misconception that McDonald's Frappe uses McDonald's coffee to achieve its flavor.
However, there is only a coffee extract in the frappe mix. This gives a similar amount of coffee effect without the strong coffee flavor.
The frappe base contains the following ingredients:
Cream
Skim milk
Sugar
Water
HFCS (High fructose corn syrup)
Milk
Coffee extract
Natural and Artificial Flavors
Mono & Diglycerides
Guar Gum
Potassium Citrate
Disodium Phosphate
Carrageenan
Locust Bean Gum
Cocoa (Only in the Mocha Frappe)
On top of these ingredients, there is a whipped light cream topping that is used with a caramel drizzle. There is a chocolate drizzle for the mocha frappe with the whipped topping.
Mix the frappe mix with ice and add the toppings, and voila! You've got yourself a delicious sweet treat! It's that easy!
You can find all of the ingredients on the McDonald's website with a full breakdown of every component. They go through all of the ingredients in the toppings as well.
What Kind Of Frappes Do McDonald's Have?

At the beginning of 2022, there are two flavors of Frappe you can choose from: mocha and caramel. The chocolate chip frappe was a seasonal summer drink in 2021 that was quite popular.
While you might be able to find the chocolate chip frappe at some locations, they may still be moving through the backlog from the summer.
Most locations will not continue to carry a chocolate chip frappe, and it may not return for the summer of 2022.
There's no telling what 2022 will hold for the future of the Frappe, but if 2021 is any sign of what is going to keep happening, new flavors will debut for seasonal experiences.
Keep your eye out for any new flavors on the horizon!
Tips For The The Best McDonald's Frappé
If you want to make a McDonald's Frappe at home, you'll need to know a few things going in.
You need to get the consistency right. This requires a lot of ice and consistent blending. You have to blend it at a medium to high speed, so keep an eye on the blender.
Some blenders will come with a frappe setting. Give that a test while you are making it, and see if that will give you the consistency you need.
If it doesn't, then you'll need to increase the speed, or you'll need to work on the texture with ice or extra milk.
You want to achieve a rich milkshake texture with little to no chunks of ice. This sets the McDonald's Frappe apart from the Starbucks Frappuccino. There are no chunks, and it is very smooth.
If you want to add a touch of extra sweetness, you could also add a dash of the drizzle you would use on top of the drink. Blend that with the rest of the ingredients to make a richer flavor.

Does Mcdonalds Frappe Have Caffeine?
If you've ordered a frappe McDonald's, you've probably asked, "Does McDonald's Frappe have caffeine?" If you don't want to drink caffeine or later at night, you need to know this.
They do have caffeine in different amounts. A McDonald's Mocha Frappe typically will have more caffeine than a caramel Frappe since it is based more directly on a cup of coffee. However, the difference is negligible.
Is McDonald's Frappe Gluten-Free?
While the Frappes themselves do not directly contain gluten, they are made in stores that process products with gluten.
If you or a loved one are particularly sensitive to gluten, you might want to avoid them, but the less sensitive ones should have a safe experience.
McDonald's Frappe vs. Starbucks' Frappuccino: What's the Best?
When you break down their ingredients list, the nutritional facts, and the variety, the Starbucks' Frappuccino is better for you with lower calories.
However, in terms of satisfaction, drinkers tend to prefer the McDonald's Frappe because of the sweeter, richer flavor.
There are a couple of different ways to choose to define which one is the best. For the sake of this article, we'll examine the McDonald's Caramel Frappe against the Starbucks Caramel Frappuccino.
Nutrition
According to their nutritional facts, the Starbucks Frappuccino is the superior pick. It has fewer calories, fewer sugars, and more fat. On average, the better choice is the Frappuccino compared to both the caramel frappe and the mocha frappe.
The Frappe has 510 calories, and the Frappuccino has 380 calories. Both have their standard serving sizes, and each restaurant classifies as a mid-range size. This kind of caloric disparity is significant for the group.
Not only that, the Frappe has 67 grams of sugar in its medium size compared to the Frappuccino's 54 grams of sugar per serving. Again, there is a significant disparity.
However, when you reach the fats section of the nutrition tables, there is a different answer.
This time, the Starbucks Frappuccino has the higher total. There isn't as much distance between the calculations, but the Starbucks drink has 16 grams, and the McDonald's drink has 13 grams.
The Starbucks Frappuccino has an overall better nutrition profile than the McDonald's Frappe.

Variety
Starbucks also takes the cake for the wide variety of Frappuccino flavors. Not only do they have the vast, current menu, but they also support previous versions.
Hypothetically, you could go and order an old favorite of yours.
Many Starbucks locations can still make the drinks that have been discontinued, as long as you know the ingredients and they have the components.
This is directly contrasted with McDonald's, which its suppliers almost entirely control.
If your local Mcdonald's doesn't have the mix and the tools that they need to make the drinks, you won't get it.
They aren't a specialty drink restaurant. There are no syrups on hand constantly, and they do not always have miscellaneous ingredients to make specific ones.
Satisfaction
Overall, it seems like more people who have reviewed the two drinks prefer the McDonald's Frappe over the Starbucks Frappuccino.
They are very similar drinks, but they have noticeably different flavors.
The Frappe is richer, sweeter, and less overpowering coffee flavor. This is perfect, especially if you don't like coffee, but you should go for the Starbucks Frappuccino if you do like coffee.
The Frappe is perfect for someone who doesn't like the taste of coffee but who wants to benefit from the effects of caffeine and the sweetness in the drink.
How To Make a Homemade Mcdonalds Caramel Frappe
Making a homemade frappe is so easy to do. All you need is a blender, some caramel syrup, ice, latte mix, and a bit of time.
It would be best if you had a blender that can hold up with crunching a lot of ice down since it all needs to be processed to an incredibly smooth texture.
Below, we've included a great recipe for a homemade caramel frappe that you can create in your kitchen.
If you want to avoid paying for a perfectly sweet coffee drink, this is the recipe for you!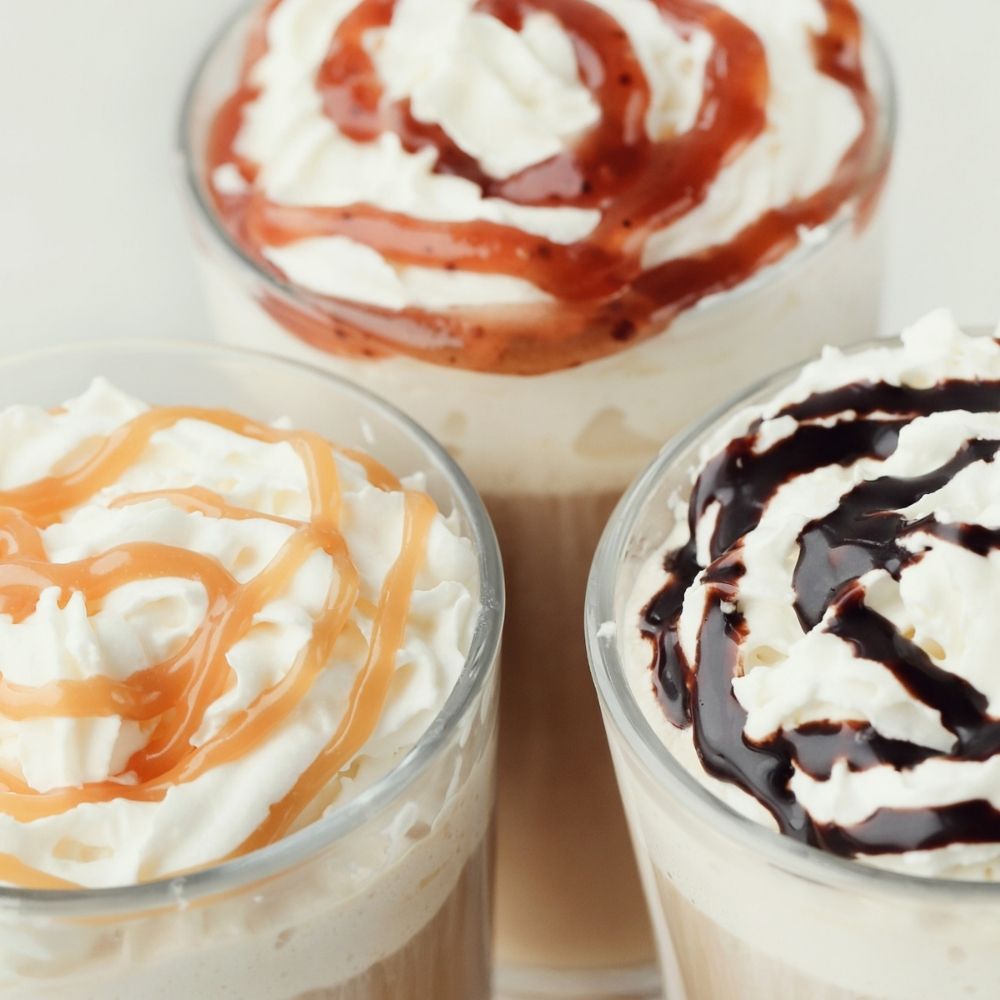 McDonald's Mocha Frappe (Everything You Need to Know)
Yield: 1

Prep Time: 3 minutes

Total Time: 3 minutes

Who doesn't love a cold, refreshing beverage with their coffee? That's precisely what the McDonald's Frappe is, and it is a perfect choice.
Ingredients
1⁄2 c coffee (strong)
1/2 cup milk
Folgers caramel groove cafe latte mix
whipped cream
Hersheys caramel ice cream topping
4 cup ice
Instructions
Fill your blender almost to the top with ice (about 4 cups). Add ½ cup of milk
Mix 2 tbsp. of vanilla caramel latte mix with ½ cup of strong coffee and add to the blender.
Blend on medium to high speed. Some blenders may have a frappe speed as well.
If your Frappe is too thick, you can add some milk incrementally. However, it would be best to keep the ice level consistent, or it will be too watery.
Once done, drizzle caramel syrup around the inside of the glass and then pour the Frappe into it. Top with whipped cream and even more caramel drizzle.