There are many different tasty ways to enjoy crab meat.
From imitation crab to real crab, you'll find a little of everything below. These crab meat recipes include crab pasta dishes, casseroles, sandwiches, and so much more.
If you're craving crab tonight, look no further for a great recipe to try!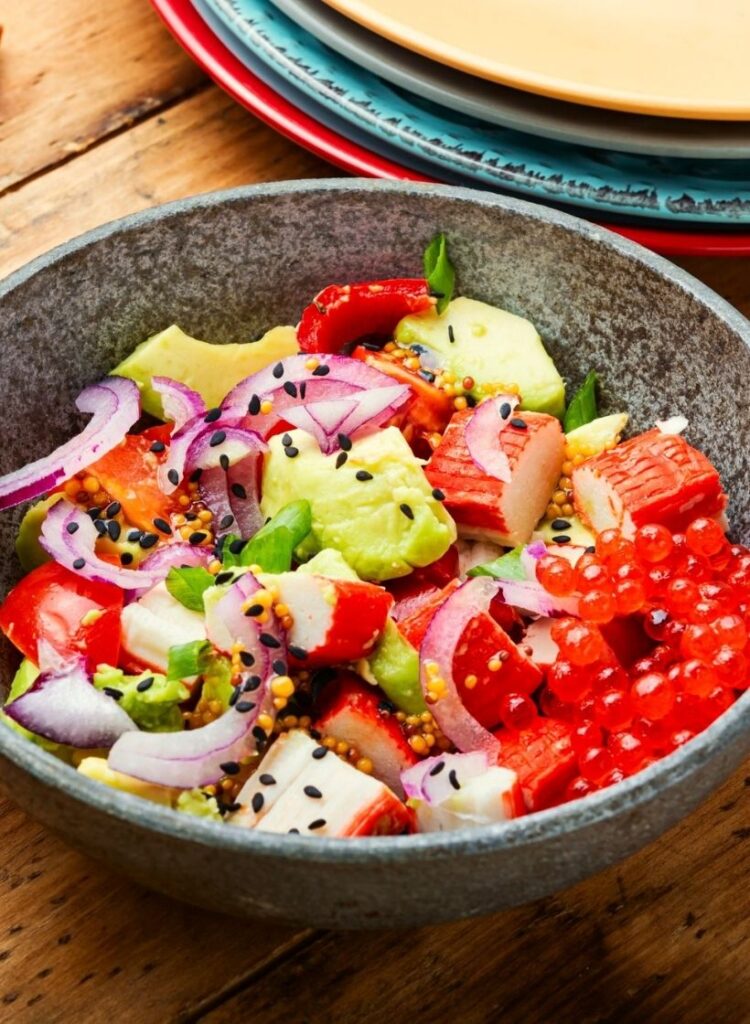 What is the best way to cook crab meat?
How you cook crab meat depends on the type of crab you're using.
Packaged crab meat is often best on the stove with some butter or oil and spices. Crab legs are best cooked in the oven. If you're using imitation crab, you don't have to cook it — you can heat it.
How you cook crab meat will depend on the recipe. As you'll see below, each recipe has different methods that work best for the dish.
Is crab meat healthy to eat?
Yes! Crabmeat can be very healthy. It contains a great amount of protein and is packed with omega-3 fatty acids.
25 Delicious Imitation Crab Recipes That Are Easy and Filling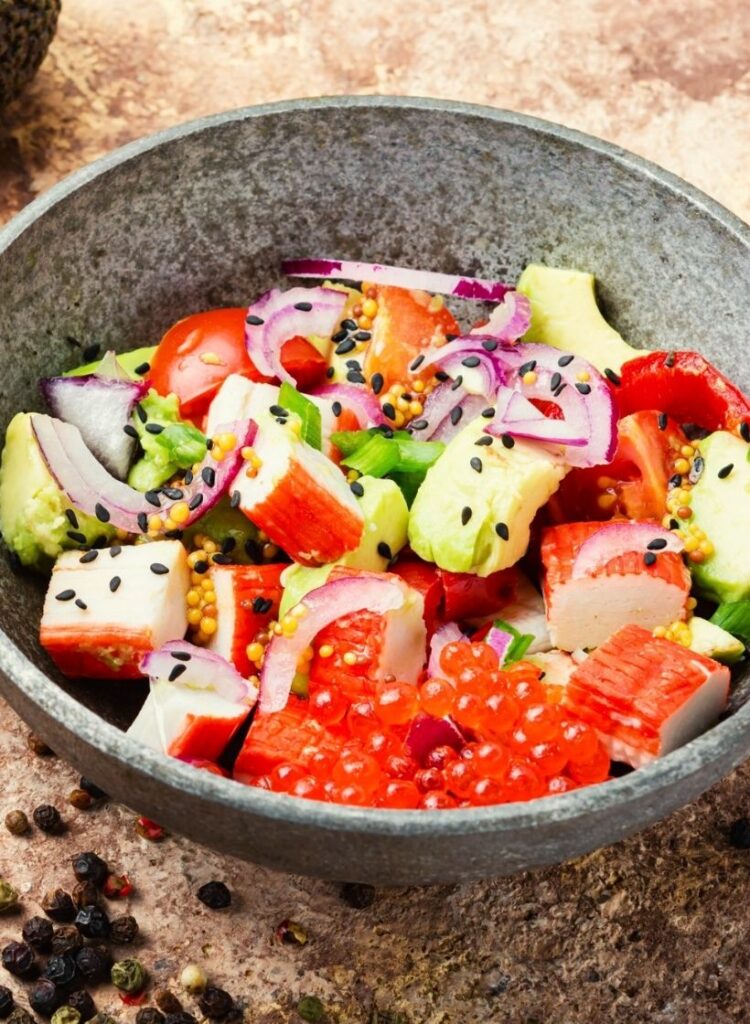 1. Crab Rangoons Recipe
Crab rangoons are incredibly delicious as appetizers.
Besides the crab meat, these contain creamy cream cheese, scallions, and simple spices. They're also perfectly golden brown with just the right amount of crispiness in every bite.
Whether you have a party coming up or want something special for your family at home, these rangoons will not disappoint.
Plus, they only take about ten minutes to cook.
Since they are fried, they'll taste just like the ones you order at your favorite restaurant.
2. Crab Cakes
Have you ever wondered how to make crab cakes with canned crab meat?
This recipe shows you how to cook some traditional New England-style crab cakes using canned meat.
For best results, use Chicken of the Sea crab meat — it has the best texture and good lumpiness. However, if you don't have access to that brand, and should work.
Since there are very few extra ingredients besides canned crab meat, crushed crackers, and mayonnaise, it's super easy to make. Very tasty, too!
3. Seafood Enchiladas
Combine imitation crab with Mexican cooking with this one.
It comes together in just 40 minutes and contains delicious ingredients like imitation crab, enchilada sauce, Mexican cheese blend, sour cream, and tortillas.
If you want to make this but don't like imitations crab, you can use shrimp, real crab, or scallops instead.
To make this into a full meal, prepare some beans and rice on the side. You'll feel like you're dining at the best quality Mexican restaurant.
4. Quick Crab Bisque
If you're seeking imitation crab meat recipes that fit a keto or low-carb lifestyle, this dish is perfect.
This soup is an incredible bisque with crab meat.
It's healthy, comforting, and ready within 15 minutes!
Most soups like this will use flour and butter for the base, but almond flour for fewer carbs. And the result is just as delicious as the traditional way.
The recipe is also flexible on seasonings. You can use pre-mixed blends like Old Bay or simple options like garlic powder and fresh spices.
5. Copycat Crab Casserole from Hunan Chinese Buffet
This baked casserole is meant to mimic a recipe from a famous Chinese buffet. That tells you it will be mouthwatering.
The casserole combines crab meat with sweet red bell peppers, cabbage, and celery.
It also has hearty cheese, sour cream, mayonnaise, and soy sauce. Each ingredient adds to the richness.
The prep for this recipe is fairly straightforward and quick. Plus, you only need to bake it for 30 minutes, then you're ready to eat.
6. Crab Seafood Salad Sandwiches
When you need a quick and satisfying lunch, you can turn to this crab sandwich recipe.
The sandwiches are stuffed with an imitation crab seafood salad. You'll combine the crab meat with mayonnaise, mustard, celery, red bell pepper, paprika, and other spices.
This sandwich makes us want to go hang out by the beach all day!
But you can enjoy it any time of year, no matter where you live.
If you don't want a sandwich, you can also eat this salad in lettuce cups, on cucumber or crackers, in a pasta salad, or anywhere else that sounds good.
7. Crab Meat Casserole
Want to feel like you're eating crab casserole at your local Chinese buffet? Look no further from this recipe.
It's creamy, rich, and perfect for all taste bud levels.
We particularly love this type of dish for a potluck or family get-together. It's a hit with just about everyone!
The ingredients are simple, too. Just combine packaged crab meat with cream cheese, sour cream, cheddar cheese, swiss cheese, Worcestershire sauce, garlic and onion powder, and sweet onion.
Is your mouth watering yet?
8. Minnesota Crab Louie
Out of all the crab recipes we're listing, this one might be the most versatile.
Traditional Crab Louie recipes contain crab and a hard-boiled egg topped with dressing.
This recipe shakes things up by adding the crab directly into the dressing.
It also combines all seafood and spices first, then adds the cream mixture and stirs everything up.
The dish also calls for frozen shrimp. If you use fresh shrimp, note that you'll need to cook it ahead of time.
9. Quick and Easy Crab Linguine
Fresh crab meat and noodles — what's not to love?
You'll only need nine ingredients to make this crab pasta dish, and it only takes 25 minutes!
The type of crab you use is up to you. Canned crab meat, whole crab, or crab legs will work.
The flavor is light, and the dish itself is colorful and refreshing. And did we mention it's a healthy alternative to richer pasta dishes?
If you're looking for one of the best crab meat pasta recipes to make next, this one hits the jackpot.
10. Hot Imitation Crab Dip
Crab dip is a perfect option for just about any occasion.
You can bring it to a party, use it as a quick snack, and add it to other recipes for some extra flavor and protein.
This dip does not disappoint. It's creamy and perfectly seasoned. Serve it warm to enjoy it the best.
If you want more heat, feel free to add hot sauce or cayenne to the mix.
You can easily serve the dip with crackers, veggies, bread, and so much more.
11. Crab-Stuffed Mushrooms
Mushrooms stuffed with tasty crab? What's not to love?
This mushroom dish contains crab meat, cream cheese, Parmesan, breadcrumbs, and the best fresh herbs.
When buying your portobello mushrooms, try to choose those around the same size.
And if you want to make this for many people, you can easily double the recipe.
Before baking, sprinkle the mushrooms with a bit of Parmesan cheese. After about 20 minutes of baking, you'll be ready to enjoy and share.
12. Cheesy Crab Meat Casserole
Here's another buffet-style crab meat casserole recipe that you won't easily forget.
This one contains packaged crab meat, cream cheese, sour cream, shredded cheese, garlic and onion powder, Worcestershire sauce, pepper, and sweet onion.
It's one of the best go-to lump crab meat recipes to choose for a quick (but incredible) meal.
For best results, use high-quality imitation crab meat.
You can also make this ahead and store it in the fridge for up to five days. If you want to reheat it, microwave on high for one minute, mix, and microwave in 30-second intervals as needed.
13. Easy Hot Crab Dip
This hot crab dip is healthier than usual, with a few healthy substitutes. But you can't even tell that it's healthier!
Instead of mayonnaise, this dish calls for Greek yogurt.
You can also use low-fat versions of the cheese to decrease the fat amount.
The lump crab meat called for in this recipe is perfect for a dip. You can also use fresh crab meat if you'd like.
Before adding the crab, mix all other ingredients. Then, carefully add the crab to avoid breaking it up too much.
14. Baked Crab Meat Casserole Bake
It doesn't get much better than a rich seafood bake. That's what you get with this baked crab casserole that is a lot like a big omelette.
For this recipe, you can use imitation crab, canned crab, fresh crab, or frozen crab.
Imitation crab works great unless you're on a keto diet. If you want to skip extra carbs, real crab meat is best.
With simple ingredients, this comes together quickly before putting it in the oven. Then, you can enjoy it!
15. Cold Seafood Salad
Eat this cold imitation crab salad in a sandwich or with your favorite crackers.
The crab, mayonnaise, celery, onion, and spices make this dish fantastic.
This recipe copies the crab salad recipes you can find at the grocery store — except it's fresher and cheaper to make!
Before mixing, you'll want to chop the imitation crab roughly. Then, dice the celery and onion.
Stir all ingredients together and let it sit in the fridge for at least an hour before digging in.
16. Copycat Chinese Buffet Crab Meat Casserole
This Chinese crab casserole is super simple and full of flavor.
Like other crab casseroles, this one contains rich ingredients like cheese, cream cheese, and sour cream. You'll want to make it week after week!
It's best to eat this dish fresh if possible, but you can also save and reheat it later. Just avoid freezing it, as that can affect the taste and texture.
Just mix everything, top with cheese, and pop in the oven. The green onions on top add a nice extra burst of flavor and crunchiness.
17. Imitation Crab Salad
What's better than imitation crab? Imitation crab salad! That's how we feel, at least.
The best imitation crab meats to use for this salad are "chunk-style" or "leg-style."
If you don't want to use cucumbers, you can use tomatoes instead.
Each ingredient is cut into small cubes before mixing in a bowl. And once it's ready, you can use it for just about anything — in a hoagie bun, with lettuce cups, in a pasta bowl, and so much more.
18. Crab-Stuffed Mushrooms
Whether you need a quick lunch, light dinner, or easy party dish, you'll find just what you need in these Crab-stuffed mushrooms.
This is one of the best-canned crab meat recipes, and it's so easy to make.
The biggest tip for this recipe is to be generous with the crab meat! Let the crab meat shine instead of adding too many spices or other seasonings.
Claw or special crab meat is best rather than lump crab meat.
Everyone you make these for will be asking for seconds.
19. Hot Crab Dip Recipe
How do you feel about a slightly spicy and cheesy crab dip?
If your answer is "yes, please!" we have just the thing. Make this dip for any party you have coming up, and we guarantee others will want the recipe.
The ingredients are simple but oh-so-good. You'll combine crab meat with cream cheese, shredded cheese, sour cream, mayonnaise, lemon juice, hot sauce, and green onions.
You know this has to be incredibly good with so many rich dairy ingredients.
20. Traditional Maryland Crab Imperial
Crab imperial is a simple, traditional Maryland recipe. It's a no-frills dish, but that isn't a bad thing.
Many argue that the best crab meat recipes are those with minimal ingredients. Fewer ingredients allow the crab taste to shine.
You could say that this recipe is just right. It's creamy without being too rich and full of flavor without being too much.
There are many ways to make crab imperial, so this is a unique recipe. Try it out and see if it's your new favorite!
21. Crab-Stuffed Salmon
Add one seafood to another for a double dose of protein and flavor in this recipe.
When cutting the salmon, it's best to go straight down the center. Cut until your knife meets the skin but doesn't cut through it.
Then, make the crab stuffing and add it to each salmon fillet.
You'll bake everything for around 15-20 minutes before having a delicious dish to devour with loved ones.
The salmon will be perfectly baked, and the crab filling will make the entire thing delectable.
22. Chinese-Style Soup
Imitation crab is a great option for this Chinese-style soup. It adds the best flavor and texture to each bite.
This recipe serves two and is incredibly easy to prepare. You'll use imitation crab, egg, onion, and Chinese soup bouillon.
The recipe calls for katakuriko, just the Japanese version of potato starch, so you can probably use the two interchangeably.
The starch will need to dissolve in water with some salt and pepper to make the dish.
Enjoy this soup as an appetizer before a big meal or a very light small meal.
23. Maryland Crab Cakes
Crab cakes are a go-to for many people who love seafood. And this one provides all of the amazing taste you'd expect.
Crabmeat makes up most of the recipe to get all of the flavors.
It's best to use high-quality, fresh lump crab meat for this. If that's not an option, you can use refrigerated carb meat. But shelf-stable canned crab meat is not advised.
Traditional crab cakes don't contain celery like this recipe, so you can leave it out if you wish.
24. Jaiba Ceviche Recipe
Do you need a crab-themed recipe that a group of people will love? Maybe you want something that everyone can quickly dip their chips into.
Enter this ceviche recipe using crab meat, cherry tomatoes, avocado, onion, cilantro, cucumber, and lime juice.
It's a light (but addictive) dish perfect for summer parties or crowd-pleasing dishes year-round.
Traditional jaiba ceviche uses freshwater blue crab meat, but you have other options for this recipe. You can use any cooked or canned crab meat.
25. Crab Fried Rice
Many people love their fried rice. And when you combine it with fresh and tender meat like crab, it gets even better.
For the best outcome, make sure your rice is not too wet. It's best to use cooked long-grain white rice a day or two old.
Leftover rice will better absorb all of the ingredients and flavors.
Also, make sure the pan you use to stir-fry is very hot. You want the temperature to be high enough to produce those crunchy areas we all love in fried rice.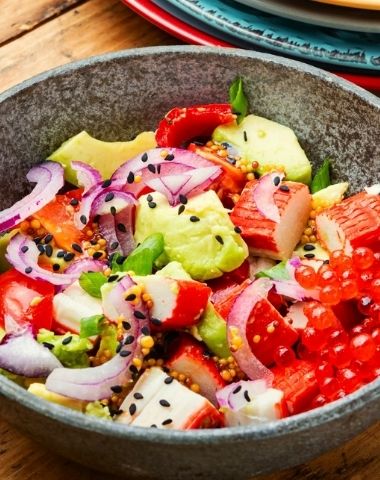 25 Delicious Crab Meat Recipes
Prep Time: 15 minutes

Total Time: 15 minutes

25 imitation Crab Meat Recipes to Add to Your Favorites
Ingredients
2 tbsp champagne vinegar
2 tbsps honey
1/2 tbsps chopped sweet onion
1 tsp Dijon mustard
1/2 tsp sea salt
2 cn (6-1/2 ounces each) jumbo lump crabmeat
1 tbsp poppy seeds
1/2 c canola oil
2-1/2 c fresh grapefruit segments
12 cherry tomatoes
1 medium ripe avocado
6 c watercress
1-1/2 tsp white grapefruit juice
Instructions
Add the champagne vinegar, honey, chopped sweet onion, Dijon mustard, and sea salt to a food processor or blender. Blend until smooth, then, as you keep blending, add the canola oil gradually and steadily to thicken the dressing.
Add the blended dressing to a serving bowl and add the poppy seeds. Stir.
Take ¼ cup of the dressing and add it to another bowl. Add the crab and toss.
Add the remaining ingredients to the serving bowl and toss gently. Place the crab mixture on top.