If you're looking for a really tasty cake that is perfect for special occasions like birthdays, anniversaries, and weddings, then look no further than this super fluffy, moist Yellow Chocolate cake with decadent chocolate frosting. It is sure to impress all your guests at any celebration.
This Yellow Chocolate cake can be fitted to suit any occasion, it's basically a blank canvas! Add things like fresh fruit or chopped chocolate to dress it up and satisfy anyone's palate.
To learn how to make this perfect Yellow cake with creamy chocolate frosting, keep on reading!

HOW DO YOU MAKE THIS YELLOW CAKE?
For the cake:
Be sure to either line or thoroughly grease your cake pans before you get started. This will ensure that the cakes don't stick when you try to take them out of the tin.
Preheat your oven to 350F.
Add your butter and sugar to a bowl and beat with a hand mixer until light and fluffy. Add your oil and mix until combined.
Make sure to add your eggs and egg yolks one at a time, beating thoroughly in between each addition to create a creamy, full mixture. Add your vanilla and incorporate.
Sift your dry ingredients together, then add to the wet ingredients alternately with the buttermilk, starting and ending with the flour.
Mix well to make sure no lumps remain, then pour into two round 9-inch cake tins.
Bake for 30-40 minutes, or until a metal skewer inserted into the cake comes out clean. Be careful to not overbake this cake, otherwise, it will become dry very quickly.
Set on a wire rack and allow the cakes to cool in their tins for 20 minutes, then for a further hour out of their tins until completely cool.
For the icing:
Simply melt the butter, mix it with the cocoa powder until smooth. Then sift in the icing sugar and milk and beat until well combined and glossy.
For a lovely coffee hint, add two teaspoons of instant coffee to 60ml of boiling water and add to the icing, substitute this for the milk.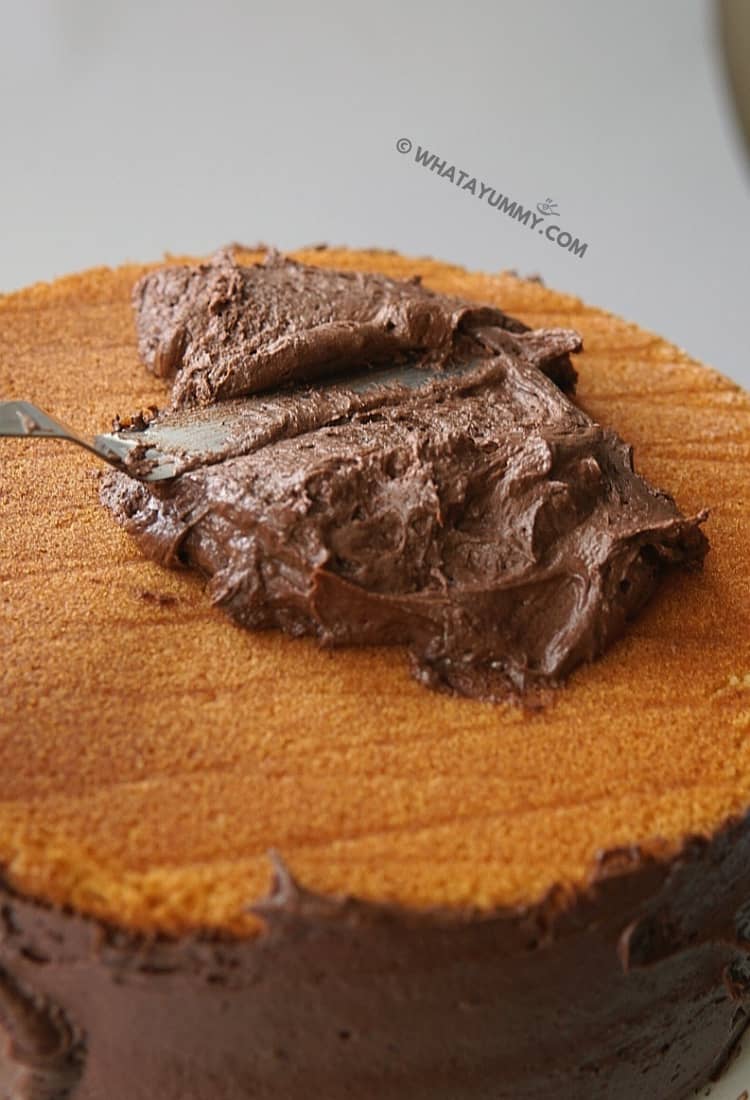 HOW TO MAKE AND STORE THIS YELLOW CAKE AHEAD OF TIME
If you're planning on making this Yellow Chocolate cake and freezing it for an occasion at a later date, then wrap the completely cooled cake layers separately in a couple of layers of plastic wrap and place in a Ziploc bag, place in the freezer for up to a month.
The chocolate frosting can keep in the fridge for two weeks, and stay frozen for about three months.
When looking to defrost the cake layers, leave them in their airtight packaging in a room temperature environment overnight.
For the frosting, place it in the fridge overnight and then in a room-temperature environment to soften an hour before needed.
Something to keep in mind about this Yellow Chocolate cake is that it is enjoyed much more when fresh and baked on the day!
If you are wanting to freeze it, it is important to take the precautions mentioned above to prevent the cake texture from becoming damaged.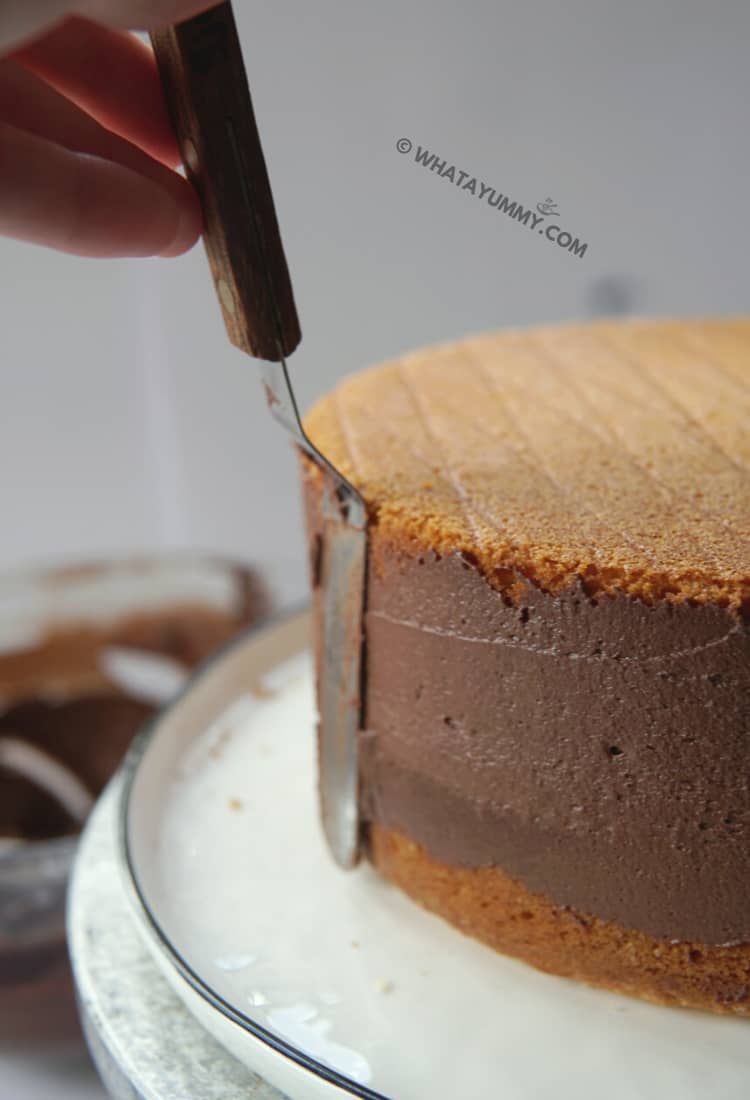 TIPS
1. Try making sure all of your ingredients are at room temperature. This includes your: eggs, milk, buttermilk, and butter. This way, your cake batter will be even and smooth and without any lumps.
2. Be patient when adding and mixing your eggs. Adding them one at a time will make your batter extra voluminous and aerated.
3. To achieve evenly thick cake layers, place your empty cake tin on a scale, tare it to 0, then pour in the cake batter. Do the same with the second tin and even out the weight by adding more or less batter to either pan.

HOW TO FROST YOUR CAKE
Once your Yellow-cake is completely cool, place one layer on a cake board or cake stand.
If your cakes have domed tops, use a bread knife to cut the domes off for a flatter surface.
Place a dollop of chocolate frosting on your yellow cake and, using an off-set spatula, knife, or normal spatula, smooth the frosting over the surface of the cake.
Once you have your layer of frosting smoothed out and at your desired thickness, place your second cake layer upside down (i.e bottoms up) onto the first layer. This way your cake will look flat and smooth.
Add frosting to the sides of the cake and spread evenly, do the same to the top of the cake. Add your preferred amount of frosting to the whole cake and create your desired look by working the frosting with your spatula or knife, creating a swirl, smooth edges, or a semi-naked look.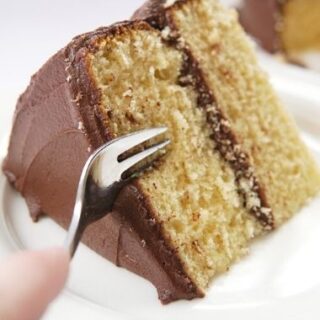 YELLOW CAKE WITH CHOCOLATE FROSTING
Ingredients
Yellow cake
¾ cup unsalted butter
¼ cup oil
2 cups granulated sugar
3 large eggs
2 large egg yolks
1 tablespoon vanilla extract
2½  teaspoons baking powder
1 teaspoon salt
2⅔ cups all-purpose flour
1 cup buttermilk
Chocolate icing
½ cup butter
⅔ cup cocoa powder
3 cups icing sugar
⅓ cup milk
1 teaspoon vanilla (optional)
Instructions
For the moist, fluffy cake
Preheat your oven to 350F.
Line the bottom of two 9-inch round cake pans with baking paper, or grease well with cooking spray to prevent the cake from sticking.
Using a stand mixer, beat together the butter and sugar until fluffy, add in the oil and incorporate.
Add the eggs and egg yolks one at a time, beating for at least 10 seconds between each addition.
Add the vanilla extract.
In a separate bowl, sift together your flour, salt, and baking powder.
Add your dry ingredients to the wet ingredients in two batches. First, add half and mix through, then mix in your buttermilk. Once incorporated, add the rest of your flour and beat until smooth, but do not overbeat.
Pour your yellow cake batter into the prepared cake tins, place in the oven, and bake for 30-40 minutes.
Check your cakes after 30 minutes, you do not want to overcook them as they will become dry. If a skewer comes out either with a few crumbs or clean, then remove your cakes from the oven.
Leave the cakes to cool in their pans for 20 minutes, then turn them out onto a wire rack to cool completely before frosting.
For the classic chocolate frosting:
Melt your butter in a microwave-safe bowl. Sift in your cocoa and mix together with a spoon until smooth.
Sift in your icing sugar, add your milk and vanilla and beat until your frosting is fluffy and light, this may take a few minutes.