How can you spice up your cocktail? By topping it off with some tasty and sweet whipped cream vodka, of course!
Whipped cream vodka is very light and sweet and features a blend of vanilla and cream, which gives it its unique flavor.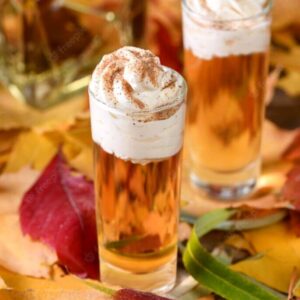 Vodka whipped cream is used in a number of different, unique cocktails, including but not limited to boozy milkshakes and martinis. It can even be added to soda!
If you're looking for drinks with whipped cream vodka for your next social gathering, you're in luck because we have come up with the ultimate list! These drinks to make with whipped cream vodka taste great and are easy to make.
Next time you're asking yourself what to mix with whipped cream vodka, check back on this list for all the best ideas you'll ever need! Let's get started, shall we?
Out of all the drinks made with whip cream vodka, this one, including strawberries, is probably the tastiest (in my opinion, anyway!)
The secret ingredient is a fresh strawberry ice cream bar or a scoop of strawberry ice cream, which makes it taste more like a dessert than a cocktail. If you want to replace the strawberries with blueberries or peaches, you can.
Just swap out the fresh strawberries for the berries of your choice, or swap out the heavy cream for half and a half if you're out.
Do you love s'mores? If so, why not try s'more recipes that include this ooey-gooey, melt-in-your-mouth treat? Let me know in the comments if that pun landed.
Like regular s'mores, there's always a way to take them to the next level, and with Creme de Cacao – the secret ingredient – that's possible. This serves as the liquid alternative to regular chocolate candy bars.
If you need to swap it out, though, try using chocolate syrup, chocolate extract, or another brand of chocolate liqueur. This will be the perfect addition to your next camping trip.
Whipped cream liquor makes this unique and flavorful cocktail possible. Trust me when I say it tastes EXACTLY like an orange creamsicle popsicle!
There are not many ingredients in this tasty treat, but if we had to pick one, it would be the orange soda. It provides the perfect amount of carbonation and sweetness.
While it's going to taste different, you could use orange juice as a replacement. Just make sure that it's pulp-free. Personally, I recommend swapping the soda out with some orange sherbert and letting it melt in your glass.
So you're having a winter get-together? Obviously, you need the perfect cocktail to serve your guests! This winter wonderland is just what Santa ordered.
Though it sounds weird, the secret ingredient is corn syrup. Why? Because this coats the rim of your glass and makes the sprinkles stick to the outside for decoration.
Feel free to swap this cute garnish with something else besides sprinkles, like crushed pecans, peppermint, or even chocolate candy. I don't think you can go wrong with any of these options!
If you're looking for a quick island getaway that doesn't require a passport, head on over to your kitchen to blend up this fun strawberry chiller cocktail.
What makes these unique whipped vodka drinks so special is the secret ingredient: coconut milk. It provides a fun island experience without having to pack a suitcase. If you don't have coconut milk, swap it out for half and half.
Yes, this will alter the flavors, but you could add fresh coconut to the top of your beverage as a garnish to get a little bit of that familiar flavor.
Next time you're out for a happy hour, you'll be wishing you were back home instead because that's how insanely good this homemade cocktail is.
While you won't find coffee in traditional s'mores, the addition of coffee liqueur in this Pinnacle whipped cream vodka cocktail creates a beverage that's totally new and unique.
If you don't have graham crackers to use as garnish, try swapping them out with crushed cookies or ice cream cones.
This is definitely a unique beverage that everyone sipping it will get hooked on.
An Orange Julius is one of those quintessential drinks that adults love, but it becomes even more popular with the addition of whipped cream vodka.
Half and half is added to the drink to make the cocktail a little creamier. As such, it's this cocktail's secret ingredient.
If you don't have half and half, you could use regular milk or even heavy whipping cream.
Just keep in mind that you'll have to adjust the measurements because milk is a little thinner than half and half, whereas half and half are not as thick as heavy whipping cream.
Head back to college with these delightfully tasty strawberry jello shots! Just make sure you don't have any exams in the morning…
The ingredients in this whip shots recipe are simple: water, vodka, jello, and strawberries.
So which one is the secret ingredient? Hands down, it's got to be the jello. I mean, you can't have jello shots without jello, right?
The best part about this recipe is that you can use it as the basis to create pretty much any type of jello shot you want.
However, if you don't have access to jello mix but still want to make jello shots, you can swap it out with agar powder. This is a jello substitute – and a good one, at that.
What goes good with whipped cream vodka? We say anything orange. And this recipe proves it.
As the summer season rolls around, this is the perfect cocktail to serve guests at your next barbeque.
The secret ingredient, like other creamsicle cocktails, is orange soda. But, if you really want to step it up, try adding a splash of pineapple juice to make this cocktail even more refreshing.
If you don't have regular orange-flavored soda, try using an orange-flavored root beer instead. It'll be like a creamsicle root beer float.
Though rum maybe a pirate's favorite beverage, this Pinnacle whipped vodka recipe will surely be yours.
The secret ingredient in this classic holiday cocktail is apple cider. Not only is this as Christmassy as it gets, but it adds a hint of tartness that balances out the other sweet ingredients, such as cinnamon and honey.
If you don't have apple cider, you could swap it out for some apple juice instead to capture that beloved, tart apple flavor. Anchors away, I mean cheers!
Do you like Dr. Pepper soda? If so, we highly recommend this tasty vodka-infused whipped cream recipe.
The secret ingredient is, of course, the Dr. Pepper soda itself because you simply can't have this cocktail without it. If necessary though, you could easily replace the Dr. Pepper soda with root beer or birch beer.
The flavors won't be exactly the same, but these drinks are similar enough that they won't completely transform what this cocktail is supposed to be. Simply put, we totally recommend this recipe for your next party.
What goes with whipped cream vodka? We think root beer is the perfect companion to this sweet liqueur.
The secret ingredient in this tasty adult beverage is heavy whipping cream, which makes it creamier than if the ingredients were just left alone as is.
If you need to swap out the heavy whipping cream for a substitute, I recommend half and a half since it still has the heaviness of the whipping cream already in it. This is one of our favorite cocktails to celebrate the summer season with friends.
When you're looking for new whipped cream vodka recipes to make this summer, look no further than this one. I guarantee you each sip is more refreshing than the last.
While the secret ingredient for similar recipes has been the orange soda, for this one, I'm going to go out on a limb and say it's the whipped cream vodka. Simply because you can't make a creamsicle cocktail without it.
If you want to get the taste of this cocktail but without the vodka, try adding some cool whip or whipped cream on top of the soda. This makes a non-alcoholic version and still gives you the same bold flavors.
Who else is excited for Halloween? It's my favorite holiday and so I'm always on the hunt for awesome blended SPIRITS that can get me into a spooky mood. Mwahahaha.
Helping me tap into the ghoulish delights is pumpkin puree, which gives this cocktail that autumny flavor. If you don't have pumpkin puree, you can swap it out for some roasted acorn squash.
The pumpkin puree is the secret ingredient, so try not to replace it if you can. It's the perfect warm beverage to sip on a hauntingly cold evening this Halloween season.
Are you a huge fan of pink Starburst? Well, if so, you're in luck because we found the perfect cocktail that captures this unique, fruity, and sweet flavor.
The secret ingredient is strawberry lemonade, which not only picks up on the traditional pink Starburst flavor but adds that familiar tartness the beloved candy is so famous for.
Since the recipe already calls for Strawberries and Cream Bailey's, you can go ahead and swap the strawberry lemonade out for pink lemonade or regular lemonade.
If you're throwing a party, this is one drink no one will be able to get enough of. (Just drink responsibly, of course).
Calling all Harry Potter fans! Though you might not be able to visit Hogsmeade, you can make your own cup of Butterbeer thanks to this simple homemade recipe.
To get the taste of Butterbeer, you have to use the secret ingredient: Butterscotch Schnapps. Nothing else will do, so it's important that you use this if you can.
If you need to swap anything out, try swapping out the melted butter for margarine. Or, if you want to swap out the whipped cream vodka, try doing so with vanilla vodka instead.
If you're looking for shots with whipped cream vodka, we recommend this – especially if you're having a Harry Potter-themed party. Wands to the ready!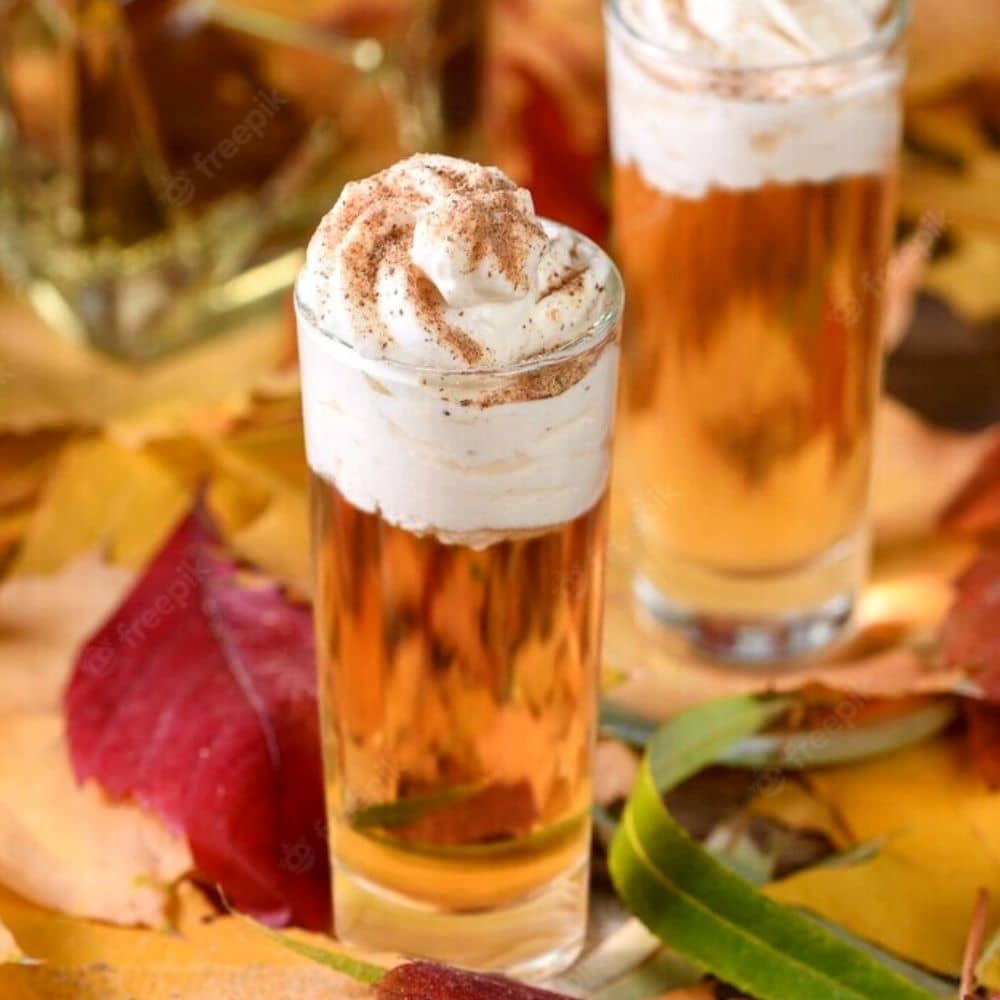 16 Best Whipped Cream Vodka Recipes
If you're looking for shots with whipped cream vodka, we recommend this - especially if you're having a Harry Potter-themed party. Wands to the ready!
Ingredients
4 ounces. chilled cream soda
1 ounces. Butterscotch Schnapps
1 ounces. Vanilla Vodka
1/3 cup. whipped cream
1/4 cup. butter, melted
Butterscotch syrup, for drizzling
Instructions
Combine butterscotch Schnapps, your choice of vodka, and soda into a serving glass.
In a separate bowl, go ahead and mix the whipped cream and melted butter. Add them on top of your cocktail, and then cover with butterscotch syrup.
Serve and enjoy.