It's hard to believe the holiday season is already in our collective rearview mirror.
However, the start of the new year sees the approach of another festive holiday: Valentine's Day! For many couples across the country, Valentine's Day is a time of celebration.
And for many couples, this "wine and dine" experience involves a fancy restaurant and one of the rarest and most expensive items on the menu: truffles.
Truffles are food items that people have heard of but not necessarily experienced for themselves. After all, they are extremely expensive.
Most truffles cost anywhere from $300 – $800. While this is a hefty price tag, for sure, the reason why they're so expensive has a lot to do with how rare they are.
If you're thinking about taking your special someone out for delicious truffles this upcoming Valentine's Day, it's important to know what they are.
However, if you're looking to make these tasty truffles at home for a fraction of the cost, you're in luck because we just so happen to have grabbed a couple of easy recipes for you.
Whether enjoyed at home or at your local restaurant, a truffle is a perfect way to celebrate Valentine's Day – and any other special occasion the year has in store.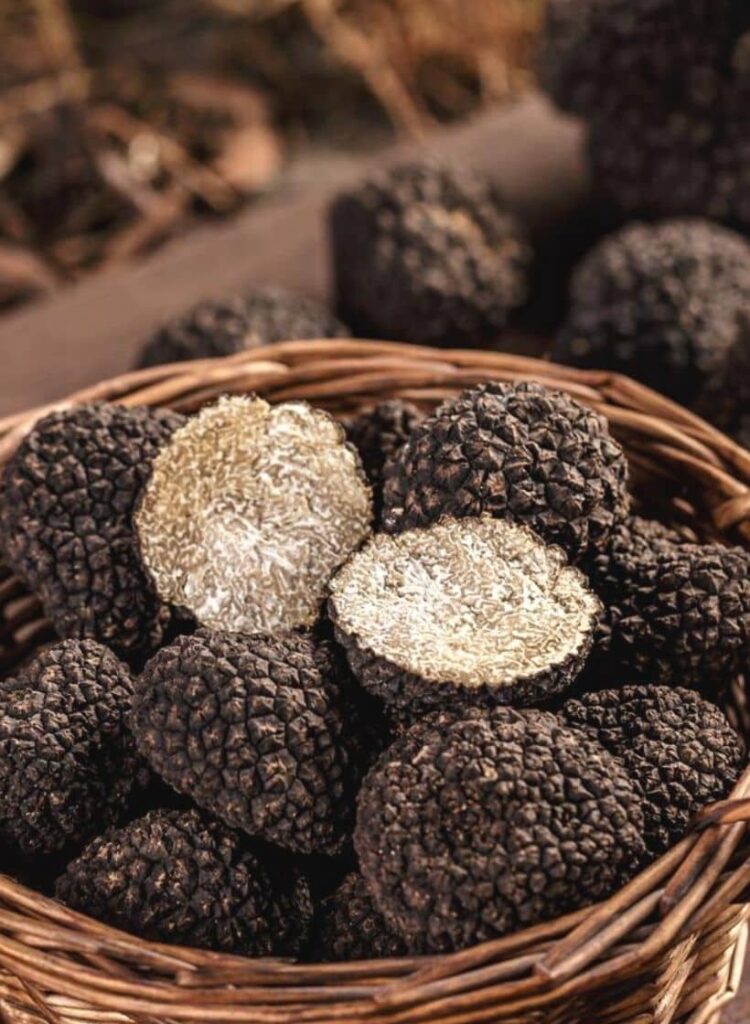 1. What is a Truffle?
Have you ever asked someone, "what are truffles?" If so, you're certainly not alone because they're often confused with a certain chocolatey treat.
Believe it or not, a truffle is a type of fungus that grows up to 30 centimeters underground. While that might not sound super appealing, many chefs prefer these aromatic fungi as a "diamond" when used in the kitchen.
Truffles are known for being rare and their powerful aromas and a range of flavors.
Truffles can either be sweet or savory so that they can lend themselves to a wide variety of dishes.
Don't believe me?
These truffles are mainstays in many different countries, including Greece, Croatia, France, and Spain. They're also considered a delicacy in the Middle East.
2. What Does a Truffle Taste Like?
As noted above, a truffle can be both savory and sweet.
Since there are so many types of truffles, the flavor will be dependent on what kind it is and what geographical location it hails from.
For example, white truffles extracted from Italy (Tuber Magnatum Pico) often have a garlicky flavor, whereas black truffles, commonly found in France, have a nuttier, chocolatey flavor.
The flavor of black truffles is much more subtle than white truffles. However, regardless of the type of truffle you get, many of them have an earthy flavor since they grow underground.
In many cases, they carry a lot of flavor similarities to mushrooms, so if you're not a fan of the taste or texture of mushrooms, you may not be a huge fan of truffles.
3. Why is Truffle So Expensive?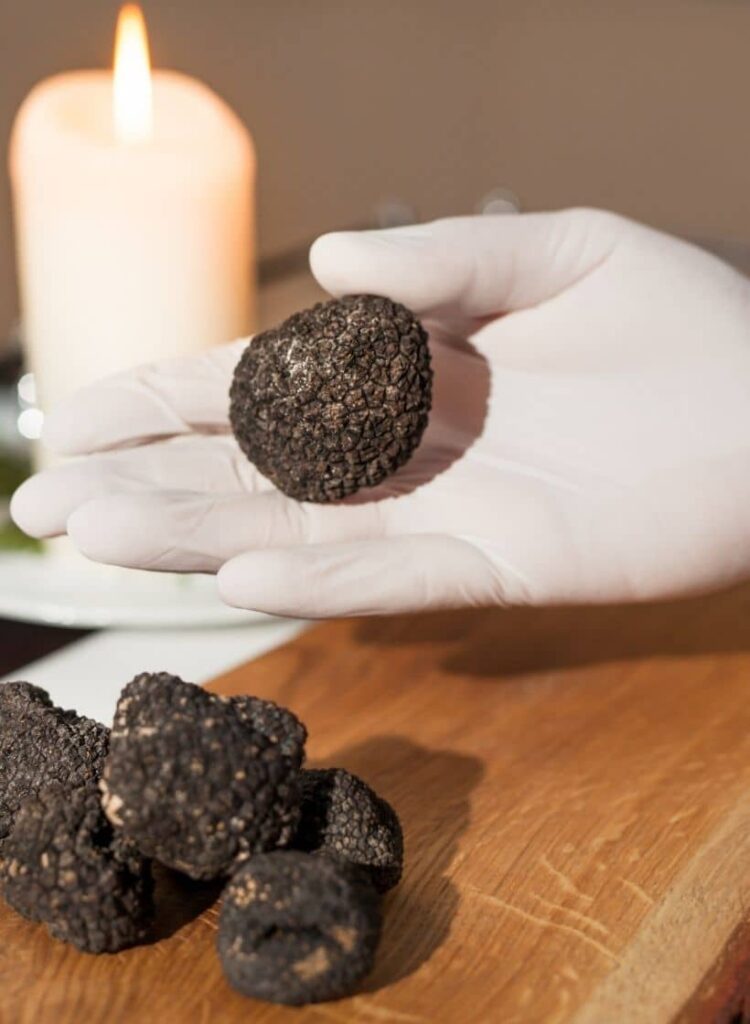 There are many answers to this question. First, since they grow so far underground, they're not the most accessible type of food to find since most remain hidden.
Many truffles might be hidden in plain sight due to their unique shape, which looks similar to a potato or clump of coal. Because of this, many harvesters use pigs to snuff them out.
Depending on the location, dogs may be used instead of pigs – which is good, considering pigs usually eat truffles once they find them. Talk about a hefty meal!
Another reason why truffles are so expensive is that they're picky about where they grow. For example, many truffle varieties prefer to grow beneath certain trees, such as pine, oak, and hazel. This is because truffles develop a symbiotic relationship with the tree they're growing near.
The downside of this, however, is that even when you spot your species of tree, it doesn't necessarily mean a truffle is growing underneath the soil.
Truffles can take up to seven years to grow to a point where they can be harvested. Plus, they only have a shelf life of about one to two weeks once they're harvested.
When you combine the challenges of finding, harvesting, and storing them, it increases the value of these truffles, which makes them so expensive.
4. White Truffle Vs. Black Truffle: What is the Difference?
The biggest difference between white and black truffles is the flavor. As mentioned above, white truffles have a garlicky flavor similar to shallots, whereas black truffles have a much more woody, nutty flavor.
Another difference between white and black truffles is their color and exterior. White truffles have a smooth exterior, whereas black truffles are rougher.
Many agree that the exterior of black truffle is a lot like tree bark. Furthermore, in regards to color, white truffles are primarily white with a slight yellow hue, and black truffles are just that: black.
Interestingly, another difference between these two truffles is the time of year they get harvested.
White truffles are usually harvested between September and January in Italy, Croatia, and France, while black truffles are harvested in Australia, Europe, and the United States between December and March.
5. Truffle Oil and Salt
Authentic truffle oil is olive oil with either black or white truffles. Likewise, salt can be infused with bits of truffles to make truffle salt.
When used together, truffle oil has a very pungent, earthy taste, although some critics have said it tastes a lot like gasoline.
Perhaps, this has to do with the fact that many restaurants don't use real truffles in their truffle oil and salt. Instead, the main ingredient they use to mimic truffles' flavors is synthetic 2,4-dithiapentane; this is a synthetic additive used in truffle oil, truffle salt, and truffle butter.
However, because of this additive, many chefs prefer not to use truffle oil in their kitchen.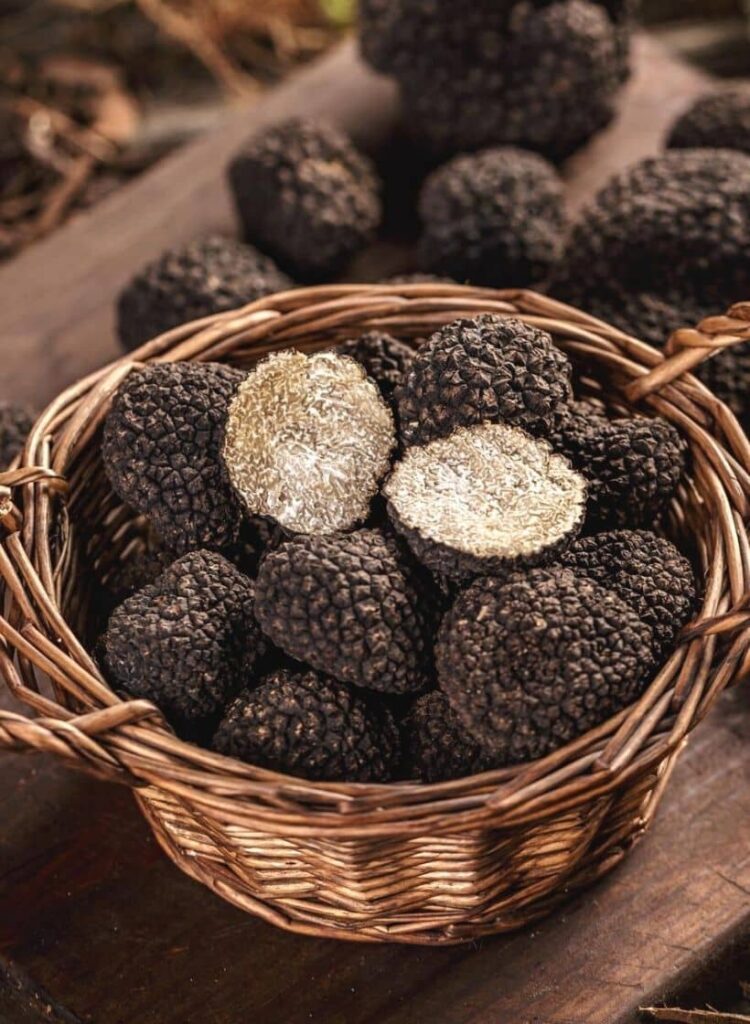 6. How Do You Cook Truffles?
So, you're sold on truffles. Now you want to cook them yourself. Fortunately, cooking truffles yourself is easy (after getting your hands on them, of course).
If you recently harvested a truffle, you should first remove all the dirt from them. While this is a seemingly self-explanatory step, it's important to remember that truffles must be spotless before moving on to the next step.
After washing your truffle, peel it to add to your sauce or soup.
This should be done with a truffle slicer, easily purchased online for as little as $15.
You should avoid cooking white truffles, as the heat will negatively harm their famous aroma and flavor. On the other hand, Black truffles can be exposed to a little bit of heat, so cook on low heat for a minimal amount of time.
7. How to Store
Truffles only stay good for a little while. However, you can freeze them in a freezer-proof glass jar for up to two weeks to preserve their freshness.
If you're planning on using truffles within 24 hours, it's okay to let them sit in bland oil overnight.
8. What Foods Go Well With Truffles?
Truffles pair great with eggs, fish, chicken, pasta dishes, and rice. Truffles also work well when used as a topping and in addition to pasta sauces and soups. If you're using truffle oil or truffle butter, you could easily pair these ingredients with bread and baked potatoes.
Here are the Best Truffle Recipes:
Ready to make some delicious truffle recipes at home? Here are some of the best recipes featuring truffles:
If you like traditional rice recipes, chances are, you'll love risotto.
Risotto often has a creamier, richer texture than regular rice, so it pairs perfectly with the garlicky flavors of white truffles.
The secret ingredient in this meal is mascarpone, which adds a little bit of sweetness to this dish.
If you don't have white truffles, swap them out for black, but just be prepared that this may alter the flavor just a bit. You can serve this truffle mushroom risotto as the main dish or as a side with some fresh, pan-seared fish.
Elevate your next pizza night with the addition of creamy ricotta and tasty truffles.
The secret ingredient is truffle oil, which will give the pizza that famous truffle taste.
This pizza recipe also calls for balsamic vinegar, which could be easily swapped for a splash of red wine vinegar.
The best part about this pizza is that it's not unique and different from what you'd typically order, but you can top it with fresh basil arugula or spinach leaves.
Are you looking for a grilled cheese that's perfect for grown-ups? If so, we recommend this one featuring Truffle Tapenade.
This ingredient is a spreadable condiment that pairs perfectly with bread.
While this Truffle Tapenade is an important (and delicious) component, the secret ingredient is the Oude of Jonge Kaas, a type of mature cheese that has the consistency of parmesan.
This cheese has a sweet and nutty flavor, which works well with the flavors of truffles. If you don't have this type of cheese, you can swap it out for any cheese you prefer.
If you're looking for something tasty to serve at your next party, try this delicious truffled hummus.
Hummus is made of chickpeas, which makes it a healthy alternative to lots of other types of traditional party snacks.
The secret ingredient is a few teaspoons of tahini.
This is because tahini has a relatively strong earthy flavor, which pairs beautifully with truffle oil. If you don't have tahini, you can swap it out with a little bit of peanut butter.
Truffle fries are the perfect side to serve with your cheeseburger or hot dog at your next summer barbeque.
These french fries are baked, so they're a little bit of a healthier alternative to serve.
Truffle oil is the secret ingredient in this tasty side dish. While the recipe calls for russet potatoes, you could easily swap these out for sweet potatoes. This meal is perfect when served as an accompaniment to the main course or as a snack.
Next time you're in the mood to make pizza for dinner, we highly recommend you add prosciutto and mushrooms.
While the addition of white truffle oil sets this pizza apart from traditional ones, the secret ingredient is fontina cheese, a pungent type of cheese with a lot of nutty notes.
Since truffles have a similar flavor, this cheese works great. Swap the traditional thin pizza crust out for a wheat one to make it healthier.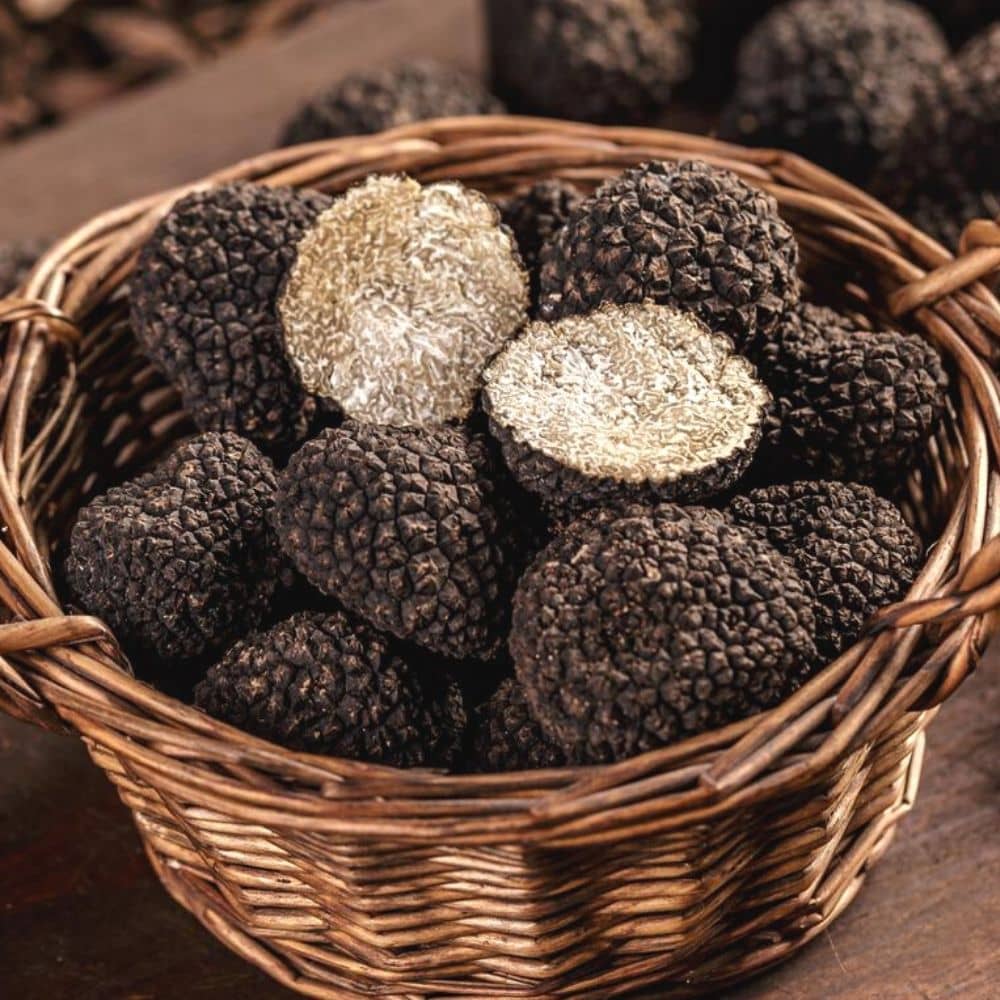 What Exactly is a Truffle? Why Real Truffles Are So Expensive?
Prep Time: 15 minutes

Cook Time: 20 minutes

Total Time: 35 minutes

Truffles are one of those food items that people have heard of, but not necessarily experienced for themselves
Ingredients
2 tbsps olive oil
6 oz sliced baby Bella or cremini mushrooms
1/4 c minced shallots
Freshly cracked salt and pepper, to taste
2 cloves garlic, minced
1 tbsp white truffle oil
Large prepared thin-crust pizza crust
1 1/2 oz prosciutto, cut into thin strips
1 c grated fontina cheese (about 4 ounces)
2 tbsp chopped fresh sage leaves
1/4 c grated Parmesan cheese
Instructions
Preheat your oven to 400 degrees.
Heat olive oil in a pan over medium heat.
Add mushrooms, garlic, and shallots to the pan. Add salt and pepper to taste.
Saute the ingredients for six minutes or until everything is soft.
Once soft, remove ingredients with a slotted spoon and put them onto a plate.
Spread truffle oil onto crust. Then, evenly spread the cheese and add all other ingredients to the crust.
Put back in the oven and bake for 8-10 minutes or until the cheese has fully melted.