This Sticky Sesame Chickpea Recipe is super easy, heavenly, and bundled with plant-protein, these sesame chickpeas are a veggie-lover formula that is a quick and delectable supper which will also be a sure shot hit amongst your family.
The best part is that the recipe takes only 20 minutes to be put together, it is so versatile, can be easily adjusted as per your taste, and served with anything and everything that you like.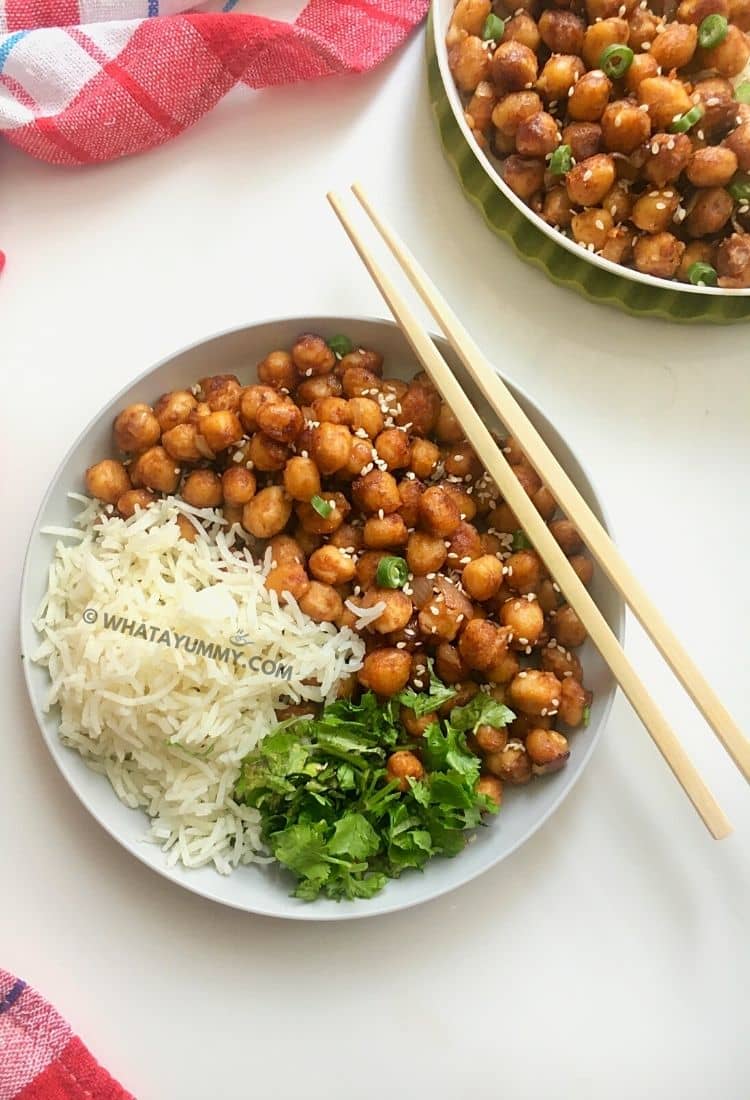 WHAT I NEED TO MAKE STICKY SESAME CHICKPEA
Chickpeas are a great source of plant protein and come with numerous other benefits. The Sticky Sesame Chickpeas can be made with very basic ingredients available in your kitchen.
Chickpeas, also called garbanzo beans, are gluten-free and so is this entire recipe but make sure you use tamari (gluten-free soy sauce).
You have to use a top-quality toasted sesame-oil, not only its good for your health it will also be a lot more flavourful.
I use cornflour in this recipe to give the chickpeas a slight crunch and also as a thickener for the sauce.
I used canned chickpeas for this recipe so they need not be cooked but if you're using the raw ones, make sure to soak them overnight and then boil, drain the water and dry them before using in the recipe.
This sesame-sauce does require a little bit of sweetener to actually round out the flavours. I typically opt for maple-syrup and not honey in the recipe.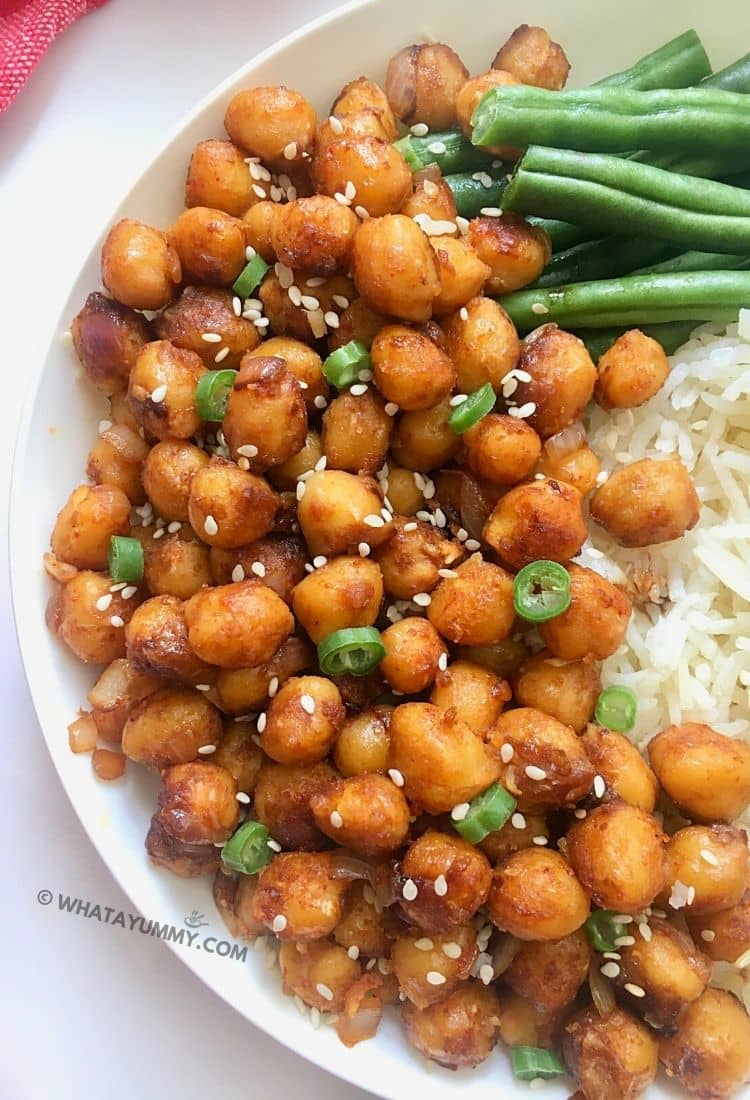 HOW TO MAKE STICKY SESAME CHICKPEA
Following some simple steps will ensure you get the perfect sticky sesame chickpea dish on your table:
First, we toss the cornflour with the chickpeas and pan-fry them so that they have a slight crunch to them.
Then we heat up the garlic, ginger, and onions in olive oil until fragrant.
We now add in the sesame oil, vinegar, soy sauce, maple syrup, salt, pepper, and paprika powder. To this, we add the cornflour slurry and cook on low flame.
Add the chickpeas and toss them well with the sticky sesame sauce.
Add scallions and sesame on top to give it a final touch.
WHAT CAN I SERVE WITH THIS STICKY SESAME CHICKPEA DISH
The sticky sesame chickpea dish is a very versatile recipe that is flavourful and you can serve it with anything on the side.
I prefer to serve these chickpeas hot along with white-rice, scallions, or steamed broccoli or green beans to finish off it!
It's likewise scrumptious with rice noodles, bok-choy, sautéed lettuce, or just on their own with a sprinkle of sesame seeds on top.
You can also make it into a pan-fried food with a ton of vegetables, rice, quinoa, cauliflower rice, or whatever you have at hand.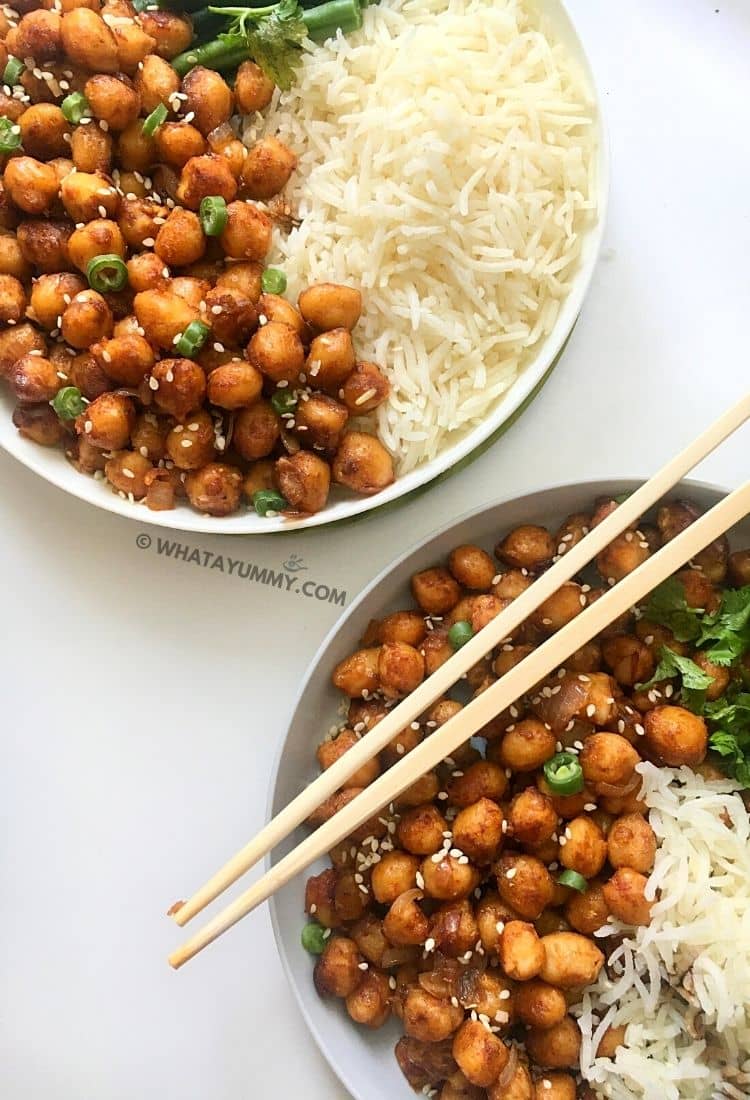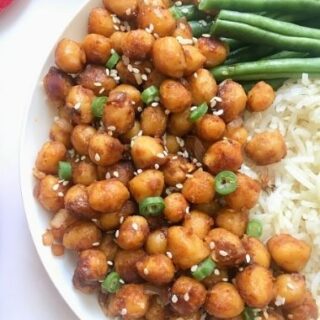 Vegan Sticky Sesame Chickpea Recipe
This Sticky Sesame Chickpea Recipe is super easy, heavenly, and bundled with plant-protein,
Ingredients
2 cups canned chickpeas
2 tbsp. cornflour
3 tbsp. olive oil
1 ½ tbsp. toasted sesame oil
2 tbsp. soy/tamari sauce
2 tbsp. maple syrup
1 tsp grated ginger
2 tsp grated garlic
1 small red onion
1 tsp vinegar
1 tsp paprika powder
Salt and pepper as per your taste
Scallions and sesame seeds to sprinkle on top
Instructions
We will begin by draining excess water from the chickpeas, rinsing them, and allowing them to partially dry.
Toss 1 tbsp. of cornflour with the chickpeas to ensure all the chickpeas are coated well and evenly.
Take a bowl, add vinegar, sesame oil, soy sauce, maple syrup, paprika powder, salt, and pepper and give it all a quick stir.
Take another bowl and prepare a cornflour slurry by adding 1 tbsp. cornflour with 2 tbsp. water, give that a stir.
Heat 1 tbsp. of olive oil in a pan and allow the chickpeas to get slightly golden brown, by stirring continuously, this process will take about 8 minutes.
Take out the chickpeas on a kitchen towel.
In the same pan, heat up 2 tbsp. olive oil, add ginger and garlic, and sauté until they turn fragrant.
Now add the chopped onion and sauté until they turn pink.
Add the sauce mixture and the cornflour slurry into the pan and give everything a nice mix.
Now add the chickpeas into the pan and toss well until all the chickpeas are coated well. Turn off the heat after 2 mins.
Add scallions and sesame seeds to give it a final touch.
Serve it hot alongside white rice and steamed broccoli or green beans.
Nutrition Information:
Serving Size:

1bowl
Amount Per Serving:
Calories:

321
Total Fat:

9.6g
Carbohydrates:

49g
Fiber:

10.5g
Sugar:

9g
Protein:

11.5g