I love how a piece of chocolate vegan cake can instantly lift up anybody's mood, and when it's so easy to make you can never have a bad day.
This Vegan Cake is super indulgent, rich, and moist that nobody in my family could tell that it's vegan.
I first made it for my mom's birthday and it was an absolute hit since then no family occasion is complete without this cake.
The whipped chocolate ganache is completely optional but it does add an oomph factor to this cake so I wouldn't recommend you skip it.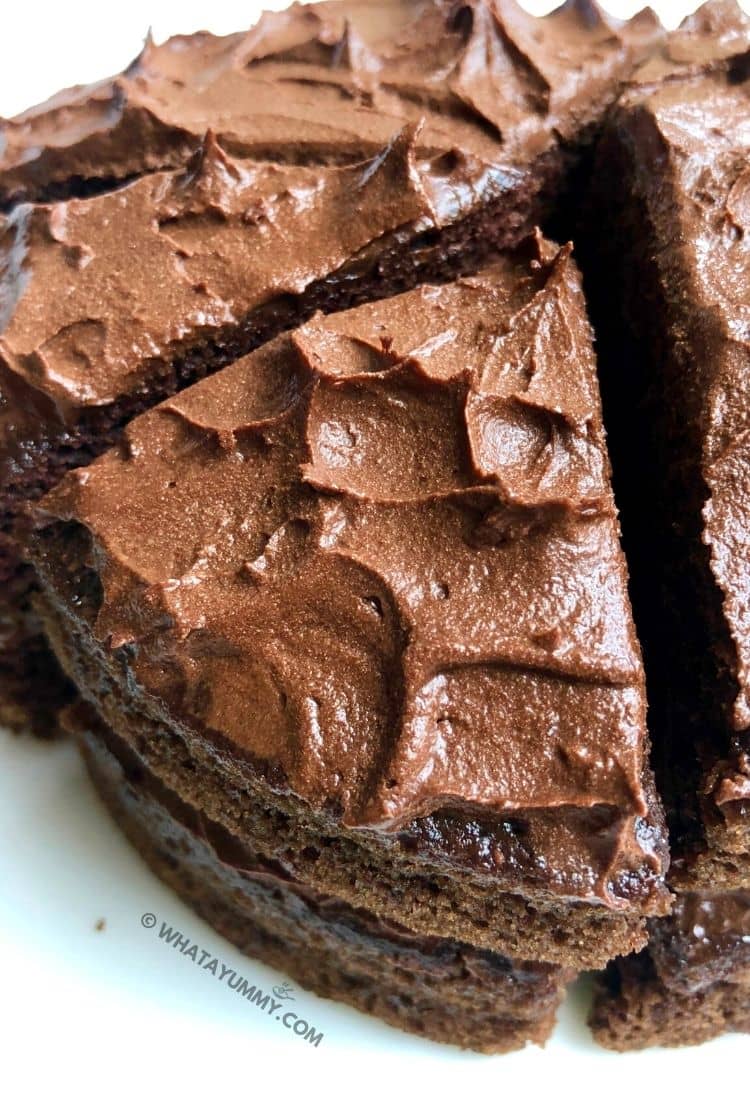 HOW TO MAKE A VEGAN CHOCOLATE CAKE?
Once you realize how tasty this cake is, you will never want to buy cakes from the store.
To make this Vegan Chocolate Cake, all you have to do is follow these simple steps:
We'll begin by prepping our baking tins, brush them with oil, and place parchment paper at the bottom, this will help you to demould your cake easily.
The next step is to combine your dry ingredients, sieve the flour, cocoa powder, sugar, baking powder, baking soda, coffee, and salt together in a bowl.
Now for the wet ingredients, take a big bowl and start by adding water, oil, and vanilla extract, mix them well, and the added vinegar into it.
It's now time to fold our dry mixture into the wet mixture, it'll help incorporate air in the batter, thus making the cake super soft.
TIPS
Even though the recipe is very simple, there are a few pointers that need to be kept in mind while preparing this cake:
1. It is always advisable to use our ingredients at room temperature when we bake our cake.
2. Make sure you don't let your batter rest for too long after it has been prepared so make sure to keep your baking tins ready before making the batter.
3. While, you let your cake come to room temperature, cover it with a muslin cloth as this won't let the edges and the top become hard.
WHAT MAKES CHOCOLATE VEGAN CAKE MOIST?
Since we are not adding any dairy product to this Vegan Chocolate Cake, the reaction between the vinegar and baking soda will help make the cake moist.
Further, when we assemble the cake we will be brushing thin sugar syrup which is a secret to nailing the recipe.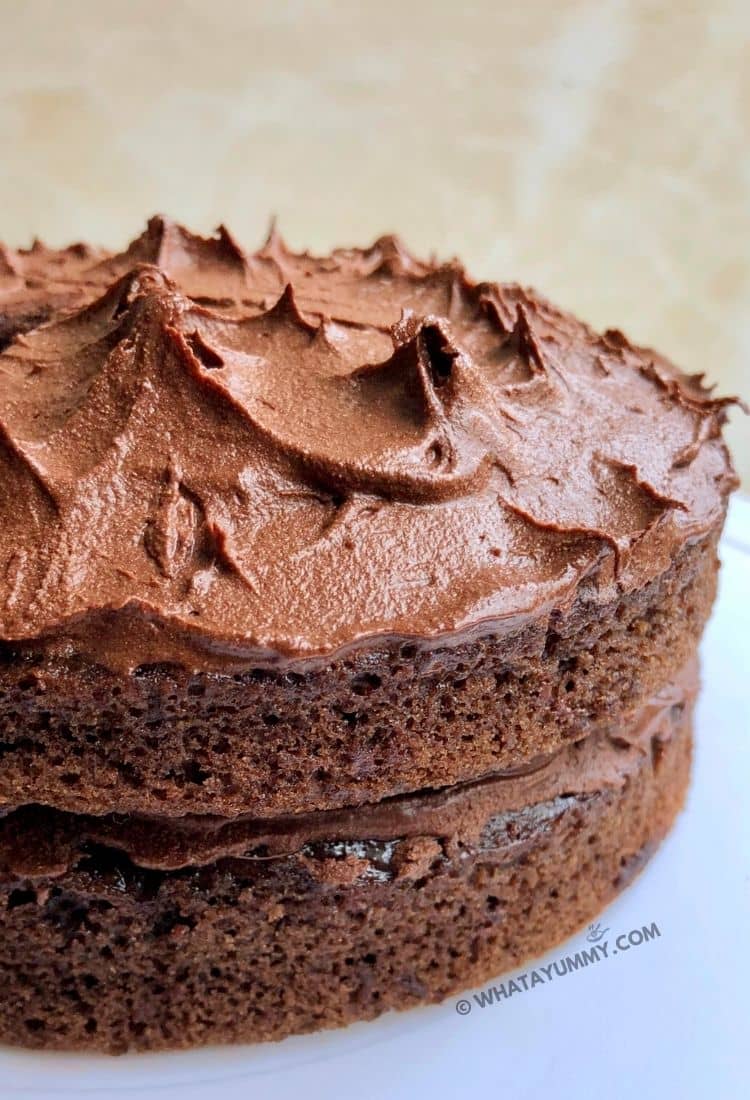 STORAGE AND FREEZING TIPS?
As we know the cake is oil-based, the Vegan Chocolate Cake will keep fresh for almost 3-4 days in a refrigerator, but make sure you store it in an airtight container.
We can also separately store the sponge and the ganache for up to 1 month in a freezer by wrapping them in a cling film.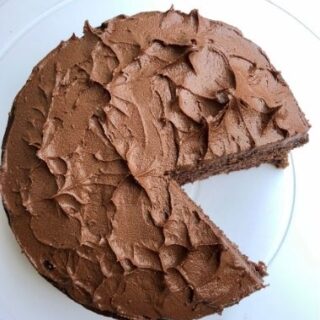 The Best Vegan Chocolate Cake
Cooling time:
1 hour
12 minutes
Total Time:
1 hour
40 minutes
This recipe for vegan chocolate cake is delicious and super simple to make that you will probably fall in love with it.
Ingredients
For the Chocolate Sponge: (Dry Ingredients)
¾ cup All-Purpose Flour
½ cup cane/granulated Sugar
½ tsp baking soda
¼ tsp baking powder
¼ tsp salt
½ tsp instant coffee powder
Wet Ingredients:
½ cup water
3 tbsp. oil
1 & ½ tsp vegan vinegar
½ tsp vanilla extract
For Whipped Chocolate Ganache
1 cup chopped vegan dark chocolate
½ cup non dairy whipping cream
2 tbsp. powdered cane sugar
¼ tsp vanilla extract
Instructions
Preheat the oven to 180c
Grease 2 small baking tins with oil and place the parchment paper at the bottom of the tins.
In a bowl, sieve all the dry ingredients, mix them gently and keep it aside.
Take another big bowl, add the water, oil, vanilla essence, and mix them well with the help of a whisk.
Now add vinegar and mix again.
Gently fold in the dry mixture into the wet mixture, mix in until the batter is lump-free, and comes to a ribbon consistency. Do not overmix.
Divide the batter equally among the two tins and lightly tap.
Pop the tins immediately into the oven and bake at 180c for 15-18 minutes.
Take the tins out of the oven and insert a toothpick in the center of the cake, you'll know it's baked well if the toothpick comes out clean.
Let the cakes rest for about 5 minutes, then place a muslin cloth and let them come to room temperature.
Carefully demould the cakes, wrap them in a cling film and place them in a freezer.
For the Whipped Chocolate Ganache:
Place the Chopped vegan chocolate in a medium bowl.
Warm the cream and pour it onto the chocolate and let it rest for 5 minutes.
Give it a quick stir and you'll have a smooth and shiny mixture ready.
Place the bowl into the freezer for 5 minutes
Start whipping the ganache with the help of a hand blender and add sugar and vanilla extract simultaneously.
Keep whipping until the mixture becomes light and semi-stiff.
To assemble the cake:
Take out the chocolate sponge from the freezer and place one of them onto your cake stand.
Brush the sponge with thin sugar syrup and start spreading the ganache evenly with the help of your palette knife.
Place the second sponge and brush the sugar syrup again.
Spread the ganache evenly on top and spread it across the sides if you like.
Nutrition Information:
Amount Per Serving:
Calories:

496
Total Fat:

25g
Saturated Fat:

4g
Sodium:

408mg
Carbohydrates:

71g
Fiber:

4g
Sugar:

53g
Protein:

4g