How great is it to start your morning off with a fresh iced coffee from Starbucks?
Whether you're on your way to work or to drop the kids off at school, a trip to Starbucks is often a part of many people's morning routines (myself, included).
However, doing so isn't always prudent. Depending on the time of day (and sometimes the part of the year), the drive-through line at Starbucks may be just too long to sit through.
While this is a sad concept to think about, the good news is that we found 15 of the best copycat Starbucks iced coffee drinks you can make at home.
Not only can this save you time on those mornings when the kids refuse to put their shoes on, but it can save you a lot of money by making these popular Starbucks iced coffee drinks yourself.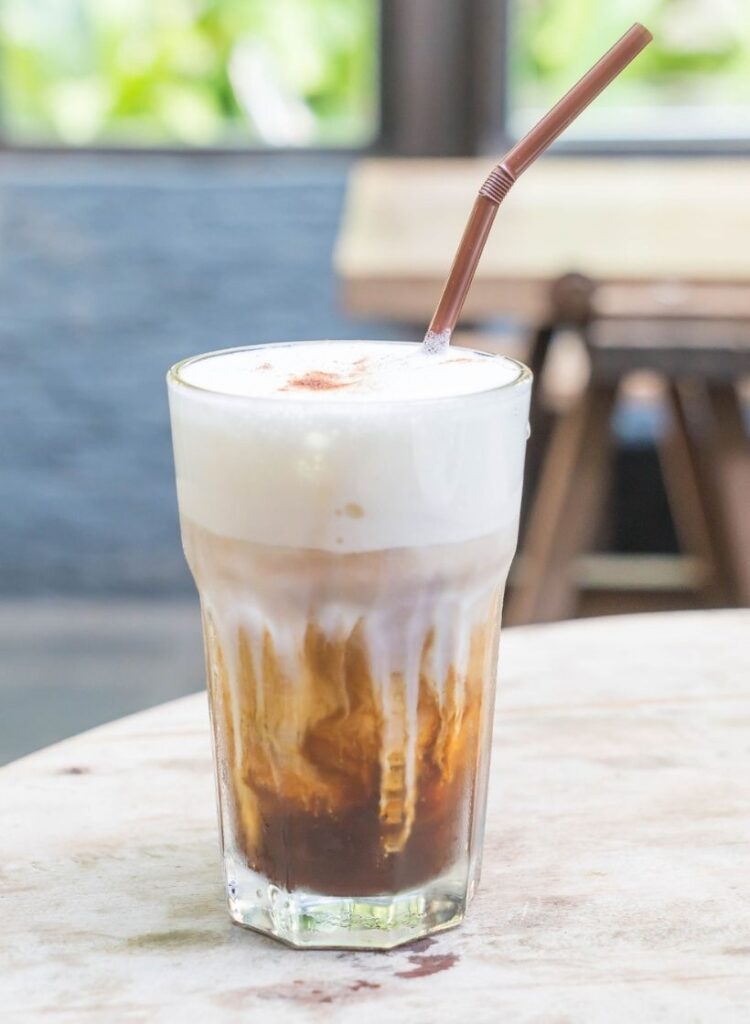 What is the Best Iced Coffee at Starbucks?
The answer to this question will depend on your flavor and dietary preferences. However, many agree that the Iced Caramel Macchiato takes the cake as the best-iced coffee from Starbucks.
This sweet drink has the perfect amount of caramel flavoring that's enriched with espresso and vanilla. Like all the drinks on the Starbucks menu, they can be customized to include soy or coconut milk.
While you will completely determine the best drink at Starbucks, baristas not only recommend the Caramel Macchiato but the Iced Starbucks Blonde Caffe Americano and Salted Caramel Cream Cold Brew, too.
The Caffe Americano is perfect for those who like to get the taste of "real" coffee, whereas the Salted Caramel Cream Cold Brew compliments the changing leaves of the autumn season…even if it is still 80 degrees outside.
How to Make Starbucks Iced Coffee at Home?
To make iced coffee Starbucks drinks at home, you'll first want to make sure you're prepared with all the tools you need. You'll need to own:
A coffee maker
A bag of ground coffee
A french press
Plastic or reusable straws
Bean grinder
Stainless steel milk pitcher
Frother
NitroPress
Coffee mugs/insulated travel mugs
While you may not need to use every one of these tools for every recipe, having at least some of these items can help you recreate your favorite iced coffee from your local Starbucks.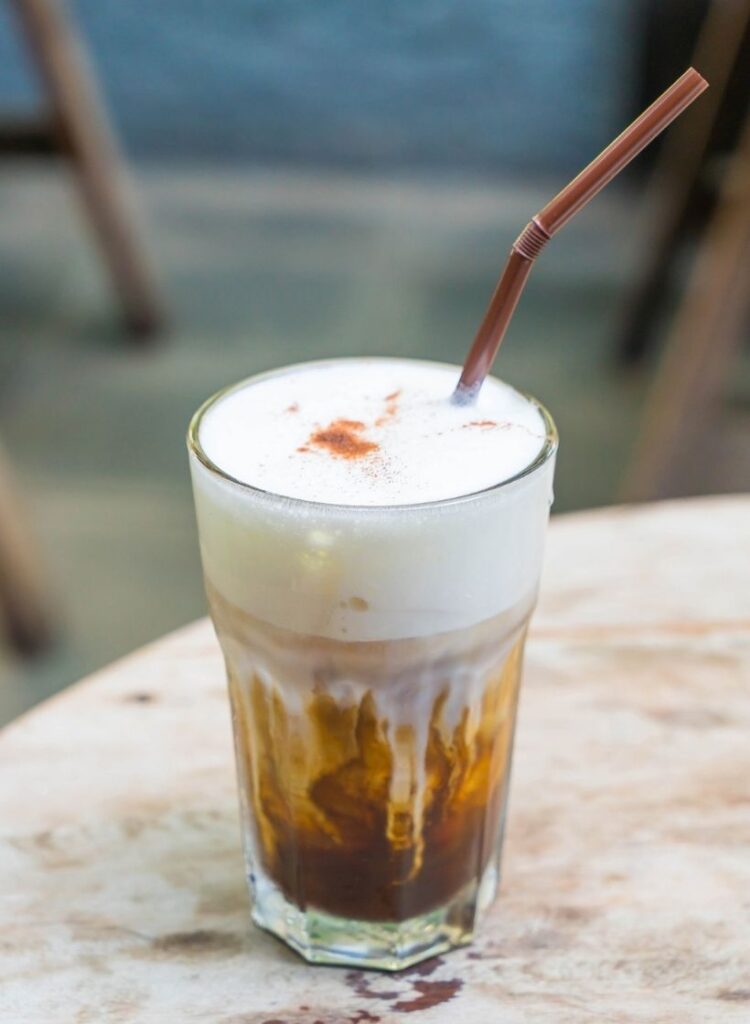 How Do I Order a Good Iced Coffee From Starbucks?
The good news is that the menu at Starbucks is always changing, so there's always something new to try.
The bad news is that the menu at Starbucks is always changing, which can be daunting for those who suddenly find themselves out with their favorite drink on the menu.
While this situation usually occurs with seasonal beverages more than traditional staples, you can always ask the barista for their opinion about what kind of iced coffee they think you'd like.
If you traditionally like your coffee to be sweet, let the barista know so they can customize a drink for you that they think you'll like. Or, try customizing one you're interested in by adding an extra shot of espresso or more/less sugar, cream, and syrup.
The best way to order a good iced coffee from Starbucks is to ask the barista what it tastes like beforehand.
This also applies to the Starbucks iced coffee secret menu, which are beverages not publically advertised. And trust me, they're always happy to oblige.
Here's the Best 15 Iced Coffee at Starbucks
Without further adieu, here are the 15 best-iced coffees off the Starbucks menu:
1. Iced Coffee with Milk
Simple to make, tasty to drink. That's this iced coffee slogan. The secret ingredient in this iced coffee is Starbucks' classic syrup, which is essentially a simple blend of water and sugar.
You can purchase this classic syrup online on websites such as Amazon. However, you could swap the bottle out to make your own sugar and water concoction.
This allows you to customize your coffee's sugar based on your preferences. If you don't want to use traditional sugar, swap it out for a sugar substitute.
Calories 110
Caffeine 125 mg
Sugars 23 g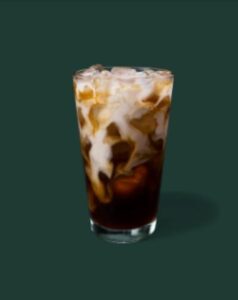 2. Starbucks Reserve Cold Brew
The secret ingredient is not so much a secret ingredient, but a secret method of getting the drink to taste how it does; Starbucks steeps their cold brew coffee grounds for 20 hours.
You can do this yourself on the weekend, so your coffee is good to go first thing Monday morning.
Cold brews are made with espresso shots over either water or milk, so feel free to use either ingredient you prefer or swap out the milk for something lactose-free if you're lactose intolerant.
Calories 5
Caffeine 200 mg
Sugars 0 g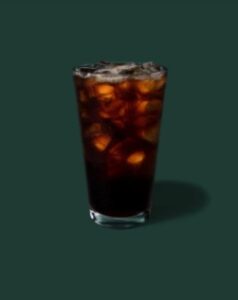 3. Iced Caffe Americano
Are you looking to make an iced coffee that's bursting with caffeine to get you through your busy day? If so, turn to the iced Caffe Americano. This is the most caffeinated drink at Starbucks.
The secret ingredients are the three shots of espresso, but feel free to swap that out for how many you prefer.
However, keep in mind that many health experts agree that any beverage with five shots of espresso or more per day could lead to panic attacks.
You can also make this with decaf coffee and get the same taste (without all the jitters!)
Calories 15
Caffeine 225 mg
Sugars 0 g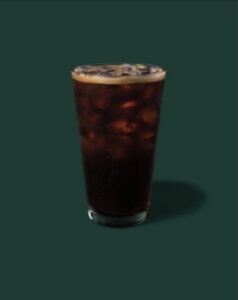 4. Iced Starbucks Blonde Vanilla Latte
The secret ingredient in this sweet iced coffee is the four pumps of vanilla syrup.
This iced coffee is so sweet that it feels like you're cheating and drinking dessert for breakfast! However, feel free to swap this out for some sugar-free vanilla syrup you can buy at your local grocery store.
You can easily purchase Starbucks brand blonde roast coffee either in your local Starbucks, online, or at your grocery store. It's perfect when served warm, too, so it'll be equally as perfect on a cold wintry day.
Calories 190
Sugars 28 g
Caffeine 170 mg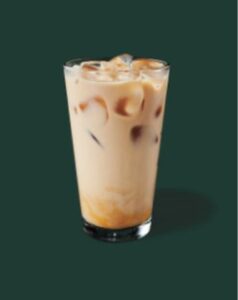 5. Starbucks Cold Brew Coffee with Milk
The addition of milk in your cold brew coffee makes it a lot more light and airy.
The secret ingredient is the type of milk you use. While you could follow the basic recipe and use 2% milk or even swap it out for a healthier alternative, you could also add your favorite type of coffee creamer you normally drink.
Coconut-based coffee creamers, for example, pair perfectly with Starbucks cold brew, so they're the perfect way to get the taste of Starbucks coffee but with your own added flair.
Calories 35
Sugars 3 g
Caffeine 205 mg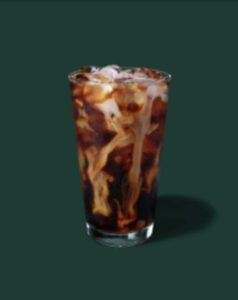 6. Vanilla Sweet Cream Cold Brew
The sweet cream Starbucks uses is a blend of vanilla syrup, milk, and heavy whipping cream – aka all ingredients you probably already have in your kitchen cabinet.
Sweet cream is one of Starbucks' original recipes, but you can easily make it at home by mixing everything in a bowl and infusing it with your cold brew.
If you don't have vanilla syrup, you can swap it out for almond extract or some natural honey to achieve a similar flavor.
However you customize it, one thing's for sure: it'll be the best way to start your groggy morning.
Calories 110
Sugars 14 g
Caffeine 185 mg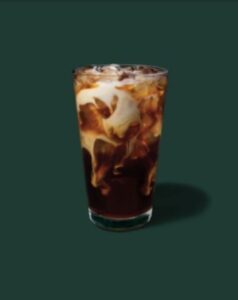 7. Irish Cream Cold Brew
Do you like Irish Cream? Me too, but it's not one of the more popular flavors on the market.
Still, even if you've never been a big fan of Irish Cream, we recommend trying this recipe at least once to change your mind.
Surprisingly, the secret ingredient is not Irish Cream syrup but rather cocoa powder that's used as a topping.
This adds a little hint of flavor that balances out the strong flavors of the Irish Cream. If you don't have cocoa powder, try a little drizzle of chocolate syrup instead.
Calories 200
Sugars 24 g
Caffeine 185 mg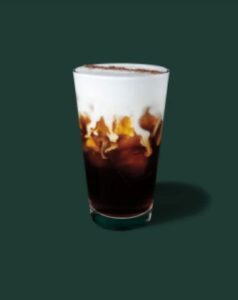 8. Iced Shaken Espresso
What's the difference between a regular iced coffee and a shaken espresso? Instead of being layered on top of one another, espresso is shaken with the other ingredients, infusing the flavor a lot better to make a stronger flavor.
While the recipe calls for classic syrup, I think it tastes great when substituted for liquid cane sugar, as it's a little less sweet than the classic syrup.
Whatever you choose, a sweetener of some kind is the secret ingredient; it's just up to you to determine which works best for your preferences.
Calories 100
Sugars 14 g
Caffeine 225 mg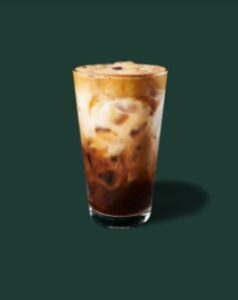 9. Iced Caffe Latte
This classic recipe is the perfect way to jump-start your day. Best of all, it's one of the most versatile Starbucks coffee drinks, which makes it easy to make from home. This is because you can add any syrup you want.
The secret ingredient is not something you'll find on Starbucks' menu but one you should add to any iced coffee recipe moving forward.
It's called rosewater and adds a little extra flavor to your simple coffee. While the recipe also calls for traditional sugar, you can swap it with some honey.
Calories 130
Sugars 11 g
Caffeine 150 mg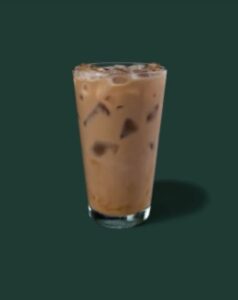 10. Pumpkin Cream Cold Brew
Sure, pumpkin-spiced drinks are all the rage during the autumn season, but if you're making it at home, why not enjoy the taste of pumpkin all year round?
The secret ingredient in this iced coffee, without a doubt, is the pumpkin cream cold foam. It's made out of heavy whipping cream, sugar, milk, vanilla syrup, and pumpkin puree.
If you don't have pumpkin puree, you could swap it out with either pumpkin pie spice or even sweet potato puree and a dash of cinnamon.
Calories 250
Sugars 31 g
Caffeine 185 mg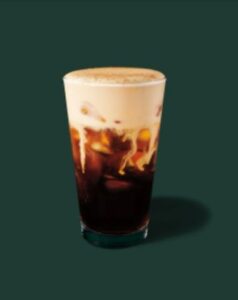 11. Iced White Chocolate Mocha
White chocolate is a lot sweeter than both milk and dark chocolates.
The secret ingredient that gives this iced coffee its signature flavor is white chocolate syrup, which is made from white chocolate, cream, vanilla extract, and sugar.
If you want to make this at home, you can swap out the white chocolate for milk chocolate to try a different flavor. Or, if you don't have vanilla extract, swap it out for a little bit of honey or maple syrup.
Calories 420
Sugars 48 g
Caffeine 150 mg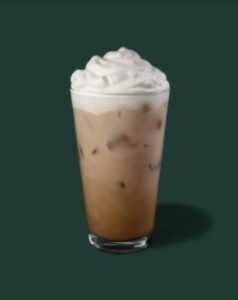 12. Iced Caffe Mocha
Do you love chocolate? This has the perfect blend of chocolate and coffee and can be customized depending on what you're in the mood for.
While the most flavorful ingredient is the mocha sauce, we think the secret ingredient can be found in the whipped cream since it transforms this from a regular coffee to a sweet snack.
If you don't have mocha sauce, you can make your own by melting down chocolate chips. Or, substitute it with white chocolate or toffee chips.
Calories 350
Sugars 30 g
Caffeine 175 mg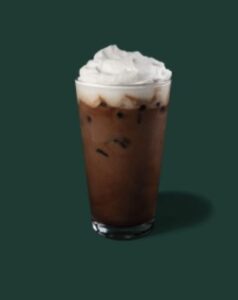 13. Vanilla Sweet Cream Nitro Cold Brew
This coffee is infused with nitrogen, which creates a creamy texture.
The secret ingredient is nitrogen, which creates a bold, unique flavor you can't find anywhere else when shaken with the coffee.
If you don't have a NitroPress or don't feel comfortable using one, you can avoid it altogether and swap it for a handheld frother to get your sweet cream foam on top of your coffee.
If you opt for the NitroPress, be sure to read the directions thoroughly, as it's not something most people use every day.
Calories 70
Sugars 4 g
Caffeine 265 mg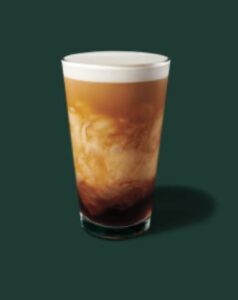 14. Iced Caramel Macchiato
Ah, finally, we've reached one of the best Starbucks iced coffee drinks.
The secret ingredient in this iced coffee is the caramel drizzle on top, which gives the coffee its caramel flavoring. If you don't have a caramel drizzle, try swapping it out for some toffee drizzle instead.
The flavors will be different but still tasty. Or, you could make your drizzle yourself by melting down butter, heavy cream, sugar, and brown sugar. Use any milk you prefer; almond milk tastes great with it!
Calories 250
Sugars 34 g
Caffeine 150 mg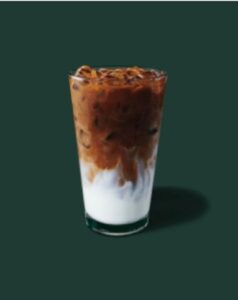 15. Homemade Starbucks Iced Coffee
Starbucks coffee is a staple in many people's lives.
The secret ingredient in a traditional iced coffee from Starbucks is half a half since it's a little more flavorful than traditional milk but not as sweet as one of their signature syrups.
If you don't have half and half, though, you can swap it out for another type of milk product.
Best of all, you can add whatever type of topping or pumps of syrup you want. This even goes for how much ground coffee you want to use.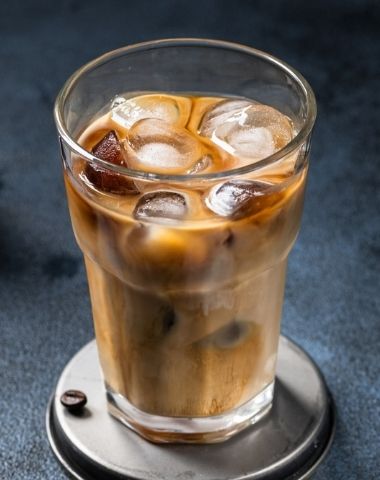 15 Best Best Starbucks Iced Coffees
Prep Time: 30 minutes

Cook Time: 10 minutes

Total Time: 40 minutes

To make iced coffee Starbucks drinks at home, you'll first want to make sure you're prepared with all the tools you need. You'll need to own:
Ingredients
1 c of ice per serving
2 c of boiling water
2 tbsps sugar syrup (or white sugar)
6 sc of ground coffee
½ c half and half.
Instructions
Put 6 scoops of ground coffee into your French Press. Add hot water and stir.
Let the coffee steep for about 10 minutes. Then, gently push the plunger down until the coffee grounds are gone.
Decant your coffee by placing it into a bottle. Place the bottle in the fridge for 30 minutes to cool.
Once cooled, add ice cubes to the top of your glass or travel mug. Pour coffee in, then top with your preferred sweetener or syrup. Stir and let sit for one minute.
With the back of your spoon, add your half and half.
Grab a straw and enjoy.
Nutrition Information:
Yield: 6 Serving Size: 6
Amount Per Serving: Calories: 150kcal