When it comes to puff pastry recipes, you may only think of them as being used for decadent desserts.
While that's certainly true (and ones that will be included in our list below), you may be surprised to learn that puff pastries can be used for every meal of the day. Puff pastry is a type of dough that's both light and flaky.
This is because it's made from layered butter and dough, which gives it its famous texture.
As you can expect, this adds a crunchy element to soft foods, such as beef just as easily as it adds some melt-in-your-mouth goodness when paired with salty and savory breakfast staples.
Whatever you're in the mood to make, you can elevate your simple recipe with the easy addition of a puff pastry.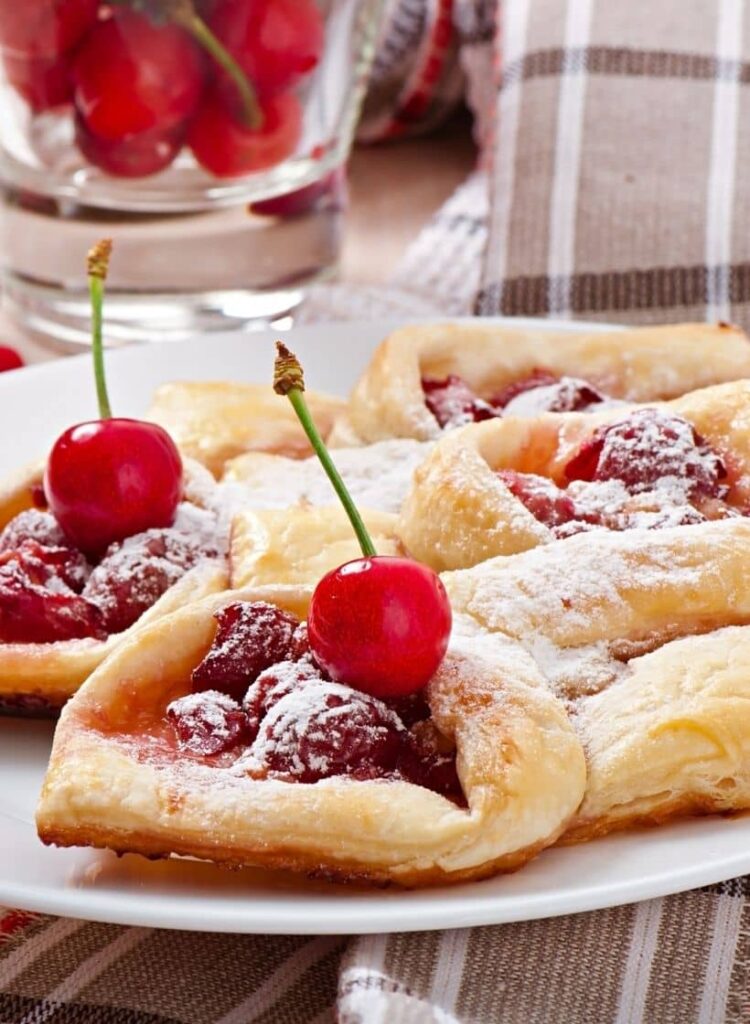 Below, we go over the tastiest puff pastry ideas (but don't worry, we won't claim any of the credit) when someone inevitably asks you about this recipe. It'll be our little secret!
Here are 21 of the tastiest (and easiest to make) savory puff pastry recipes you and your guests will love. Let's dive right in!
Are you having people over for Easter or spring break? If so, we have the perfect appetizer for you.
The secret ingredient in this recipe is the prosciutto, which is a bit saltier and sweeter than ham or other types of meat.
If you don't have prosciutto, you can easily swap it out for ham, as the salt contents will be similar. Plus, it'll still pair well with the asparagus.
Serve with a nice, chilled glass of white wine or sangria and this will be a huge hit at your next brunch gathering.
I don't know about you, but this is one of those recipes using puff pastry that makes my mouth WATER.
I can't possibly think of a better pairing than onions, gruyere cheese, and mushrooms together. Ugh, what a bite! But, maybe you don't have everything this recipe requires? No worries.
You can swap out the Gruyere cheese for swiss cheese to get a similar flavor profile.
Swapping out the cheese is fine, but don't overlook the required teaspoon of balsamic vinegar. It's the secret ingredient that enhances the flavor of the mushroom.
Remember how we mentioned that puff pastry sheets add crunch to soft-textured meat? Well, here's the perfect recipe to prove it.
Meat pies require ground beef, but if you're looking for a healthier alternative, feel free to swap it out with some ground chicken or turkey instead. Or, you could try adding a robust sausage instead. Either way, it'll taste great.
The secret ingredient that ties all the other ingredients together is an onion, so make sure you don't forget to include it. You can use any type of onion you prefer.
Have you ever had a spinach and feta cheese omelet? If so, you know this pairing just works.
However, pairing these two savory elements with a flaky puff pastry makes it even more delightful.
The secret ingredient – nutmeg — may surprise you, but it adds a hint of earthiness that calms down these two bold flavors.
If you don't have feta cheese, don't "freta," you can easily substitute it with ricotta cheese or goat cheese to get a similar flavor and consistency.
Wait — didn't we just have this recipe? Technically, yes, but here's another way to make it that features completely new ingredients!
The secret ingredient in this popular finger food is a can of dried artichoke hearts.
Just as it does in a dip, the artichoke hearts, and spinach balance each other out and transform this snack into something that tastes completely different from the recipe mentioned above.
That's why it ranks as this recipe's secret ingredient. Like other recipes, you can swap out the feta cheese for ricotta, or you can use a butter substitute instead of real butter.
Having the family over for brunch? Delight them with this tasty recipe. When it comes to puff pastry breakfast recipes, we may not think of them as including baked brie but trust me when I say it's a recipe you shouldn't ignore.
Brie has a very mild flavor to it, so what makes this so great is how creamy it is.
The secret ingredient is a little dollop of honey to really bring out the bold flavors of the almonds. And, speaking of almonds, swap them out with pistachios if you prefer a flavor that's a bit more dynamic.
Even though cream cheese and lemon are both a bit tart, they somehow balance each other out to create something undeniably sweet.
The secret ingredient is, of course, the lemon curd since it makes this delightful homemade puff pastry dessert so tasty. But, you could swap it out for a lime or passion fruit curd. Or, you could substitute it with some canned lemon pie filling.
Whatever you decide on, one thing's for sure: it'll be the first dessert to go during your next get-together or party.
When you think of the word tart, something sweet probably springs to mind. However, tarts can be savory, too, and this recipe proves it. The secret ingredient is a little dollop of dijon mustard.
This just gives all the other ingredients a little kick.
The recipe also calls for Gruyere cheese, but you can swap it out for swiss cheese or Fontina cheese, which is semi-soft and a little nutty in regards to flavor — though skipping over this tasty tart is definitely a "nutty" idea!
Ah, another spinach and artichoke pairing. I told you it was good!
Chicken and spinach already taste great together, so the addition of artichokes adds a little bit of a nutty element to the dish.
Since artichokes have such a similar flavor to brussel sprouts and asparagus, you can swap them out for either if you're out of artichoke hearts.
The secret ingredient is a container of herb and garlic cheese spread for a little zest of flavor and creaminess.
Tomatoes take center stage in this recipe! When it comes to recipes with puff pastry, a tomato is probably the LAST ingredient you'd think of including. But, once you taste it for yourself, you'll wonder why you ever waited so long to try this delicious combo.
The secret ingredient is, of course, a plump, juicy plum tomato.
If you don't have plum tomatoes, you can swap it out for grape tomatoes, or even some tomato paste or a puree.
While adding a puree won't give the same texture, it could bake into the puff pastry, which will taste just as good.
What to make with puff pastry? If you find yourself asking this question, you've come to the right place because we have the answer: goat cheese smoked salmon puff pastry bites!
The secret ingredient in this savory recipe is a little bit of herb goat cheese mixed in with all the other ingredients. It helps break apart the other flavors for a complete bite.
The recipe also calls for traditional cream cheese, but you can swap it out with cottage cheese or plain Greek yogurt if necessary.
Believe it or not, yes, you can genuinely make a pepperoni pizza with a puff pastry sheet! If you love flaky crust, you'll love this homemade recipe that'll cost you a fraction of what you'd pay for traditional delivery.
The ingredients in this pizza are simple, so the secret ingredient all comes down to what type of tomato sauce you're using.
Garlic will provide additional favor, whereas marinara gives you an opportunity to bulk it up with your own use of seasoning.
If you don't have tomato sauce, you can substitute it with some tomato paste.
Are you looking for something to serve for Mother's Day? This tiny and adorable salami and cheese pinwheels will do the trick.
The secret ingredient is coarse ground mustard because it elevates the natural flavor of the other ingredients.
This recipe also calls for the use of colby jack cheese, but you can easily swap it out for your preferred cheese if colby jack doesn't rank high on your list.
We think pepper jack cheese and mozzarella would be excellent substitutions.
What do you think? Will you be making this for Mother's Day in the near future?
A lot of these recipes are going to be popular among adults, but we can't forget about the kiddos.
Your little one will absolutely adore these. Plus, they're easy to make so they're perfectly suited to serve at their birthday or graduation party.
The secret ingredient comes down to the spices that are used – primarily both poppy and sesame seeds.
These spices transform the puff pastry into something closer to a bagel. While the recipe calls for hot dogs, get creative and swap them out for kielbasa or sausage instead.
A palmier is a type of pastry that can be served either for breakfast or dessert, so if you've been on the hunt for new puff pastry desserts to try, you're in luck.
Figs are pretty versatile, meaning they work well in both sweet and savory dishes. As such, figs are this dessert recipe's secret ingredient.
If you don't have figs, you could always swap it out for a jar of fig preserves. Or, you could use a different type of fruit preserve altogether such as grape, raspberry, or orange.
This simple, 3-ingredient recipe is sure to tickle your fancy. Goat cheese is a lot more tart than other types of cheeses, so it needs something to tone it down.
That's where the sun-dried tomatoes (this dish's secret ingredient) comes in.
Though they're sweeter than traditional tomatoes, they help balance out the sweetness of the goat cheese.
If you don't have sundried tomatoes, you can still swap them out for regular jersey tomatoes or tomato puree.
However you get there, the combination of goat cheese and tomatoes is outstanding and very filling.
When it comes to savory appetizers, nothing gives you as many options to choose from as a simple puff pastry stuffed with vegetables and cheese.
The best part about this recipe is that you can use any combination of vegetables you like.
However, if you'd rather get our opinion, we recommend broccoli, mushrooms, and tomatoes.
Feel free to swap them out for other veggies such as brussel sprouts or asparagus. The secret ingredient is paprika since it gives the ingredients a little heat.
This is one of my favorite puff pastry dessert recipes. Even though it may not look like a traditional dessert, the blend of honey, pecans, and rosemary makes it the perfect blend of savory and sweet.
The secret ingredient is the rosemary, as this provides a strong, bold flavor that elevates all the other parts of the dish.
While the recipe does call for the use of brie, you can substitute it with any other soft cheese on the market like Camembert.
You heard me right. While beef wellington is what most people know, you can get a little creative and serve beet wellington instead.
This recipe is meant to be a vegetarian alternative to traditional beef wellington, so the secret ingredient is soy milk.
The recipe also calls for white wine, but if you prefer not to include alcohol in your meal, swap it out for some white wine vinegar or a little bit of lemon juice instead.
This is definitely a wild recipe that will get the conversation flowing over the dinner table.
Tired of serving traditional buffalo wings? Get all the flavor in a tiny pinwheel instead!
The secret ingredient is hot sauce because let's face it — you can't make that tangy, fiery buffalo sauce without it.
The recipe calls for chicken, but if you prefer to put a vegetarian spin on it, swap it out for some tofu instead.
The textures will be different, but you can still enjoy that buffalo flavor. Serve with some ice-cold ranch or blue cheese dressing!
Danishes are one of the most popular puff pastry sweet recipes. And best of all, they can include pretty much any type of flavor you'd like.
The secret ingredient is cream cheese, which will help give the danish its famous, semi-sweet flavor.
However, when it comes to the type of jam filling you use, you can swap it out for anything.
Try grape, strawberry, or black raspberry. Or, use this recipe as a base and create several batches with all of these different flavors. It'll be like your own little continental breakfast!
21 Easy Savory Puff Pastry Recipes
Yield: 1/2 dozen

Prep Time: 30 minutes

Cook Time: 15 minutes

Total Time: 45 minutes
Ingredients
1 package (8 ounces) cream cheese
1/4 c sugar
1/2 tsp vanilla extract
2 large egg yolks
1 package (17.3 ounces) frozen puff pastry
1 tbsps water
2 tbsps all-purpose flour
2/3 c seedless raspberry jam
Instructions
First, preheat your oven to 425 degrees Fahrenheit.
Combine and beat cream cheese, flour, vanilla extract, and sugar until fully blended. Slowly add one egg.
Combine the remaining egg yolk and water together. Put out a sheet of puff pastry on a lightly floured surface and roll it into a 12" square. Cut each square into nine, 4" sections and transfer to a baking sheet. Make sure your baking sheet is lined with parchment paper.
Add a tablespoon of jam and the cream cheese mixture to each square. Take two corners of the pastry and bring them together until it covers the filling. Brush it with the yolk mixture.
Bake for 15 minutes or until golden brown.
FAQ:
Is puff pastry the same as croissant?
They're both buttery. They're both flaky. But no, puff pastry isn't the same thing as a croissant.
Think of them more as cousins than direct siblings. The biggest difference is that croissant dough is made with milk and sugar, whereas puff pastries aren't.
What can be made from puff pastry?
As the list above describes, pretty much anything! Puff pastries can be used for breakfast, lunch, dinner, and dessert and best of all, they'll all taste different!
The most common meals that can be made from puff pastry include danishes, beef wellington, cinnamon rolls, and everything in between so don't be afraid to experiment. If you think it'll taste good with puff pastry, then it probably will.
Do you bake puff pastry before filling?
This is a common question and the answer is it depends. If you're making a tart or something filled like a danish, you'll probably want to bake it first before adding the filling.
Many puff pastry recipes dessert will call for the puff pastry to go into the oven first before being filled.
How do you use frozen puff pastry?
Many brands, such as Pepperidge Farm make frozen sheets of puff pastry you can store until you're ready to use.
To use frozen puff pastry, you'll need to thaw it out first. Otherwise, it could crack or break as you try to unfold and use it. On average, it takes between six and eight hours to thaw in the fridge.
However, once it's pliable, go ahead and follow the directions on the back of the box. While you're at it, go ahead and look up one of the Pepperidge Farm puff pastry recipes they'll have on the back such as cinnamon walnut swirls or fruit pies.