Rum drinks can be so refreshing and perfect for summer days. Not only that but there are some decadent warm options as well.
Rum is the liquor for all seasons, and it is so versatile. There are dark rums, white rums, rums that taste like strawberries, rums that taste like pineapple, and all kinds of other variations!
Rum cocktails come in various shapes, sizes, flavors, and ingredients. This list is only a tiny sample of the variety out there and how creative people can get with them.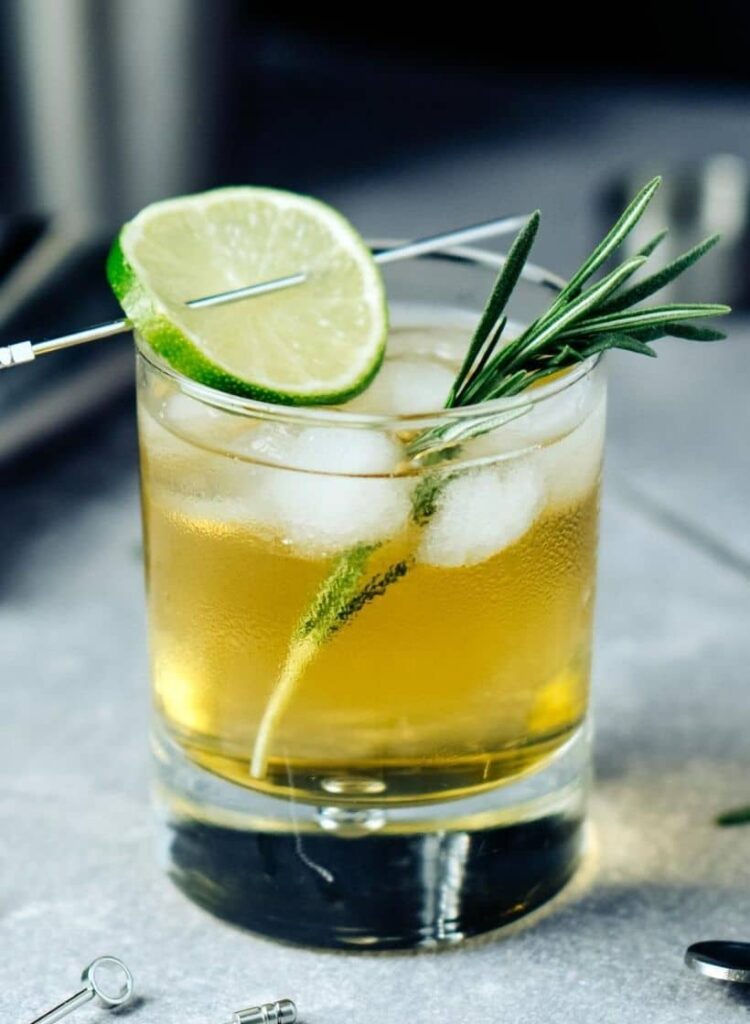 The world is your oyster when it comes to drinks with rum, and there are so many ways to customize!
We'll highlight some of the most unique, most creative, and several classic rum cocktails through this list.
All of these are must-knows for any home bartender. Each one will spice up your next gathering and make you the talk of the town at your next summer get-together!
As a bonus, we've also included a recipe for a Guava Coconut Rum cocktail that will get your brainstorming (and your tastebuds) hopping!
You'll love these other cocktails:
First up is a Jamaican Rum Punch! This treat has orange juice, grenadine, lime juice, rum, and pineapple juice. These citrus flavors work in harmony together to create an incredible drink.
Fresh lime juice is the key ingredient with this refreshing tropical treat. While bottled lime may be more convenient, you should press lime juice if you have the time to prepare it.
Bottled lime can have a bitter flavor that fresh lime won't have unless it has been sitting out for a long time. Plus, that way,
The Rum Runner is one of many classic rum cocktails on this list. Not only does it taste great, but it also is a great way to get rid of a lot of rum. This recipe uses dark and white rum, two unique fruit liqueurs, and two types of citrus juice.
The blackberry liqueur is a great touch and helps give this drink its vivid orange color. The other contributor is, of course, fresh-squeezed orange juice.
Since this drink originated in Florida, fresh-squeezed is the way to go. However, if you want your drink to be perfectly smooth, you should take some time to strain the pulp out.
The Dark and Stormy is a classic rum cocktail with three ingredients. It is one of the many easy rum cocktails on this list, and anyone can successfully make it. Add some lime juice or lime slices as a garnish, and it's complete.
Dark rum gives this drink its dark brown color. Dark rum is made when rum is barrel-aged longer than light white rums.
This gives them a rich and smokey flavor, similar to whiskeys. Your choice of rum will make or break this simple drink; after all, you want the best liquor to be the star attraction, right?
This drink mimics the Jamaican Rum Punch recipe from above, but this recipe is meant to be made in bulk.
This recipe is perfect for entertaining and can easily be adapted for tastes and even mocktail punch.
Grenadine gives this drink a hint of sweetness and its trademark vivid red color.
You can enhance the color by adding a little more, but it can become too sweet. If you want to add a unique flair to this punch without increasing the sweetness, some edible glitter will make your punchbowl the star of the party!
The next cocktail on our list hails from Bermuda and is even known as Bermuda's unofficial cocktail.
While Bermudans may have initially made it by stirring the drink with a 'swizzle stick,' most modern bartenders will use a cocktail stirring spoon to mix it up!
To get the best results, use a mixture of dark and light rum. Not only will the dark rum round out the flavor, but it also gives the drink a richer color. You'll get the perfect shade of orange with the grenadine and the orange juice.
This Rum Runner recipe is best enjoyed with homemade banana liqueur.
While it is otherwise identical to the other version we highlighted earlier, these small touches make this recipe stand apart from its counterparts.
Making homemade banana liqueur is so simple! All you have to do is mix sliced, ripe bananas with white rum and let them sit overnight. Once you wake up, the rum will taste and smell like bananas, giving this drink a beautifully rich flavor.
One of the many easy rum drinks on this list, the Rum Rickey is a straightforward but effective drink.
White rum, lime juice, and club soda are the only ingredients you need to make the Rum Rickey.
Not only will this take minutes to prepare, but you could also substitute other types of soda for the club water.
Switching the club soda for water will give your drink a sweeter touch and add different flavors. Sprite is a great choice to add other complementary flavors to your glass.
This adult's root beer float is to die for and sure to spice up any hang out with friends or festive party. It's simple, it's nostalgic, and it's so easy to customize.
Some rum mixed drinks made with cream or creamer can turn rancid or give their drinks an unpleasant flavor.
If you want to avoid that, you should look for creamers that do not have any unexpected flavors or consider using an alternative option. Ice cream will never steer you wrong!
The Mai Tai is one of the most famous rum drinks for a reason.
This classic tiki drink brings all the flavor of Hawaii with a few potent ingredients. This recipe may be more advanced than others on this list, but once you master it, you'll impress every guest you have.
Mai Tais are a bit complicated, and some of the ingredients can be hard to find. Orgeat, in particular, is difficult to find in most American grocery stores. However, it is relatively easy to make if you can find the ingredients.
This tongue-in-cheek drink pokes fun at the long history of Christian missionaries sent to various countries around Oceania.
While this drink is popularly enjoyed worldwide now, it is a less popular member of the tiki drinks family.
Honey syrup gives the drink its incredible flavor. If you want to add new flavors to your glass, you could change the type of honey you use and make your own. Lavender, orange blossom, or eucalyptus honey will give your drink new depth.
This recipe combines three citrus flavors to make one incredible rum cocktail.
The dark rum in this recipe gives the drink a rich brown sugar flavor, and the fresh orange slice garnish is a perfect final touch.
Accurate measurements are critical for this recipe. The balance of this recipe is delicate at smaller volumes, and you don't want to overwhelm the flavor. If you don't have a measuring jigger, you could use a liquid measuring cup to stay organized and even.
Coconut rum drinks come in all shapes and sizes, but the most iconic has to be the Piña Colada.
This iconic drink is known worldwide and is one of the best-known 'tiki' cocktails. Invented in the 1950s, you'd be hard-pressed to find a restaurant that doesn't have a Piña Colada on the menu.
When making this iconic drink, you should choose the cream of coconut, not coconut milk.
Coconut milk tends to be more watery and does not have the same strong coconut flavor that this drink needs.
This one stands out with many great flavors among different fruity rum drinks. Featuring Cointreau liquor, it packs a punch behind a sweet and fruity exterior.
Fresh herbs are the perfect final touch for this drink. While the original recipe suggests thyme sprigs, rosemary and basil are great choices. The fresher the herbs, the better!
The same goes for the berries you use for this recipe. Frozen berries are better to keep the drink cold as you sip, but fresh berries will give your drink more texture and can be adjusted based on the season.
This isn't your average Daiquiri recipe. One of the best rum drinks, you'll probably recognize it as a frozen beverage in all kinds of colors, flavors, and styles. This is dramatically different from the original Cuban design.
This recipe brings the drink back to basics with only three ingredients and no blending needed.
Rum, simple syrup, and lime juice make the most basic daiquiri. One of the best parts of this basic recipe is that you can easily adjust the recipe to add new flavors.
The Painkiller is a popular drink from Annapolis, Maryland, and is an excellent addition to any bartender's arsenal.
Cream of coconut and nutmeg give this drink a delicious nutty flavor with strong citrus juices.
If you wanted to spice this drink up, you could use spiced rum! Spiced rum cocktails have all kinds of depth and new flavors.
Also, the flavors will pair beautifully with the nutmeg sprinkled over the top of your drink! If you didn't want to keep the strong nutmeg flavor, you could substitute the spiced rum without the nutmeg garnish.
Hot Buttered Rum is a great winter drink. Not only does it take the chill off, but the flavors in this drink are incredible.
If you love butterscotch, this is the cocktail for you! The subtle orange flavor is the perfect finishing touch for this holiday favorite.
There are not very many hot drinks with rum. It's frankly a drink category that bartenders should expand.
The Hot Buttered Rum is a great addition and a good starting point for anyone looking into warm cocktails.
Rum drink recipes all seem to blur together after a while, but the Bushwhacker stands on its own and out from the crowd.
If you've ever wanted the perfect mocha milkshake with a fun twist, this is the ideal drink for summer.
Kahlua liqueur is the secret ingredient. While this is a coffee liqueur, it has a lovely rich flavor that compliments any chocolate liqueur or other substitutes that you'd like to add.
Bailey's Irish Cream is a great choice to pack this drink with all the sweet and rich flavors.
There are only three ingredients in this super simple rum cocktail. Dark rum, fresh lemon juice, and simple syrup make for a boozy but refreshing experience. You could also substitute in other types of rum if you have those on hand!
If you wanted to increase the sweetness while still bringing that sour flavor, you could use some sweet and sour mixer instead of the lemon juice.
This is an excellent choice if you will make a lot of drinks for a party or other occasion since mixers are usually sold in larger bottles.
Mixed drinks with rum come in all shapes and sizes, but the Hurricane is one of the most distinctive drinks.
This popular New Orleans drink is large, dramatic, and vivid, with many liquor and fruit juices.
This drink has four ounces of rum (dark and light) in it, so be careful when consuming! If you wanted to change the color, you could add other liquors, but that will only increase the alcohol content.
For example, you could substitute Blue Curacao for the grenadine for a blue Hurricane (sometimes called a Blue Lagoon).
There are so many great Malibu rum drinks, and the Malibu Sunset is easy to assemble for anyone, experienced or not.
You can layer the drink to create a very cute visual or shake it to make the whole glass a stunning shade of orange and pink.
Cherry and pineapple juice go so well together, and it's great to try! The secret is to use the Maraschino cherry juice from the jar.
This will give your drink extra sweetness and cut a lot of the tartness in other cherry juice.
Drinks with rum come in a wide range of flavors, and while pineapple and basil are a rare combination, you won't easily forget them!
This muddled mixture makes for a unique and exciting drink and is a perfect conversation starter.
If you wanted to increase the pineapple flavor without adding more juice, you could always use pineapple-flavored rum.
Malibu rum comes in different flavors like strawberry, traditional coconut, passion fruit, and more! This gives you so many opportunities for customization!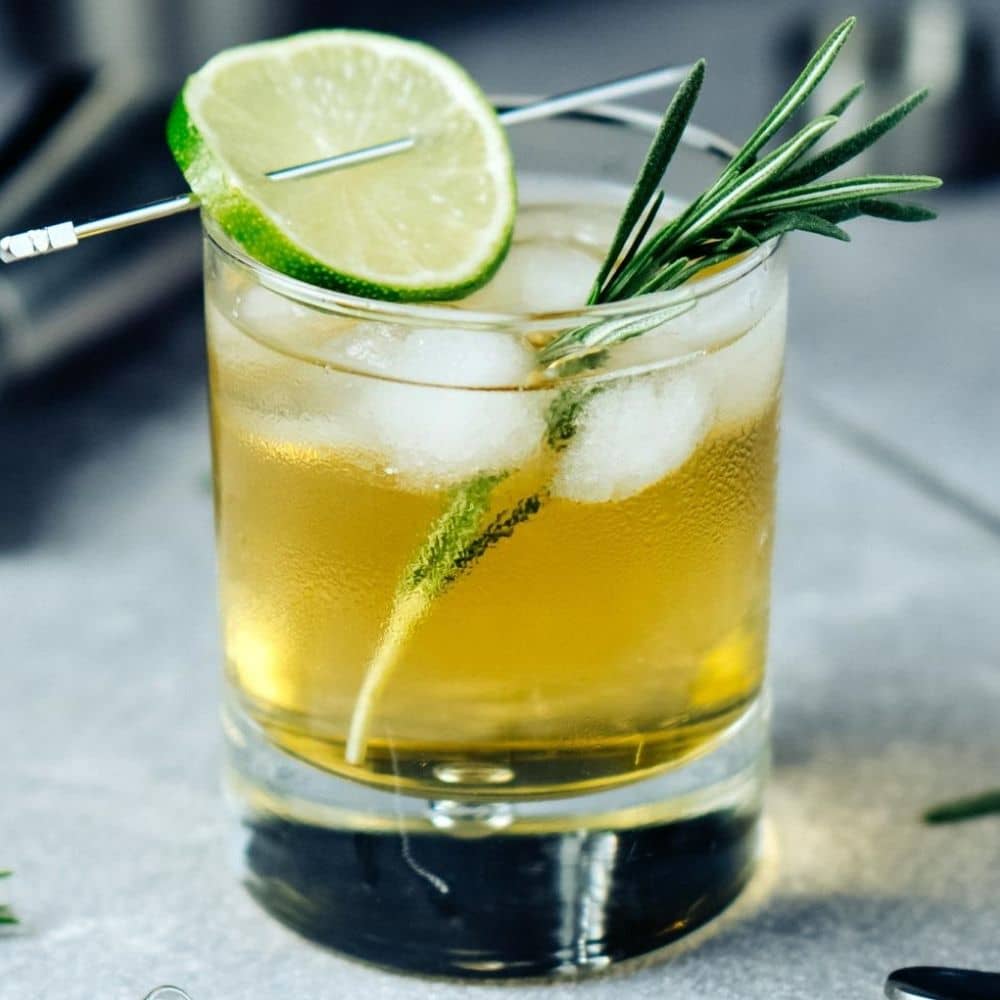 21 Classic Rum Cocktails
Yield: 1

Prep Time: 5 minutes

Total Time: 5 minutes
Ingredients
Ice cubes
2 oz coconut rum
2 oz guava nectar
3 dashes bitters
1 tsp simple syrup
2 tsp lemon juice
2 oz coconut water
Fresh pineapple wedge
Instructions
Fill a mixing glass 3/4 of the way with ice. Place your serving glass into the fridge to chill.
Add two ounces of coconut rum, guava nectar, coconut water, and lemon juice to the glass.
Add three to four dashes of your favorite bitters and 1 tsp. simple syrup.
Mix thoroughly or until the outside of the glass starts to condensate.
Strain the mixture into the chilled glass with more ice.
Top with more coconut water and garnish as you like. Enjoy!