If you're looking for rice cooker recipes to make for dinner, you're in the right place.
Traditional methods of cooking rice don't always work out so great, which is why we recommend using a rice cooker. A rice cooker is designed to cook rice to perfection expertly.
So whether you're looking to use rice as a side dish with a juicy slab of chicken or as the main star in a stir fry, a rice cooker can help you get the highest quality of rice every time.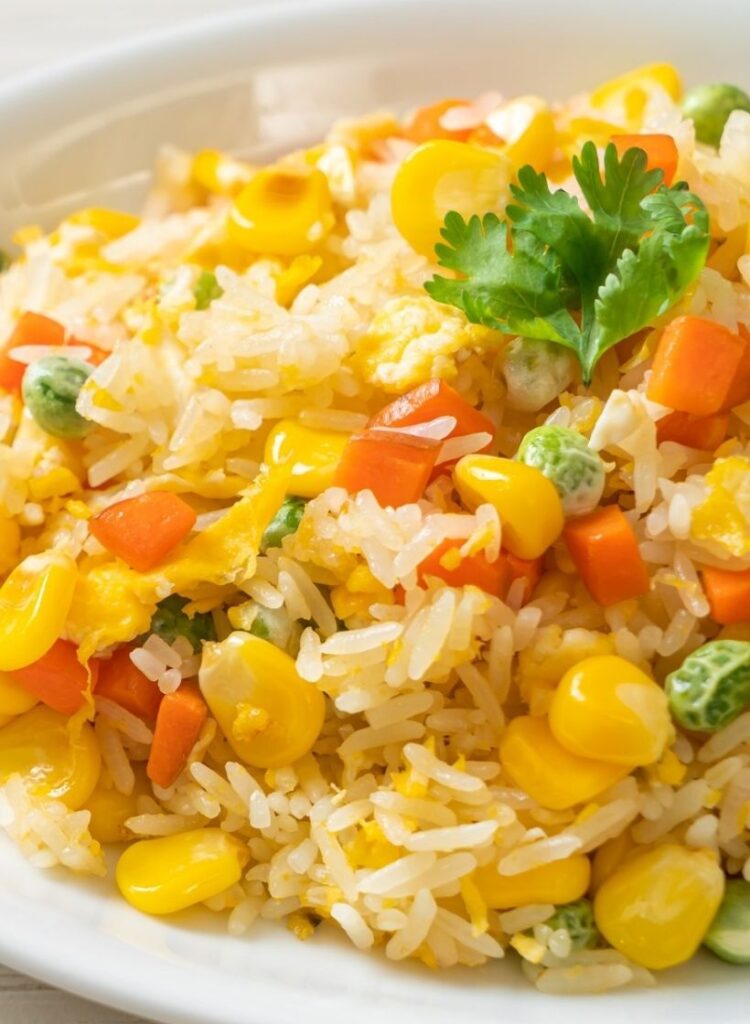 The best part about a rice cooker, too, is that it can keep your rice warm while you prepare other ingredients in your dish. Furthermore, a rice cooker can steam vegetables, often a mainstay in many popular rice-centric dishes.
Whatever you're setting out to make, these rice cooker-inspired meals will make dinner time as easy as saying 1-2-3.
1. Fluffy Ninja Foodi Rice
The Ninja Foodi is a type of pressure cooker, and the good news is that it can cook rice to absolute perfection.
To make this fluffy rice, you only need your Ninja Foodi, the not-so-secret ingredient.
The Ninja Foodi makes rice moist and fluffy after adding a little bit of water. If you prefer, you can always use a blend of half water and half chicken, beef, or vegetable broth.
Swapping the plain ol' water out for some broth can add another dimension to your rice and make it more flavorful.
2. Rice Cooker Chicken and Mushroom Rice
If you're looking to add an earthy flavor to your next rice meal, try adding mushrooms.
This recipe is the ultimate comfort food meal. Plus, it's easy to make.
Ginger is this meal's secret ingredient, as it blends perfectly with the mushrooms to bring out the flavor.
The mushroom marinade calls for oyster sauce, but you can swap it out for fish or soy sauce. This will change the flavors slightly, but not enough to change the entire recipe.
3. How to Make Sushi Rice in a Rice Cooker
Do you love sushi? If so, you'll fall head over heels for this sushi rice recipe you can conveniently make in a rice cooker.
The secret ingredient is seasoned rice vinegar, which is subtly sweet in flavor.
If you don't have seasoned rice vinegar, you can easily swap it out for lemon or lime juice. Or, you could swap it out for some white wine vinegar or even sherry vinegar.
This recipe is simple to make and enjoyable to eat, so what are you waiting for?
4. Scallops and Rice
Rice is the perfect addition to a plate of scallops for dinner. Best of all, all the ingredients in this recipe can be cooked in your rice cooker.
Talk about easy! Cooking it in the rice cooker allows all the ingredients to marinate in the pot, so the rice quickly gets infused with the seafood flavor.
The secret ingredient is sake, which tastes similar to white wine.
As such, you can easily swap out the sake for real white wine if you prefer since the flavors are so similar.
5. Rice Cooker Asian Chicken Rice
Skip the takeout Friday night and opt to make this meal instead.
This flavorful Asian-inspired meal is bursting with flavor thanks to the ginger, soy sauce, and garlic used.
However, despite all these wonderful flavors, the secret ingredient that helps everything stand out is a little bit of miso. Miso tastes like umami often described as having a meaty, savory flavor.
In traditional Asian culture, umami is known as the "essence of deliciousness," and after one bite of this dish, you'll agree. The recipe also calls for chicken breasts, but feel free to swap them with tofu or beef cubes.
6. Instant Pot Coconut Rice
Did you get an Instant Pot for Christmas? Put it to use with this tasty, tropical-inspired recipe.
When you think of coconut, you probably don't think of it being a flavor of rice but trust us when we say that this recipe will instantly transport you to somewhere warm with a cool drink in your hand.
Since this rice has a coconut flavor, the secret ingredient is coconut milk.
If you don't have coconut milk, you can use coconut water. However, this will not be as thick and creamy. The coconut flavor won't be as strong, either.
7. Rice Cooker Chicken and Sausage Jambalaya
Bring New Orleans to your kitchen with this tasty chicken and sausage jambalaya recipe. Of course, we can't have a Cajun-inspired meal without including cajun seasoning as the secret ingredient.
Cajun seasoning is a blend of crushed red pepper, garlic pepper, onion powder, cayenne pepper, thyme, and black pepper, so you can add all these ingredients individually or swap them out for chili powder or adobo seasoning to give this jambalaya a bit of Latin flare.
However you decide to customize this dish, one thing's for sure: you can't go wrong!
8. Easy Spanish Rice in the Rice Cooker
If you're looking for new rice recipes to cook for your family this weekend, this one is bursting with flavor.
Cumin is the secret ingredient in this meal, as it adds a rich earthy flavor to the other ingredients.
If you don't have cumin, don't worry. You can easily swap it out for paprika, fennel seeds, or ground coriander. Or, since this is a dish that includes Spanish rice, you could swap the cumin out for a package of taco seasoning.
9. Mini Rice Cooker Chicken Curry
Do you have a mini rice cooker? If so, you're probably looking for mini rice cooker recipes.
This meal is perfect for fans of curry. Robust flavors are the highlight of this meal. The secret ingredient is the Japanese curry mix, which comprises coriander, cumin, orange peel, and coriander.
If you don't have a box of Japanese curry mix, you could add in all of these ingredients individually.
If you opt for this option, you could swap out the orange peels for tangerine or lemon peels to capture that citrusy flavor.
10. Easy Rice Cooker Turmeric (Yellow) Rice
Tumeric is the key to getting your vibrant rice yellow. Plus, it's very aromatic.
When making this delicious rice recipe, be sure to add chicken broth to it. This is the secret ingredient since it adds extra flavor to the rice.
If you want, you can swap the chicken broth out for water if you prefer to keep the flavors milder. Or, if you wish to, swap it out for vegetable broth instead.
Either way, you go. This recipe works as the star and side dish to a flavorful cut of meat.
11. Rice Cooker Coconut Rice
Are you looking for an easy way to spice up your next chicken dinner?
Try adding some coconut rice to the roster. A can of full-fat coconut milk is the secret ingredient, but you can always swap it out for coconut water if you don't want the coconut taste to be so strong.
Since you can garnish this meal with a few sprinkles of shredded coconut, you could swap the coconut milk out for an alternative such as oat milk or almond milk.
This will change the flavors, but you can still make up for it with the coconut garnish.
12. Rice Cooker Teriyaki Shrimp and Rice
Instead of chicken, why not add some teriyaki sauce to your shrimp for your next meal?
The secret ingredient in this tasty meal is brown sugar, which blends perfectly with the soy sauce to give this meal that familiar teriyaki flavoring.
If you don't have brown sugar, you can swap it out for some honey or coconut aminos. Feel free to use this recipe as a base and swap out the shrimp for chicken, beef, or even tofu if you're looking for a healthier alternative.
13. Taco Soup
This next recipe brings all of the elements of a taco together with this fun and tasty soup that you and your family can enjoy.
The secret ingredient is the onion. It adds a flavor and texture to the dish without overpowering any other ingredient.
If you don't have brown rice handy, white rice should work great as a substitute for this fantastic dish. If you're looking for a great soup that can be prepared in a rice cooker, then this is the recipe for you.
14. Saffron Rice
If you're looking for a rice recipe that's a bit different from the norm, we invite you to try out this fantastic recipe for saffron rice.
It's a flavorful take on rice that is sure to satisfy. The secret ingredient here is saffron. It's the flavor the entire dish is based around and added to all of the other ingredients in this dish.
If you want to substitute something, try swapping lemon juice for lime. The change in flavor is subtle while still providing a citrus taste to the meal.
15. Aroma Rice Cooker Recipe
There are several ways to cook rice but making rice in an Aroma rice cooker makes things very simple and easy to understand.
It takes no time, and even the instruction manual has suggested times to cook your rice.
The secret ingredient here is the only real ingredient, and that's the rice itself since the water is used only for cooking the rice.
If you want to try something different, Aroma rice cookers can cook all sorts of different kinds of rice. These Aroma rice cooker recipes are a great way to make something new and flavorful for your family.
16. Ginger Chicken and Rice
This creative take on a chicken and rice recipe is guaranteed to make your next dinner a great one. It gives an earthy, healthy take on chicken and rice that you don't see with a lot of other recipes.
The secret ingredient for this one is ginger. While that might be too obvious since it's in the name of the recipe, it adds to the overall flavor of the dish without overpowering all of the other flavors.
Try swapping coconut milk for soy milk if you need to substitute anything.
17. Instant Pot Rice
Cooking rice couldn't be any easier or faster with an Instant Pot.
This recipe is fairly straightforward and makes it easy to prepare and follow with only a couple of ingredients. The secret ingredient here is the rice itself.
It's the only major part of this recipe, and the final result allows you to pair it with whatever you want.
If you want to change things up, try adding salt to the mix to keep the rice from clumping together in the cooking process.
18. Mac and Cheese
Yes, you read that right. Mac and cheese can be made in a rice cooker, which is amazing.
This is one of the few recipes on this list that doesn't even include rice, which shows the versatility of a rice cooker. The secret ingredient here is chicken stock.
This not only adds a bit of flavor to the overall meal but provides a base for the pasta to cook. If you need to change up anything, try exploring different combinations of cheese.
19. Mexican Rice
If you want something with a little more kick, this rice dish is perfect for serving up for your next meal.
It features a lot of flavors and a bit of spicy kick to it. The secret ingredient here is the tomato paste which gives a lot of flavor to this dish and helps bring all of the ingredients together and coalesce with each other.
Try swapping green chiles for something like jalapenos if you need to change anything up.
20. Perfect Basmati Rice
Basmati rice is an Indian and Pakistani style of rice that compliments many dishes from those regions.
This recipe is incredibly easy as there's not much to it. The secret ingredient here is the rice itself.
This is long-grain rice that has both flavor and texture to it. If you're looking to add something a little extra to this recipe, you can add oil for a bit of extra flavor.
Any neutral oil works here, but we recommend using olive oil.
21. Spanish Rice
If you're looking to bring some Spanish flavor to your next dinner, try this delicious Spanish rice recipe. The secret ingredient here is the green chiles.
These add a bit of flavor to this dish and provide a spicy kick to the meal. If you need to swap out anything, try swapping green bell peppers for red bell peppers.
The flavor profiles should be similar, so the main change here would be more aesthetic than flavorful.
22. Cilantro Lime Rice
Are you looking for a tasty rice recipe that brings a bit of zest to the table?
Then you should try this amazing recipe for cilantro lime rice. This lime juice brings out a tasty citrus flavor in this dish and should not be skipped over.
If you need to swap anything, you can try cooking it without fat to keep it on the healthier side. This may alter the overall flavor, so be warned.
23. Rice Cooker Chicken
There are several ways you can cook chicken. One of those ways is with a rice cooker.
That's right. A rice cooker isn't just for making rice. You can prepare a lot of different dishes in a rice cooker. The secret ingredient for this one is chicken broth.
This adds to the overall chicken flavor and gives your rice a bit of a chicken flavor when cooked with the chicken.
If you need to change things up, try garnishing with something other than spring onion, like some cilantro leaves.
24. Coconut Rice
Are you looking to bring some coconut flavor to a rice dish?
This recipe might be exactly what you're looking for. The secret ingredient is the optional cream of coconut.
While this dish tastes good, the coconut cream brings out more of the coconut flavor in this dish and is a worthwhile addition to the recipe.
You can experiment with different herbs and spices to get other flavor profiles when it comes to substitutions. Be warned, though, that this is a very neutral-tasting dish even with spices.
25. Chipotle Cilantro Lime Rice
Do you love Chipotle's cilantro lime rice? With this recipe, you can make this delicious dish and make it at home in your rice cooker! The secret ingredient here is the bay leaves.
They add a peppery undertone to the rice, enhancing the flavor of this dish as a whole.
If you're looking to swap something out, the recommended rice bran oil can be substituted with any neutral oil in your kitchen, but we recommend using avocado oil for some great results.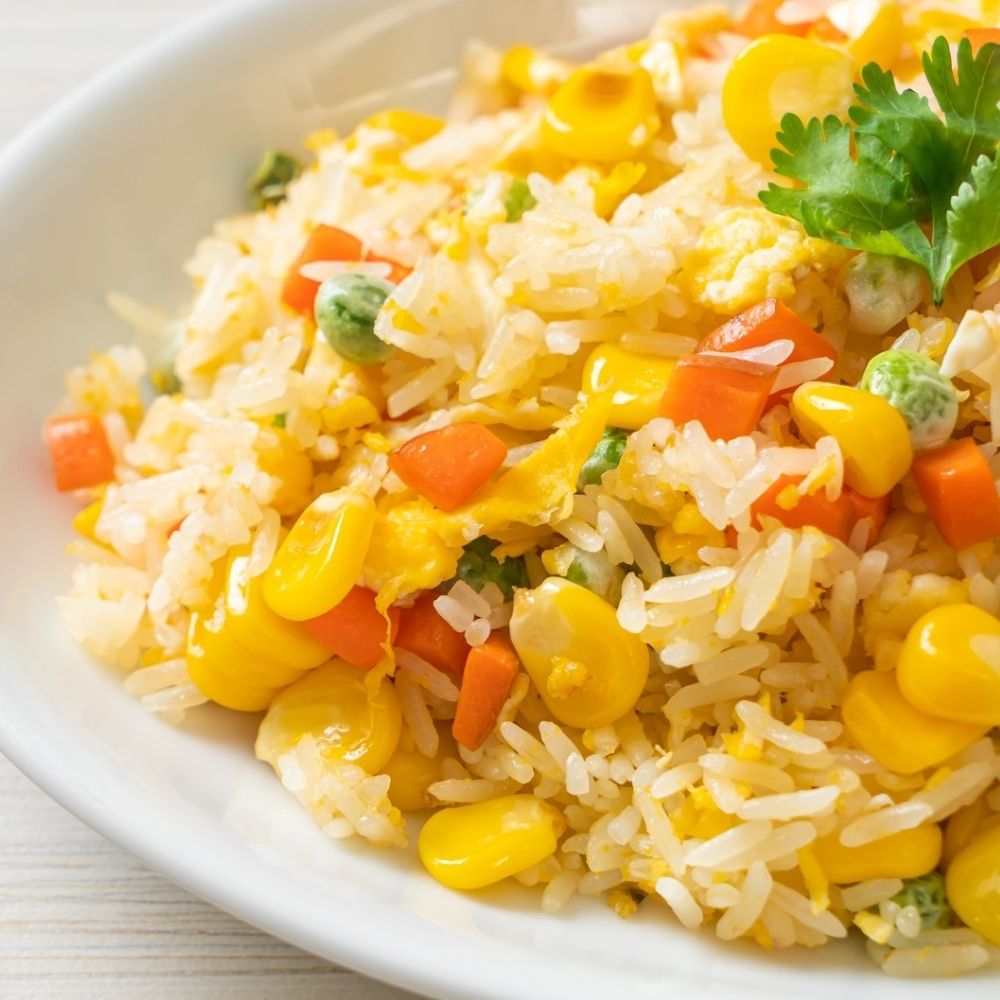 25 Easy Rice Cooker Recipes
Yield: 10 cups

Prep Time: 10 minutes

Cook Time: 1 hour

Total Time: 1 hour 10 minutes

Need Dinner Ideas? Look No Further Than These 25 Tasty Rice Cooker Recipes
Ingredients
2 c water
2 (15 oz) cans black beans, rinsed and drained
2 (10 oz) cans diced tomatoes with green chile peppers
1 (12 oz) box quinoa
1 (1.25 oz) package dry taco seasoning mix
Instructions
Mix beans, peppers, diced tomatoes, water, seasoning, and quinoa in your rice cooker.
Cook for one hour. Then serve.