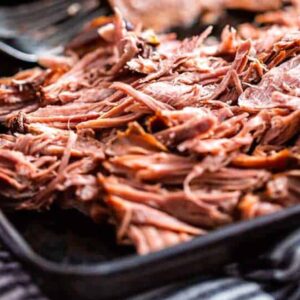 Now that the summer season is finally here, many homeowners are going to heat up their grills for their seasonal barbeque. One meal that's definitely a summer staple is pulled pork.
Not only is it easy to make, but pulled pork also allows for a lot of creativity in regards to the sauces that go with it. Whether you want something sweet and tangy or bold and spicy, there are so many ways to customize your pulled pork dinner.
Though it may be easy to cook and versatile in regards to flavor, you must know what the ideal pulled pork temp is. The ideal temp for pulled pork is 205 degrees Fahrenheit.
Though it's safe to consume at an internal temperature of 145F, the longer it cooks, the more tender it'll be.
The same applies to pork butt. If you want to know what temp to pull pork butt right off the bone, keep in mind it should be anywhere from 195 degrees F to 205 F.
Now that we've covered some of the basics, let's take a look at some other interesting facts about pulled pork and its internal temperature so you always know when pulled pork temp done.
Pulled Pork Internal Temp
What is the best temp for pulled pork? As we briefly mentioned above, the ideal pulled pork internal temp is 205 degrees Fahrenheit. At this temperature, pulled pork easily falls off the bone, while still remaining super juicy and flavorful to eat.
While the longer you let pulled pork cook, the easier it'll be to fall off the bone, you must exercise caution to prevent it from overcooking. One way to do this is to remove the pulled pork from your grill or smoker.
The lingering heat will still help it cook without running the risk of it getting overcooked and too chewy and dry to enjoy.
Anyone who's ever had extremely dry meat before knows there's only so much barbeque sauce you can add to inject more moisture. As such, cooking until it's reached an internal temperature of 205F is really the perfect pulled pork temperature.
What Cut of Meat is Best for Pulled Pork?
This is a tricky question to answer because it's ultimately going to depend on your personal preference for meat. That being said, pork shoulder is widely accepted as being the best cut of meat to make pulled pork for your next family gathering.
The pork shoulder consists of the shoulder and the entire front leg of the pig. Depending on your grocery store, pork shoulder may be divided into two different cuts called Boston Butt (or Boston Roast) or picnic roast.
Why is this, though? Pork shoulder is the fattest, meatiest part of the pig. Once cooked, this part of the pig is the most tender, making it ideal for pulled pork.
However, you must continue to cook the pork shoulder until it reaches a minimum of 195 degrees Fahrenheit, otherwise taking it out too early will leave you with nothing but fatty pockets of meat. Gross!
Just like other cuts of meat, it's okay to cook this until the pork shoulder temperature reaches a maximum of 205 degrees Fahrenheit.
Ultimately, though, there is no "right" cut of meat you have to use to make pulled pork, just as long as it's fatty enough. However, if you prefer to serve pulled pork internal temperature 205, then do so. There's a little bit of wiggle room when it comes to pork butt internal temp.
How to Shred Your Pulled Pork?
Alright, we've answered a lot of questions so far in regards to how to properly cook or smoke your pork to get it perfect to use for pulled pork. But, how should you shred your pulled pork in the first place?
Shredding your pork is the fun part of the process and there are a few easy ways to do this. First, add your cooked pork to a cutting board and slice it into large pieces. Then, grab two forks and pull the pork in opposite directions until it's shredded.
Or, if you prefer, go ahead and shred the pork with a potato masher. This is not the recommended or even preferred method, but if you are in a pinch and don't have forks handy, this could work.
You'd use this the same way you would the two dinner forks. The method isn't really different, but the experience surely is.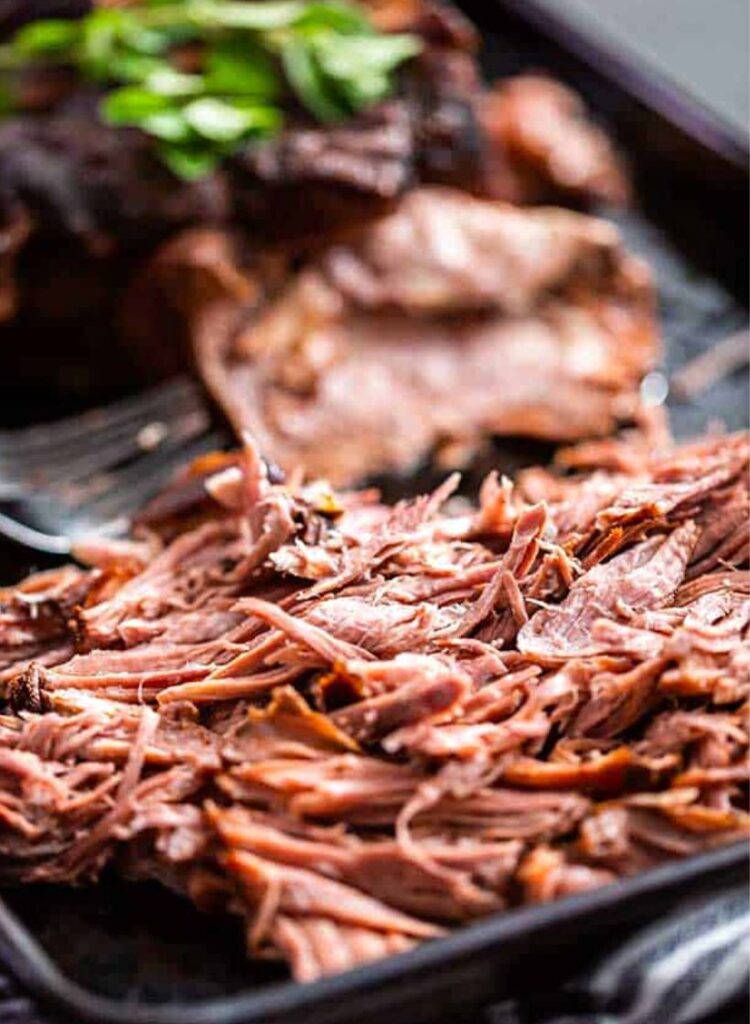 Mistakes to Avoid
Pulled pork is a delicious meal that is great to make. However, pork is not the easiest meat to cook and requires some knowledge beforehand to cook properly. There are a handful of mistakes you should avoid while cooking pulled pork.
First, don't take it out too early. If your pulled pork is 165 degrees or under, not only will it be nearly impossible to shred or pull, but it may not be safe to consume. Anything below 145 degrees is considered non-consumable by the USDA, and even that was lowered from 160 degrees in 2011.
Also, don't base your cooking times solely on the weight of the cut of meat. There are other factors at play that influence how long you should cook the meat before pulling it and eating it. Things such as the temperature of the grill and humidity levels can influence how long it takes to properly cook a cut of pork. Knowing all of this in advance can make your pulled pork temp smoker experience better.
You shouldn't be careless when cooking pulled pork, either. If you lack things like a smoker, butcher's paper, or a meat thermometer, wait until you can get them. Don't cut corners when it comes to cooking pork. Make sure you have all of these kitchen tools ready so you can cook your pork in a way that not only makes it safe to eat but easy to pull when the time comes.
You also need to take your time with cooking pulled pork. This is not something you can heat up in 30 minutes. Properly smoking pork for it to be pulled is an all-day cooking process and requires overnight refrigeration.
If you're not up for dedicating the proper amount of time to prep and cook the pulled pork, don't rush through it in order to get it done. Make sure you're making pulled pork when you can dedicate the time to do it.
Frequently Asked Questions
Check also: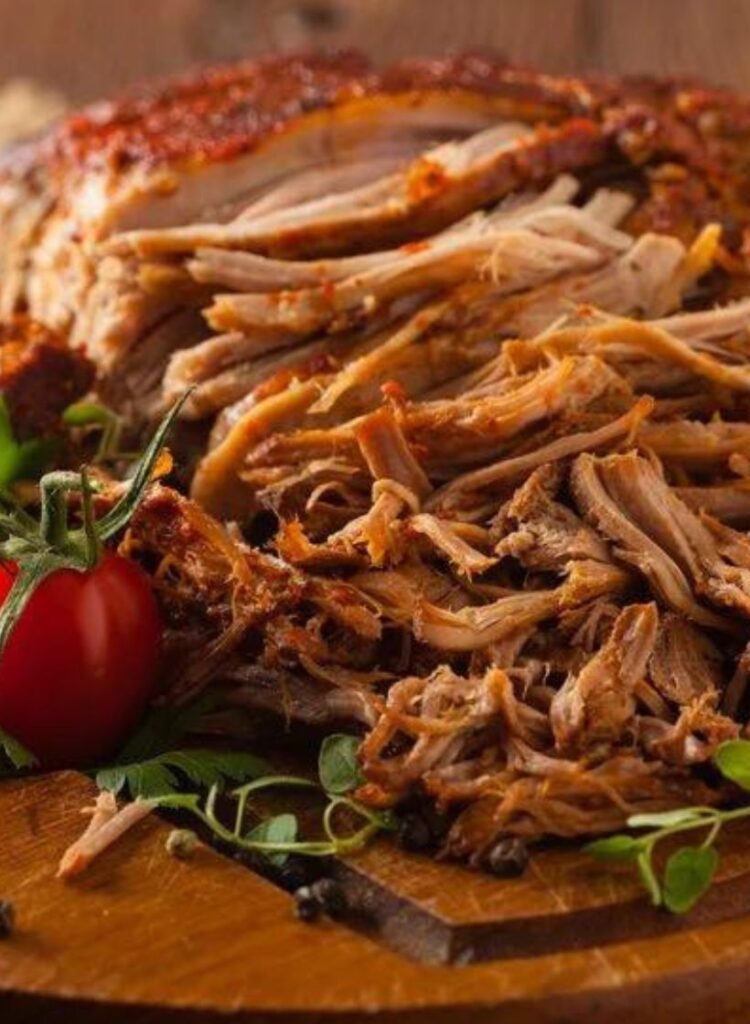 Can I Pull Pulled Pork at 190?
Yes, you can. However, keep in mind that it may not be as juicy as would be if you removed it from the smoker at 200-205 degrees Fahrenheit.
While it may not be as tender as you would like it, it'll still be tender enough to pull apart at an internal temperature of at least 180-190 degrees. Anything lower than that will not break apart – aka it won't be suitable to use for any sort of pulled pork recipe.
Refer to this paragraph as a reminder of the pulled pork done temp.
What Temperature Do You Pull a Pork Shoulder Off the Smoker?
What temp for pulled pork? Ah, the age-old question. The answer? Between 195 and 205 degrees Fahrenheit.
Why the range though? When it comes to smoking a pork shoulder, the ideal cooking time will depend on how tender you want your meat to be. Pork is at its tenderest when the internal temperature reaches 205 degrees. This is ideal for making pulled pork recipes.
You'll want to smoke a pork shoulder for about four hours at 250-275 degrees Fahrenheit. Once the pork reaches the internal temperature mentioned above, remove it from the smoker and let it rest for about 20 minutes, or up to 2 hours depending on how big the portion is.
The longer you let it rest, the juicier it'll be – which is perfect for pulled pork recipes. Resting allows all of the juices to settle inside the meat, whereas it would run out if you immediately cut into it.
Is Pulled Pork Okay at 185 Degrees?
This really depends on who you ask and what the cut of pork you have is like. If you're looking to slice the pork, 185 degrees is just the right temperature. However, if you're looking to pull the pork, it's recommended that you cook it over 190 degrees.
That being said, it also depends on the cut of the meat and how it's cooked. In some instances, if the right circumstances allow it, you can cook pork at 185 degrees and then pull it.
Although the higher the temperature, the better, it's not impossible to pull pork at 185 degrees if the cut of meat is right and the cooking environment allows it to be cooked in such a way. This does vary as you can go as low as 180 degrees in some instances. The general rule of thumb is 190 degrees or above but 185 should be okay to pull at.
How Long Does it Take to Smoke a Pork Shoulder at 225?
On average, it takes about 12-16 hours to fully smoke a pork shoulder at 225 degrees Fahrenheit if let's say the meat cooks for two hours for every two pounds of meat. However, keep in mind that this time frame will depend on the weight of your pork shoulder, or if you decide to swap it out for some smoked pork butt instead.
Cooking times may also depend on a few other factors, such as the temperature outside where you're cooking, the air's humidity levels, and how your grill maintains heat.
Since there are so many outside factors that could influence the cooking time of your pork shoulder or pork butt, it's recommended that you invest in a meat thermometer to make sure the ideal internal temperature is reached (between 195 and 202 degrees depending on how soft you want your meat to be).
But where should you take the temperature of shredded pork? Insert the thermometer into the thickest part of the meat.
If you're in a race against the clock and don't have 12-16 hours to spend smoking your pork shoulder or pork butt, you can speed up the process by wrapping your pork in either foil or butcher paper at 165 degrees.
Remember, smoking any type of pork can take a lot of time so it's best to know what to expect timewise before committing to it for your next party or summer get-together.
Pulled Pork Recipe
We've spent so much time talking about pulled pork so far, why not go over the details of how to make your very own plate of it?
The secret ingredient in this pulled pork recipe is a little bit of brown sugar because it adds some much-needed sweetness. It balances out the barbeque sauce and other strong, spicy flavors.
If you need to switch anything out, swap out onions for onion powder. Yes, this will alter the taste a bit but not by much. Serve with some sweet Hawaiian rolls and a little bit of cole slaw and you've got a tasty treat everyone will love.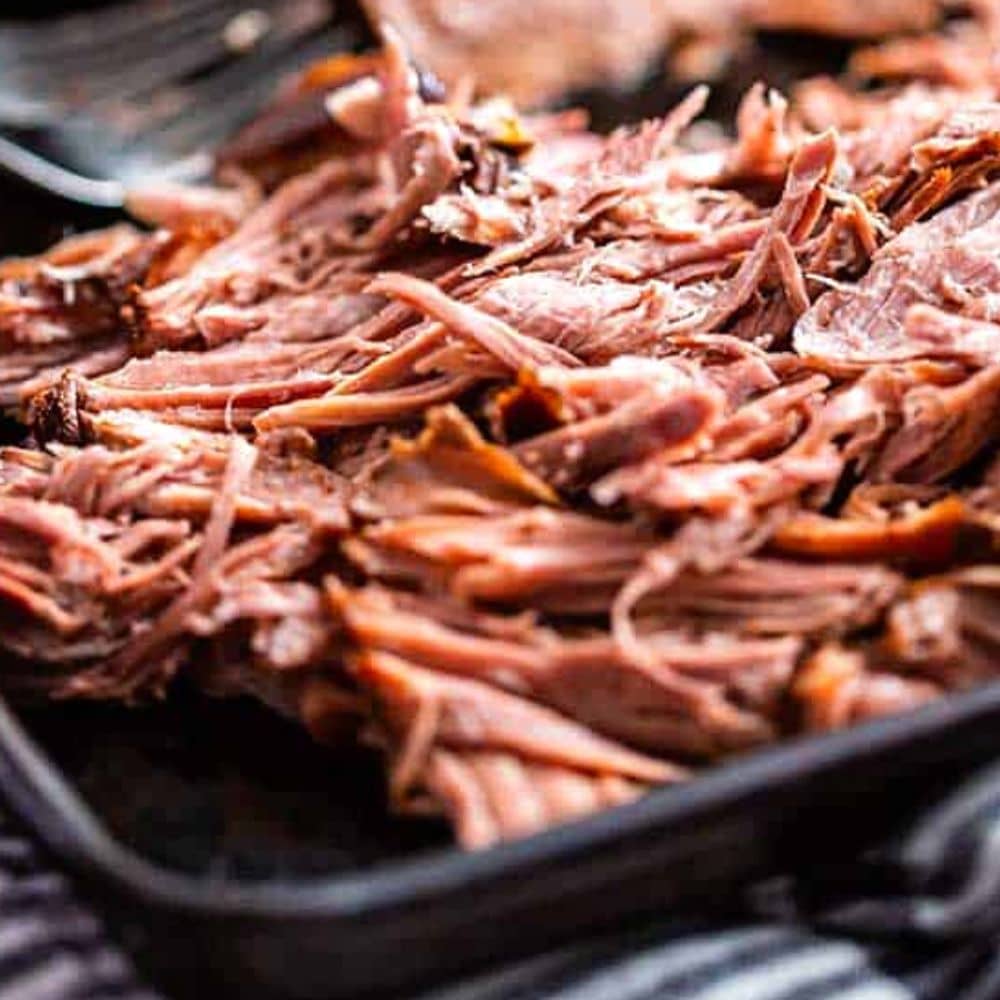 Pulled Pork Internal Temperature (Tips & Tricks)
Total Time:
10 hours
20 minutes
Ingredients
1/4 c brown sugar
1 tbsp chile powder
1 tbsp paprika
2 tsp garlic powder
2 tsp kosher salt
1 tsp freshly ground black pepper
1 tsp cayenne pepper
1 pork shoulder roast
4 onions, cut into halves
1 bottle good barbecue sauce,
Instructions
In a bowl, mix the garlic powder, salt, pepper, chile powder, paprika cayenne pepper, and brown sugar. Add your mixture to the pork shoulder and then wrap in plastic wrap before refrigerating overnight.
The next day, preheat your oven to 300 degrees Fahrenheit and cut your onions in half. Place the pork shoulder in a large bowl overtop the halved onions and roast for about 7 hours. The meat should be tender and fall off the fork.
Set your pork to the side and slice up some leftover onions.
Get a pot and place it on the stove over medium heat. Add ½ - 1 cup of hot water and add the pork and cook for five minutes. Add barbeque sauce and stir.
Shred your pork shoulder with two forks and add that, and your onions to the barbeque sauce.
Serve and enjoy!