Far too often we tend to think of noodles as pasta…and only pasta. However, you may be surprised to learn that when it comes to noodle dishes, there are so many to choose from.
Whether you're dousing them in creamy garlic butter or adding a little bit of heat and an Asian flare, there are countless ways to make noodles the star of your entree.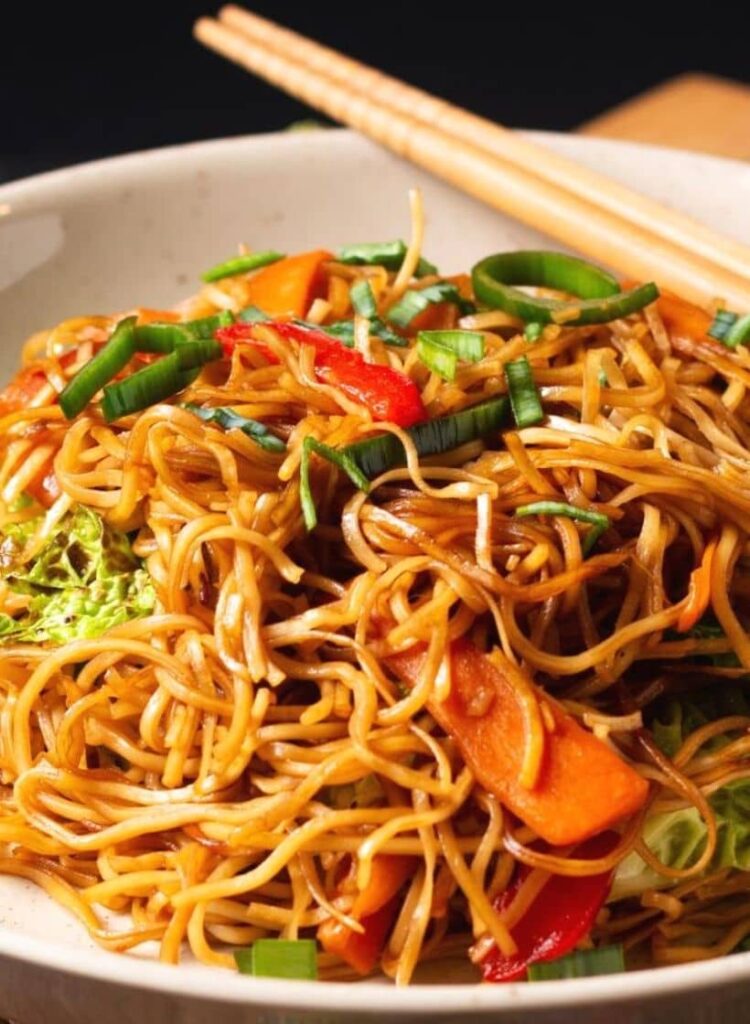 Not only are noodles versatile enough to transform into pretty much any flavor, but most of these recipes are so easy and time-efficient that pretty soon, they'll be a part of your go-to noodle recipes for dinner on those extremely busy nights.
If you're looking to incorporate new and exciting ways to transform basic noodles for dinner, you've come to the right spot because we just so happen to have 30 of the best easy noodle recipes that are perfect for seasoned chefs and beginning cooks alike.
If you're looking for things to make with noodles, there's no better way than to start with a basic, but delicious recipe. Garlic oozes from the noodles with every bite.
The egg noodles themselves are actually the secret ingredient due to their size. While you can use any type of egg noodle you want, the wider they are, the more garlic flavor you're going to get.
If you don't want to eat regular egg noodles, you can opt for wheat or veggie pasta instead. Feel free to get creative and transform this easy dish into something you'll adore.
Instead of ordering Japanese take-out, bring the exotic, bold flavors of Japan to your kitchen!
Yakisoba chicken is known for having really bold, intense flavors and much of that has to do with the soy sauce, which is this dish's secret ingredient.
Soy sauce is a staple in Asian-inspired dishes, and yakisoba chicken is no different. Of course, if you prefer, feel free to swap out the chicken for tofu if you want to make it vegetarian. Or, swap the chicken out for some pork. That would taste great, too!
Is there anything more comforting than a steaming hot bowl of creamy noodles on a cold day? Asking for a friend.
When you bite into this dish, you'll be surprised by the heat. This is thanks to the cajun seasoning added to the creamy sauce, which is our secret ingredient.
While the cajun seasoning is certainly unexpected, feel free to swap it out with any type of spice profile you prefer. You can even add some grilled chicken or shrimp on top!
Everyone loves ramen! Aside from the flavors, the reason why ramen remains so popular is that it can be customized with a wide array of ingredients.
This ramen recipe is no different. The secret ingredient is a little pinch of brown sugar, which adds a deep level of sweetness similar to the taste of toffee or caramel.
While this brown sugar pairs well with the soy sauce, you can always swap it out for white sugar, maple syrup, or even honey.
This recipe is just like how mama used to make it! Best of all, there are plenty of ways you can season it with your own preferences. When it comes to good noodle recipes, nothing beats a hot bowl of chicken noodle soup.
Like another recipe on this list, the secret ingredient is extra wide egg noodles simply because it allows for more absorption and more flavorful bites.
The recipe calls for shredded chicken, but you could easily make this recipe with some shredded turkey instead. Yes, the flavors will be slightly different but this is a great recipe to keep in your back pocket next time you're wondering what to do with all those Thanksgiving leftovers.
If you're in the mood for some pad thai tonight for dinner, we have just the recipe to easily make it at home.
As is with most pad thai recipes, the secret ingredient continues to be coconut sugar simply because it has a caramel flavor to it that works really well with the other ingredients in popular Asian dishes.
Because of its caramel flavor profile, coconut sugar can be swapped out with brown sugar if necessary since the flavors are going to be really similar.
If you're looking for another unique ramen recipe to make for dinner, look no further than this one.
Filled with wild, unique flavors, the secret ingredient is a little bit of Worcestershire sauce. This sauce has sweet notes of molasses, as well as some bitterness from the vinegar and anchovies.
As such, you can substitute this sauce for white wine vinegar, soy sauce, or even balsamic vinegar or balsamic salad dressing.
Top with some hard-boiled eggs, or swap the chicken out for some pork or beef.
When a recipe has the word "best" in the title, you're hoping it stands up to its name. Well, one bite of this salad and you'll fall in love and see that the name is true!
The perfect crunchy, crispy salad to serve at your next summer barbeque, the secret ingredient is plain white vinegar. This is what elevates the natural flavors of the napa cabbage.
If you don't have white vinegar, feel free to swap it out with some red wine vinegar instead. Or, swap out napa cabbage for some Bok choy.
With so many noodle recipe ideas out there, any involving tuna is a big hit at parties and special gatherings.
Though you might suspect that tuna is the secret ingredient in this casserole dish, you'd be wrong. It's actually fat-free chicken broth. Not only does this make it a little bit healthier, but it adds moisture and extra flavor to the noodles.
If you want to swap out the chicken broth for beef or vegetable broth, go ahead. All types of broth tend to work really well in this dish.
Remember earlier when we mentioned that most people think of pasta when they think of noodles? Well, we forgot to mention that stir fry ranks at the top of this list, as well.
Not only can ramen be customized to contain any flavor or ingredient, but so can stir fry. When it comes to this recipe, the secret ingredients are actually the ramen packets themselves. Pre-packaged noodles don't take long to cook. Just toss out the flavor packets and you're good to go.
The recipe calls for shitake mushrooms, but swap them with another mushroom of your choosing. Or, get rid of them completely.
There are no rules when it comes to this recipe.
Maybe you're in the mood for thai, but you still want something warm on a cold, cozy night spent inside watching your favorite movie. Well, this Thai red curry soup is just the ticket!
Fish sauce is the secret ingredient because it adds a strong, flavorful taste of umami to the recipe. This elevates all the other flavors in the noodle soup.
If you need to swap the fish sauce out of this noodle recipe, soy sauce is a great alternative since it packs a lot of the same flavors.
Serve with a cool lime iced tea and enjoy!
One bite of these spicy kung pao noodles and you'll be in heaven! Taking only 20 minutes to make, the secret ingredient is sesame oil.
Not only is sesame oil a staple in kung pao noodle recipes because of how well they saute all the ingredients, but it's also been known to have a calming effect on inflammation.
The recipe calls for any type of noodles, so use spaghetti one night, and then swap them for fettuccine the next. If you really want to get creative, try making your own noodles out of vegetables!
Is there anything better than a big bowl of chow mein? I don't think so!
Not only is this an excellent dinner recipe for vegetarians, but the crisp vegetables are so delightful to bite into.
The secret ingredient is a little bit of ginger. Since ginger has a pungent scent, it burns off a lot while cooking, only leaving sweetness behind.
If you don't want to keep this dish vegetarian, swap out the vegetable broth for chicken or beef broth instead.
While we already had an entry for garlic butter noodles, this is a completely unique recipe that should happily replace whatever you originally had planned for dinner tonight.
Believe it or not, the secret ingredient is actually oyster sauce. Why oyster sauce you ask? It adds a savory element that works well with the other ingredients in this recipe.
If you don't have oyster sauce, soy sauce works just fine as a replacement. Or, opt for hoisin sauce instead. It's really just a matter of preference.
Don't let that rotisserie chicken you ordered go to waste. Instead, make some tasty soup with the leftovers!
The secret ingredient is whole wheat pasta, not just because it's chock-full of rich vitamins your body needs to stay healthier, but because they absorb a lot more liquid than traditional pasta.
If you don't have wheat pasta or don't like the texture, of course, you can swap it out with another type of pasta you prefer. If you want to make your broth a little creamier, why not add a splash of half and a half or heavy cream?
Some sweet, some spice, and everything nice! That could be the new catchphrase for this unique dish. If you've been wondering what to make with noodles, look no further than this recipe right here.
While all the ingredients work together to create something truly amazing, the secret ingredient in this tasty vegan dish is a liquid amino. If you're unsure of what these are, liquid aminos help you feel food longer and make food taste better.
If you don't have access to these, you can just replace them with soy sauce for extra flavor.
If you have some leftover ground beef laying around, we highly recommend using it to make this tasty, flavorful recipe.
Hoisin sauce is the secret ingredient because it adds a barbeque type of flavor to the meat and noodles. Unfortunately, there's not really a great one-to-one substitute for hoisin sauce, but soy sauce will do the trick in a pinch.
Feel free to swap out ground beef for ground chicken or turkey instead. Whatever you're in the mood for, it'll all work!
One of my favorite things about ramen is how quickly it cooks. Instead of buying something at the store, here's a quick, five-minute recipe you can keep in your back pocket when you need it.
What I love about this recipe is that you can customize it. Leave it as is or toss in some fresh veggies, scrambled eggs, or your choice of meat. Swap out vegetable broth for beef or chicken broth.
No matter which way you go, the secret ingredient you shouldn't overlook is tamari. If you don't have tamari, like other entries on this list, soy sauce will do just fine as an alternative.
Who says the best lo mein is only available through takeout?
If you're looking for easy noodle recipes with few ingredients, this one for lo mein reigns supreme. In order to get the perfect sizzle and crunch, the secret ingredient you can't ignore is oil. This elevates the texture of the noodles.
If you prefer something a bit spicier, swap out the red bell pepper for a poblano pepper. Or, add a variety of peppers to create a unique flavor.
When it comes to noodle dinner ideas, nothing ranks quite as high as this one as a side salad to serve with your main entree.
Sriracha sauce is the secret ingredient simply because it's so unexpected and really gives this recipe a kick. While you can serve this as the main course, we think it pairs great on the side with some fresh veggies and honey chicken.
If you want to swap out anything, you can swap out the chunky peanut butter for the creamy version. Or, don't use peanut butter at all and instead opt for almond butter.
If you want something a little different, this recipe has to be one of the best dinner ideas with noodles we've seen.
This Asian-inspired dish is one of our favorites. The secret ingredient for this recipe is soy sauce. It's not only a base for a lot of the other ingredients in this recipe but it also helps inform a lot of the flavor of the dish.
If you're looking for a substitution, try swapping out the garlic cloves for garlic powder. While it might lack a bit of texture, there shouldn't be any change in the overall flavor.
Have you ever bought chow mein at your local Panda Express and wondered to yourself if it was something you could make yourself? Now you can make this awesome chow mein in the comfort of your own home.
The secret recipe for this is onion. It adds a little bit of crunch to the dish while bringing out some of the other flavors in the dish.
If you need to change things out, try swapping out the ginger for some allspice if you have it handy. It makes for a great substitution and it won't affect the overall flavor.
You don't have to pay an arm and a leg for the restaurant experience!
This next dish is one of our favorite quick noodle recipes. This Filipino-inspired dish is one worth trying out for yourself.
The secret ingredient is the chicken. It brings a lot of flavor to the dish and compliments the other ingredients well while adding a protein element. If you need to change things up, try swapping out the fish sauce for additional salt.
Not everyone is a fan of seafood so it's understandable if you'd rather not add the taste of fish to your dish, so feel free to make this dish your own.
This might be one of the best noodle dishes on this entire list. It's an easy-to-make take on an alfredo dish that is sure to please your entire family.
The secret ingredient here is cream cheese. While that might not seem all that secret based on the name, it provides nearly all of the flavor for this dish and makes for an excellent sauce for your pasta to mix with.
If you're looking for a substitution, try swapping out the spaghetti for pasta of your preference.
Whether you serve these up as a tasty side dish or a main course, these delicious butter garlic noodles are sure to please you and your family.
The secret ingredient is the Parmigiano Reggiano cheese. It's a slightly different take on regular parmesan cheese that is full of flavor and provides some extra texture.
If you're looking to change things up, try swapping out the cloves of garlic for garlic powder. It will serve the same purpose without changing the flavor of the overall dish.
We love it when there's a bit of heat with our sweet. The secret ingredient that gives all the other ingredients a little kick is sriracha.
Whether you add a little or a lot, there are countless ways to make this quick dinner your own. If you want to swap the sriracha out, you can swap it out for some hot sauce or harissa, which is made from a hot chili paste.
If you're looking for a quick and easy meal to make tonight, this is the one for you.
You need a quick and easy meal that will feed a lot of people. What to do? The answer: make a casserole!
Combining the flavors of chicken noodle soup with the rich creaminess of a casserole, this recipe is the ultimate comfort food. As with any casserole, the secret ingredient comes down to the cream of chicken or mushroom soup.
Of course, you can double up on cream of chicken if you don't like mushrooms, or swap it out for another creamed soup. Toss in some fresh veggies and enjoy!
Garlic and parmesan are the perfect pairings, right? Though this simple recipe doesn't have a lot of ingredients, they all make up for it in terms of flavor.
The secret ingredients are garlic cloves. They add a ton of flavor and you simply can't make this dish without them.
If you don't have garlic cloves, you can, of course, swap them out with some garlic powder instead. But, we really recommend trying to use fresh garlic cloves as much as possible.
Are you looking for recipes for noodles tonight? Why not try something a little different such as Mongolian beef and noodle?
The secret ingredient is cornstarch, as it helps thicken up different sauces. If you don't have cornstarch, you could thicken up the sauce with a little bit of heavy cream, as well. Or, if you want to try and make this healthier, swap out the beef for tofu instead.
This is one dinner recipe everyone around the table will enjoy. It's sure to quickly become one of your go-to favorites.
If you've never tried this salad – or worse, even heard of it – we've got you covered.
The secret ingredient is honey. Not only does this add some sweetness to your other ingredients, but it helps thicken them up, as well.
If you don't have honey, maple syrup is a great alternative. Furthermore, if you prefer not to use peanut butter, swap it out with something else like almond butter. While it's not a traditional salad, it's one you'll want to eat over and over.
Here's the best Easy Noodle recipe,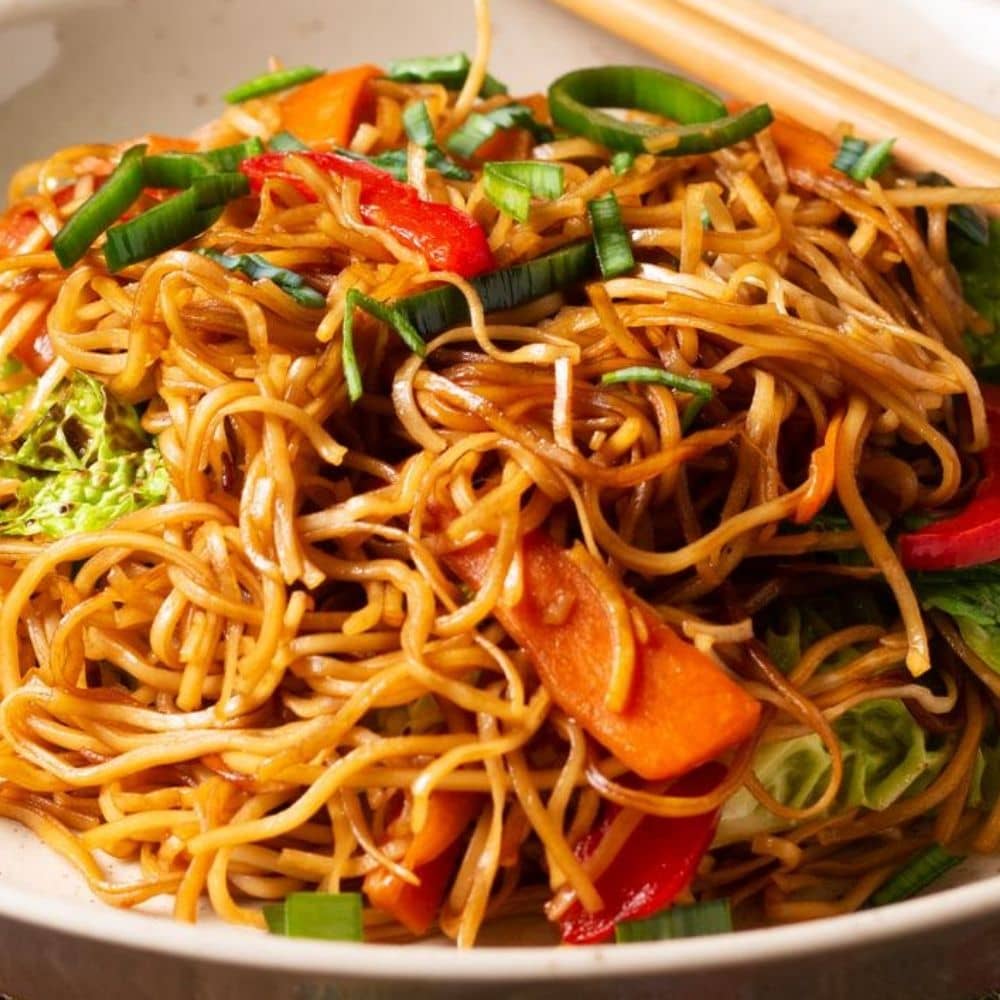 30 Easy Noodle Recipes
Yield: 4 servings

Prep Time: 25 minutes

Total Time: 25 minutes

This recipe is chock-full of bold, intense flavors we guarantee you'll love.
Ingredients
1 pound ground beef
1 small green pepper
1/3 c chopped onion
1-1/2 c water (add more if needed)
3-1/4 c uncooked medium egg noodles
1 can (14-1/2 ounces) diced tomatoes
1/8 tsp pepper
1/4 c chili sauce
1/4 tsp salt
4 bacon strips
Instructions
Cook beef, onion, and peppers in a large pan over medium heat for about 5-7 minutes. Once it's no longer pink, grab your fork to start crumbling it.
Once crumbled, drain the excess liquid.
Add in your tomatoes, chili sauce, water, salt, pepper, and noodles, and bring to a boil. Once at a boil, reduce heat and simmer with the lid on for about 15-20 minutes.
If you want, top with bacon.
Notes
If you prefer your peppers a little spicier, then swap them out with poblano peppers for extra heat. Like all types of noodles, go ahead and swap them out for veggie or wheat alternatives.