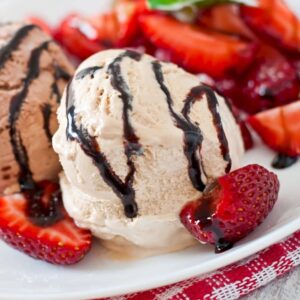 The Ninja Creami makes it super easy to make delicious frozen treats at home.
While Ninja ice cream recipes might be most commonly associated with an unhealthy dessert, there are many healthy Ninja Creami recipes out there!
Nothing beats healthy frozen treats, especially in the summer months, and the Ninja Creami is a great way to whip up endless options with ease.
Even on your busiest summer days, when you feel like you're constantly on the go, these 27 Ninja Creami recipes will give you a quick, easy, and healthy frozen treat you will enjoy!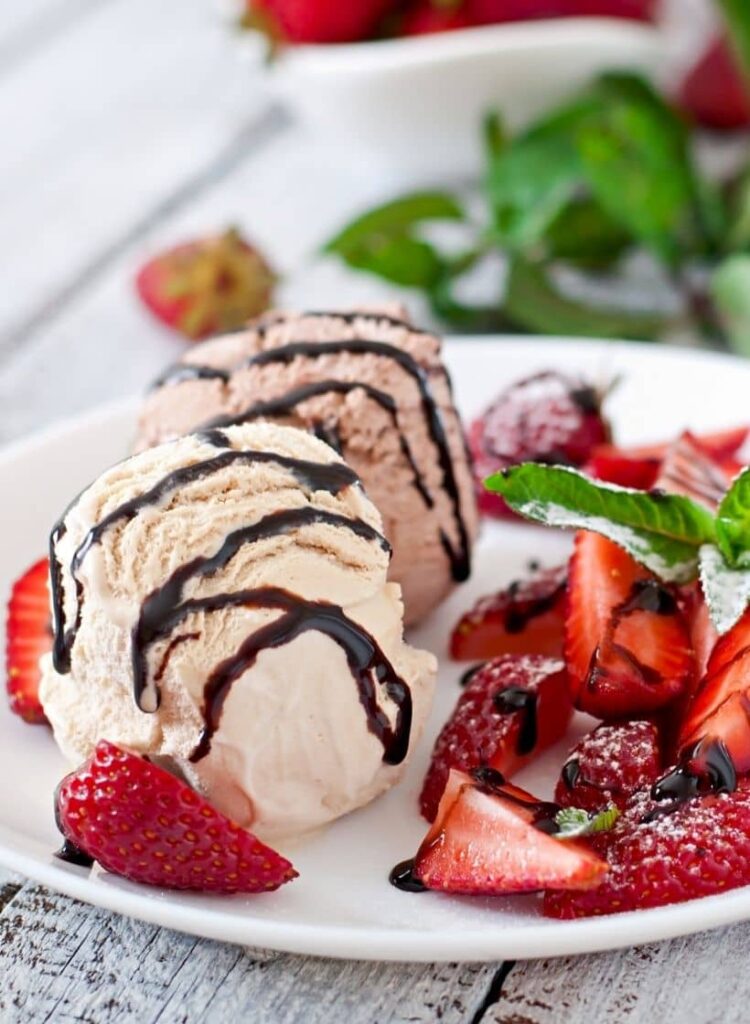 This delicious strawberry ice cream is naturally gluten-free, making it the perfect quick and healthy snack on a hot summer day!
The recipe calls for heavy cream, but if you want to make it dairy-free and/or vegan, you can easily substitute coconut cream instead.
The recipe also calls for monk fruit sweetener instead of traditional sugar, but you can absolutely use regular sugar or your sugar replacement of choice.
The best part of this recipe is the fresh strawberries! You can use frozen ones if desired, but you just can't beat the flavor of fresh fruit. You can even add in a banana or another favorite fruit!
Orange creamsicles are a classic summer treat, and this take on Creami recipes delivers the memorable flavor perfectly!
Orange extract is a simple way to get that delicious orange flavor, and the surprise addition of cream cheese really makes this ice cream smooth and creamy.
If you want a dairy-free option, you can use vegan cream cheese, coconut cream, and your milk substitute of choices like coconut milk or oat milk. (I prefer oat milk because it seems to be the creamiest of the milk substitutes I have tried.)
This ice cream recipe is both savory and sweet, combining the complementary flavors of honey and goat cheese.
Though goat cheese may sound like a weird flavor for ice cream, we guarantee this recipe will change your mind!
Dare to give it a try? This recipe simply calls for four basic ingredients: heavy cream, milk, honey, and goat cheese, but after that, the possibilities are endless.
Get creative with your favorite jams, fruits, nuts, or even rosemary! Who knows, savory ice cream just might become your new go-to!
Who can resist the refreshing flavor of mangoes on a hot summer day? Not us!
This sorbet is quick and easy, and everyone will love it. The best part is that it only requires one ingredient. Yes, you read that right, one ingredient. All you need is canned mangoes, meaning you don't even have to slice and dice up a fresh mango.
Simply freeze the canned mangoes in the Creami pint ahead of time, then blend them up when you are ready to enjoy this delicious sorbet.
Is iced coffee your go-to goodie? Why not take it a step further with coffee ice cream!
This recipe is super easy to make, and because it already uses almond milk, you can easily make it dairy-free by using coconut cream instead of heavy cream.
If you want to add even more flavor to this coffee-filled delight, use vanilla or chocolate flavored milk instead of regular. It will add more depth and sweetness and make your ice cream taste more like a frozen mocha. Yum!
What list of Ninja creamy recipes would be complete with gelato? Certainly not this one!
Butter pecan is a classic ice cream flavor nearly everyone loves, so combined with the extra creaminess of gelato, who can resist?!
The secret to this recipe is egg yolks, which actually get cooked with the rest of the ice cream ingredients before getting frozen in the Creami pint. Egg yolks make ice cream extra creamy and smooth, and the butter extract really packs in the irresistible butter flavor we all crave!
You can never go wrong with good, old-fashioned vanilla ice cream, and this recipe agrees! Plus, did we mention it is keto-friendly?
Ninja Creami keto recipes are great because they give keto dieters the opportunity to enjoy their favorite frozen desserts guilt-free.
The secret ingredient in this recipe is cream cheese, which really adds to the vanilla flavor to create a rich and decadent delight you won't want to miss, even if keto is not your thing. And with vanilla as a base, your topping and add-in choices are endless, whether you keep them keto or not!
Who could say no to chocolate ice cream? It seems impossible to resist as it is, but making it in the Creami makes it even more appealing and healthier, too.
This recipe really packs in the chocolaty goodness with cocoa powder and chocolate almond milk, and the best part is, it is still keto-friendly! You can even add in some low-carb chocolate chips for triple the chocolate.
If you are not worried about keeping it keto, candy bar pieces, marshmallows, and even caramel sauce make excellent toppers!
Yes, we had to add another chocolate ice cream recipes to this list, and this one is definitely a can't-miss treat, too!
The best part of this recipe is the addition of cream cheese. While cream cheese has made it onto the ingredient lists of a few of these other recipes, it is especially delicious combined with chocolate!
This particular recipe is dairy-heavy with cream cheese, whole milk, and heavy cream, but you can absolutely make it dairy-free with coconut cream, non-dairy cream cheese, and non-dairy milk.
This decadent dessert is a can't-miss!
The raspberry flavor in this delicious summery recipe comes from a combination of both raspberry preserves and fresh raspberries, and the secret ingredient is actual pieces of white chocolate truffles! The recipe recommends Lindt Lindor truffles, but you can use your truffle of choice!
If you aren't a white chocolate fan, dark chocolate truffles would also pair well with raspberry, and you can always use your favorite chocolate of choice! If you are more of a fruit person than a chocolate person, you can even leave it out altogether.
This chocolate ice cream is not just keto-friendly — it is also a great source of protein itself!
With only five ingredients, this recipe will wow you with how easy it is! Plus, it has a super-secret ingredient that makes it extra creamy! You may not have heard of guar gum before, but it is a thickening agent that will make this ice cream creamy, smooth, and delicious.
The protein in this ice cream comes from using chocolate whey protein, which, combined with cocoa powder, produces the irresistible chocolate flavor you're sure to love.
Blueberry and lemon are a classic, light, and delicious combo you cannot ignore, and this sorbet harnesses that deliciousness into the perfect summer treat.
This ice cream only has four ingredients, and the lemon flavor comes from lemonade, which is heightened by the addition of cream cheese.
Depending on your preference and what you have on hand, you can use fresh or frozen blueberries. Frozen blueberries are quick and easy, but nothing quite beats the tangy but sweet flavor of fresh blueberries!
This frozen yogurt is gluten-free and vegetarian! What's not to love about that?
The base of this recipe is plain whole milk yogurt. (The recipe calls for Stonyfield, but you can substitute your yogurt of choice and even use vanilla or raspberry for some extra flavor!)
Additionally, the recipe recommends monk fruit sweetener, which is a sugar substitute. Still, you can use your substitute of choice or traditional sugar, as well, if you are not worried about being low-sugar.
Espresso and dark chocolate? Sign me up!
If you are looking for a kick of caffeine, this ice cream is for you. Plus, it is vegan and dairy-free!
Chocolate extract, cocoa powder, dark chocolate chips, melted chocolate on top — you get the idea. Combined with your choice of espresso or extra strong dark roast coffee, this flavor explosion will have you coming back again and again.
Why drink iced coffee when you can enjoy this ice cream instead?
This recipe is dairy-free, gluten-free, and delicious! Nothing beats the heat, like the refreshing tropical flavors of coconut and lime.
The surprise ingredient in this recipe is avocado, which most people don't expect to find in ice cream. However, we promise you, the avocado makes this ice cream extra creamy, the health benefits are undeniable, and the green color makes this treat extra festive!
The coconut flavor comes straight from canned coconut milk, which just adds to the creaminess. If you give it a try, you won't regret it!
Peach and raspberry combine to make a light and refreshing flavor combo for a frozen treat!
Nothing beats fresh peaches and raspberries, and this recipe is no exception with its homemade purees that bring this ice cream to the next level. Because you are pureeing your fruit, this recipe does take a bit longer than some of the others on this list, but using the Ninja Creami will speed up the process.
The great thing is that this recipe has whole milk, heavy cream, and egg yolks, so it will turn out extra creamy and delicious!
Vanilla bean is fun but classic flavor everyone loves, and it pairs well with so many toppings, flavors, and other desserts (birthday party, anyone?).
Vanilla bean paste is the special ingredient that really packs in the flavor, and combined with cream cheese, you will be wanting second helpings!
If you want add-ins or toppings, we recommend fresh fruit like strawberries or raspberries, chocolate or caramel sauce (or both!), or pieces of your favorite candy bars! If you want to get extra fancy, use your scoop to top a brownie, a slice of apple pie, or a chocolate chip cookie!
You can't list the best Ninja Creami recipes without including this one! Lemon cookies are light and delicious, and the only thing that might be better is lemon cookies in ice cream form!
Lemon extract and cream cheese create the perfect sweet but tangy and tart base, and the addition of golden Oreos gives the much-needed crunch you'll crave in every bite.
If you really want to embrace the theme, the recipe suggests using some yellow food coloring, but the flavor will stay the same if you choose to exclude it. You can also use freshly squeezed lemon juice if you want even more lemon flavor!
Are you asking yourself what on earth is a persimmon? If so, we've got you covered.
Persimmon is a berry that grows on fruit trees, but it looks a bit like a tomato! It has a honey-like flavor and is similar to a mango or peach, so it pairs so well with ginger in this delicious sorbet!
The key is to use crystallized ginger, which perfectly fits the persimmon and adds a satisfying crunch to every bite. We know you'll be making this sorbet more than once!
This delicious blackberry ice cream is dairy-free, paleo, and only has five ingredients! How easy is that?
The trick is to roast the blackberries before mixing them with the other ingredients to soften and become nice and juicy.
This recipe uses a traditional ice cream maker, but to make it in your Ninja Creami, just follow the steps until it is time to put everything in the ice cream maker.
Combine all the ingredients, put them in the Creami, and freeze overnight. Then, all you have to do is spin your ice cream when you are ready to eat it!
This amazing banana ice cream recipe is so delicious, and it only calls for three ingredients: banana, almond milk, and chocolate chips!
If you've never had banana ice cream before, you are missing out! It is sweet, creamy, light, and the perfect summer pick-me-up that will leave you satisfied and refreshed.
The recipe calls for toasted coconut almond milk, but your almond milk of choice will work! And if you prefer coconut milk, cashew milk, or oat milk, they will also be just a yummy. You could even use chocolate milk!
This recipe is actually three-in-one from a brand-new Creami user! We've got you covered whether you want gelato, classic chocolate ice cream, or a milkshake with a twist!
Blueberry cheesecake?! Say no more! The only thing better than cheesecake is cheesecake in ice cream form, and this recipe delivers!
The Death by Chocolate ice cream is chocolate to the extreme! As an official Creami recipe, you won't want to miss out on this one!
Last but not least, who could say no to a classic strawberry milkshake? In addition to ice cream, there are also Ninja Creami smoothie recipes, and this one is the perfect example. The options truly are endless!
Sweet and salty, this ice cream comes with a boozy twist! Plus, no one can say no to caramel, so we wouldn't be surprised if this recipe becomes your new go-to sweet treat!
This recipe is not tailored specifically to the Creami, but you can combine the ingredients in a Creami pint and proceed as normal.
While bourbon is in the name, brandy will work just as well! And if you are alcohol-free or have little ones, you can make this without the booze (or even use espresso instead!) So many delicious options to choose from!
What is the difference between custard and ice cream, you ask?
It is simple! Ice cream is, at its base, made from milk, cream, and sugar, and custard is also made with these ingredients — plus egg yolks! (So, really, once could argue that many of the recipes above are actually custard, but the two have become so interchangeable that the nuance really no longer matters.) The egg yolk makes the mixture even creamier, so the custard is so popular.
This recipe requires the ingredients to be fully chilled before mixing, so it is the perfect recipe to throw into your Creami! Plus, the egg yolk combined with heavy cream, half and half, and vanilla bean paste makes an incredible custard, and that all happens before we even get to the chocolate! Enjoy!
Caramel, coffee, ad keto, oh my!
This recipe uses Caramel Macchiato Keto Chow, so you must plan ahead to make sure you have some on hand and ready to use.
This recipe is perfect for your Creami because you simply mix the ingredients according to the recipe, freeze the mixture in your Creami pint, and blend!
This ice cream is perfect for keto eaters because they can enjoy the decadent flavor of caramel without guilt!
One of the great things about Creami Ninja recipes is that they are a great way to get protein into your dessert! And this recipe is no exception.
It is so easy you won't even believe it! All you need is a Fairlife protein shake of your choice and whatever add-ins you prefer! Candy, fruit, sauces — the possibilities and flavor combos are endless.
You can keep experimenting until you find your favorite customized protein ice cream! Ice cream for breakfast, anyone?
Chocolate and cherry is an underrated but all-around delicious combo you won't be able to resist, especially in gelato form!
What is Stracciatella gelato? It is a milk-based ice cream filled with chocolate shavings, and it truly does pair perfectly with cherry flavor! For this ice cream, the cherry comes from cherry preserves (use your favorite!) and fresh cherries on top. If you prefer raspberries over cherries, you could use raspberry preserves and berries instead!
This ice cream recipe is not specific to the Creami, but it will work just as well in a Creami pint.
Want even more ice cream options to make in your Creami? Check out our recipe for Cinnamon Bun Ice Cream! So good!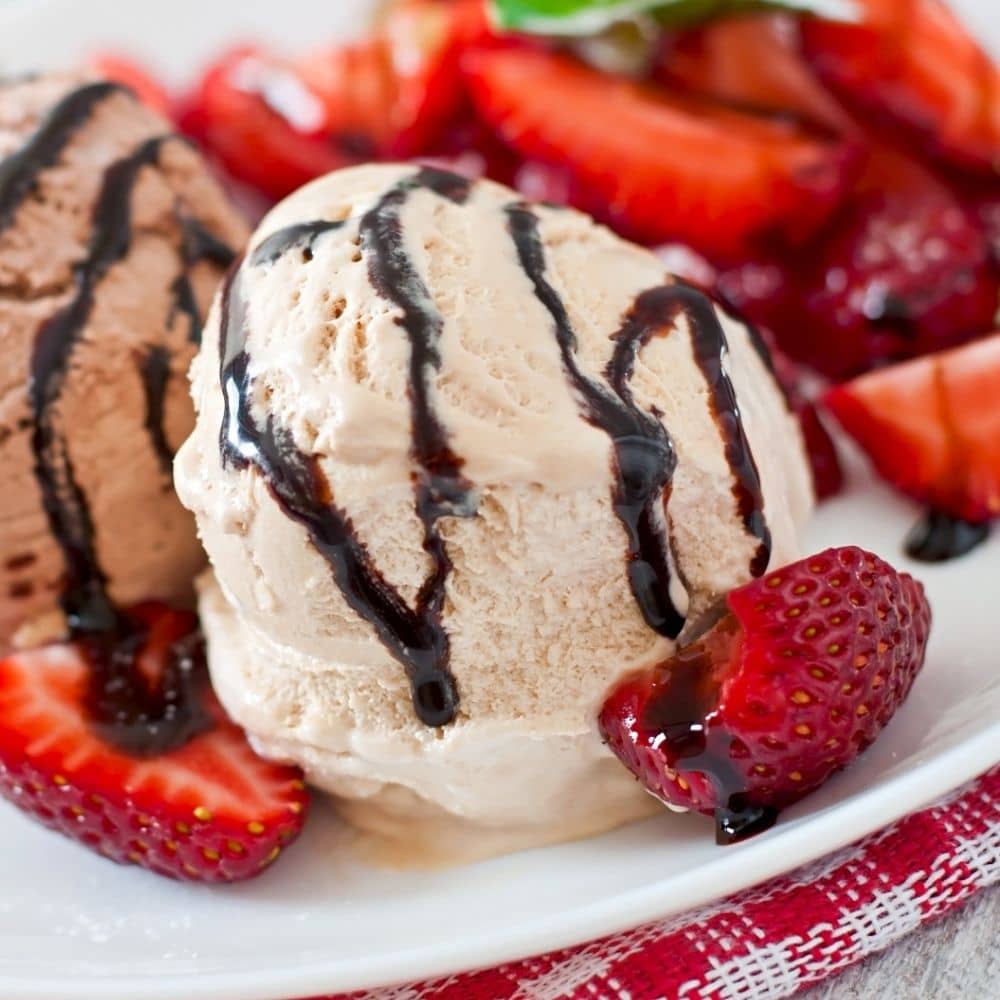 27 Delicious Ninja Creami Recipes
Nothing beats healthy frozen treats, especially in the summer months, and the Ninja Creami is a great way to whip up endless options with ease.
Ingredients
1 tbsp cream cheese, softened (use vegan cream cheese for dairy-free)
1/3 cup brown sugar
1 tsp vanilla extract
1 tsp ground cinnamon
3/4 cup heavy cream (use coconut cream for dairy-free)
1 cup whole milk (use coconut milk or oat milk for dairy-free)
Instructions
Whisk together cream cheese, sugar, vanilla, and cinnamon until smooth
Mix in the cream and milk until well combined and smooth again.
Freeze in a Creami pint for 24 hours, then use the Ice Cream setting and serve immediately. Enjoy!
Notes
The cinnamon and cream cheese flavors in this ice cream are delicious, but you can also top it with fresh berries, caramel sauce, or grand cracker crumbs (or all of the above)!