This carrot cake is so easy to make, perfectly moist, with an incredible flavour of spices, and topped with a super-simple & delicious cream cheese frosting.

HOW DO YOU MAKE CARROT CAKE?
Once you realize how easy it is to make a carrot cake from scratch, you'll want to make it over and over again!
To make this carrot cake, you'll start by mixing your wet ingredients together.
You'll be mixing oil, brown sugar, granulated sugar, then adding vanilla, and finally the room temperature eggs one-at-a-time.
Next, you'll add your nicely shredded carrots into the mix — we love to grate the carrots in 3 different textures, just to be a bit different!
Next prepare your dry ingredients; flour, baking soda, salt, and spices. Fold the dry and wet ingredients together and then add in the buttermilk! It'll give the carrot cake the perfect amount of moisture!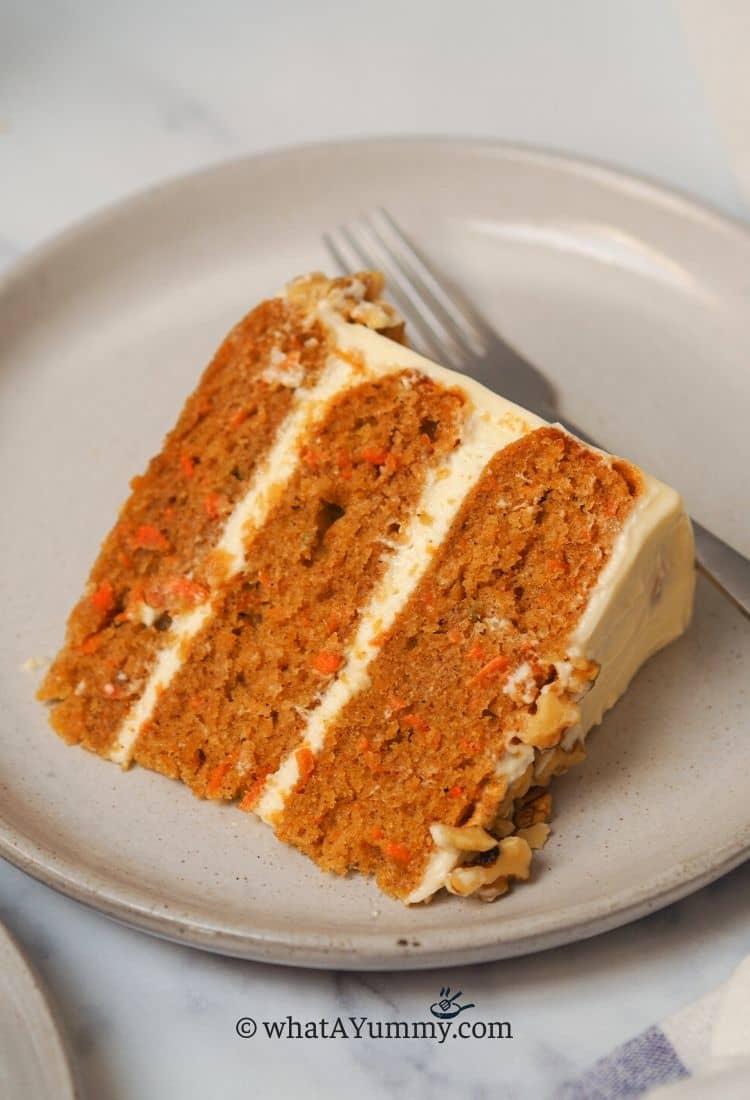 HOW TO MAKE CREAM CHEESE FROSTING
We're all about the extra creamy cream cheese frosting! It's soft and creamy and it's the best pairing for the carrot cake!
The best thing about it is making the frosting is super easy. Start with whipping together cream cheese and butter. Set them out on the counter to warm up for at least 30 minutes before you get started, as it'll make it easier to work with.
Next, add the vanilla and gradually add the sifted icing sugar. The texture should be light, fluffy, and whipped! -The perfect companion fr your beautifully moist carrot cake!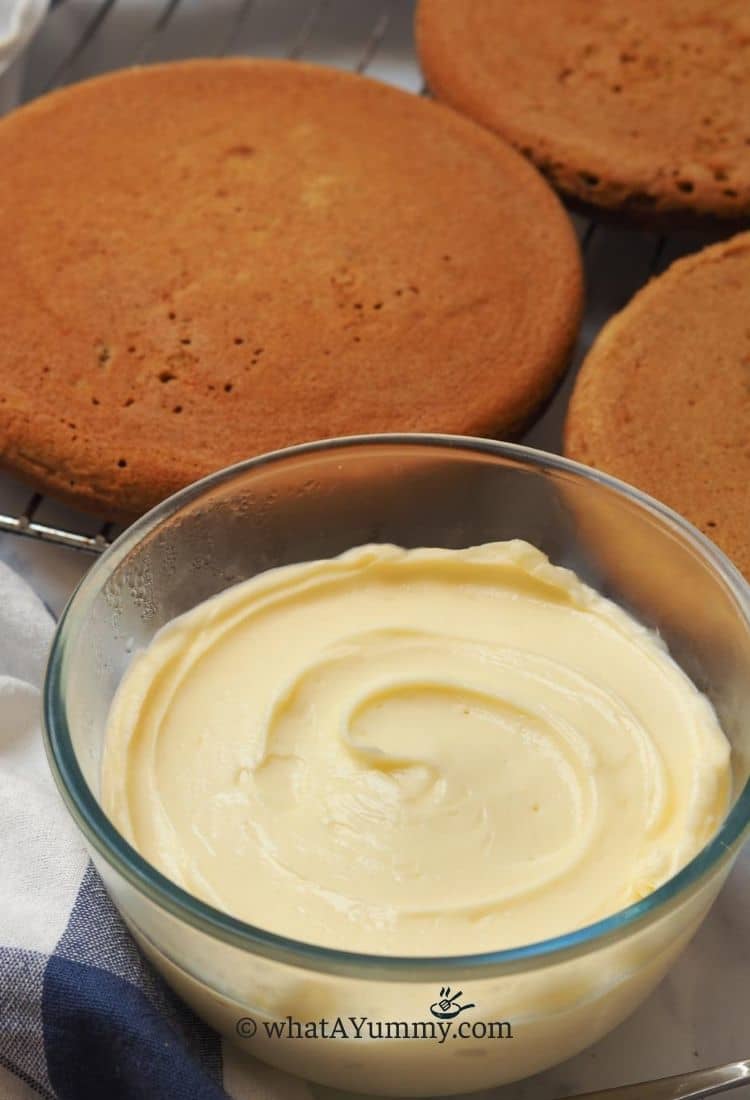 TIPS
1. Don't Overmix the Batter Overmixing the batter will make a tough and less appetizing cake.
2. Use Brown Sugar Using brown sugar will make your carrot cake richer, more moist & complex in flavor because of the molasses in brown sugar.
3. Perfect Frosting You can prepare the frosting the day before and leave it in the fridge until decorating the cake. If it is just a little bit too cold or stiff, leave to soften at room temperature for 20-30 minutes before using it.
CAN I USE BUTTER INSTEAD OF OIL IN CARROT CAKE?
Carrot cake is in fact oil-based rather than specifically butter-based.
The oil keeps it moist and helps it stay fresh for days. In brief, you can absolutely substitute butter for vegetable oil but you'll have to change the measurements a little.
We typically use about three-quarters of the amount of butter that is called for in the carrot cake recipe, so for instance, For 1 cup of vegetable oil use 3/4 cup of butter. Melt it down, then let it cool just a bit before using it.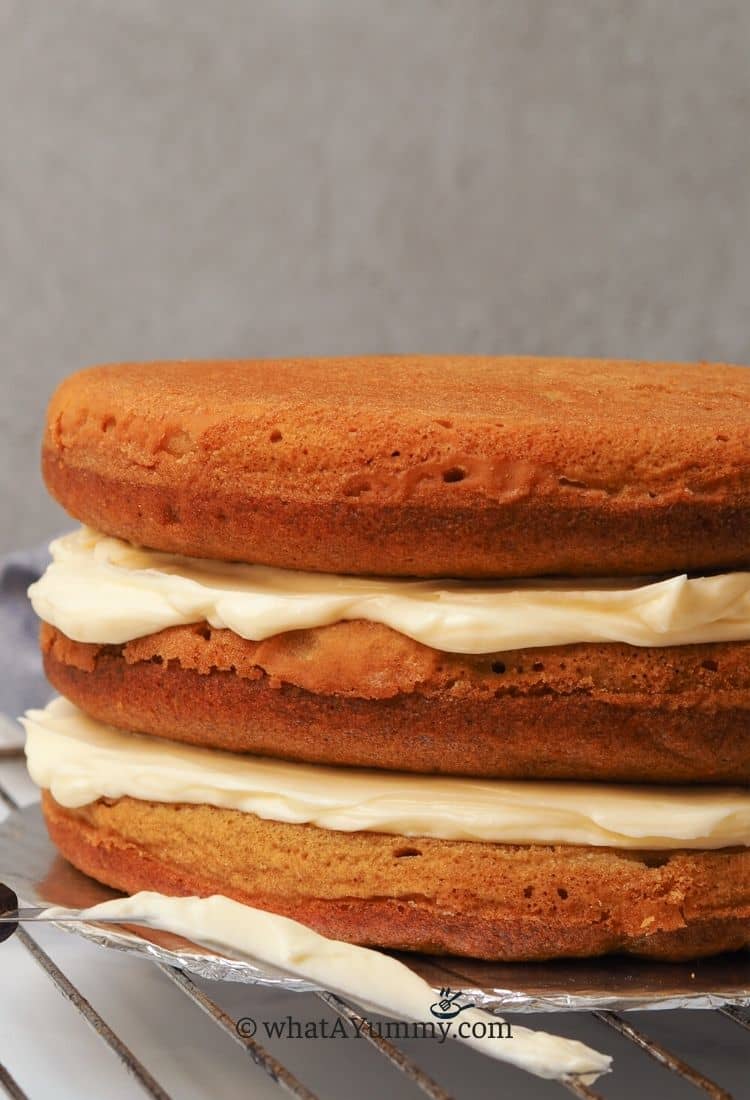 HOW TO STORE CARROT CAKE
Carrot cake stays fresh for up to 5 days when stored in an airtight cake container, in the fridge.
The carrot cake also freezes very well.
Simply wrap it well in plastic wrap, then place inside a snap-lock bag and store in the freezer for up to three months.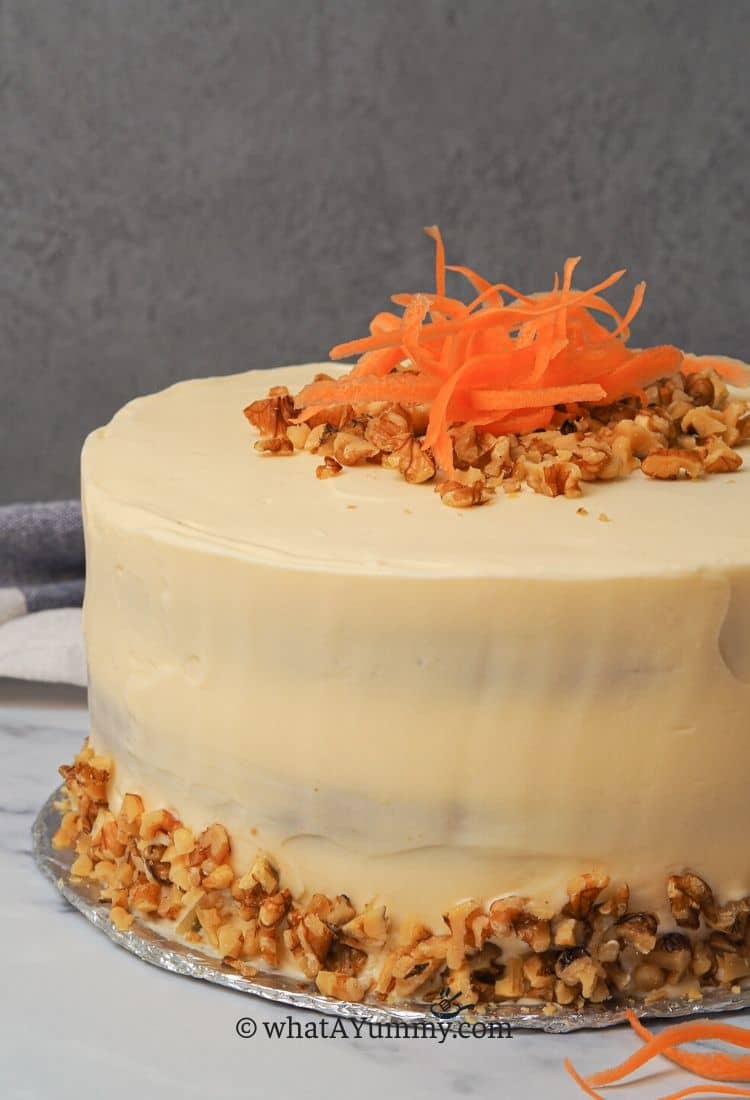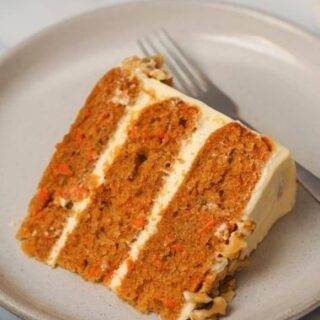 Super Moist Carrot Cake with Cream Cheese Frosting
Chill for at least:
30 minutes
Total Time:
1 hour
18 minutes
This carrot cake is so easy to make, perfectly moist, with an incredible flavour of spices and topped with a super-simple & delicious cream cheese frosting.
Ingredients
Carrot cake
1 cup vegetable oil
1 cup granulated sugar
1/2 cup brown sugar
3 eggs room temperature
1 tsp vanilla extract
2 1/2 cups carrots grated
2 cups all-purpose flour
2 tsp baking soda
1/2 tsp salt
2 tsp cinnamon
1/4 tsp nutmeg
1/8 tsp ground clove
1 cup buttermilk
For the cream cheese frosting:
2 packages cream cheese, room temperature
11 tbsp unsalted butter, room temperature
1 1/3 cup icing sugar, sifted
1 tbsp vanilla extract
Instructions
Preheat oven to 350 F./ 170 C.
Grease and flour 3 round cake pans. Set aside.
In a medium bowl whisk together flour, baking
soda, salt, cinnamon, nutmeg, and clove. Leave aside.
In a large bowl mix together oil, sugar, and
brown sugar.
Add eggs, vanilla extract, and the carrots. Set
aside.
Gradually mix the dry ingredients into the wet
ingredients, alternating with the buttermilk until well combined.
Bake for 18 minutes or until moist crumbs clings
to a toothpick inserted into the centre. Do not over-bake.
Let the cakes cool down on a rack.

For the cream cheese frosting:

Beat cream cheese and butter together until smooth. Mix in vanilla extract. Add powdered sifted sugar, one cup at a time.
To assemble the cake:
Place the bottom layer on a cardboard round on serving plate. Scoop about 1/2 cup of the cream cheese frosting onto the bottom cake layer.
Spread the frosting thinly and evenly over the surface and out to the edge of the cake. repeat with remaining cake layers.
Spread frosting around the sides of the cake, adding more as needed, until it's covered. Use the palm of your hand to cup chopped walnuts around the edge of the cake, if desired.