You cannot go past this recipe for LEMON BARS without trying them, because who would want to skip on an amazing buttery treat if it is so easy to make at home.
This is a 'melt- in the mouth' recipe and a perfect balance of both sweet and tangy, you'll love the buttery crust, the creamy lemon filling followed by whipped cream frosting.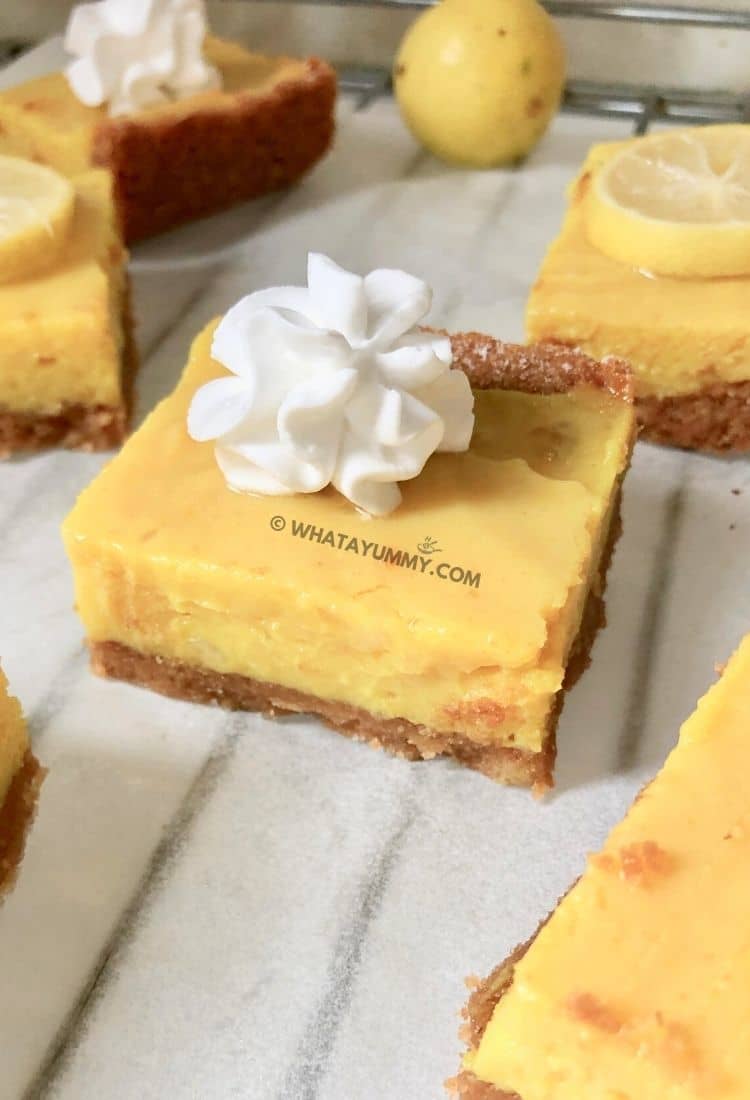 WHAT YOU'LL NEED TO MAKE LEMON BARS
These lemon bars are simply incredible and can be made with the simplest ingredients available in your kitchen. The classic lemon bars consist of the crust and the lemon filling.
The crust is usually made of butter, sugar, and flour but in this recipe, I've used a mixture of graham crackers and butter as my base just to make it easier.
We use eggs, sugar, lemon juice, and flour to make the traditional lemon filling. But for some of us who are either allergic to eggs or do not eat eggs for various reasons, I've replaced it with condensed milk, and trust me it tastes equally good.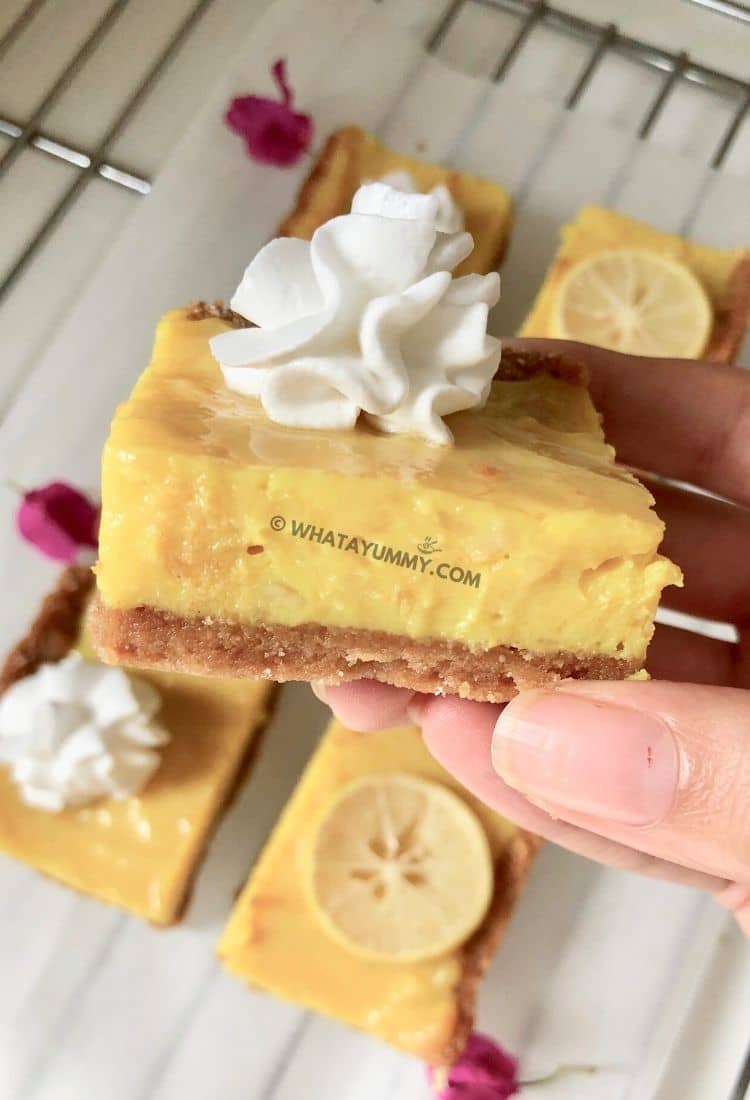 HOW TO MAKE LEMON BARS IN 5 STEPS
The Lemon Bars are an absolute treat to your taste buds and can be made very easily.
Preparing the crust: All you have to do is crush the graham crackers and mix it with melted butter. Make sure to press firmly into the tin and refrigerate it so that you get clean slices of the bars.
Preparing the lemon filling: Start by placing a pan on low-medium heat, add lemon juice and zest, sugar cornflour, and let the sugar dissolve properly.
Mixing the sugar mixture with the condensed milk- Combine the condensed milk with the lemon and sugar mixture. Add melted butter for the shine and turmeric powder for the authentic lemon color, don't worry it won't give a prominent taste to the filling.
Baking: Pour the lemon filling onto the refrigerated crust and bake it until the filling is no more jiggly.
Cooling Time: You will feel like digging into the bars as soon as they are out of the oven but you have to be patient and let them cool down completely and refrigerate them to get the best taste.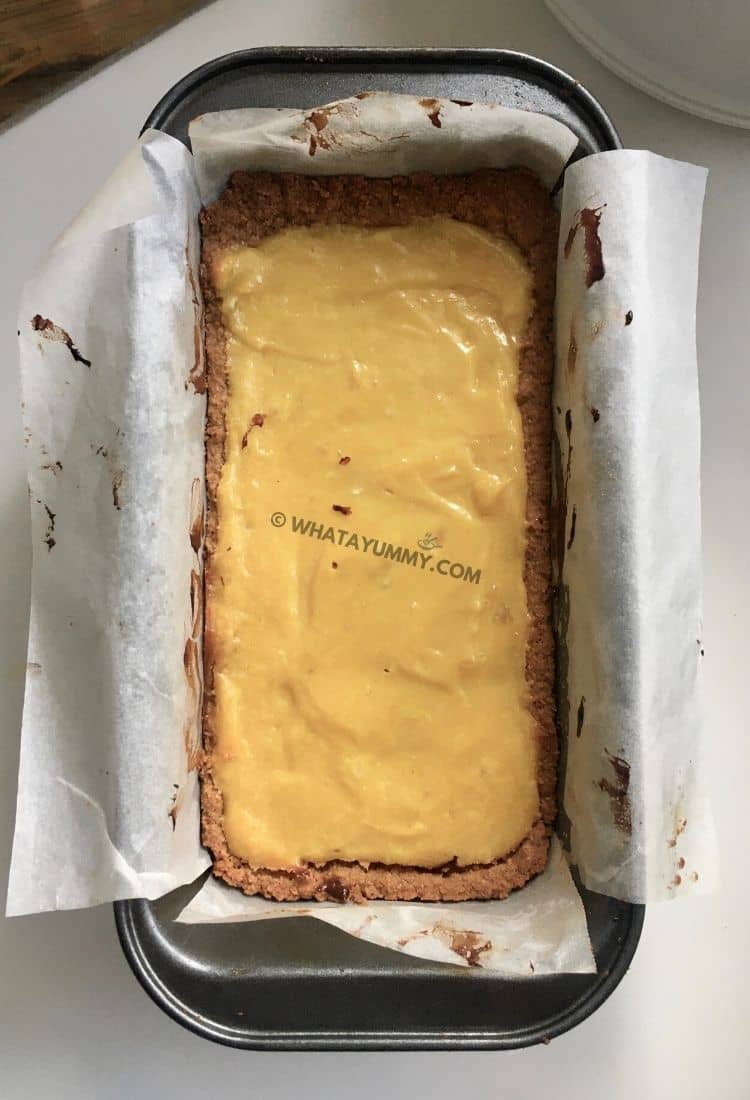 TIPS
1. Make sure there are no lumps in the lemon filling, so mix it all up very well.
2. Let the lemon bars cool down completely and refrigerate them for 2 hours before you take them out of the tin and slice them up.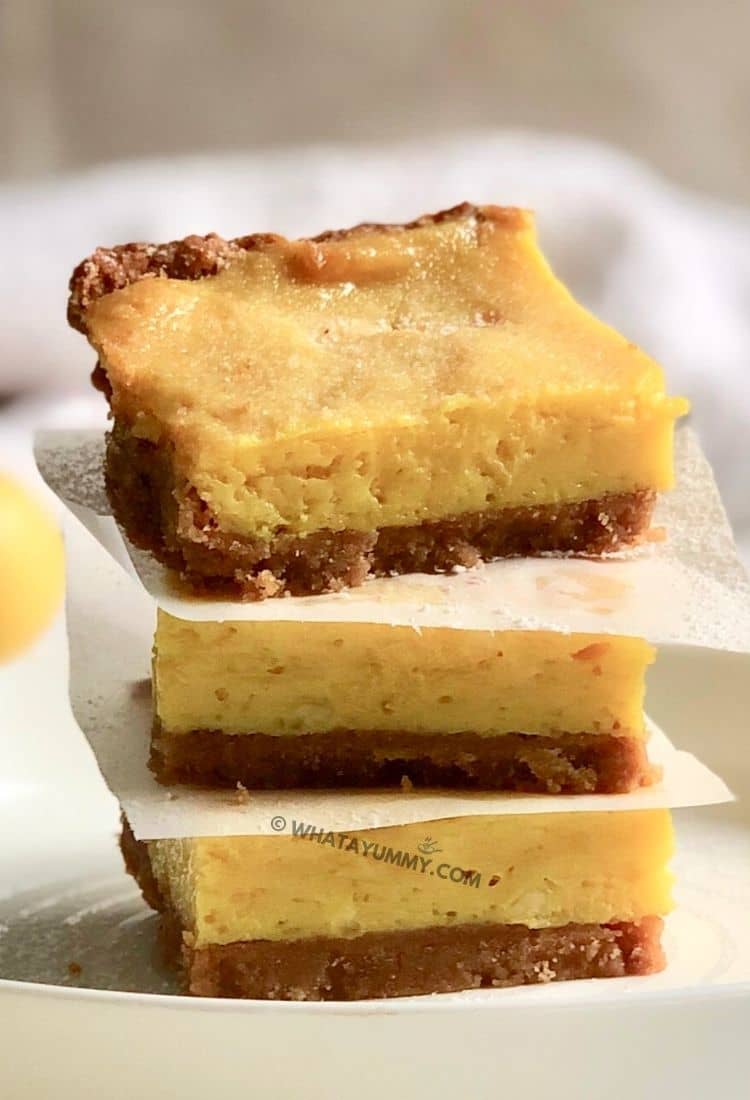 How to store the lemon bars?
The lemon bars stay good in the refrigerator for 2-3 days when stored in an airtight container.
You can easily make a big batch of these lemon bars and freeze them for up to a month. They stay fresh when stored in a zip lock bag but make sure to not apply whipped cream when storing.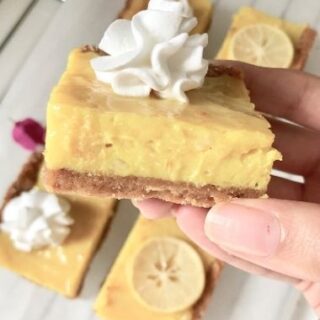 Melt in Your Mouth Vegan Lemon Bars
Total Time:
3 hours
30 minutes
These lemon bars are super indulgent that are loaded with butter, lemon, and sugar. 
Ingredients
Crust
16 Graham Crackers
1/3 cup melted butter
Lemon Filling
¼ cup Granulated sugar
¼ cup corn flour
200 ml Sweetened Condensed Milk
1/3 cup lemon juice
½ tbsp. lemon zest
A pinch of turmeric
1 tbsp melted butter
Whipped Cream for frosting
Instructions
Prepare a small loaf tin by lining it with a butter paper such that the sides are hanging out.
For the crust, crush the graham crackers and get them to sand-like texture.
Add the cooled melted butter into it and give a nice mix.
Transfer the mixture into the tin and evenly press it down, make sure it's firm.
Refrigerate it for about 30 minutes.
Meanwhile, start with preheating your oven at 170c.
For the filling, start by placing a pan on low-medium heat.
Add sugar, lemon juice, lemon zest, and cornflour in the pan, and stir it
continuously until the sugar is dissolved. Switch off the heat.
Take a big bowl and add condensed milk into it.
Pour the sugar and lemon mixture into the condensed milk and mix it up.
Add butter and turmeric powder to give the lemon filling, mix the filling until there are no lumps.
Take the tin out of the refrigerator and pour the lemon filling onto the crust.
Pop the tin in a preheated oven at 170c for 12-15 mins.
Let the bar come to room temperature and refrigerate it for 2 hours minimum before slicing into them.
Spread the whipped cream evenly on top and slice it up into squares.