"It comes from paradise, and it tastes like heaven." If that slogan speaks to you, Malibu is your drink!
Malibu is a coconut-flavored beverage containing about 21 percent alcohol– making it a rum-based liqueur rather than a spirit. It works beautifully in Malibu mixed drinks of all kinds. It's not as strong as some alcoholic drinks, making it easy to enjoy a few on a night out.
Drinks with Malibu rum make you feel like you're sitting on the beach soaking up some sunshine– regardless of where you are.
So if you're craving some vacation vibes, grab that cocktail shaker and a bottle of Malibu. We've got some Malibu cocktails for you!
The name of this cocktail suits it perfectly. It looks like a tropical sunset with pineapple juice on top and bright red grenadine on the bottom.
Pineapple juice is an excellent mixer for those looking for a sweeter, friendlier cocktail. If you're not a fan of a strong alcohol taste, this juice cuts the liquor well.
There's nothing like watching a sunset with the right sundowner. Find a view and pour yourself a Malibu Sunset!
Easy, breezy, and blue! This Blue Hawaiian Cocktail will remind you of the ocean as you sip away.
Blue Curacao gives it its beautiful hue. Creme de coconut and pineapple juice add extra island flavors.
This drink is shaken, not stirred, to mix up all those tasty ingredients just right. Don't forget to top it off with a colorful umbrella or yellow pineapple to offset the strong color.
If there's one thing for sure, you won't be feeling blue after one of these!
Add an Italian flair to your Malibu cocktail!
Limoncello is an Italian liquor made with sugar, lemon zest, and vodka. It has a refreshingly citrus flavor that wakes you up instead of putting you to sleep. That's why it's cleverly called a sunrise.
If you want a beverage that's both tart and sweet– and strong without tasting too boozy, try a Limoncello Sunrise Cocktail. It's a zippy and zesty crowd-pleaser!
You might actually feel the ocean breeze with this refreshing Malibu rum recipe!
Pineapple and cranberry juice are a great duo, creating the perfect balance of sweet and tart.
If you want to have a layered effect, pour each juice slowly, one at a time. The colors will layer beautifully like a Malibu sunset. Add a straw so guests can mix it up as they please.
It's a great option to serve in a large pitcher for guests. They can sit back and enjoy the scenery with a Malibu Bay Breeze in hand!
This Malibu coconut rum recipe is exploding with fruity flavor!
If you like cocktails with a tropical taste, look no further. This one has tart pineapple, sweet orange, and creamy coconut. Oh– and I almost forgot to say booze! To be fair, you may also forget how delicious this drink is.
Go crazy with fruit garnishes like orange and pineapple wedges. Drink responsibly and enjoy that extra dose of vitamin C!
The ocean might be salty, but this drink is sweet as sunshine!
This is one of many classic coconut rum cocktail recipes. The basic ingredients make it easy to have on hand and whip up at a moment's notice.
It makes an excellent choice as a batch cocktail to pour into a big pitcher. Garnish glasses with lime or pineapple and let your guests pour themselves a drink. A hands-off party favorite!
A rose by any other name would smell as sweet. The same goes for this yummy tasting drink.
Peach schnapps gives this drink a boost of booze, richness, and flavor. Pineapple and orange juices add tropical flavor, and grenadine gives it that summery red glow.
Garnish with cherries, pineapple, and even a mini-umbrella if you can! Everyone loves a pretty presentation to accompany their mixed drinks with Malibu.
Grab that bikini!
This drink is a hit at pool parties and picnics. With a pretty pink color and a dollop of ice-cold sherbert on top, it literally tastes like summer. Plus, it's sure to cool you off on those extra hot days.
Raspberry lemonade is the secret ingredient that gives this cocktail its color and refreshing taste.
If you want to go the extra mile, serve it with a cocktail spoon. Guests can stir– or scoop the sherbert– themselves.
A pineapple a day keeps the worries away. So get your fill with a Malibu Bay Breeze!
This cocktail has pineapple juice, cranberry juice, and Malibu rum. It's friendly, fruity, and loved by many.
The perfect choice for a party, it's also easy to make in large batches ahead of time. The flavors keep well. Just make sure to serve ice separately. You don't want those bay breezes to have too much water in them!
Wondering what you can mix with Malibu coconut rum?
Go wild with a Bahama Mama! This drink combines dark rum and coconut rum, so it is a bit stronger. It has a fruity flavor and a fun texture. This cocktail is best served blended to feel the soft, iciness with each sip.
My favorite garnish for this beverage is pineapple leaves. A burst of green atop a slushie beverage is basically a beach party in a glass.
Get your daily dose of vitamin sea and C all in one! This drink has beach vibes and fruity ties.
What makes this particular recipe unique is the way it's made. Several drinks use the same ingredients, but this one has a layering effect.
Pour the cranberry juice slowly at the very end, and its lightness will keep it afloat. Orange on the bottom and red on top, this drink is just as pretty as it is delicious.
Want to taste paradise? Here it is!
While many drink recipes with Malibu rum use pineapple and cranberry, this one also uses vodka. It's lighter on the juice and heavier on the alcohol, making it a great choice for those looking for a stronger but still refreshing cocktail.
Add a bit of lime juice for a brighter, citrus taste. Garnish with lime wedges and even a half-salted rim if you're feeling a bit adventurous!
Pineapples and coconut are a perfect pair for a Malibu rum recipe!
This drink has creamy coconut, tart juice, and sweet grenadine. It's refreshing and not overpowering, the perfect drink when you're looking for something full of flavor but light on liquor.
Top it off with some maraschino cherries for a burst of color. If you're looking to improve the presentation, add a thin pineapple ring to the glass.
If you like piña coladas…
Piña Colada actually means shredded pineapple in Spanish. However, most everyone associates the term with a mixture of pineapple and coconut. It's no wonder why since coconut rum is a primary ingredient! I can see how that gets confusing.
Whatever name it has, this coconut rum cocktail has a creamy and refreshing taste. It's a bit like a summer smoothie in a glass, but one that packs a punch!
Serve blended or on the rocks. Both are delicious and sure to give you those holiday vibes.
I'd be green with envy for anyone with this tasty, colorful cocktail.
Melon liqueur is the secret ingredient that gives this mistress her bright hue. The whipped cream topping offsets the sweet, honeydew flavor.
Overall, this cocktail has elements of sweetness, strength, and creaminess. It's an interesting and fun choice if you're looking for something different!
This Malibu Mistress is sure to give you butterflies. Cheer to that!
You might run fast, but this Rum Runner is a sipper. With 3 types of rum and Disarrono amaretto, it's on the strong side.
But don't worry! Just because it's packed with rum doesn't mean the recipe skimped on flavor. A bit of pineapple juice and grenadine add just the right hint of sweetness.
Oftentimes, rum is overpowered by juice, but this drink is different. It's the perfect option for a rum drinker that wants to taste the flavor of the alcohol without too much sweetness.
Whether you are hanging out with friends at home, on a date, or pre-drinking before a night out, this Malibu cocktail is great for all occasions.
It has simple ingredients and can be made in under ten minutes. If you're looking for easy drinks to make with Malibu, here's your answer! Pineapple juice, grenadine, and delicious coconut Malibu rum are the way to go.
While the cocktail may sound simple, you can jazz it up with garnishes. Try putting some cubes of pineapple alongside cherries on a stick and setting it right on top.
The drinks will be flowing with this Lava Flow cocktail. It's a true paradise as far as mixed drinks go.
Its strawberries and cream meet alcohol. Cream of coconut and fresh strawberries make this blended drink pop. While you can use white rum, the Malibu coconut rum enhances the beverage significantly.
It's sure to cool you off on a hot summer day or help you relax on the beach. Go ahead– pour yourself a glass of paradise!
This Easter favorite will have you feeling cool all spring! The Drunk Bunny is light, refreshing, and one of the easiest cocktails to make.
With two ingredients, you really can't go wrong. Simply mix strawberry lemonade with Malibu coconut rum, add ice, and stir! Play around with the ratio of rum to juice, depending on how strong you like your cocktails.
And hey, if Easter is still a ways away, don't be afraid to try this Drunk Bunny anyways. We promise we won't tell!
Taste the rainbow!
This tropical rainbow is the thing dreams are made of. It doesn't hurt that it's pretty on the eyes, either.
Blue Curacao, red grenadine, and yellow pineapple juice create quite the array of colors. Layer them one after the other by holding a spoon above the glass.
Slowly pour each ingredient into the drink, stacking them one upon the other. Some of the beverages will mix with the adjacent colors, creating a beautiful rainbow-like appearance.
Aruba, Jamaica, ooh, I wanna take ya to…Bermuda, Bahama, come on, pretty mama!
This Bahama Mama is straight from the Caribbean with Malibu rum.
Kahlua adds a unique element to this fruity cocktail. The coffee liqueur and dark rum make the drink a bit richer.
The splash of club soda is optional. Add it if you prefer something a bit lighter on the palate and easier to drink. Just make sure to stir it in last, or you'll lose the bubbles to the cocktail shaker!
Now you know what to mix with Malibu rum for any occasion! It's a tasty cocktail to have by the beach…or even in winter when you want to relive those holiday moments. It's got that island flavor that mixes so well with fruity cocktails. Just pour, stir, and sip away!
Don't miss out these cocktail recipes: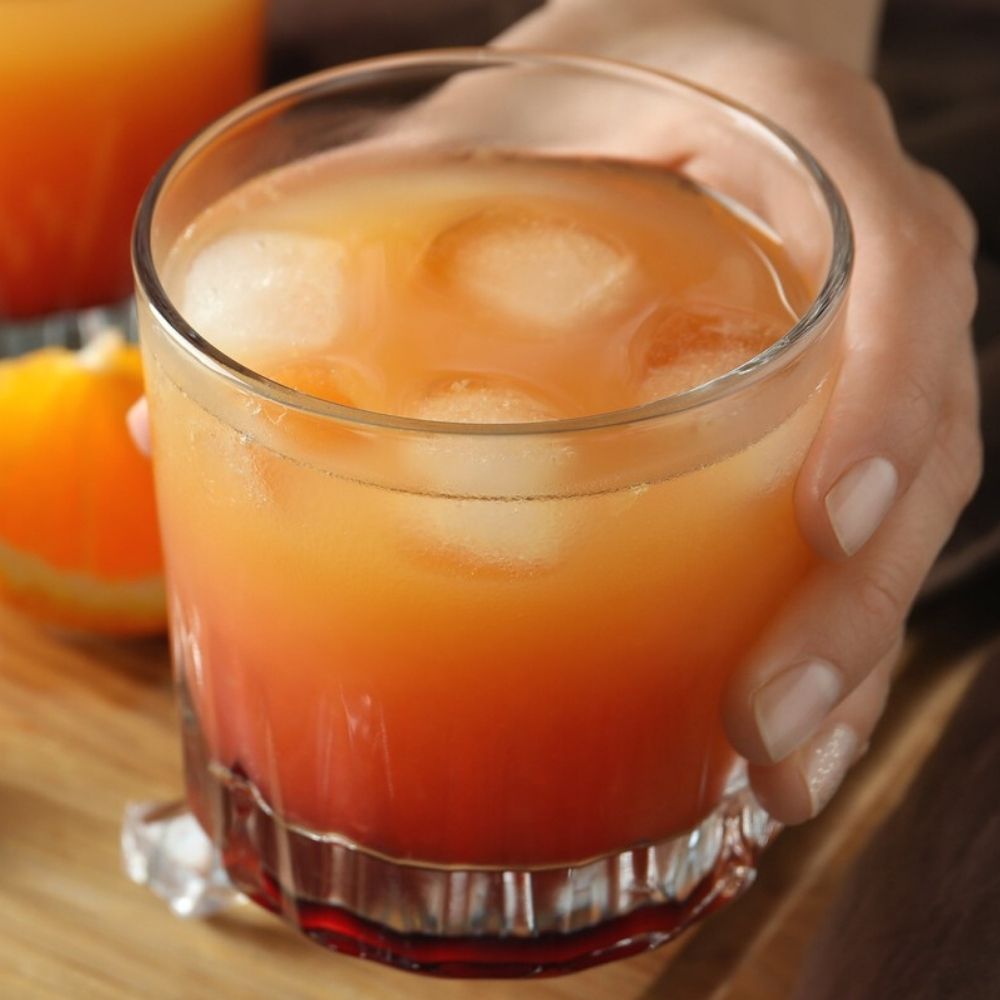 21 Best Malibu Cocktails
Yield: 1 serving

Prep Time: 5 minutes

Total Time: 5 minutes

Guava is a delicious fruit and not used enough! Luckily, it goes excellently in Malibu rum drink recipes. It's refreshing, sweet, and flavorful. You'll be riding this fruity, pink wave that packs quite the punch!
Ingredients
2 ounces Malibu coconut rum
2 ounces guava nectar (or juice for lighter tasting variety)
2 ounces coconut water
2 teaspoons fresh-squeezed lemon juice
1 teaspoon simple syrup
3-4 dashed bitters
Instructions
Fill a cocktail shaker with ice.
Mix rum, guava nectar, simple syrup, lemon juice and bitters into the cocktail shaker.
Shake or stir until mixed well.
Strain into a serving glass.
Add ice and coconut water.
Serve with a lime wedge or pineapple garnish.
Notes
If you can't get your hands on guava, try watermelon juice instead. Malibu watermelon rum recipes are also an excellent choice for those summer barbecues and picnics.