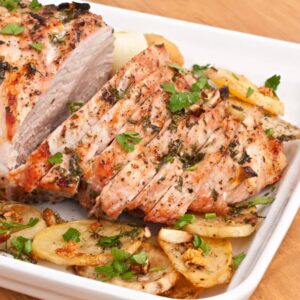 Many people don't know how to cook pork tenderloin properly and give up before learning how to make this scrumptious main dish! Pork tenderloin is a juicy, tender, and easy meat to make for a crowd.
A lot of recipes call for cooking a tenderloin at 350 degrees in the oven but have you been wondering how long to cook pork tenderloin in the oven at 400? If so, then this post is for you! We will cover all the basics of this versatile meat.
Pork tenderloin can be flavored so many different ways and pairs perfectly with a variety of side dishes.
From Asian to BBQ, tenderloins are a good choice to serve when you want a good amount of flavor but not as much meat in your meal, the only limitation is your imagination. So let's dive in on how to make the best pork tenderloin for any meal!
How long does it take to cook pork tenderloin at 400 degrees?
It can be confusing how long to bake pork tenderloin at 400 when looking at various recipes. Because different people like their pork tenderloin in different ways, cooking times will vary.
Depending on how you like your pork and how thick the tenderloin is, it can vary how long to cook pork loin in the oven at 400 degrees.
For a good rule of thumb, it is safe to assume that a standard size tenderloin of about 1.25 lbs will take approximately 20-25 minutes to cook.
How to cook pork tenderloin at 400 degrees?
All you need to cook pork loin at 400 degrees is:
a pork tenderloin
some oil (olive is usually used)
and your seasonings of choice (or marinades)
To cook:
Trim the tenderloin of excess fat and pat dry with a paper towel.
If you are using a marinade, you will marinate the tenderloin and cover it for at least three hours in the fridge before baking.
If you are using dry seasonings, Preheat your oven to 400 degrees and prepare your baking dish by spraying it with some non-stick spray.
Place the tenderloin in the baking dish and sprinkle the seasonings over the pork while turning it to ensure that the whole loin gets covered in the seasonings. a) If you have marinated your pork loin, simply place the pork loin in the dish and discard the excess marinade.
Bake the pork at 400 degrees for 20 minutes.
Pull out of the oven and let it rest for about 10 minutes before slicing. (This ensures that the pork will finish cooking and won't lose juices.)
Slice with a sharp knife to desired thickness and serve with your favorite sides.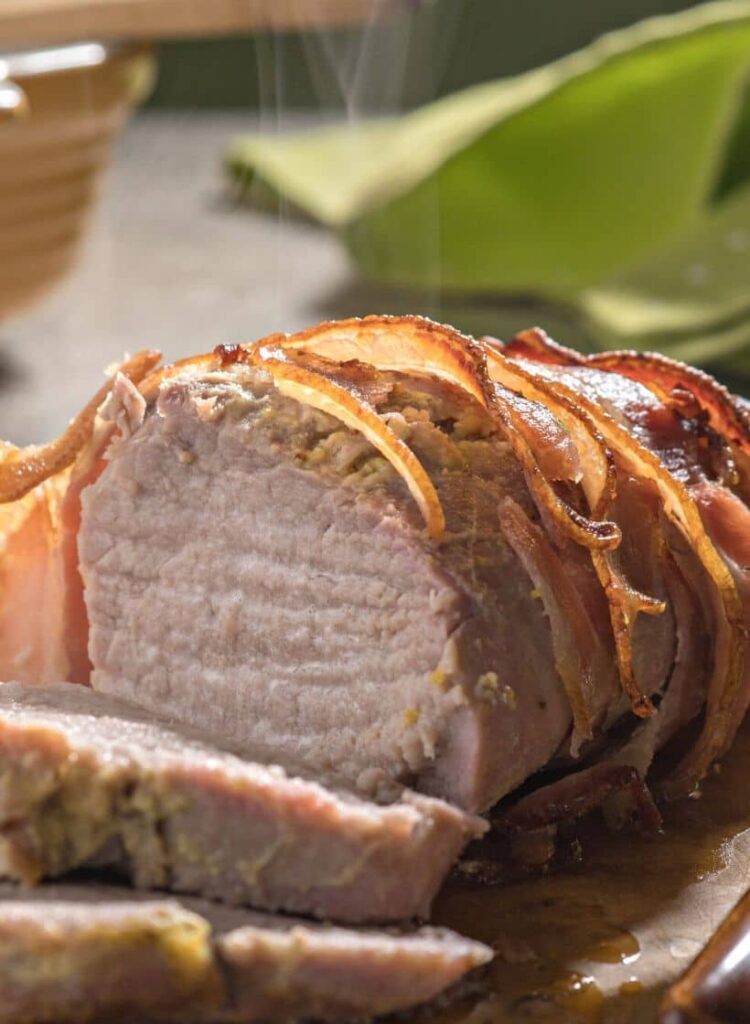 How Do You Know When Tenderloin Is Done?
So you know how long to cook pork tenderloin at 400, but how do you know when it is done?
The best way to know when it's done is to use a meat thermometer to check the internal temperature of the pork.
145 degrees Fahrenheit is the best temperature for pork to reach for complete cooking, However, some people prefer their pork to be more well-done. For that, you will want the meat thermometer to reach 160 degrees before removing the pork from the oven.
Recipe tips
Covering the meat with aluminum foil is not necessary. If you like to have a nice browned outer crust to your meat, we do not recommend it at all.
As per the National Pork Board's recommendation, it is best to use a meat thermometer to judge the doneness of the pork tenderloin. Any other method will risk inaccuracy.
Cooking your tenderloin beyond the suggested baking times may result in drier meat, which is not desirable for pork tenderloin.
Always let the pork tenderloin rest for at least five minutes after you pull it out of the oven. This step is really important to lock in the meat's juices for optimal flavor.
Check your local grocery store for pre-marinated pork tenderloins if you need to save time. There are usually several flavors to choose from!
Fresh herbs such as rosemary, thyme, or sage work well with pork and can be sprinkled on right before baking to add flavor or afterward for a garnish.
What Color is a Cooked Pork Tenderloin?
For medium-well, you may be wondering, "how long does it take to bake pork loin?"
When you cook pork tenderloin at 400 degrees in the oven for about 20 minutes, you should reach 145 degrees on your meat thermometer.
This will give you a medium cook where the loin is a lovely color on the outside and slightly pink in the center.
For no pink at all in your meat, simply increase the cooking time by 5 minutes and monitor with your meat thermometer to reach 160 degrees.
What is the best temperature to cook pork tenderloin in the oven?
Most recipes say the best way to cook tenderloin is at 350 degrees but we think cooking the pork tenderloin at 400 is best to give a nice outer crust to the meat and to seal in the juices for taste. Ultimately, it depends on your personal preference.
I have leftovers, how to store them?
To store your leftover pork tenderloin, let the meat cool completely and place it in an airtight container for up to three days in your refrigerator.
You can also freeze leftover pork tenderloin for up to three months in the freezer.
Frequently Asked Questions
Check also: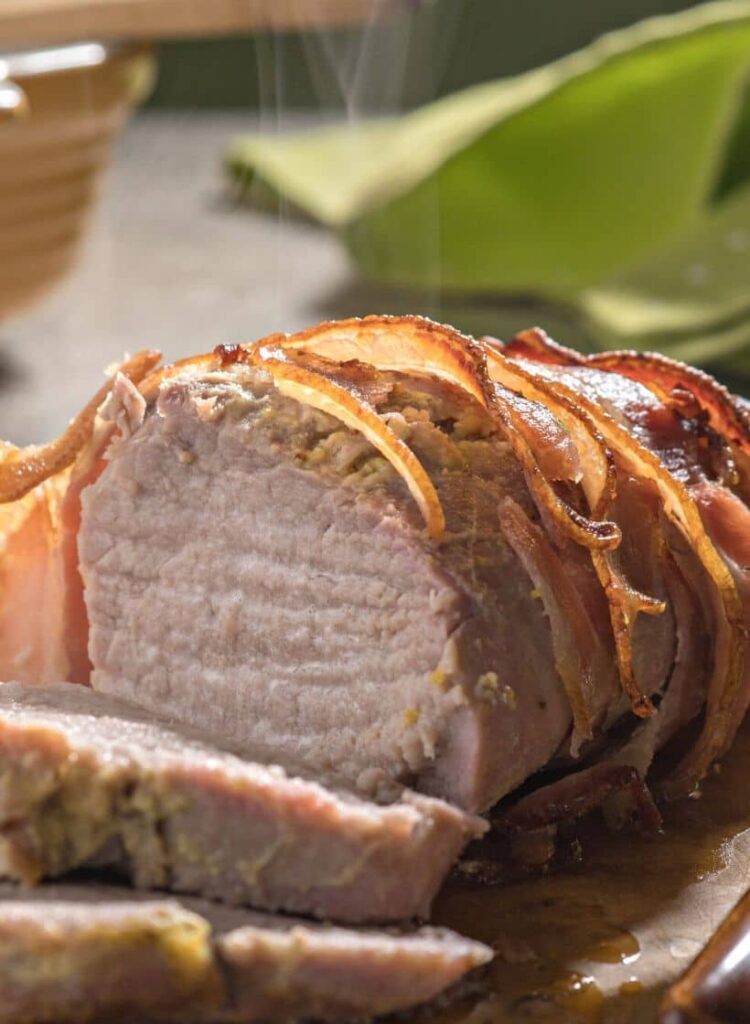 How long does it take to cook pork tenderloin in the oven at 350?
Pork tenderloin should take between 25-35 minutes when baked at 350 degrees in a preheated oven.
What Temperature Should Pork Tenderloin Be Cooked at In the Oven?
For a medium cook, pork tenderloin should reach 145 degrees internally and 165 degrees internal temperature for a well-done cook.
Why Does It Take That Long to Make Pork Tenderloin In Oven At 400?
It is important to allow the meat to come up to the proper internal temperature for safety reasons. Please follow the proper guidelines to ensure that the pork is completely cooked before consumption.
How long does pork take to bake at 400?
This depends on the size and thickness of the pork you are cooking. For a good rule of thumb, it is safe to assume that a standard size tenderloin of about 1.25 lbs will take approximately 20-25 minutes to cook.
How many minutes per pound do you cook a pork tenderloin at 400 degrees?
As mentioned above, the cooking time depends on the pork tenderloin's weight. As a general rule, you can usually bake it uncovered in the oven for about 20 to 25 minutes per pound, however, using a meat thermometer to check the pork's internal temperature is still the safest way to know for sure that your meat is properly cooked.
How long and at what temperature should I cook pork tenderloin?
Consider the recommendations above. How large is your cut of meat and how much does it weigh? Use that information to calculate how long you should cook the meat. Choosing the temperature at which to cook it is entirely up to your personal preference.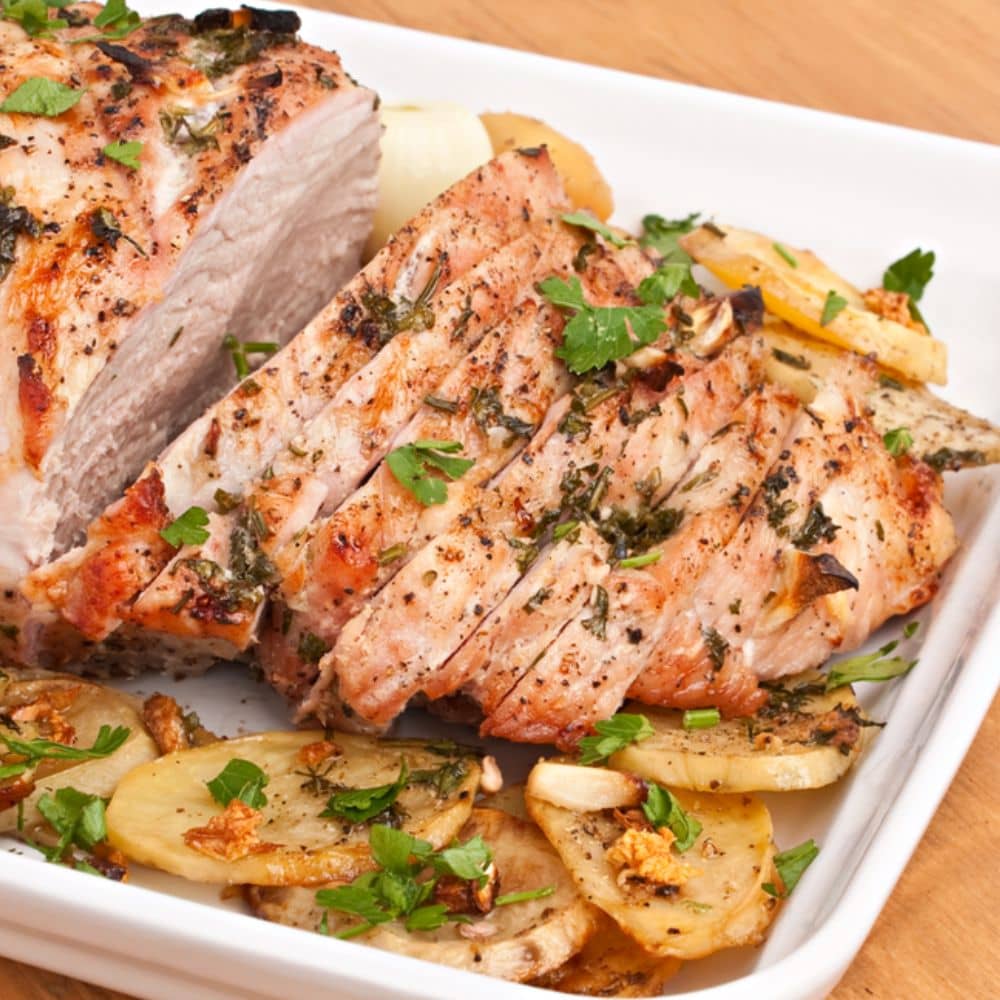 How Long to Cook Pork Tenderloin in Oven At 400?
Cook Time:
1 hour
15 seconds
Total Time:
1 hour
15 minutes
15 seconds
Ingredients
3 lb. boneless pork loin, well-trimmed
3 cloves minced garlic
2 tbsp. grainy mustard
1 tbsp. chopped fresh rosemary
1 tsp. chopped fresh thyme leaves
kosher salt
Freshly ground black pepper
Fresh rosemary sprigs
3 tbsp. melted butter
1 tbsp.brown sugar
Instructions
Preheat the oven to 400°.
Line a baking sheet pan with foil and place a wire rack on top.
To ensure even cooking, roll the boneless loin into a cylinder and use kitchen twine to tie the pork loin every few inches.
In a small bowl, combine garlic, mustard, rosemary, thyme, 1 1/2 teaspoons salt, and freshly ground black pepper together.
Rub the mixture all over the pork loin and place in the pan fat-side down.
Bake for 30 minutes, then flip the pork loin and bake until a thermometer inserted into the middle of the meat reads 145°. (This should take approximately 20 minutes.)
Meanwhile, mix melted butter and brown sugar, then brush on top of the pork loin.
Broil the loin for 2 minutes until caramelized.
Let the pork rest for 10 minutes before slicing into 1/3" pieces.
Serve pork warm with extra pan juices drizzled over top. Enjoy!
Nutrition Information:
Amount Per Serving:
Calories:

455