Sometimes we need a small snack to get us through to the next meal. Snacks can be a great and healthy addition to your daily diet.
Making sure you're focusing on high-protein snacks is the key here because protein will help you feel satiated and complete and provide your body with the energy it needs to get through the day.
These recipes are all great options for protein-filled snacks. There are both savory and sweet snacks to satisfy whatever you're craving.
A lot of these recipes have become some of my staples. I love making them regularly because they are delicious, balanced, and healthy.
I hope you find your way through this list and finish with a bunch of recipes you're excited to try!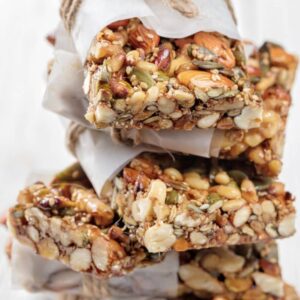 1. Cottage Cheese Toast
What better way to kick off this list than with a classic high protein toast option! Instead of going for avocado or peanut butter, try topping your toast with cottage cheese. It is high in protein and lowers in calories overall.
You can go sweet or savory, and this recipe has options for either, depending on your preference.
My favorite is the peach and basil toast. It's fresh, slightly sweet, and creamy.
You can't go wrong with this recipe, be prepared for this to become your breakfast go-to!
2. Chia Seed Pudding
Chia seed pudding has always been at the top of my list for low-calorie foods that are still a satisfying dessert or sweet breakfast.
You can use whatever type of milk you prefer and add whatever mix-ins you like with this recipe.
The key is getting your ratio correct, which will feel foolproof after giving this recipe a try.
I love to add different fruits, shaved chocolate, nuts, and seeds. Anything you like in pudding will go great here!
3. Protein Bars
Stop spending so much money on pre-packaged protein bars with this recipe! You can avoid any additives or sweeteners by making these at home.
Each of these bars has 12 grams of protein, more than some store-bought brands.
They use the classic flavor combination of chocolate and peanut butter, making them the perfect snack to grab and go at any time during the day.
They are the perfect texture, soft and slightly chewy, everything you want out of a protein bar!
4. Mini Burritos
These mini burritos are great to make for a party or to have around for a satisfying small snack between meals.
They're filled with taco seasoned meat and beans and topped with guacamole, cheese, and salsa. This recipe calls for ground beef, but you can always substitute ground chicken or turkey.
These are also an excellent option for a high-protein meal for kids! These are small and fun sizes, and you can let them put their favorite toppings on themselves for added activity.
5. Easy Hummus
Hummus is something I love to always have in my fridge. It's the perfect snack to grab when I'm hungry and need a protein-packed pick-me-up to hold me over.
You can dip whatever you love into hummus: crackers, bread, pita, vegetables, or, my personal favorite, pretzel crisps!
This hummus recipe is the perfect base recipe, so feel free to add whatever additional flavorings you like. Try blending in sun-dried tomatoes, fresh herbs, leftover pesto, or kalamata olives for an added kick.
6. Banana Protein Smoothie
Protein snacks are essential throughout the day. They keep you satiated and give you energy. Sometimes a full meal doesn't sound delicious. That's where smoothies come into the picture.
This smoothie uses bananas as a flavoring and sweetener, with Greek yogurt and protein powder providing the protein you need.
Just pop all the ingredients into a blender, and you'll have a smooth and creamy smoothie. If you want a more luscious smoothie, try adding some cocoa powder to this for a chocolatey afternoon treat!
7. Turkey Cheddar Lunch Roll-Ups
These turkey cheddar rolls look like a kids' snack at first glance, but these are great for adults too! Sometimes nothing beats the flavors of a sandwich, and these rolls accomplish that.
Instead of bread, there's a soft flour tortilla encasing the sliced turkey and cheddar cheese.
These rolls include lettuce and cream cheese, but sometimes I like to have honey mustard or salsa. Don't forget to give the inside a sprinkling of salt and pepper! That's the key to making any sandwich or wrap taste great.
8. Edamame Recipe
Edamame is something I always order at my favorite Japanese or sushi restaurants, not even for their health benefits but simply because they are delicious!
Edamame is an excellent source of plant-based protein and fiber; they are lovely, steamed, and salted like this recipe lays out. You can make these snacks to keep in the fridge or as a side dish with dinner.
This recipe defines fast and straightforward, only taking fifteen minutes total and using two ingredients. You'll be making these every week once you realize how easy they are!
9. Easy Edamame Salad
This edamame salad is delightfully fresh and crisp. It uses cucumbers, edamame, and snap peas, distinctly bright ingredients for a salad.
They are tossed in tangy vinegar, soy sauce, and sesame seeds, adding a nice crunch and nuttiness to the dish. This dish is very healthy, with plenty of plant-based protein and fiber.
You can make this to snack on throughout the week or make it as an excellent side dish to a fuller meal. Try serving this with pita and hummus for a light lunch.
10. Perfect Boiled Eggs
A boiled egg is one of the most underrated high protein, low-calorie snacks! But not everyone knows how to get the perfect boiled egg, and it's a great skill to master in the kitchen.
Follow the method in this recipe, and you're going to be able to make boiled eggs blindfolded! Okay, maybe don't do that, but you get the point.
The beauty of a boiled egg is you can top it with whatever you like, mustard, hot sauce, or keep it simple with salt and pepper.
11. Easy Keto Vegan No-Bake Snacks
This resource isn't just one recipe, but a group of them. This acts as an excellent guide to walk you through keto and vegan ingredient swaps, including sweeteners, flours, and nut butter.
Along with this great guide are ten recipes for great sweet treats, including cookies, balls, and bars.
Whether you love coconut, peanut butter, nuts, or chocolate, I guarantee there is something here for you to enjoy! None of them require baking, and all are keto and vegan.
12. Peanut Butter Oatmeal Energy Balls
These energy balls are great for any peanut butter lover! They are filled with fiber-rich oats, nuts, and flaxseed.
There are excellent sources of healthy fats and natural sugars, and plenty of protein for that energy kick! These don't require baking. You mix, scoop, and let set in the fridge.
These can keep for up to four weeks if kept in the refrigerator, making them great to make in a large batch that will last all month. I love to grab one of these on my way to the gym or to snack on after a nice, long afternoon walk.
13. Chicken Salad Bites
These chicken salad bites are fantastic to make for a family get-together or work potluck.
They are light but still filling, thanks to the protein-rich chicken. The raw cucumber makes for a great crisp base for the creamy chicken salad.
The cream cheese and sour cream give this chicken salad a delightful twang, and the Franks red hot gives them just the right amount of heat.
If you don't want to make these into individual bites, I've eaten them as a whole salad for a leisurely, healthy lunch.
14. Protein Chicken Nacho Skillet
Who knew you could have a keto-weight loss recipe that would taste so much like nachos? I love to make this skillet for the whole family because I can eat it as is, and the kids can use chips to dip into this cheesy deliciousness.
It has all the best parts of nachos: perfectly spiced chicken, corn, beans, jalapenos, and cheese.
For a fun tangy flavor, try using pickled jalapenos instead of fresh. Don't forget to top it with bacon. It adds that salty crunch you would normally get from chips.
15. Fluffy Protein Pancakes
This recipe is proof that you can healthily make light and fluffy pancakes!
These pancakes use bananas for added sweetness and fiber and rolled oats, eggs, and protein powder for a nice serving of protein to get your weekend started.
I love to top these pancakes with chocolate chips or blueberries and cinnamon, and of course, maple syrup!
Beating the egg whites until fluffy is what gives these pancakes their signature texture, so make sure you don't skip that step!
16. Greek Yogurt Berry Salad
This fruit salad is a great way to make the best out of all those great summer berries! The Greek yogurt adds a ton of great protein, which balances out this snack.
This recipe is very simple: fruit, Greek yogurt, honey, and lemon juice. This dish lets the fresh fruit shine!
If you have other fruit around like sliced bananas or apples, feel free to toss those in as well. I like to throw some minced fresh mint in for added flavor if I make this for a party.
17. Cinnamon Swirl Protein Cake
This is a fabulous recipe to make if you want to partake in dessert on a diet. It's delicious and high in protein so it can fit into any diet.
This can also be a great breakfast option for those mornings you want a sweet bite to start the day. This cake stores great in the fridge, which makes it an excellent opportunity to make for multiple days.
Make sure you follow the instructions, so you don't get a mushy cake. There are many great tips here for making the perfect protein cake!
18. Easy Protein Waffle
Protein waffles are great to have on the docket for late weekend mornings! The best part of these high-protein snacks is that they feel like cheat meal, but they're nutrient-dense and healthy.
These waffles are made with oats, yogurt, and protein powder to boost protein.
Top these waffles with whatever your favorite toppings are: fruit, or whipped cream, or get fancy and caramelize some bananas in maple syrup.
19. Crispy Baked Tofu Nuggets
Tofu is easily my favorite plant-based alternative to use for things like nuggets. These crisp up perfectly, just like a chicken finger, but are leaner and vegan.
Make sure to use panko, not regular breadcrumbs, as panko is the key to that perfect crispiness.
The nutritional yeast adds a tad bit of cheesy, umami flavor, and the apple cider vinegar is necessary for that slight tang you get from brined chicken. Dip these into your favorite chicken nugget dipping sauce!
20. Greek Fava Dip
This fava dip uses yellow split peas to create a smooth and creamy dip for pita, vegetables, or anything you would dip into hummus.
Thanks to the lemon, this dip is refreshing and has a slight spice from the raw garlic. I recommend topping with smokey paprika for that smokey flavor. It contrasts the lemony taste perfectly.
Make this for your next get-together to serve with the relish tray or make a large batch to spread on sandwiches and wraps, or for a dippable healthy snack!
21. Roasted Edamame
Another edamame recipe! High protein and high fiber are keys to a great snack as these two nutrients help keep you satiated.
Usually, edamame is served steamed, like the earlier recipes in this list. If you love edamame and want a new, fun twist, give this recipe a go!
These edamame pods come out with a slight char and crispness that's satisfying to pop into your mouth as a snack. I love to use these toppings for a poke bowl or Asian chopped chicken salad.
22. Blueberry Overnight Oats
Overnight oats are an excellent option for busy weeks. When you need breakfast, you can pull out quickly and eat on the go. You mix the ingredients and let them sit overnight.
When you pull them out in the morning, you have a creamy, oatmeal-like pudding filled with protein, blueberries and topped with a crunchy sweet crumble.
Use whatever milk you prefer; I love to use almond or oat milk. You can swap out the blueberries for chopped apples, raspberries, or any other fruit you love.
23. Crunchy Roasted Chickpeas
These are the perfect protein-rich, crunchy snack to have around instead of potato chips! They satisfy those same cravings for something salty, and like potato chips, you'll keep going back for more.
You can also use these toppings for salads, soups, wraps, or sandwiches. The seasoning blend is amazing, but feel free to get creative with the seasonings you use also.
The options are endless for these tasty little chickpeas, and you can change up the flavors depending on your preferences.
24. Banana Oat Muffins
Any muffins make excellent high-protein, low-fat snacks. But these banana oat muffins are top of that list! They are fluffy, and nutty, with the perfect amount of sweetness.
Protein powder added to the dry ingredients gives you extra protein, while the banana provides all the sweetness you need.
If you love banana bread, give these muffins a go! I love to add chocolate chips, shredded coconut, or some flax or hemp seeds if I'm looking for added fiber.
25. No-Bake Energy Balls
These balls do exactly as they claim, give you a hit of energy for an afternoon pick-me-up!
This recipe is simple, easy, and quick, perfect for meal prep. Each ball has six grams of protein, making them an excellent option for a post-workout bite.
They are filled with rolled oats high in fiber and add the perfect chew and peanut butter high in protein and fat. I love to use dark chocolate chips in milk chocolate to add flavor.
26. Crispy Air Fryer Tofu Nuggets
This recipe is for my vegan folks! These tofu nuggets are reminiscent of the chicken nuggets we grew up eating, perfectly crispy on the outside and moist inside.
The best part? They're made in the air fryer! This means less clean-up and a faster cook time. Please don't skip the pressing and freezing step with the tofu. It's the key to the perfect nugget-like texture.
I love to dip these in either barbeque sauce or honey mustard. Make a large batch and reheat it in the air fryer for a quick snack or lunch throughout the week.
27. Snickerdoodle Protein Balls
I love a good snickerdoodle! They remind me of the warmth of the holidays and always satisfy my sweet tooth. Turning those flavors into a healthy protein snack was something I couldn't turn down.
These little protein balls use Kodiak cakes brand protein waffle mix for added protein, almond butter, and maple syrup for sweetness.
These are perfect for when you're a tad bit hungry with a sweet tooth. Pop one of these into your mouth, and you'll be more than satisfied!
28. Healthy Apple Cheddar Muffins
I know these muffins may sound strange: apples and cheddar? Trust me, don't let that deter you from trying this recipe!
Apples and cheddar are great pairings you can find on charcuterie boards and at wine tastings. Taking that flavor pairing and putting it into a fluffy, soft muffin gives you a flavorful, protein-rich snack.
I don't recommend tinkering with this recipe much. They come out perfect just as the recipe is written. I'm sure this will be something new and adventurous to push your taste buds!
29. Spinach and Cheese Egg Muffins
Egg muffins are something I like to make when I know I have a busy week ahead of me. They are the perfect grab-and-go breakfast that is still well balanced nutritionally and made from scratch, a much better option than a Pop-Tart.
These are high in protein thanks to the eggs, the cheese and bacon add a little bit of fat for satiety, and the spinach gives you a serving of vegetables.
You can make these muffins your own by choosing sausage instead of bacon or diced peppers instead of spinach.
30. Cottage Cheese Breakfast Bowl
Cottage cheese is often known as one of the best high-protein low-carb snacks you can eat. You can find this ingredient highly touted as a healthy addition to your diet, and for a good reason.
It has a neutral flavor profile, making it an excellent base for a breakfast bowl.
This recipe has you top it with almonds, walnuts, raspberries, and cinnamon, resulting in a fresh-tasting bowl that faintly mimics the flavors of raspberry cheesecake thanks to the cottage cheese.
31. Strawberry Frozen Yogurt
Ice cream feels like it's something you must miss out on when you're on a diet or trying to lighten up the way you eat.
Don't fret. Pull out this recipe when you want a big bowl of ice cream! This frozen yogurt uses Greek yogurt as the base, which means it's high in protein.
This frozen yogurt is just as creamy as store-bought, but you can control how sweet you make it with honey.
The strawberries are blended fresh and give this fro-yo the perfect berry flavor.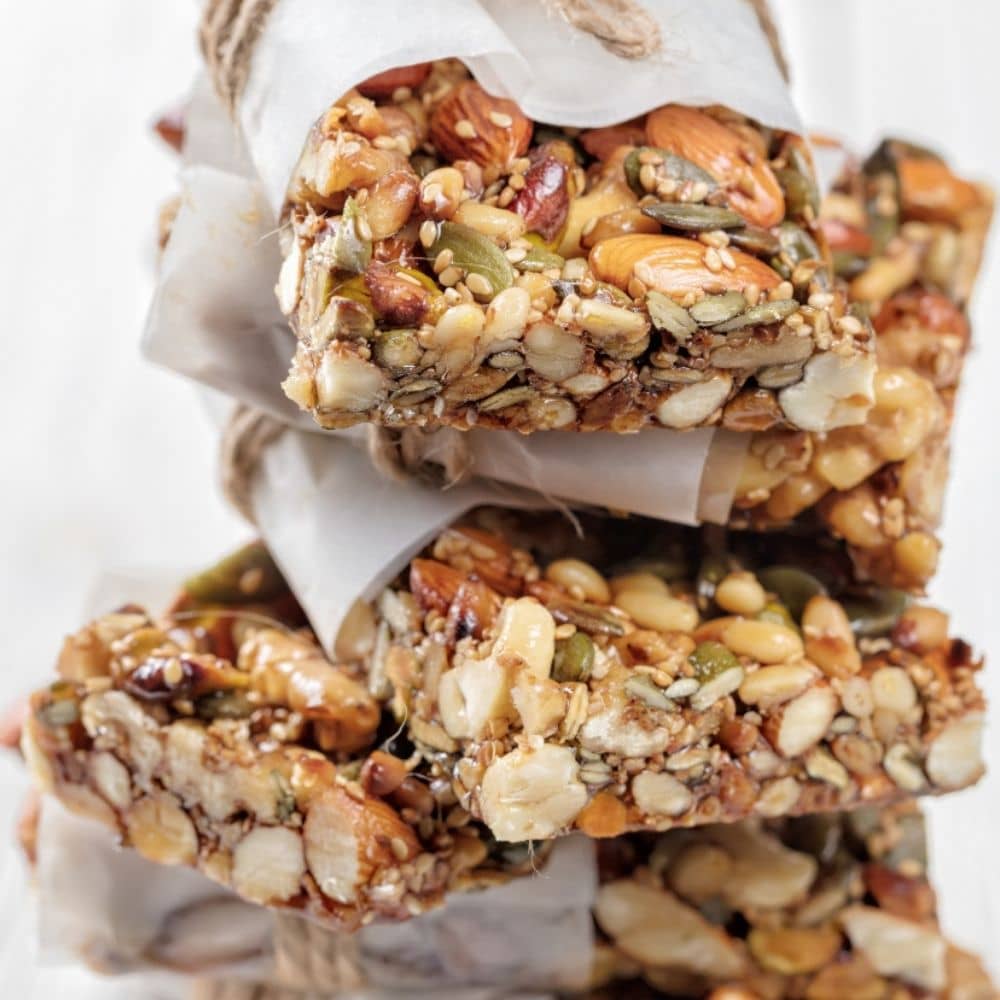 31+ Best High-Protein Snacks
Yield: 1 dozen

Prep Time: 25 minutes

Total Time: 25 minutes
Ingredients
1 c unblanched almonds
1 c pitted dates
1 c creamy peanut butter
2 tsp honey
1/2 c baking cocoa
1/4 c coconut oil
Chopped almonds
Instructions
Line a muffin tin with 12 parchment paper muffin cups.
Add almonds and dates to a food processor, pulse until everything is even and the mixture holds together when pinched with your fingers.
Scoop the mixture into your pre-lined muffin tins and press into the bottom. With a small spoon, carefully spread the cashew butter over the nut and date mixture.
In a separate bowl, mix cocoa, coconut oil, and honey. Pour this mixture over the nut butter.
Sprinkle chopped almonds over top the cocoa mixture. Let chocolate set in the refrigerator for about 1 hour.