Whether you're going gluten-free out of medical necessity or just a new lifestyle choice, there's always one part that seems overwhelming: gluten-free desserts.
A lot of our favorite desserts rely on gluten to give them structure and make them solid enough to hold fillings like chocolate, fruits, caramel, and nuts.
You may feel like you're forced only to enjoy gluten-free desserts like puddings or ice cream.
I'm here to tell you: that cakes, pies, and bars aren't out of the question on a gluten-free diet. All it takes are some easy ingredient swaps, and you can have those same desserts, and you likely won't even be able to tell it's gluten-free.
I've gone through an obscene number of gluten-free food blogs and found the best gluten-free dessert recipes you can enjoy any time of the year!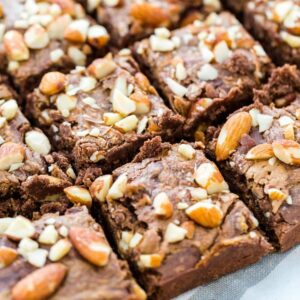 1. Thumbprint Cookies
Thumbprint cookies are a classic treat that I love to make with kids.
They're hands-on and fun! Blanched almond and coconut flours are the base for these soft cookies, and coconut oil binds them together.
The recipe calls for raw sugar, but you can use coconut sugar or monk fruit sweetener if you're avoiding refined sugars.
Raspberry jam is a classic filling, but you can get creative here. I've used everything from peach to cranberry apple jam. Topping these with white chocolate piping gives them a beautiful finishing touch!
2. Vegan Chocolate Cake
What makes the perfect chocolate cake? A cake that is moist and rich with delicate icing that isn't overly sweet, and that's exactly what this gluten-free cake is!
I love to make this cake anytime I need a chocolate birthday cake. This has become my go-to for gluten-free, dairy-free desserts.
The best part about this recipe is the ease. There aren't any complicated steps to slow you down.
Applesauce replaces the egg, and your dairy-free milk of choice makes this recipe vegan. The vegan buttercream frosting is the perfect topping, decadent and silky!
3. Pumpkin Muffins
These gluten-free muffins are soft and fluffy, filled with the warm, comforting flavors of fall.
As with most pumpkin desserts, the secret is the pumpkin spice and cinnamon. The streusel on top is a crumbly delight, sweetened with brown sugar.
I love to make these with the fall and winter seasons as a sweet treat to have around.
This recipe is quick and easy too! You can throw these together in just fifteen minutes. These muffins need to be on your holiday cooking list!
4. Almond Flour Banana Bread
Banana bread is a great recipe to have on hand when your bananas are starting to over-ripen, and you need easy desserts to make.
My favorite part about this recipe is that it only requires one bowl, which means fewer dishes for me!
The bread is naturally sweetened with ripe bananas, making this a nourishing and healthy dessert or sweet breakfast.
The recipe calls for chocolate chips, but feel free to add in any of your favorite banana bread mix-ins like walnuts, pecans, or shredded coconut.
5. Sex in a Pan
If you haven't heard of this dessert, you're missing out! While it has a shocking and humorous name, this dish is an extremely easy and delightful dessert to throw together when you need something in a pinch.
The pecan shortbread crust is the perfect base for the rich, creamy filling, and fluffy whipped cream and shaved chocolate top it all off.
This version is made gluten-free and kept with a few simple ingredient swaps. Make this next time you need a luscious dessert sure to impress the crowd!
6. Almond Flour Blondies
Blondies are the sister to brownies, gooey, chewy, and soft. These blondies are filled with chocolate chips, white chocolate, and pecans, giving them that melty chocolate flavor and plenty of satisfying crunches.
Almond flour in place of all-purpose flour results in a gluten-free blondie just as decadent as the original.
If you don't like white chocolate, swap them out for regular chocolate chips or caramel chips for a different flavor.
7. Blueberry Coffee Cake
Coffee cake has always been one of my favorite baked goods. The warm spices and sweet fluffy cake are the perfect pairings. Having a gluten-free version has been a lifesaver!
This takes on the classic mixes in fresh blueberries for a fruity twist.
Instead of using buttermilk, mixing almond milk and apple cider gives a similar result and provides the subtle tanginess necessary for a good coffee cake.
Try using raspberries or blackberries instead of blueberries for a different twist on this delicious treat.
8. Gluten-Free Brownies
Sometimes there's nothing more delicious than a classic! These brownies capture everything you love about a classic brownie while being gluten-free.
They're fudgy, soft, with a slightly crisp top and edges. Using a pre-made gluten-free flour mix leaves little room for error, making these brownies great for a leisurely afternoon baking session.
Don't skip the chocolate chips! They give these brownies that melty chocolate center that you look for in a great brownie.
9. Peach Cobbler
Is there anything better than a warm peach cobbler topped with a scoop of ice cream in the warm summer months? I don't think so!
This peach cobbler is made with a gluten-free flour mix, and you would never be able to tell.
Pro tip: try mixing in some blueberries or raspberries for added color and a refreshing tartness.
This cobbler is buttery and juicy in the best way, the perfect accompaniment for ice cream or whipped cream.
10. Vegan Brownies
Not only are these brownies gluten-free, but they're also vegan! They aren't missing a bit of that fudgy richness you get from a normal brownie, making these my favorite vegan gluten-free desserts.
The secret here is the chocolate chips and flakey sea salt. The chocolate chips meltdown and give them the ooey-gooeyness everyone loves, and the salt contrasts the sweetness for a delicately balanced bite.
If you have vegan or gluten-free guests, these are sure to impress them!
11. Apple Crisp
As soon as the leaves start changing to welcome in the fall season, my husband starts asking for an apple crisp.
This apple crisp is gluten-free thanks to cassava flour but has traditional warm flavors like cinnamon and maple syrup.
Oats give the topping an irresistible chewiness and crispness that provides the perfect texture on top of the soft-cooked apples.
Serving a big bowl of this apple crisp with a heaping scoop of ice cream is one of the most comforting desserts you'll find!
12. Lemon Almond Flour Shortbread Cookies
Shortbread is an easy go-to for dessert. They are simple and straightforward in flavor, making them a great option for a party or potluck. These shortbread cookies use almond flour for the base, making them gluten-free.
The fresh lemon zest complements the almond flavors wonderfully, and almond extract is the secret to making that almond flavor stand out.
These cookies are lightly brown and crispy on the outside but soft and crumbly inside. If you want to make these richer, try piping a cream cheese icing on top!
13. Peanut Butter Chocolate Chip Cookies
Peanut butter and chocolate: the classic pairing that everyone adores! This recipe uses those flavors to create a soft and chewy cookie.
The peanut butter provides a salty nuttiness that is accentuated by chopped pecans. Chocolate chips are spread throughout to give each bite a melty, gooey chocolate center.
The edges of these cookies crisp up, giving them a caramelized flavor while the inside stays soft and chewy. If you don't have pecans, you can omit or replace them with walnuts or chopped peanuts!
14. Cake Doughnut Mini Muffins
These little cake muffins come together in less than thirty minutes, making them a great option for a weekly meal-prep treat! They have a delicious cinnamon-sugar coating that leaves you licking your fingers, wanting more.
The muffins get their flavor from cinnamon and nutmeg. If you want to give these an apple pie flair, try adding some chopped apples before baking.
Make sure you read through the notes on this recipe, as they don't work well with coconut flour.
15. Vegan Flan
This is the recipe to pull out when you have guests you want to impress!
Everyone thinks of flan as an advanced recipe you get at a restaurant, but truth be told, flan is relatively simple to make, and anyone can do it at home.
This flan uses coconut and vanilla as the flavorings, giving this a warm tropical feel. It's topped with a caramel that finishes everything with a toasty flavor reminiscent of toasted coconut. It doesn't get better than that!
16. Pumpkin Dump Cake
Have you ever heard of a dump cake? If you haven't, don't worry, this recipe is a great introduction!
A dump cake is exactly what it sounds like. You dump all of the ingredients into a dish and bake it as is!
These cakes have a unique texture, somewhere between a cobbler and a cake. They are buttery and soft, filled with whatever flavors you want to incorporate.
This recipe utilizes pumpkin spice and pecans to give you an easy holiday dessert. This dump cake will become your new favorite dessert, thanks to its ease!
17. Oreo Cheesecake Brownies
Do I need to say more? These brownies are filled with creamy cheesecake and delicious Oreos to give you a rich and decadent dessert.
Cream cheese and sour cream are the secret ingredients here. They provide the richness and tanginess you get from a traditional cheesecake.
The base is a simple boxed brownie mix, which also complements the chocolate Oreos. I like to make these anytime there will be kids around, as these are always a huge hit!
18. Healthy Peanut Butter Balls
This recipe may take the cake as the easiest recipe on this list! These peanut butter balls are satisfying and sweet, and they come together in fifteen minutes.
Pro tip: blend some protein powder into the peanut butter mixture to make this an even healthier snack with more nutrient density.
The peanut butter is dipped in milk chocolate and then set, so they're a solid ball by the end of the process.
I like to swap milk chocolate for dark chocolate and top it with some flakey sea salt for an elevated flavor.
19. Rice Krispie Treats
Rice Krispie treats were one of my favorite treats growing up! Melted marshmallow surrounding crispy, airy rice Krispies; does it get any better?
The recipe requires you to find gluten-free rice Krispie cereal, but that's the hardest part. If you're wanting to be more creative, this recipe is easy for any mix-ins you'd like to add.
I've added chocolate chips, sprinkles, and even peanut butter swirls in the past. You can even individually package these as gifts!
20. Angel Food Cake
Angel food cake always reminds me of my grandma's birthday. This light, the spongy cake was her favorite, served with strawberries in their syrup and whipped cream.
This version is gluten-free, thanks to the all-purpose gluten-free flour. The secret here is beating the egg whites to soft peaks. This gives angel food cake its notorious airy texture.
This doesn't have to be served with strawberries. You can serve it with any fruit and whipped cream, ice cream, or any variety of syrups or jams.
21. Lemon Zucchini Bread
Zucchini bread is one of the easiest ways to use up any leftover zucchini at the end of summer, and it's an easy way to sneak in some extra veggies throughout the day.
This particular zucchini bread is moist and soft, filled with the aromatic flavors of lemon zest and vanilla.
The icing on top is creamy and sweet, the perfect glaze for this type of bread! Keep this recipe on hand for the next time you see zucchini on sale. It's the ideal addition to your week!
22. Oreo No-Bake Pie
If there's one thing I love, it's a no-bake recipe! No-bake recipes are great for the summer months when it's too warm to turn on the oven, but you want a sweet dessert.
Even better? This recipe only has seven ingredients! It's creamy, cheesy, with a crumbly chocolate-filled crust.
All you need are gluten-free Oreos, and you can make this simple dish. I like to make this pie when I need a dessert, but I need it quick. It never disappoints!
23. Cinnamon Rolls
I always thought of cinnamon rolls as something that would be impossible without gluten, but this recipe proves that thought wrong.
Greek yogurt gives these rolls the yeasted flavor without the wheat and yeast, and they are filled with that same buttery, cinnamon-sugar mixture.
If you're looking for a gluten-free version of your favorite weekend morning classic, look no further! This recipe captures all of that cinnamon roll magic while still being free from gluten.
24. No-Bake Pumpkin Spice Cookies
Another no-bake recipe! This time we have pumpkin spice cookies, which are perfect for the fall months.
These cookies utilize all of the pumpkin spice flavors: cinnamon, nutmeg, ginger, and allspice. Nut butter helps them hold their shape while maple syrup sweetens them.
Thanks to their simple ingredients, these cookies stay fresh in the fridge for up to two weeks, making them perfect for large batches!
25. Easy Apple Crisp
Apple crisp is the dessert that calls my name on a cold winter night when I want something cozy and comforting.
This apple crisp has a caramel sauce that swims around the apples, sweetening up their tartness.
The crumble on top gets crunchy and buttery thanks to the gluten-free oats and brown sugar. Serve this apple crisp with a big scoop of vanilla ice cream, and you won't be able to turn down seconds!
26. Lemon Loaf
This gluten-free lemon loaf cake has become one of my favorite springtime easy gluten-free desserts. It has a beautiful brightness from the lemon zest that brings the perfect amount of citrus flavor.
The icing poured on top is sweet but not too sweet, just enough to complement the cake.
This is the perfect cake to make for your next baby shower or springtime potluck! It is soft and moist, with just enough sweetness to have you coming back for more!
27. Pumpkin Cookies
These pumpkin cookies are soft and delicious, filled with all of the flavors of fall! I love to make these in a large batch and keep them in the fridge to dip in my warm coffee throughout the colder months.
For some fun added crunch, sometimes I like to mix in nuts like pecans or walnuts. You can also add chocolate chips or shredded coconut for added texture.
Whether you make them plain or with added mix-ins, you won't regret throwing these cookies together!
28. Magic Cookie Bars
These cookies are exactly what the title says: magic! They capture all of the flavors and textures of soft cookies, but they are in a grab-and-go bar form.
Because these are in bars, you don't get the crisp edges of a cookie, and instead, the entire bar is like the center of the cookie: warm, ooey-gooey deliciousness!
They are filled with chocolate chips, pecans, and coconut giving them a variety of flavors. These are great to make for any special occasion!
29. Neapolitan Parfaits
These little individual parfaits are a fun treat to serve at parties and are one of my favorite easy dessert recipes!
They are entirely gluten-free, from the muffins to the yogurt. Anything in layers tends to have a great mixture of textures, and this parfait is no different.
The muffins are soft and fluffy with crispy bits, while the yogurt is creamy and luscious. While this recipe calls for topping with strawberries, feel free to top with whatever fruit you love, like blueberries, bananas, or cherries.
30. Caramel Apple Cake
Caramel apples always bring back happy memories, but if I'm being honest, the best part was always the caramel, which is why I love this recipe for caramel apple cake, which has the caramel baked directly into the cake.
That rich caramel flavor plays off of the fresh apples perfectly, and all of that is enveloped in the soft, fluffy cake. Use any gluten-free flour blend you like, as the caramel keeps everything nice and moist while baking.
31. No-bake Pecan Pie Bars
My favorite dessert ideas take a holiday favorite and shrink it into an easy, even healthy, no-bake bar, like this one right here.
The nuts, cinnamon, and vanilla bring the taste of fall and pair perfectly with the salted date caramel – all without any added sugar!
I have also found that these freeze very nicely – if there are any of the rich, chewy bars left over by some miracle. Though, in all honesty, I rarely get the opportunity to have leftovers!
32. Blueberry Crumb Bars
When it comes to desserts, few ingredients pair quite like a sweet, juicy berry.
This holds doubly true for my favorite, the blueberry – and in this recipe, add in a crumble and a buttery crust, and you get this fantastic dessert.
In all fairness, strawberry, blackberry, or any other kind you might have on hand will work just as well (even frozen!).
This recipe is entirely oat-free, keeping it friendly for gluten-sensitive people, and you can't find gluten-free oats.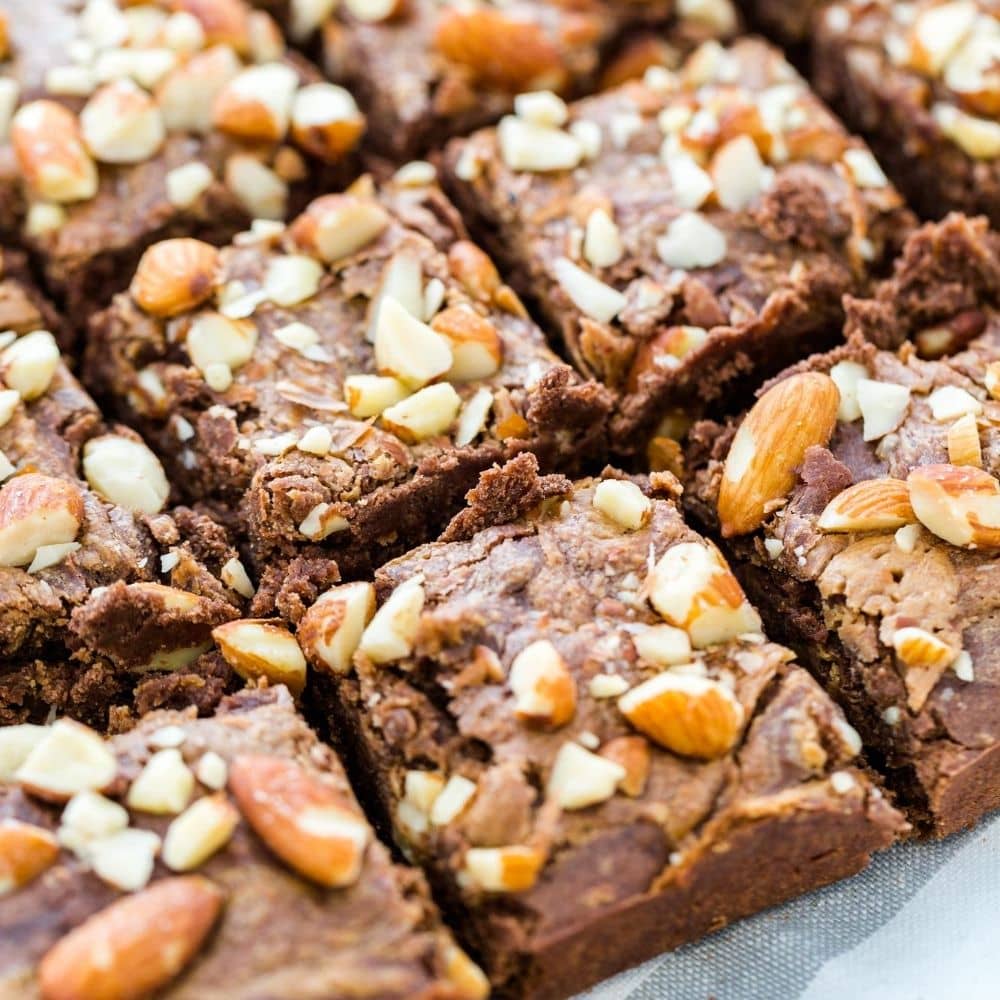 32 Easy Gluten-Free Desserts
Prep Time: 15 minutes

Cook Time: 20 minutes

Total Time: 35 minutes
Ingredients
1/2 c packed brown sugar
2 large eggs, room temperature
2/3 c creamy peanut butter
1/4 c unsweetened applesauce
1/4 c sugar
1 tsp vanilla extract
1 tsp xanthan gum
1 c gluten-free all-purpose baking flour
1/4 tsp salt
1-1/4 tsps baking powder
1/4 c salted peanuts
1/2 c semisweet chocolate chips
Instructions
Preheat the oven to 350 degrees Fahrenheit and coat a 9-inch baking pan with cooking spray
In a large mixing bowl, add the peanut butter, sugars, and applesauce. Beat these until mixed thoroughly. Beat in eggs and vanilla until smooth and creamy.
To another mixing bowl, add in the flour, baking powder, xanthan gum, and salt and mix until thoroughly combined. Slowly add the peanut butter mixture to the flour mixture and mix until no clumps are left. Stir in chocolate chips and peanuts until evenly distributed.
Transfer batter to the prepared baking pan. Put in a preheated oven and bake for 20-25 minutes. You'll know it's done when a toothpick is inserted and comes out clean.
Notes
Cool on a wire rack and then cut into squares for serving.

https://www.youtube.com/watch?v=1g4SEJUnf9E&ab_channel=TheCookingFoodie