Special moments and occasions are worth celebrating. Whether it's your birthday, anniversary, or just a normal date night to help you and your loved one reconnect, a fancy dinner is a way of celebrating whatever magical moment you have going on.
Between honey-glazed pork chops and roasted duck, there are countless fancy dinner ideas you can make at home for a fraction of the cost of a fancy restaurant.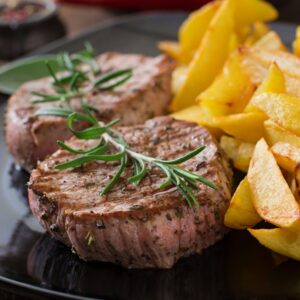 If you're looking for impressive dinner recipes to make a special occasion, you're in luck. We just so happened to have grabbed our favorite Easy fancy dinner recipes just for you.
1. Instant Pot Pork Chops
While dinner in an Instant Pot might not scream "fancy" to you, the flavors of this unique dish certainly will.
The Instant Pot makes the pork chops come out juicy and tender, even if they were frozen a few minutes before.
The secret ingredient in this unique dinner recipe is apple cider vinegar. This secret ingredient mixes perfectly with the pork and helps make the honey glaze taste even sweeter.
If you don't have apple cider vinegar, feel free to swap it out with a splash of white wine.
2. Seared Scallops with Garlic Butter
Nothing screams fancy dinner meal quite like a plate full of seared scallops.
This delectable seafood dish is topped with flavorful garlic butter, which just so happens to feature one of our secret ingredients: lemon juice.
The lemon juice pairs beautifully with the scallops and adds a little bit of sweetness and freshness to the overall meal.
If you don't have lemon juice, you could swap it out for some lime juice or a hint of orange juice since this will keep the citrus flavors.
3. Easy Chicken Tikka Masala
If you're anything like my husband, a perfect date night includes a plate of chicken tikka masala.
This Indian staple is bursting with flavor, much of which is turmeric, which is this recipe's secret ingredient. Turmeric has a deep, earthy flavor to it that is commonly found in traditional Indian recipes.
If you're out of turmeric, you could get a similar flavor profile by swapping it out for yellow mustard seeds or saffron.
The saffron works the best since it has a similar color to turmeric, so it helps the dinner look the same.
4. Best Ever Beef Wellington Recipe
Beef wellington is the epitome of a fancy dinner, but with this at-home recipe, you can make it any time you'd like.
Believe it or not, the secret ingredient in this tasty dish is yellow mustard. It's used as a glaze over the beef tenderloin and adds a little kick to it.
The recipe also calls for Bella mushrooms, but you could easily swap them out for any mushroom you prefer. The same goes for the puff pastry.
You could use croissant dough, pie crust, or even biscuit dough.
5. Classic Chicken Parmesan Recipe
If you're looking for romantic dinner ideas, nothing beats a classic dish of chicken parmesan.
The secret ingredient in this dish is the sauce because you could technically use any sauce you want based on your flavor preferences.
For example, you could swap out the traditional marinara sauce for something a little more robust, like a spicy arrabbiata sauce or one that's made with fresh herbs and veggies.
This dish allows you to get very creative in flavor, so feel free to experiment until you find something you and your spouse will love.
6. Chicken Marsala
When you think of chicken marsala, you always think of mushrooms. After all, they're the main star of the dish that gives this unique recipe its favorite flavor.
While the cremini mushrooms are good and can be switched out for any mushroom you like, this dish's secret ingredient is the dry marsala wine.
This wine usually has a nutty and sweet flavor, which blends perfectly with the mushrooms. This recipe will quickly become your go-to for date night.
7. Million Dollar Roast Beef Tenderloin
This meal is dressed to impress — literally, it's dressed up with a flavorful blend of olive oil, minced garlic, and butter.
While all these ingredients taste great, the real secret ingredient is a teaspoon of horseradish since it gives everything else a little jolt of flavor. If you don't have horseradish, don't worry.
You can easily swap this flavorful ingredient out with a little bit of dijon mustard. It will still give the ingredients a little kick, but note that it won't be as strong as the horseradish.
8. Creamy Tuscan Garlic Shrimp
Are you looking for a festive way to dress up your shrimp dinner? Try this recipe on for size.
This is a hearty meal and one that will leave you and your loved ones full. Chicken broth is the secret ingredient in this meal because it gives it a lot of extra flavors.
Plus, the chicken broth helps break down the heaviness of the heavy cream. If you don't have chicken broth, you could use a little bit of vegetable or beef broth in its place.
9. Honey Roast Duck Recipe
Are you looking for easy, impressive meals for a company? This tasty honey-roasted duck recipe is sure to impress anyone who eats it. The secret ingredient is in the name: honey.
The honey adds a very sweet, smooth flavor to the duck, which helps balance out its strong flavor.
If you don't have honey in your kitchen cabinet, you could swap it out for maple syrup instead. The flavor will be a tad different, but we promise it'll still taste great.
10. Creamy Lemon Parmesan Chicken
Calling all lemon lovers! If you love a little bit of lemon in your meals, then you'll love this unique and flavorful recipe.
The secret ingredient that makes the sauce so decadent and creamy is heavy cream. But, if you don't have heavy cream, there are several ingredients you can use as substitutes.
For example, you can substitute heavy cream for a combination of milk and greek yogurt or a blend of milk and cornstarch.
You want to be mindful of creating something that can make the sauce thick and creamy instead of thin and watery.
11. The Best Broiled Lobster Tail
Fancy at-home dinner ideas have to include lobster tails. I don't make the rules, but that's just how it has to be. Lobster is the quintessential "fancy" meal, and for a good reason – it's amazing.
Best of all, this meal can be made in as little as 20 minutes. The secret ingredient in this lobster tail dish is cayenne pepper since it contains a little heat.
This is an easy way to pack a little more robust, spicy flavor into your broiled lobster tail.
The recipe also calls for lemon juice, but you could swap it for another seasoning that pairs well with lobster-like dill or parsley.
12. Creamy Chicken Roulade
A roulade is a unique way to elevate your traditional chicken dinner. Chicken slices are rolled up and paired with other ingredients like bacon, mushrooms, and cheese.
The secret ingredient in this unique, flavorful recipe is the creamy alfredo sauce that it pairs with: cream cheese.
The cream cheese helps make the popular alfredo sauce flavor and adds a little bit of sweetness.
The recipe also calls for baby spinach and mushrooms, but you could experiment by swapping them out for other vegetables you prefer, like bell peppers.
13. Longhorn Garlic Parmesan Crusted Chicken
Another chicken recipe for another special occasion. Special moments aren't limited to one, and fortunately, neither are fancy chicken recipes to mark the occasion.
The secret ingredient in this surprisingly low-carb dish is Worcestershire sauce. Worcestershire sauce has a very powerful flavor since it's derived from anchovies.
If you don't have Worcestershire sauce, you can get a similar flavor by using soy sauce or a combination of soy sauce and apple juice.
You could also combine soy sauce and ketchup to get a similar flavor profile. The possibilities are truly endless with this meal.
14. Bacon-Wrapped Pork Tenderloin
Do you wish there was a way to incorporate more bacon into your meals? If so, we've stumbled upon the perfect recipe for you.
This flavorful recipe only requires a few ingredients, one of which is our secret ingredients: honey! Honey and pork pair perfectly together, as it adds the perfect amount of sweetness to the glaze topping.
If you don't have honey, you could swap it out for maple syrup. Just be sure to use it sparingly. Will this recipe be on your next dinner menu?
15. Rack of Lamb
A rack of lamb is one of the perfect date night dinner ideas out there because it's easy to make and tasty to eat. The lamb is cooked to perfection and comes out very juicy and tender.
The herbs make this dish pop, which is why it ranks as one of the secret ingredients.
Fresh rosemary and parsley are a beautiful pairing, but you could swap these fresh herbs out for an Italian seasoning blend or keep it very simple with salt and pepper. Get creative!
16. Braised Short Ribs
If you're looking for a quick and simple meal that tastes restaurant-quality, look no further than these delicious braised short ribs. The secret ingredient that gives this dish a robust flavor is a cup of dry red wine.
This brings extra flavor to the meat. You can swap it out for some white wine if you don't have red wine like a Cote du Rhone. Or, if you prefer not to use alcohol at all, you could use red or white wine vinegar or even a splash of apple juice.
There are countless ways to make this dish alcohol-free that won't affect the taste.
17. Honey Glazed Salmon
Are you a seafood lover? If so, you've got to try this tasty recipe for honey-glazed salmon.
This sweet honey glaze sets this dish from other types of salmon recipes. The secret ingredient you can't ignore is ginger.
This spice has a peppery flavor and adds a little bit of heat when cooked, which is a perfect addition to the salmon.
This recipe also calls for soy sauce, but you could easily swap it out for some Worcheshire sauce if you don't have any. This will keep the flavors relatively the same.
18. Oven-Baked Chicken Cordon Bleu
Chicken cordon bleu is a quintessential fancy dinner meal. Chicken breasts are stuffed with swiss cheese and ham, but you're not obligated to keep these ingredients if you don't want to.
Swap out the swiss cheese for provolone or even some pepper jack for a little extra heat. Likewise, feel free to swap the ham out for turkey or prosciutto.
Regardless of how you customize your chicken cordon bleu, the secret ingredient is a white wine for the sauce tops the stuffed chicken breasts. If you don't have white wine, you could swap it out for a splash of red wine.
19. Eggplant Parmesan
If you're looking for quick dinner ideas that will impress the whole family (kids included), try some eggplant parmesan.
Since the eggplant is topped with tasty cheese and sauce, it's a great way to sneak some vegetables to your kids. Plus, you can make this meal allergy-friendly by using almond milk instead of traditional milk.
We recommend using almond milk as the secret ingredient anyway because it adds a little bit of sweetness to the sauce and eggplant.
20. One-Skillet Chicken
There's nothing I like more than being able to cook dinner in one pan, so this recipe certainly doesn't disappoint.
The secret ingredient in this tasty chicken dinner is diced shallots. These shallots have a little bit of heat, which gives this meal a lot of additional flavors.
Suppose you don't have shallots, no worries. You could easily swap them out for some red onions. This meal is quick and easy to make, and insanely flavorful. It'll have everyone looking forward to dinner.
21. Baked Parmesan Garlic Chicken
You want to make something nice and fancy for dinner, but you don't have the time to run out to the store for additional supplies.
Luckily, you can make this tasty parmesan garlic chicken with ingredients you probably already have in your kitchen.
The secret ingredient is dry Italian dressing, as it combines a bunch of flavors that taste great and add a lot of spice to the chicken.
If you don't have dry Italian dressing, you could use a bottled Italian salad dressing to create a similar flavor.
22. Tender and Juicy Pork Loin Roast Recipe
Next time you're looking for fancy dinner ideas for two, look no further than this one for a juicy and tender pork loin roast. The flavor comes from the delicious honey glaze, which features a tablespoon of dijon mustard.
This spicy mustard is also the secret ingredient! If you don't have dijon mustard, you could swap it out for traditional yellow mustard, honey mustard, or, if you're feeling up for it, a little dollop of wasabi.
Serve with some butternut squash and Brussel sprouts, and you're in for a tasty treat come dinner time.
23. Greek Salmon and Orzo Skillet
This dish is as colorful as it is delicious. Seriously, one glance at this meal, and you'll want to be snapping photos of it to share to your social media feed.
The secret ingredient, like many other dishes, is chicken broth. This helps add moisture and additional flavor to all the ingredients.
However, if you don't have chicken broth, you could either make your own by combining chicken bouillon cubes with water or substitute it for vegetable or beef broth.
24. Slow Cooker Beef Bourguignon
Are you looking for a hearty dinner to commemorate a special occasion? Beef bourguignon is the answer.
This meal is perfect for a cozy night when it's just too cold to leave the house.
The secret ingredient is flour because it helps thicken the broth. You can use any flour you want based on your diet preferences.
The recipe also calls for baby potatoes, but you could swap them out for tasty sweet potatoes instead. Serve with a nice chilled glass of red wine, and you'll be in heaven.
25. Wild Rice Sausage
The holiday season is upon us, and what better time to find fancy dinner menu ideas than this time of year. Any recipe that features cranberries screams holiday festivities to me.
The ingredients of this dish are served in carved-out acorn squash, which is why it's this dish's secret ingredient.
It is festive and cute, but the squash flavors end up blending with the rice, cranberries, and sausage.
If you don't have squash, of course, you could serve these ingredients as is on a plate or maybe chip up some acorn squash to serve on the side.
26. Creamy Shrimp Alfredo Pasta
This creamy dish is sure to delight you and your family. Best of all, you could still make this tasty treat for people who don't like seafood simply by omitting the shrimp.
The secret ingredient in this flavorful meal is a cup of white wine. It adds some sweetness that helps elevate the flavor of the alfredo sauce. Plus, white wine pairs beautifully with shrimp.
If you don't have white wine, red wine can be used as a substitute, or you could use white wine vinegar instead.
27. Queso Baked Chicken
Do you love chips and queso? Well, omit the chips and instead use those spicy flavors as a dressing for your next chicken dinner.
Queso is, in a word, amazing, so it's no surprise why this unique recipe ranks on our list. The secret ingredient comes down to Mexican spices such as cumin and chili powder.
These spices give this chicken that queso-flavoring. The best thing about queso is that you can use any cheese you'd like. Use cheddar cheese or swap it out for pepper jack or Monterey jack. Or use a blend of all.
28. Apple Cider Roasted Pork Tenderloin
Apple cider is such a staple during the holiday season. So, if you're looking for a new and exciting way to incorporate this seasonal beverage into your dinner, look no further.
Apples and pork are a perfect pairing, so of course, this meal's secret ingredient has to be apple cider.
If you don't have apple cider, you could create a similar flavor by using apple cider vinegar or even letting the pork marinate with a cup of seedless applesauce. Whatever you choose, you'll fall in love with the apple flavor.
29. Easy Pasta Carbonara
Easy dinner recipes are sometimes hard to come by, but fortunately, this is one you can rely on time and time again. Pasta dishes are usually heavy.
Part of what makes this dish so heavy and creamy is heavy cream, which is this recipe's secret ingredient.
If you don't want your pasta to be as heavy, you could easily substitute the heavy cream for something lighter, like half and half.
This substitute gives you the thick creaminess of traditional heavy cream without too much. This dish will be sure to commemorate any celebration!
30. Fettuccine Alfredo
This fettuccine alfredo recipe will quickly become your new go-to dinner for special occasions.
The secret ingredient is chicken powder, an alternative to chicken broth. This is an easy way to add a little extra flavor to your fettuccine alfredo.
You can swap it out for regular chicken broth if you don't have chicken powder. Furthermore, even though fettuccine alfredo is made with noodles, you could swap it out for any pasta you prefer, like angel hair or farfalle pasta.
31. Cheesy Baked Rigatoni
If you're looking for an easy-to-make recipe, look no further than some classic baked rigatoni.
What sets this dish apart from other rigatoni recipes is the fresh spinach. This adds extra flavor and makes any dish a lot more robust.
You could swap it out for kale if you don't have spinach since the flavors are pretty similar. Plus, they'll taste the same once they're cooked down. Adding vegetables like this is a great way to get extra nutrients.
32. One-Pot Pea and Bacon Pasta
After hearing the word mascarpone, you probably thought of a dessert, right? While this is a popular ingredient used in many desserts, it's versatile enough to be used in pasta sauce.
As such, the secret ingredient is the mascarpone itself. It has a similar flavor to sour cream and greek yogurt, which is why it's used to add a little bit of sweetness and creaminess to the sauce.
However, since it's so similar to those other ingredients, you could swap it out for greek yogurt, cream cheese, or sour cream.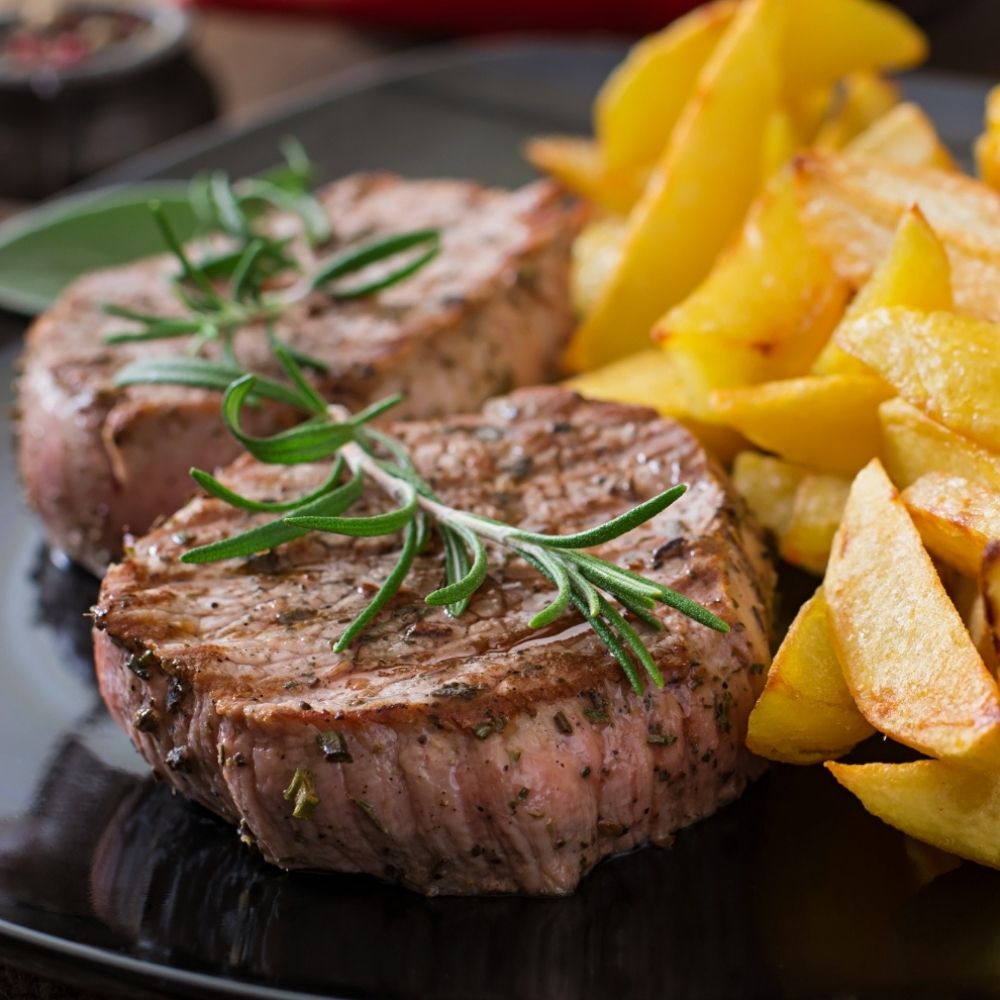 32 Easy Fancy Dinner Recipes
Prep Time: 30 minutes

Cook Time: 1 hour

Total Time: 1 hour 30 minutes

Skip the Restaurant: 32 Quick and Fancy Dinner Recipes You Can Make At Home For Your Anniversary
Ingredients
1-1/2 lb beef stew meat
3 tbsps all-purpose flour
3/4 tsp salt
3 tsp canola oil, divided
2 tsp beef bouillon granules
2 tsp dried parsley flakes
1-1/2 tsp Italian seasoning
2 c water
1 c Burgundy wine or beef stock
3 medium potatoes
1 c fresh mushrooms
1 medium onion, cut into 6 wedges
2 medium carrots, cut into 1-inch pieces
2 celery ribs, cut into 1/2-inch pieces
Instructions
Set your oven to 350 degrees.
Toss your beef with flour and salt mixture. Lightly coat the beef and make sure to shake off any excess.
Heat 2 teaspoons of oil in a Dutch oven over medium heat.
Cook your beef in batches until golden brown. Add oil as needed.
Once browned, remove from the pan.
In a separate bowl, combine 2 cups of water, parsley, wine, bouillon, and seasoning. Add to the pan and bring to a boil. Add beef and return to a boil.
Cover the beef and bake in the oven for 1 hour
Add in vegetables. Cover and bake for approximately 45-60 minutes until the beef and vegetables are tender.