Having trouble thinking of what to cook for dinner this week? Why not try some new chicken tenderloin recipes?
You get all the benefits of chicken breast – a lean, low-fat piece of protein, with the tenderness of a tenderloin! It's an easy win-win situation. Plus, tenderloin is usually more cost-effective to purchase.
You may recognize chicken tenderloins by their many other names – chicken tenders, chicken fingers, etc.
You've likely eaten tenderloins as a meal at least once in your life without even realizing it! They're so easy to cook with; that's why there are so many chicken tender recipes available.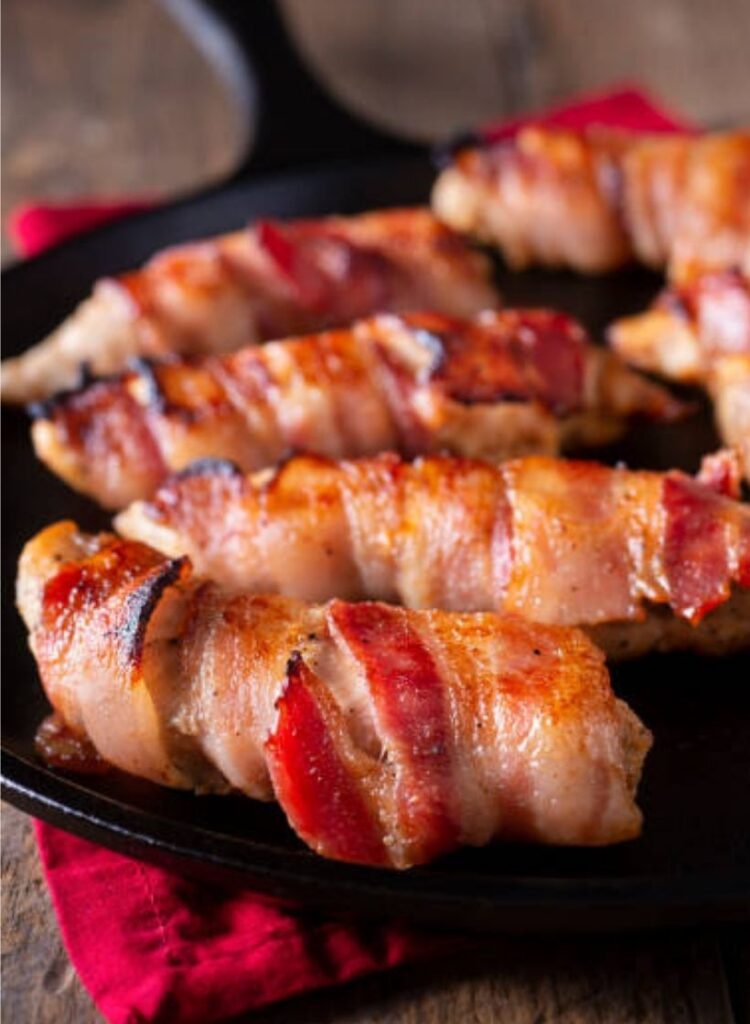 Whether you bread, pan fry, deep fry, sauté or bake, you'll love creating recipes with chicken tenders.
The versatility in recipes makes it fun to create dishes with these chicken tenders.
Their smaller size makes them easy to cook. Plus, their smaller size means they cook more quickly than chicken breasts, drumsticks, or thighs.
Once you grab a pack and start cooking with chicken tenderloins, you'll never want to go back to any other cut of chicken! Grab your chef's hat, apron, kitchen tools, and get ready to create some tasty recipes.
What Are Chicken Tenderloins Used For?
You can use chicken tenderloins for anything, which makes this chicken cut so useful.
Make homemade chicken tenders, stir fry, stock, or even a tasty gravy. The options are endless with chicken tenderloins!
How Do You Keep Chicken Tenderloin Moist?
Wondering how to create super moist chicken tenderloins? There are a few methods that you can easily use at home.
The first option is adding a piece of foil over the tenderloins. This option should occur in the oven about 5-10 minutes before they're done. This option helps avoid unappealing dried-out chicken pieces.
You can also try "velveting" the chicken. This method is what chefs do to create super moist chicken in restaurants.
It involves cooking chicken in water or oil for a few minutes to lock in the moisture.
Then, you can finish it with your favorite cooking method (like pan-frying, deep-frying, etc.). Try it out!
How Long Do Chicken Tenderloins Take to Bake At 350?
Baked chicken tenderloin recipes generally note a 25-30 minute cooking time for the chicken pieces.
However, chicken tenderloins can vary quite drastically in size.
If you have smaller tenderloins, check them after 15 minutes for doneness. You'll know they're done and ready to eat if the juices run clear and the center is not pink.
Chicken Tenderloin vs. Chicken Breast?
As mentioned above, these two cuts of chicken share some similarities.
They're both lean and low-fat cuts of chicken. The tenderloin comes from an area near the chicken breast.
The main difference is that chicken tenderloins are more tender than breasts, yet they offer the same flavor.
Now that you know all about tenderloins let's dive into the list of 26 recipes for chicken tenders!
More Easy Chicken Recipes we Love!
Chicken Tenderloin Recipes
Ready to put your new chicken recipes to the test? These recipes are yummy easy, and most are healthy. You can skip the meal planning for next week by choosing from the above recipes.
Let us know which one you enjoy the most!
What's better than a serving of crispy, juicy chicken tenders? How about a homemade version that's baked instead of fried?
These chicken tenders have the perfect, crisp outside, making them one of the top healthy chicken tenderloin recipes.
What makes them so crispy? It's the cornflake crumbs included in the breading mixture. If you don't have cornflakes or don't like the flavor, try using potato chips instead.
These chips are easy to crunch up and include as a coating for the tenderloins. Plus, you can use flavors like sour cream and onion to create a unique taste.
Did someone say bacon AND jalapeño?! This combination is one of our favorites – it's spicy, salty, and delicious rolled into one meal. Did we mention that it's low-carb, keto, and gluten allergen-friendly?
The balsamic vinegar adds a beautifully complex flavor to the jalapeño sauce, giving it a nice tang and helping cut the richness of the heavy cream.
If you're craving a slightly sweeter sauce, try using apple cider vinegar instead.
Yes, creating delicious and healthy chicken strip recipes on the grill is possible!
This recipe features a yummy sweet, tangy, and salty marinade that will blow you out of the water.
It's so simple yet flavorful that you'll want to recreate this recipe every night.
The unexpected ingredient in the marinade is the honey – it helps provide the sweetness.
You can use a few different options to replace honey in this recipe, like maple syrup, agave, or even brown sugar.
By now, you've probably noticed that using cornflakes for chicken helps add that extra crunch you didn't know you needed! It also adds a fun texture to the outside of the tenderloins and an even more delicious flavor.
Using smoked paprika is key to this recipe – it provides an earthy, and of course, smoky taste to the chicken.
Try using its siblings – sweet paprika or hot paprika for a similar earthy flavor.
Each of these options will alter the flavor slightly, making it either sweeter or spicier, depending on your preference.
Growing up, Doritos were a favorite snack that always satisfied the cheesy snack craving.
This recipe incorporates the delicious chips into a crispy coating that will make your mouth water. One bite, and you'll be wondering how this dish is so tasty yet so simple.
The not-so-secret ingredient is the Doritos. If you prefer other flavors like cool ranch, you can use those instead for a fun taste.
One bite of these chicken strips, and you'll be saving the recipe to remake as often as possible.
This is one of the yummiest chicken breast tenderloin recipes. It's spicy, garlicky, and slightly sweet, making it a top choice for many.
The unexpected ingredient is the chicken breasts. Swap them for tenderloins for an even juicier meal! This recipe is great for those who are looking for meal prep ideas.
Pack a few chicken strips with some grains and veggies, and you have lunches set for the whole week.
Of course, there has to be a potato chip chicken strip recipe listed!
There's nothing that goes better with chicken strips than salty, crunchy potato chips. It's like chicken and fries combined into one food!
The sour cream that helps the chips and seasoning stay on each strip sets these chicken strips apart.
You can use heavy cream or whisked eggs instead if you want a less tangy flavor.
Tired of the same old chicken breast recipes that you see over and over again?
We can almost guarantee you haven't tried this one yet! This dish is delicious for any time of the day, even breakfast sandwiches.
With something this tasty, of course, you'll need a dipping sauce. The recipe includes a homemade honey Dijon option using Dijon mustard. If you want a spicier dip, try using spicy brown mustard.
If you're a fan of everything bagels, you'll love this easy dish.
If you're craving restaurant-worthy appetizers but don't feel like heading to any restaurants nearby, you'll love this dish! Delicious almond and seasoning mixture coats the outside of each chicken strip for flavorful, crunchy bites.
Even your pickiest eaters will love these baked almond chicken strips.
Freshly squeezed lemon juice is included in the sauce for a bright, tangy flavor.
Try using freshly squeezed orange juice instead if you want a slightly sweeter sauce. You can also use lime juice if that's all you have on hand.
Coconut shrimp is so tasty, but perhaps everyone in your family isn't a fan of shellfish.
That's where these yummy chicken tenders come in! You get a similar flavor as coconut shrimp using juicy chicken tenders instead.
What helps boost the coconut flavor in these tenders is the inclusion of coconut flour in the coating.
If you don't have any on hand, you can use regular flour or almond flour instead. The flavor will be slightly different, but they'll still be super tasty.
Crispy, cheesy, spicy, moist chicken strips waiting to be eaten. Need we say more?
This recipe will make you feel like you're enjoying a dish in your favorite Tex-Mex restaurant.
A Mexican cheese blend helps add the gooey cheesiness you want in this dish.
You can grate and add those instead if you have other Mexican cheese on hand, like asadero or chihuahua. Or, get crazy and combine the cheese blend with whatever shredded cheese you have on hand.
If you thought you couldn't make crispy, tender chicken strips in the oven, we're here to point out this recipe.
It's cheesy, garlicky, and only requires six ingredients. Yes, you read that right – only six!
To make these tenders super juicy, you'll be dipping them in melted butter before adding the breadcrumbs.
You can use any kind of oil that you like – olive oil, coconut oil, etc. These oils will all help keep the breading on and lock in the moisture of the chicken breasts.
If chicken tenders or breaded chicken isn't your thing, you'll want to try this recipe!
We have this one listed as one of our favorite easy chicken tenderloin recipes.
A spicy, salty, sweet, umami flavored sauce coats these chicken pieces, making an Asian-inspired dinner a snap.
The recipe calls for sriracha to add heat. Don't worry if you ran out or can't find it at the store; instead, you can use chili paste.
Make sure to start with a small amount and increase as needed, so you don't have a too spicy dish.
We love one-sheet recipes! After crafting a tasty meal, cleaning up a sink full of dishes is the last thing we want to do.
This recipe is super flavorful, and by using one sheet pan for the whole recipe, you can skip the pile of dishes.
One ingredient included is zucchinis. These are hit or miss with many people.
If you or your family members don't like this vegetable, you can add butternut squash, green beans, or any vegetable you enjoy.
Air fryers are becoming more and more popular in home chefs' kitchens, and it's easy to see why!
You can cook so many things in an air fryer that it's easier to ask, "what can't I make?" instead of "what can I make?". Here's an easy and quick way to make air fryer chicken tenders.
The surprise ingredient is lemon wedges. While this is a great way to add a pop of citrusy flavor, some may want a different taste.
You can use your favorite sauces when serving these tenders instead, like BBQ.
Any type of buffalo chicken is instant comfort food – whether it's bone-in wings or tenders.
Usually, they're deep-fried, but this option is baked so you can enjoy them without the guilt. These tenders are crispy, spicy, and perfect for a game day party or night in.
Of course, buffalo tenders need to be spicy, so it shouldn't be a surprise that Frank's Red Hot Sauce is an ingredient. If you prefer a different hot sauce, you can easily swap it out.
Having trouble thinking of new low-carb recipes? Why not try this tasty chicken lettuce wrap? The sweet chili peanut sauce is the perfect way to top off each lettuce wrap.
You may be surprised that peanut butter is one of the key ingredients in the sauce.
If you don't enjoy peanut butter, you can use another nut butter alternative like almond butter for a similar flavor. Or, use sunflower butter as an allergen-friendly swap.
We've added this recipe to our favorite healthy meals list – it's so incredibly tasty!
Yes, you can even make super yummy buffalo chicken tenders in the air fryer!
They still come out crispy and spicy, yet they only need 10 minutes to cook. This air fryer chicken breast dish is one that your whole family will love.
Most recipes use salt, so kosher salt is not an unexpected ingredient. However, you can easily substitute sea salt or Himalayan salt for this dish.
Anything you order off the Cracker Barrel menu is always so incredibly tasty, but there's one dish that reigns supreme – their chicken tenderloins.
Skip the line and restaurant wait by making a homemade version of this restaurant favorite. Your kids won't even be able to tell the difference!
You'll be using fresh garlic for this dish to help the flavor pop. If you don't have any cloves, use garlic powder as a replacement. B
oth options work well and provide a delicious garlicky taste.
We always have trouble finding new ways to season chicken for Italian dinners.
This is especially true when we want to make easy chicken tender recipes for dinner with few ingredients.
These pesto chicken tenders have only four ingredients, so grocery shopping cannot be easier for this recipe!
You'll be using panko breadcrumbs to make the tasty chicken coating. If you want a bolder Italian flavor, swap them out with Italian-flavored breadcrumbs. Or, try a combination of the two for a fun take on the recipe.
Sure, a four-ingredient recipe is impressive. But, how about a three-ingredient dish?
These bacon-wrapped chicken tenders are SO GOOD; you won't want to put them down.
Of course, bacon-wrapped chicken tenders need chicken and bacon. The last surprise ingredient is cheddar cheese. This trio of ingredients creates an unbeatable recipe.
Swap out the cheddar with your favorite cheese like mozzarella and enjoy the ooey-gooey chicken bites.
This is the perfect dish to use as an appetizer for any homecooked meal.
The prep time for this recipe is a bit longer, so only proceed if you have extra time to whip this up.
We promise that you will want to recreate this yummy recipe! The tenderloins are covered in a tangy, herby, creamy sauce that will have you saying, "that's what I'm talking about!"
Dried rosemary is the unexpected ingredient in this dish – it helps provide a sagey, piney, peppery flavor.
If you have an herb garden, here's your chance to shine. Grab some fresh rosemary instead and include it in the recipe.
Sometimes all you want is a healthy, tasty salad for lunch, and we're down with that! Skip the boring chicken salad, and recreate this yummy option filled with bacon, cheese, tomatoes, and crisp tenderloins.
Romaine lettuce is the base for this salad – providing tons of yummy nutrients.
If you want an extra dose of iron, try swapping it with spinach or even baby kale. You still get that nice green salad, but with a boost of iron.
Tip: Cook your hard-boiled eggs the night before for a faster prep time.
Looking for more meals to make with chicken tenderloins? How about this citrusy chicken and green bean combo. You already know about our love for one-pan dishes, and this option is ready in 30 minutes!
You'll be using chicken stock to help deglaze the pan and help create the yummy sauce.
You can use vegetable stock, beef stock, or homemade stock if you prefer. All the mentioned options will create an incredible sauce.
Dress this dish up for a date night by adding a garnish of fresh parsley. Don't forget the dessert!
Intimidated by creating garlic butter at home? Don't be! It's super easy, and once you've learned how to make it, you can add it to anything you want – like chicken tenders!
Here's a way to put your newfound garlic butter skills to work. You will need Italian seasoning for this recipe.
If you don't have any in your kitchen, you can use a homemade mixture. Include spices like basil, oregano, marjoram, and thyme.
Can you have too many air fryer chicken recipes? Absolutely not! Here's another option you can whip up in only a few minutes.
Part of the appeal of these tenders is the grated parmesan cheese in the breadcrumb mixture.
This cheese addition takes the dish from good to great. You can use parmesan cheese from a shaker if that's what you have on hand.
Don't feel like adding parm? You can skip it as well and still have super yummy chicken tenders.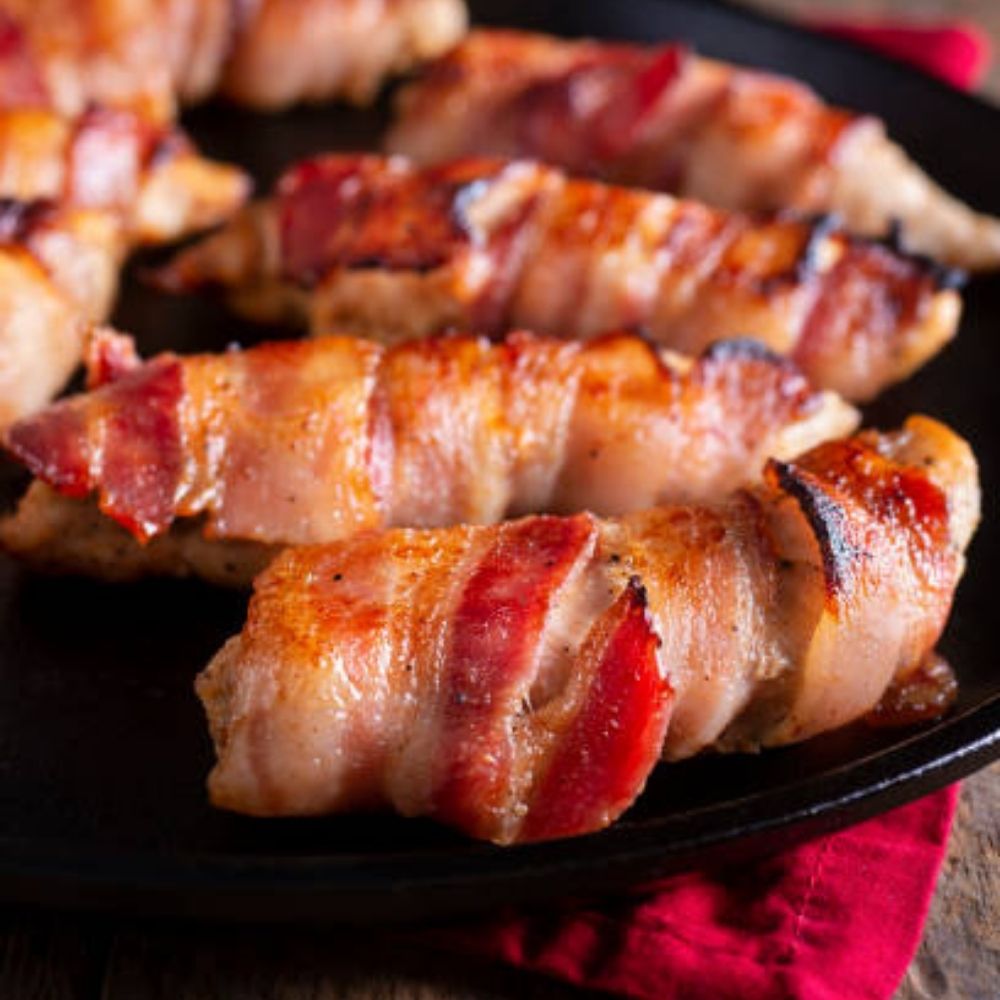 26 Easy Chicken Tenderloin Recipes
Yield: 6

Cook Time: 30 minutes

Total Time: 30 minutes

Here's a way to say thank you for checking out our recipes! Below you'll find directions on how to make Italian Chicken Tenderloins. These are perfect for making on the nights when you're unsure what to cook!
Ingredients
1/2 c chopped onion
3 tsp olive oil, divided
1-1/8 tsp paprika, divided
1/4 c tomato paste
1-1/4 c water
1/2 tsp reduced-sodium chicken bouillon granules
1 bay leaf
1/4 c all-purpose flour
1/2 tsp Italian seasoning
1/2 tsp salt
1-1/2 tsp grated Parmesan cheese
1/4 tsp dried oregano
1/4 tsp garlic powder
1-1/2 lbs chicken tenderloins
Instructions
Pan fry onions, oil, and paprika in a small pan on medium heat until the onion becomes translucent. Add the water, tomato paste, bouillon cube, bay leaf, and Italian seasoning and mix. Bring the temperature to high until the mixture boils, then lower and simmer for about 10 minutes.
In a large, wide dish (like a pie pan), mix the flour, parmesan, salt, garlic powder, oregano, and additional paprika powder. Coat the chicken on both sides with this mixture.
Heat a large pan (preferably non-stick) on the stove and add one teaspoon of oil. Cook the chicken until there is no pink in the center. This should take about three minutes on each side. Repeat until all the chicken is cooked. Make sure to remove the bay leaf before serving.