As a parent, you know just how busy life can get sometimes.
Between work, school, helping your child with their homework, and taking them to and from practice, it often seems like there aren't enough hours in the day to accomplish it all.
Because of this, sometimes you need a quick and easy meal to make for dinner. Although, as most parents know, sometimes finding the perfect meal isn't always so simple if your child is a picky eater – especially when it comes to the nutrients they need like vegetables.
Children need nutrients to help them grow big and strong. That's why we've gathered 31 of the tastiest recipes that your kids will not only love but will help keep them healthy.
Here are our picks for the top 31 best meals for kids.

1. Cheeseburger Biscuit Cups
Cheeseburger in bite form? Sign me up! These tasty little treats are perfectly delicious and kid-approved.
The secret ingredient in this dish is Worcestershire sauce – and I know – it's probably something your kid would hate by the sound of it. So, let's not tell them, okay?
This sauce has a little bit of a salty flavor, which adds extra flavor to the beef.
If you don't have Worcestershire sauce (or your kid found you out and doesn't want to try it), swap it out for soy sauce to retain that salty flavor.
2. Oven-Baked Chicken Tenders
When you think of a childhood staple, you probably think of chicken tenders.
Whether you call them nuggets, tenders, or fingers, chicken is always one of the most popular meats among children.
Good thing, too, considering it's healthy for them and packed with protein. Often, these chicken tenders are fried, which isn't too healthy. This recipe, however, is oven-baked and a much healthier alternative.
The secret ingredient is mayonnaise, which helps bind the breadcrumbs to the chicken tenderloins. If you don't have mayo, swap it out for some sour cream instead.
3. Air Fried Chicken Nuggets
Air fryers reached peak popularity during the pandemic, so it's no wonder why they make our list of the best dinner recipes.
Air frying allows you to get that fried taste without all the extra oil. The secret ingredient in this recipe is surprising: powdered sugar.
Why powdered sugar, you ask? It just adds a little bit of extra flavor. You can use either chicken breasts or tenderloins for this recipe, so don't be afraid to swap it out with your preferred chicken choice.
4. Easy Sloppy Joes Recipe
Growing up, there was nothing I loved more than Sloppy Joe night. Now, as a parent myself, I know why: they're super simple and easy to make.
It's no secret that brown sugar is the secret ingredient that you can't ignore. It just adds a little bit of sweetness to the beef and helps create that favorite sloppy joe flavor we all know and love.
If you don't have brown sugar, you can either swap it out for traditional, plain sugar or avoid the sugar altogether for a healthier alternative.
5. Quick & Easy Garlic Butter Noodles
Talk about simple! This dinner idea requires little to no preparation and will quickly become your go-to on busy weeknights.
The best part about this dish is that it can work well as an aside, as well. Garlic is the secret ingredient in this main course.
It helps the noodles ooze with flavor. And speaking of noodles, you can swap out the traditional egg noodles for another type of pasta. Both farfalle and fettuccine noodles work great as alternatives. Plus, these types of pasta are usually kid-approved!
6. Air Fryer Avocado Grilled Cheese
Do you wish your child ate more veggies? If so, try sliding a little bit of avocado into their grilled cheese.
Avocados are healthy and chock full of nutrients that can ward off various diseases. The secret ingredient in this dish is, of course, the creamy avocados, which blend perfectly with melty cheese.
Get creative with this recipe. While the recipe traditionally calls for mozzarella, feel free to swap it out for cheddar, provolone, or pepper jack for a kick of flavor.
7. Potato Chip Frittata
Kids love potato chips, so why not turn their favorite snack into their favorite meal?
This recipe makes doing so possible! The secret ingredients in this dish are the spices – thyme, basil, rosemary, and parsley – because it gives this meal a ton of flavor!
Of course, we can't forget about the chips, as they're really important, too! Kettle-cooked chips work best, but hey, this is your dish: feel free to make it your own and experiment with a variety of chip flavors. Sour cream and onion could taste great!
8. White Castle Hamburgers Copycat Recipe
Does your child love hamburgers from White Castle? If so, this is the recipe they'll be sure to gobble up.
White Castle is famous for its delicious burgers, and onions are what makes them taste so great. However, instead of regular onions, this recipe calls for some dry onion soup mix, which happens to be this recipe's secret ingredient.
If you don't have a dry onion soup mix, feel free to use regular onions like the restaurant. Also, feel free to swap out the cheddar cheese for something different.
9. Pizzadilla
A pizza what? A pizzadilla! This is such a fun, unique recipe that your kids will go ham for.
This recipe takes the traditional ingredients from a pizza and quesadilla to create something that will surely stand out at your child's birthday party. Plus, they're easy to make.
Italian seasoning is the secret ingredient in this dish because it features marjoram, a popular spice used in both Italian and Mexican dishes.
If you don't have an Italian seasoning blend, you can swap them for individual spices such as thyme, marjoram, and basil.
10. Paula Deen's Corn Casserole
If you're looking for dinner ideas for kids that will help them eat their vegetables, this recipe is perfect.
It features a few simple ingredients like whole and sweet corn and corn muffin mix. However, the secret ingredient comes in the form of cheddar.
This adds extra flavor and creaminess that you wouldn't get with the other ingredients.
Usually, this recipe calls for a can of corn kernels, but if you're looking to make the project more family-friendly, you can shuck corn yourself to get the kernels.
11. Pretzel Pigs in a Blanket
Pigs in a blanket are one of the most delicious appetizers out there. But to kids, these make awesome snacks – especially when they're dunked in some zesty brown mustard.
The secret ingredient is coarse salt because that's what will turn your pizza dough into a pretzel flavor.
The best part of this recipe is that you can substitute the sausages for any meat you'd like.
There's no shortage of ways to get creative with this dish and make it your own and fit your child's food preferences.
12. Taco Cups with Beef and Cheese
These taco cups are a fun twist on a fan-favorite meal. Instead of traditional taco shells, these cute little snacks are made out of wonton wrappers.
The secret ingredient in this dish is sour cream, as it ties in all the ingredients to make a complete bite. Even though this recipe calls for lean ground beef, you can easily customize this recipe to fit your diet needs.
Swap the ground beef out for chicken, pulled pork, ground turkey, or even some tofu. Or, if you want, omit the beef altogether to make a vegetarian version with just green peppers, tomatoes, and onions.
13. Buffalo Chicken Tater Tot Casserole
Are you looking for kid-friendly dinner ideas? If so, you and your family will love this tasty buffalo chicken tater to the casserole.
The secret ingredient in this tasty casserole is hot sauce, which gives the dish an extra kick of flavor synonymous with buffalo sauce.
The recipe also calls for cream cheese because it adds some necessary creaminess. However, feel free to swap the cream cheese out for plain Greek yogurt or sour cream to achieve the same level of creaminess.
14. Individual Homemade Pizzas
If you're looking for kid-friendly recipes, you'll adore this one that features cute individual-sized pizzas you and your child can make at home.
This dish is super simple to make and will get your child involved in the cooking process. The secret ingredient is a package of active dry yeast, which will make your individual homemade pizzas light and airy.
The recipe calls for mozzarella cheese, but swap it out for parmesan if you prefer. Add pepperoni, sausage, veggies…whatever sounds good! You can even use the basis for this recipe to make dessert pizzas, as well.
15. Franks & Beans
Does your child love hot dogs but struggle to eat their vegetables? Try adding some beans to the hot dogs.
While it won't be the healthiest version, even canned beans are packed with protein.
This recipe is pretty simple, but the secret ingredient is entirely optional but can give your hot dogs that chargrilled flavor.
It's called liquid smoke, and it just adds a little something extra. If you don't have hot dogs, you can still create a similar flavor by using sausage or kielbasa.
16. Baked Spaghetti
There's no shortage of creativity when it comes to baked spaghetti. This is because you can easily swap your meatballs out for some juicy sausage or tasty ground beef or even turkey for a healthier alternative.
You can even swap the meat out altogether for some grilled veggies like zucchini.
The secret ingredient is ricotta cheese, which helps make everything extra creamy.
If you're looking for healthy meals for kids, this is one you can easily customize to make it as healthy as you want, including what kind of pasta you use and what goes on top.
17. Ritz Cracker Chicken Casserole
Now that we've hit the winter season, the kids will soon be spending more time at home.
What better way to celebrate the season than with a warm chicken casserole that's sure to keep their bellies full.
This dish features Ritz crackers, which are already going to give it a little crunch.
However, the secret ingredient you can't ignore is the ranch seasoning mix. Ranch already tastes excellent with chicken, so it's a perfect blend that's full of flavor. If you don't have dry ranch mix, add a dollop of ranch dressing.
18. Chicken Casserole with Potato Chips
Chips are a childhood staple, so what better way to incorporate them than in your family's chicken casserole.
This unique recipe is very flavorful and easy to make. Plus, it features broccoli, so it's a sneaky way to get your kids to eat more vegetables.
The secret ingredient is lemon juice, which adds a little sweetness to help balance out all the other strong flavors this recipe calls for.
Likewise, if you don't want to use broccoli, try swapping them out for Brussel sprouts or cauliflower.
19. Tuna Casserole
There's nothing quite like a classic tuna casserole. Its mix of tuna and cheese provides a delicious combination that is great for the whole family.
The secret ingredient here is the breadcrumbs since they give this meal some extra texture.
If you need to swap anything out, try swapping the whole milk with cream for some added thickness.
This recipe is not recommended if your family is not fond of seafood. While the tuna taste is not overwhelming, it still has tuna in it.
20. Slow Cooker Spaghetti And Meatballs
If you're looking for a great and convenient way to make classic spaghetti and meatballs, check out this awesome slow cooker recipe.
With this, you place all of your ingredients in a slow cooker for a few hours and let it take care of the rest.
It's that easy! The secret ingredient here is the balsamic vinegar which will add a bit of acidity to the overall flavor. If you're looking to change things up, you can always add additional herbs and parmesan cheese for additional flavor.
21. Frito Chilli Pie
Here's a classic kid-friendly recipe with a twist that you should check out if you're looking to serve up something special for your kids.
Throwing chili into a traditional Frito Pie gives this dish a little something extra that the whole family can enjoy.
The secret ingredient here is the Fritos. While that might not seem so secret, not only do they have that awesome crunch that only Fritos can provide, but they add some salty flavor to the mix. If you're in a pinch, you can use garlic powder instead of using a clove of garlic.
22. Crispy Chicken Fritters
Do your kids like chicken tenders? If so, these breaded chicken fritters might be right up their alley.
These croquette-style pieces of chicken go great with any number of meals. The secret ingredient here is the bread crumbs.
While they may add some flavor to the overall dish, they also provide a nice texture to the chicken, making them delicious with every bite.
If you need to change an ingredient out, we suggest swapping garlic powder for minced garlic instead.
23. Bacon Cheeseburger Pie
Everyone loves bacon. Everyone likes cheeseburgers. Everyone likes pies. This next dish is a win in all three columns and is an excellent meal for you to share with your kids.
The secret ingredient here is bacon. Bacon is super tasty, but it also enhances the other flavors in the dish and brings everything together.
If you're looking to swap anything out, try using onion powder instead of an onion. Try this for your next family dinner. We guarantee your kids will be asking for more.
24. Grilled Cheese Dogs
When you combine the cheesy goodness of a grilled cheese sandwich with the perfect ballpark classic that is the hot dog, you get a delicious combination that your kids will love: grilled cheese dogs!
If you're looking for easy meals for kids, this one ranks number one. The secret ingredient here is the hot dog itself.
It's what the entire dish is built around, and it, along with the cheese, provides most of the flavor.
If you're looking to swap anything out, you can try out different cheeses to see how they affect the dish's overall flavor.
25. Cheeseburger Casserole
If you want to try a new dinner out, here's a fun take on a traditional casserole that your kids will love.
Turning a cheeseburger into a casserole makes it a delicious take on a classic.
The secret ingredient here is the fries. Not only do they add a much-needed flavor and texture to the casserole, but they provide an extra level of fun.
If you need to swap anything out, we recommend swapping ground beef for ground turkey if you're looking for a healthier alternative.
26. Stuffed Pasta Shells
It's been a busy day, and you want to make something quick and easy, but also something that the kids will love.
Stuffed shells are the answer! This is a traditional Italian dish that your kids will love, especially if they like cheese.
You don't have to limit yourself with how much cheese you add, either! The secret ingredient here is the marinara sauce.
The sauce of any pasta dish is integral to the overall flavor. If you're looking for a replacement ingredient, try swapping the onion for onion powder. This will keep the taste the same.
27. Potato Chip and Chicken Casserole with Cheese
The following recipe is a fun take on a casserole that you and your whole family can enjoy.
Combining chips and chicken into a cheesy dish that ensures flavor in every bite. The secret ingredient for this one might not be so secret since it's in the name.
It's the potato chips. The potato chips had some flavor and saltiness to the dish, but it helps provide that awesome crunchy texture that gives it something a little extra.
If you need to substitute an ingredient, we recommend swapping the sour cream for full-fat plain yogurt.
28. Quick Hot Dog Chilli
While a standard hot dog is excellent, there's nothing quite like a classic chili dog.
This recipe is the perfect chili for your hot dog. Your secret ingredient is going to be the ground beef that is going to help tie together all of the other elements of this dish while also providing flavor and texture with every bite.
If you need to swap anything out, try using brown mustard instead of yellow mustard for a slightly different taste. This recipe is guaranteed to have your kids asking for more.
29. Cheddar Cheeseburger Meatloaf
The following recipe takes a traditional dish and turns it into something more appealing for your kids.
It's a family meatloaf dinner with a cheeseburger twist, and honestly, what could be better? This is a meal where the secret ingredient is also the ingredient you can swap to change things up a bit.
That ingredient is cheese. While this meal usually uses a slice of sharp cheddar cheese, swapping it out for something like American or muenster can change the flavor profile without sacrificing the overall taste of the meal.
30. Buffalo Chicken Mac And Cheese
This dish combines two classics that are enjoyable for both kids and adults.
Take the cheesy goodness of mac and cheese and combine it with the spicy kick of buffalo chicken to make this tasty dish.
The secret ingredient here is going to be the chicken. While the cheese and buffalo sauce might be the star of the show here, the chicken gives an added texture to this dish.
If you need to swap anything out, try swapping garlic powder for minced garlic. If you're on the hunt for easy dinner recipes, this is the one for you!
31. Cheeseburger Cups
Are you looking for a meal that won't require a lot of prep work? If so, these bite-cheeseburgers are not only kid-approved, but they're easy to make.
Your child can be enjoying them in as little as 30 minutes.
The secret ingredient in this dish is brown sugar because it adds a layer of sweetness that works well with mustard and ketchup.
This recipe traditionally calls for ground beef, but you're not limited to that. Swap your ground beef out for some ground turkey or tofu if your child has dietary needs.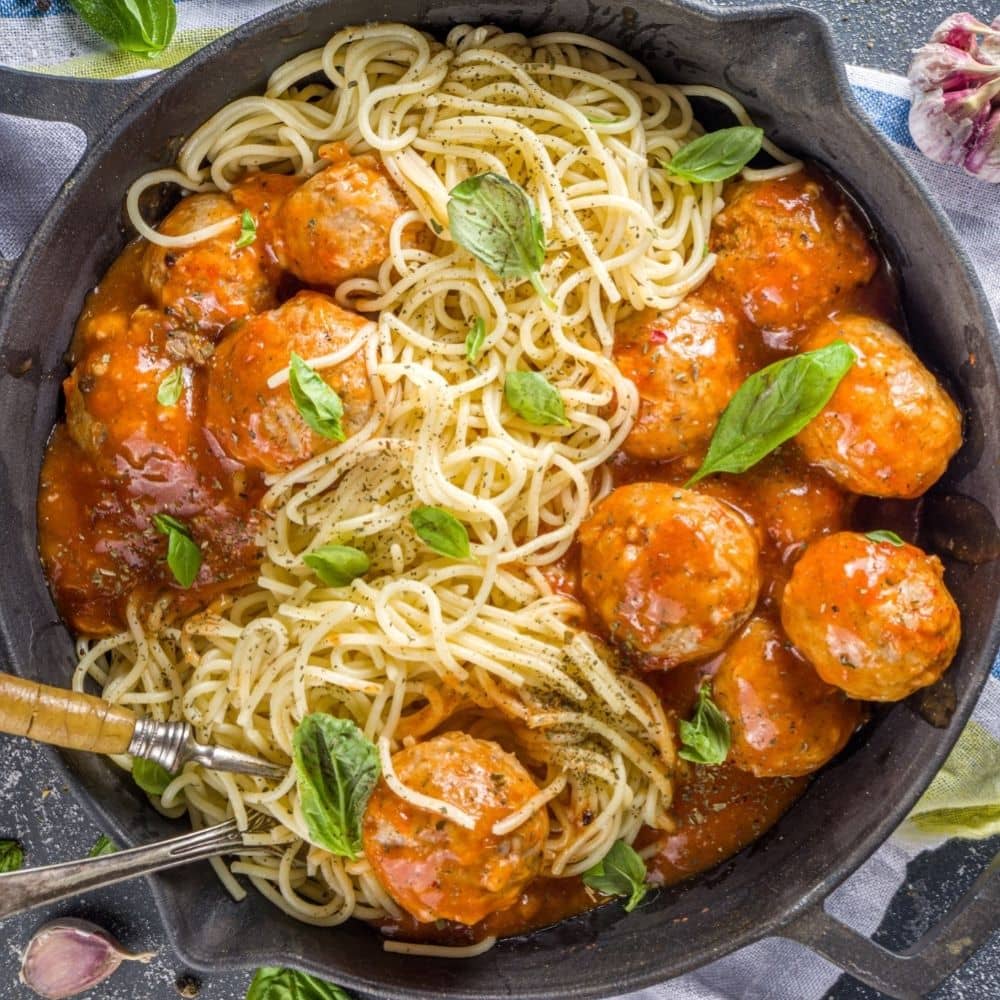 31+ Easy Dinner Ideas For Kids
Yield: 5

Prep Time: 30 minutes

Total Time: 30 minutes
Ingredients
1 lb ground beef
1 tbsp prepared mustard
1-1/2 tsp Worcestershire sauce
1/2 c ketchup
1 tube (12 oz) refrigerated buttermilk biscuits
2 tbssps brown sugar
1/2 c cubed Velveeta
Instructions
Preheat oven to 400 degrees. Cook ground beef over medium heat in a large skillet. Break into crumbles. Once the meat is no longer pink inside, stir in mustard, Worcestershire sauce, brown sugar, and ketchup.
Remove from heat and put to the side.
Grease your cupcake pan and press each biscuit onto the bottoms of the cups.
Spoon your beef mixture into each cup and add cheese on top.
Pop in the oven for 14-16 minutes or until golden brown.
Notes
If you prefer to freeze them, add them to a container and separate them with waxed paper. When ready to eat, thaw them in the refrigerator for 8 hours. Put the cups on a baking sheet and bake on 375 until they're fully heated.