While having a party or a family dinner, there should always be a dessert to make the ceremony more interesting. Therefore you should be thinking about trying these 20 dessert bar recipes,
They are so easy, fun to make you'll enjoy them at the end! And everyone from your guests and yourself as well will love them too!
These easy dessert bars will be your comfort food during your holidays.
You'll be enjoying them alone or with family. You won't get enough of them. Everyone will ask you about each recipe because they are so addictive.
You can serve them or store them till Christmas, thanksgiving eve ! or use them during your chilly, cozy nights around the fire. They'll go perfectly on cold days. You won't have to wait for summer to enjoy dessert bars. We have prepared ones you can make for summer and enjoy them in winter too!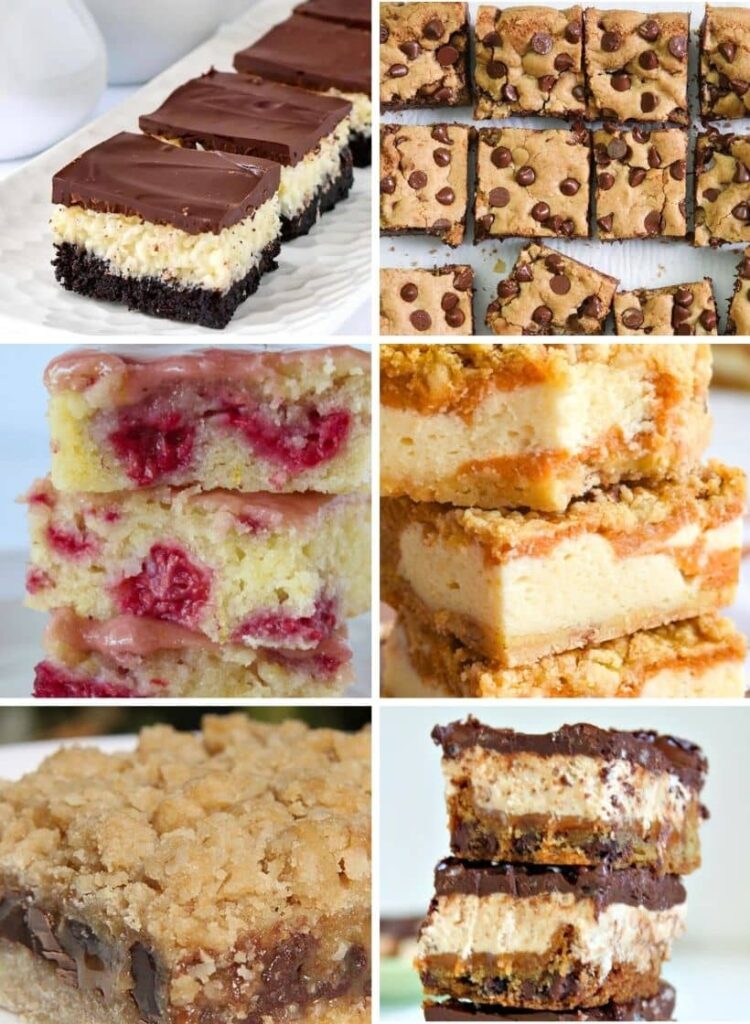 1 Coconut Bounty Cookie Bars
This is a super easy dessert bars recipe with a chocolate crumb base and a sweet coconut center. You'll enjoy making and eating a sweet and delicious old recipe.
They'll be perfect for family gatherings during Christmas and thanksgiving. Everyone will ask about the recipe to make them.
You'll be needing fine cut dried unsweetened coconut, using any chocolate chips you feel like it, cookie crumbs, then you can add each layer in a time. That's how you'll make your favorite dessert from your childhood!
2 Best Chocolate Chip Cookie
This time of the year, it is great to bake cookies for all of us, then you must try this amazing and delicious recipe, to enjoy the cookies filled with chocolate chips, if you like chocolate as much as I do you'll enjoy these dessert bars.
They are swimming with chocolate. They are great chocolate treats. They have a great buttery sweet flavor from the brown sugar and the melted butter.
They won't take much time, just about 40 min to make. It is easier than making cookies and can be made easily, plus you can freeze them.
3 Raspberry Lemonade Bar
if you used to enjoy lemonade, then you'll love this lemonade bar.
It is so delicious and is like a brownie, and the texture is great. Just by combining the butter, sugar, eggs, lemon juice, lemon zest, combining everything, then adding frozen raspberries, chop them and stir while they are frozen.
Do not over mix. This is a great recipe that your kids will love too because the mixture of the lemon and raspberries makes the taste so great!
4 4 Layer Everything Bar
This is one of the most mind-blowing desserts you'll ever make. The layers are insane! You can use a chocolate chip cookie base, which is chewy and easy preparation.
You can use any favorite homemade cookie dough, then add to that caramel layer.
This one is wholesome made from unwrapped caramel candies oozes. Nougat is the one you'll be adding, then rice Krispies chocolate ganache which makes it special and perfect! You should try these ASAP!
5 Granny Mabel's Best Bar Cookies
These cookies are easy and quick to make. You will need only 50 mins of your time. You'll enjoy cooking them.
They are so delicious and worth the try. You won't need any shaping because it is a bar with any kind of chocolate you like!
Adding oats to it makes it great and tasty. You'll taste the buttery flavor from the melted butter. You can serve this with your favorite ice cream topping; you should make it very soon because it is worth it!
6 Pumpkin Cheesecake Bars
If you love cheesecake, then you'll love these bars because they are perfect for the fall dessert.
They have layers of streusel, cheesecake filling, and pumpkin swirl. They are so delicious. You'll love the combination.
It is game-changing, these bars can be enjoyed during your family gatherings and Christmas, everyone will enjoy it during that night. They won't notice that it is pumpkin! You can add chopped pecans.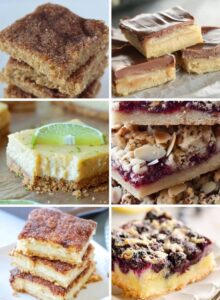 7 Blueberry Lemon Custard Bars
The combination between lemon and blueberry is so good you'll love it. These treat are the perfect sweet bars you can try.
They are layered over a sugar cookie crust and a creamy custard, which will make your dessert so rich and delicious, the fresh blueberry dessert with the sweet, creamy custard is worth trying.
This tastes amazing and offers a great chewy contrast to the silky custard, these bars are really perfect for Christmas nights and everyone will love them!
8 Sopapilla Cheesecake Bars
This easy bar recipe is one of the most popular Mexican pastry desserts which combine crescents rolls, cream cheese, vanilla, eggs, sugar which are then topped with cinnamon sugar.
They are one of the best and delicious desserts you'll ever taste. The vanilla cheesecake flavor and the crunch make it very special and worth the try.
You won't get enough of it! It is tasty and crunchy! Everyone will ask for the recipe.
9 Barefoot Contessa's Raspberry Crumble Bars
If you love raspberries and are tired of the raspberry pies, then you'll have to try these bars. They are so good and easy to combine the raspberry jam, granola, sliced almonds.
This will make your bars so tasty! You will enjoy them as much as you want; they can be frozen and served later!
10 The Best Churro Bars
You're craving churros? But hate to fry? Then you can give these churro bars a try.
You can take all the flavors from your regular churros and turn them into a cookie bar.
They are soft and sweet. You'll love them so much, they are easy to make and will be your perfect dessert for your party, and your guests will enjoy them as much as you do!
11 Key Lime Pie Bars
The lime pie bars are so worth it. They are so delicious and combine sweet and sour taste, making the classic into these lime bars great. They are easy to make.
They can be your refreshing treats for summer. They will be everything you love about a traditional lime pie!
They are so tasty that you can eat them during your hot summer days and enjoy these easy dessert bar recipes during Christmas night. Nobody can stop you because you don't have to wait till summer!
12 Twix Bars
Enjoying chocolate more than any other sweetener, you can eat your chocolate in a different homemade delicious way,
These Twix bars will be your comfort dessert, and you won't have to go to the store to get them. You can enjoy making them. They are easy and delicious,
Just by combining the brown sugar and corn syrup with the milk chocolate chips ! that corn syrup makes them tasty in addition to the condensed milk. They are the best dessert you'll ever make!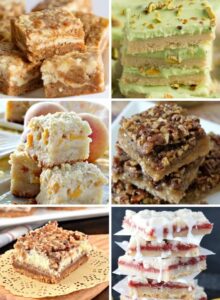 13 Carrot Cake Bars
These carrot cake bars are delicious and moist with a cinnamon taste.
If you love carrots, then you'll have to try these filled with a swirl of cheesecake.
They are worth it. The brown sugar gives it a perfect taste in addition to the melted butter. Once you serve them, you'll be the only one knowing that it is made from carrots!
14 Pistachio Cream Bars
These fancy pistachio cream bars are so great to make and can be served during your family gatherings or even during Christmas eve you'll love and enjoy them. If you love pistachio, then you must try these bars.
They are the best combination to make your dessert, between cream cheese and milk, plus the pudding mix! You'll be amazed by how it turns out!
15 Raspberry Orange Shortbread Bars
Have you ever tried combining raspberries with any other flavors?
Well, try this shortbread. The fruity bars are worth the try. They taste so good and are enjoyable because having the pulp from juice to bake the cake makes it special the mixture is thin,
Your kids will enjoy it too. They won't get enough of it. You can put it in their lunch box as a dessert or for their breakfast. They will love it!
16 Pecan Pie Cheesecake Bars
If you are into pecans and enjoy pecan pies, then you'll be into this delicious bar recipe. It is so good and easy to make.
The pecan cheesecake pie bars are one of the best pies you'll ever make. You will be needing the graham cracker as a layer, then adding to that caramel pecan pie topping which makes it chewy, plus the cheesecake.
This dessert is incredible. You'll love it and enjoy it during your parties or even normal days with your cup of tea or coffee!
17 Peach Pie Bars
If you enjoy peaches as much as I d,o then you will love these bars, but unfortunately, there are no peaches during a winter day.
Well, you can try to make these bars with the canned peaches because they will taste the same, but you won't have to wait till summer to enjoy the best peach bar,
So the ingredients you'll need are peaches eggs, cinnamon, sour cream. The combination of cinnamon and peaches will make your bar amazing and tasty ! one of the best bars you'll ever taste!
18 Pecan Pie Bars
This delicious dessert bar is so great to try. You'll love it so much because it has Pecans in it, and we all know that pecans and pie are the ones for your winter cozy day.
The fall is closer, so you should get a perfect recipe for your fall. The baking season will be great this year!
These bars are super moist and delicious. The butter and pecans till make you remember your grandma's southern pecan pie!
19 Millionaire Bars Chelsweets
This fancy name makes the bars interesting. It is so exciting to make these bars.
They are easy and great worth the try. The ganache topping is so smooth and easier to bite.
You'll enjoy them while having your teacup at the window watching it snow or rain. Then you can enjoy them with your family on your Christmas night! They will fall in love with these ! you'll be their favorite baker !
20 Chocolate Coconut Bars
As we all know, we love chocolate and coconut. Then you'll have to try these bars, they are so good, and the combination makes them different from any other bars you've ever tasted!
The fact that these bars are the perfect ones for your breakfast and your snacks too, you will be so into them so that you see how good they taste!
Because the mixture between the sea salt and chocolate chips and the condensed milk makes them perfect with a texture.