Love at first sight dessert! Not sight, at first bite, actually! Well, I think it is at first sight too because these Apple Dumplings look so yummy; golden brown and sauce around make them look delicious for sure., total temptation!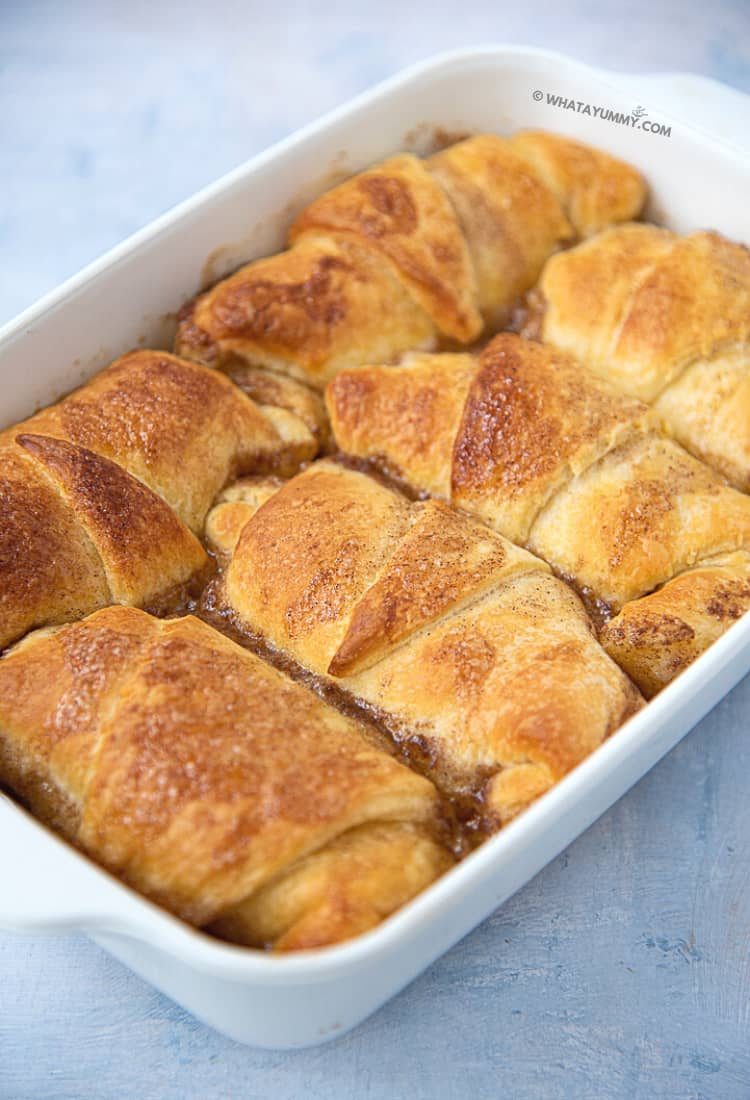 The cinnamon, vanilla, and butter, plus the tanginess of the soda, will add that extra flavor to the apple dumplings, it makes a difference!
This is without a doubt a winning dessert, especially for cold weather because these dumplings must be eaten warm, straight out of the oven with a scoop of ice cream on top. An easy recipe made in only 45 minutes in total! It can't get any better than that!
HOW TO MAKE EASY APPLE DUMPLINGS:
Making Crescent Roll Apple Dumplings is very easy.
First, preheat the oven to 350 degrees F.
Next, wash the apples, peel, and cut into eight equal slices. Place them in a bowl, sprinkle some cinnamon and sugar over, mix and set aside. Unwrap the crescent roll and separate the triangles.
Now, Butter a 13 x 9-inch baking dish. Place a piece of apple on each triangle of dough (on a wider side) and roll it in a croissant and then in the baking dish.
In a separate bowl, combine the butter, cinnamon, sugar, and vanilla, mix until you get a liquid mixture without lumps, and pour over the rolls. Pour soda (7up or Mountain Dew) between rolls (but not over).
Bake for 35-45 minutes; or until they become golden brown. Serve immediately with a scoop of vanilla ice cream.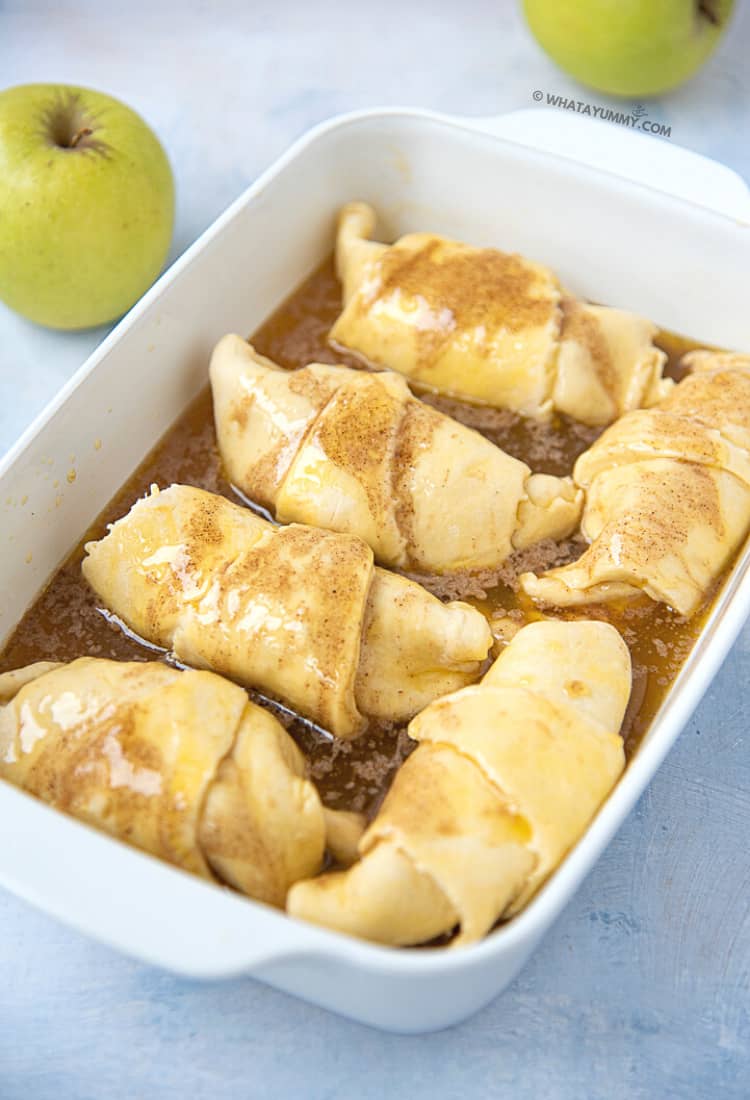 CAN I MAKE CRESCENT ROLL APPLE DUMPLINGS AHEAD OF TIME?
Yes, you can make the Crescent roll dumplings the day before and let them rest in the fridge, covered. Do not pour any liquid on because the dough will get soggy and it won't bake properly.
The next day, prepare the sauce to go over the dumplings, add the soda, and bake as instructed.
CAN I USE PEACHES INSTEAD OF APPLES?
You can definitely use Peaches to make Crescent Roll Apple Dumplings instead of apples. It will taste delicious too.
You can also use pears if you can't find any of those two.
One thing for sure always uses fresh fruit because the flavour and texture will be compromised if you use tinned ones.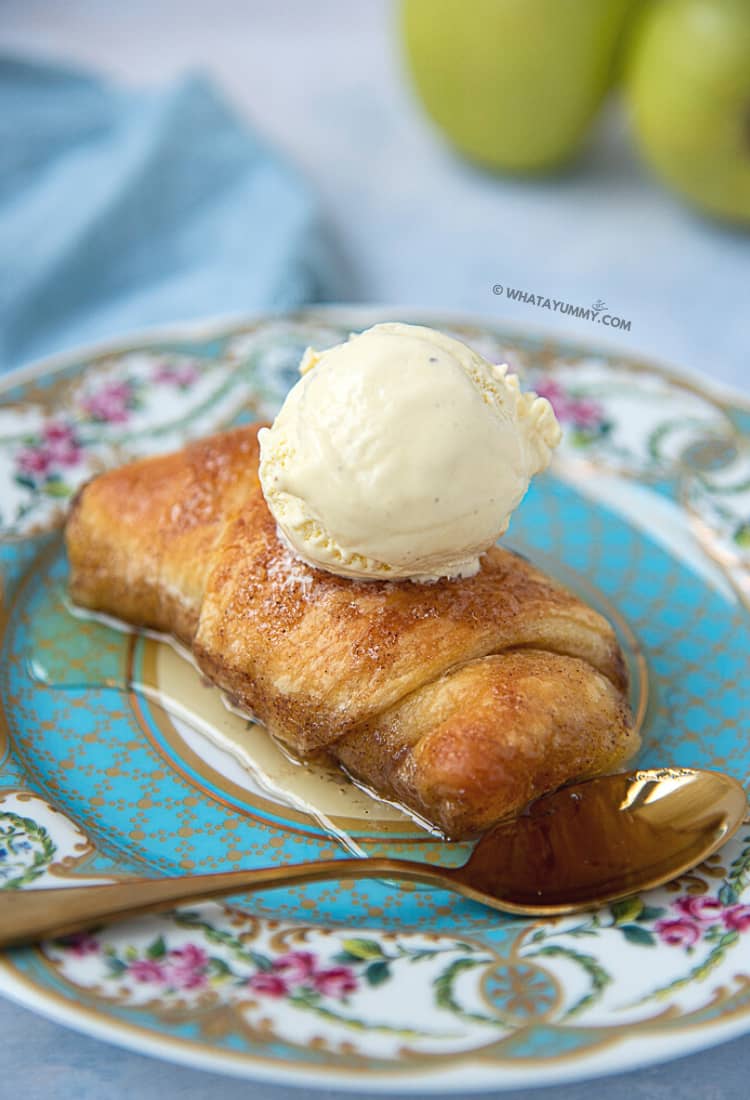 HOW TO STORE APPLE DUMPLINGS:
If you want to freeze the crescent Roll Apple Dumplings, do up to step 5 on instructions and freeze in an airtight container.
To store after baked, keep them in the baking dish, wrap with plastic wrapping, and maintain it in the fridge for up to 3 days.
To warm them up, place the dish in the oven at 350 degrees F for 10 to 15 minutes max.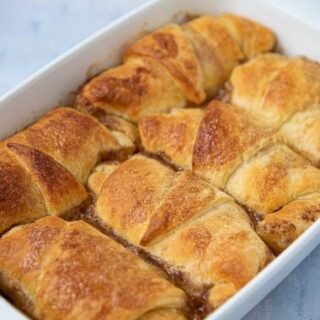 Crescent Roll Apple Dumplings
An easy recipe made in only 45 minutes in total! It can't get any better than that!
Ingredients
2 (8 each) cans refrigerated crescent roll dough
2 sticks of butter
1 1/2 cups brown sugar
1 teaspoon vanilla extract
1 teaspoon cinnamon or to taste
1 can (12oz) 7 Up (or Mountain Dew)
2 large Granny Smith apples, peeled and cored
Instructions
First, preheat oven to 350 degrees F.
Wash the apples, peel, and cut into eight equal slices. Place them in a bowl, sprinkle some cinnamon and sugar over, mix and set aside.
Unwrap the crescent roll and separate the triangles.
Butter a 13 x 9-inch baking dish.
Place a piece of apple on each triangle of dough (on a wider side) and roll it in a croissant and then place them in the baking dish.
In a separate bowl, combine the butter, cinnamon, sugar, and vanilla, mix until you get a liquid mixture without lumps, and pour over the rolls.
Pour soda (7up or Mountain Dew) between rolls (but not over).
Bake for 35-45 minutes, or until they become golden brown.
Serve immediately with a scoop of vanilla ice cream