When you think of tasty dinners, meals involving cottage cheese probably aren't the first things to mind. After all, cottage cheese is usually used for a snack.
But, you may be surprised by how many tasty meals you can make with this type of cheese for every meal of the day.
Between fluffy cottage cheese pancakes to creamy and zesty cottage cheese alfredo, there's no shortage of tasty, easy-to-make cottage cheese recipes your entire family will love.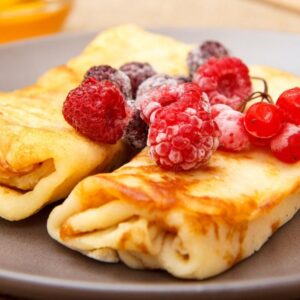 That's why we've gathered the top 33 recipes that include cottage cheese that you can make for breakfast, lunch, and dinner.
If you've always been on the fence about cottage cheese, we guarantee that these tasty recipes will make you change your mind.
Here are just a few of our favorite recipes with cottage cheese:
1. Mandarin Orange Jello Salad Recipe
This recipe is probably the most familiar, considering cottage cheese and fruit are popular pairings.
Jello salad is one of those hidden gems in the snack world. Mainly used as a refreshing treat after a summer barbeque, you can make this tasty recipe any time of the year.
The secret ingredient is a can of crushed pineapple, which blends well with mandarin oranges and cottage cheese.
If you don't have actual pineapple to use, you can get the same flavor by adding pineapple juice instead.
2. Easy Baked Rotini
Switching gears and moving from snack to dinner, we have an easy-baked rotini recipe perfect for tonight's dinner and tomorrow's leftovers.
An egg is a secret ingredient simply because it helps bind all ingredients together. While this recipe does call for cottage cheese, you can swap it out for ricotta if that's what you have handy.
This is the perfect lazy day dish that you can whip up in minutes. Even better, it's a recipe even the pickiest of eaters will love.
3. Skinny Mexican Cottage Cheese Dip
Do you love Mexican food? Me too, which is why this recipe is calling my name! I'm obsessed with any Mexican-inspired dip, and this recipe is no exception.
The secret ingredient is a little bit of sriracha because it gives the dip a little heat.
The recipe also calls for a can of drained black beans, but you could easily swap them out for pinto or refried beans, as well.
Serve with chips or raw vegetables at your next get-together. It's a dish everyone will fall head over heels for.
4. Savory Cottage Cheese Muffins
Are you looking for a quick and easy snack to bring to your child's bake sale or to work for before the long holiday weekend? Turn to these savory cottage cheese muffins.
The secret ingredient is almond flour, which adds a familiar nutty flavor to this snack. If you don't have almond flour, you can swap it out for wheat flour or coconut flour.
Best of all, these muffins are gluten-free, so they're an inclusive snack to bring to parties and other functions. It's one of our favorite savory cottage cheese recipes.
5. Cottage Cheese Pancakes
What's packed with protein and super easy to make?
These cottage cheese pancakes! If you're looking for ways to get a little more protein in your diet, these pancakes are the answer.
Vanilla is the secret ingredient in this breakfast recipe because it adds a little bit of additional flavor. While this recipe calls for maple syrup to be drizzled on top, you're not limited to that as your only topping.
Swap maple syrup out for either honey or even a little bit of brown sugar. Regardless of what you choose, your kids will be a fan!
6. Pumpkin Whipped Cottage Cheese
Despite what the mainstream may say, pumpkin is good any time of year – not just October.
This no-cook snack is perfect for busy mornings before work or served as an appetizer at a birthday party or other social gathering. The secret ingredient in this recipe is no secret at all: it's the pumpkin puree!
This blends perfectly with the cottage cheese and makes this dish so sweet. If you don't have pumpkin but still want to enjoy this blended dessert, you could swap it out for some butternut squash or sweet potatoes.
These are common alternatives to the pumpkin that will still achieve that familiar flavor.
7. Grandma's Lime Green Jello Salad Recipe
There's nothing quite like eating one of grandma's famous recipes during the holiday season.
If you're looking for cottage cheese dessert recipes, this is one the whole family will enjoy.
While you may not ordinarily think of mayonnaise as a crucial dessert ingredient, it's the secret ingredient that helps bind all the ingredients together to make everything moist.
The recipe also calls for walnuts, but don't be afraid to swap them out for any nut you prefer, like almonds, pistachios, or pecans. They'll all taste great!
8. Apple and Cottage Cheese Muffins
If you're looking for something quick and simple to make for your kids to snack on this weekend, look no further than these tasty muffins.
Apple is a versatile snack that works for breakfast, lunch, and after dinner. The secret ingredient in this flavorful, refreshing recipe is cinnamon.
Honestly, you can't have apples without cinnamon. It's such an iconic pairing, and it helps turn this recipe into a dessert, too, if that's how you want to serve it.
The recipe calls for all-purpose flour, but feel free to swap it out for some whole-wheat flour for a healthier alternative.
9. Cottage Cheese Sandwich
Do you love sandwiches? If so, why not add a little bit of cottage cheese to your next one. It's a unique recipe but immensely flavorful. Plus, it's packed with protein!
The secret ingredient in this dish is cottage cheese since you can use it to create endless flavor combinations.
For example, try this recipe with cucumbers and tomatoes or avocados and tomatoes instead.
You can also swap this out for eggplant, spinach leaves, and any other type of vegetable you enjoy. The possibilities are endless!
10. Healthy Protein Waffles
Are you looking to get a little more protein in your diet?
If so, these healthy, protein-packed waffles will do the trick. Aside from the cottage cheese, which helps bind everything together and give it a little extra flavor, the secret ingredient you can't ignore is vanilla extract.
Like the cottage cheese, this gives the waffles a bit more flavor and makes them feel like a true breakfast item.
If you don't have vanilla extract, don't fret. Swap it out for almond extract, a little bit of instant coffee, or maple syrup.
11. Cottage Cheese Pancakes
Quick, easy, and delicious to eat – these cottage cheese pancakes are a great and healthy way to start your day.
The secret ingredient in this dish is canola oil, which helps them turn out all nice and fluffy and in-tact.
If you prefer to use something healthier, you can use sunflower or grapeseed oil instead.
Serve them hot with melty butter, or add a sprinkle of chocolate or cinnamon to turn them into a dessert-style pancake for breakfast.
12. Blueberry Cottage Cheese Overnight Oats
Overnight oats are famous for two reasons. One, they make busy weekday mornings a little less chaotic. And two, it gives the oats time to soak in all the delicious flavors.
The secret ingredient in this breakfast treat is unsweetened vanilla almond milk.
It makes the meal a little bit healthier than if you were to use traditional milk. Plus, the addition of vanilla gives the oats and blueberries a little sweetness.
You can easily swap it out for traditional milk or even water if you don't have vanilla almond milk.
13. Mom's Cottage Cheese Lasagna
If you've ever made lasagna before, you already know how typical ricotta cheese is.
However, did you know that you can also use cottage cheese? First and foremost, the cottage cheese flavor isn't too potent in this dish. Instead, it's used to make everything more creamy.
Red pepper flakes are the secret ingredient since it gives the pasta dish a little heat and extra flavor.
If you don't have marinara sauce, you could swap it out for some layers of fresh tomatoes or even some alfredo sauce for a truly unique flavor profile.
14. Cottage Cheese and apple Breakfast Bowls
Are you looking for a new dish to make the kids for breakfast? Look no further than these tasty cottage cheese and apple bowls.
Cottage cheese and apples are a great pairing that complements one another. Plus, once you add the cinnamon – this dish's secret ingredient – you create something truly wonderful and flavorful.
The best part of this recipe is that you can use any apple you like, so swap out the red delicious for a juicy green apple.
15. Easy Stuffed Shells
Stuffed shells are an iconic Italian dish, and trust us when we say that they taste great with cottage cheese.
The real star of this dish is the basil, which brings an extraordinarily robust flavor to the other ingredients. Plus, who doesn't love a sprinkle of basil on their pasta?
If you don't have the time to make stuffed shells or aren't in the mood for it, you could easily substitute the ingredients of this dish for stuffed tortellini or ravioli instead.
16. Keto Cottage Cheese Dessert
Who says you have to give up cottage cheese to eat healthily? This Keto-friendly dessert is perfect for family gatherings over the holiday season.
The secret ingredient in this dish to make it a little healthier is stevia, a sugar substitute that is still a lot sweeter than table sugar. What we love about this dessert is how versatile it is.
Serve with raspberries, blueberries, peaches, or bananas. Feel free to swap out any fruit, depending on your mood.
17. High Protein Cottage Cheese Pasta Sauce Recipe
By now, you may have noticed a pattern regarding how often cottage cheese is used in Italian dishes. But it just works! If you're looking for a unique spin on your favorite pasta dish, we recommend this one.
Baby spinach leaves are the secret ingredient because they add color and flavor to your traditional pasta meal.
Even though the recipe calls for penne pasta, swap it out with any pasta you prefer. These ingredients will taste just as good on farfalle pasta as some angel hair pasta.
18. Protein Ice Cream
If you're a fan of ice cream but are looking for a new recipe besides the same old boxed brands, then this is the recipe for you.
The secret ingredient in this refreshing treat is, of course, the frozen berries, as this is what will give the ice cream all its flavor.
Fortunately, you can get as creative as you'd like with this ice cream recipe, so feel free to swap the frozen berries out for frozen peaches, apricots, or any other frozen type of fruit you like.
19. Tomatoes & Cottage Cheese
These snacks make the perfect little appetizer at any social gathering. Worcestershire sauce is the secret ingredient, lightly drizzled on top of the tomato for extra flavor.
If you don't have Worcestershire sauce, you could swap it out for a little bit of soy sauce to keep the same salt level or use a combination of soy sauce and apple juice to make it a little less bitter.
Either way, this is a unique recipe that's quite refreshing.
20. Cheesy Baked Spinach Casserole
If you can never get enough spinach dip at your local restaurant, then you'll be surely asking for seconds (or thirds) of this cheesy baked casserole.
Believe it or not, nutmeg is the secret ingredient in this casserole that helps blend everything.
The nutmeg works well with spinach and gives the dish a nice, nutty flavor.
You could swap it out for some kale if you don't have spinach since they're pretty similar in flavor and consistency.
21. Cottage Cheese Muffins Recipe for Breakfast
Calling all breakfast lovers! Instead of eggs and bacon for breakfast, try these cute, flavorful muffins for a quick and filling breakfast on the go.
Eggs are the secret ingredient since it helps bind all the ingredients together.
However, if you don't have eggs, you could easily swap them out for applesauce.
This swap works well, considering how great the apple and cottage cheese combination is! This is a family-friendly, healthy snack that you can enjoy for breakfast, lunch, and a midday slump.
22. Cottage Cheese Rolls
If you're looking for recipes using cottage cheese, look no further than this one for melty cheesy rolls.
Rolls can help make any dinner more enjoyable, and this recipe has a lot to offer in terms of how easy it is to create and how quickly your family will devour them.
The secret ingredient is white vinegar since this helps make the rolls light and fluffy.
If you don't have white vinegar, you can swap it out for malt or apple cider vinegar to keep the tastes relatively similar.
23. Cottage Cheese Alfredo
(Almost) everyone loves fettuccine alfredo, but let's face it: it can be a super filling meal that can make you feel a little bloated afterward.
Luckily, you can make fettuccine alfredo a little healthier by using cottage cheese. Because of the health benefits, cottage cheese is this dish's primary secret ingredient.
Of course, if you don't have cottage cheese, you can use traditional ricotta cheese. Even though alfredo is usually made with fettuccine noodles, you can use the same ingredients with any pasta base, so feel free to change it when you feel like it.
24. Tomato Cucumber Cottage Cheese Salad
There's just something about this salad that screams summertime.
Maybe it's the juicy tomatoes, or the refreshing cucumbers, or the combination of them both, but either way, it'll quickly become a staple of your summer barbeques.
The secret ingredient is a spice blend called "Everything but the bagel" seasoning.
This is a blend of sea salt, onion, dried garlic, and sesame and poppy seeds. It adds a lot of flavor and crunch! The recipe calls for cucumbers, but you could swap it out for zucchini if you prefer.
25. Cottage Cheese Deviled Eggs
Next time you're having people over, you have to make these easy cottage cheese deviled eggs.
The cottage cheese makes everything super creamy and fluffy, but the secret ingredient lies in the mayonnaise to tie the ingredients together.
However, not everyone likes mayonnaise, which is why they might not like deviled eggs.
Fortunately, you can swap the mayo out for creamy avocado. It's a unique spin on an old classic and perfect for birthday parties, work get-togethers, and festive holiday celebrations.
26. Grandma's Cottage Cheese Salad
Let's all agree that grandma knows her way around the kitchen! This crisp summer salad uses fresh tomatoes, cucumbers, and onions.
Since it's so simple, we have to look toward salt and pepper seasoning as the secret ingredient since they help bring out the natural flavors of the veggies.
While you can swap the onion out for some minced garlic, we recommend adding them both for an explosion of flavor. It's a flavorful, easy-to-make salad that the company will enjoy. Plus, it won't break the bank.
27. Hungarian Cottage Cheese Spread
Celebrate your Hungarian roots with this flavorful recipe.
The secret ingredient of this cheese spread has got to be the teaspoon of caraway seeds.
Not only is it a popular staple of many Hungarian dishes, but they have a slight peppery flavor to them that gives a little bolt of flavor to the cheese itself.
If you don't have caraway seeds, you could also opt for fennel seeds. They're not as distinct as caraway seeds, but they get the job done.
28. Moist Cottage Cheese Cornbread
Next time you're in the mood to bake, why not try your hand at some deliciously moist cornbread?
The secret ingredient that makes this cornbread recipe so moist is buttermilk. If you don't have buttermilk, don't worry.
You can swap it out for a combination of milk and lemon juice. Or, you could use a little bit of sour cream, plain Greek yogurt, or cream of tartar.
Often, people think of cornbread as a dry-baked good, but this one will quickly change anyone's mind. Recipes using cottage cheese certainly don't have to be boring!
29. Rustic Pressed Cottage Cheese Cheesecake
Try saying that title three times fast! The use of cottage cheese is a modern take on this old classic.
The secret ingredient that helps make everything else moist and bouncy is vanilla pudding powder.
This recipe also calls for a little bit of rum. If you don't have rum or wish not to include it, you can swap it out for white grape juice, orange juice, or peach syrup extract.
There's a lot of ways you can customize this cheesecake to fit your preferred flavor palette.
30. Fluffy Cottage Egg Casserole
Do you want to take your egg game to the next level? Try making this egg casserole for breakfast this weekend.
Diced pimentos are the secret ingredient because they add a sweet and mild flavor to the other ingredients.
If you don't have pimentos or don't like them, you could swap them out for green, yellow, or red peppers.
You could even get a little spicy and dice up a poblano or jalapeno pepper, too! Top with some shredded cheese, and you have yourself a tasty breakfast everyone will love.
31. Chocolate-Filled Syrniki
Alright, buckle in, everybody, because this is a unique spin on pancakes that you HAVE to try.
These bouncy little pancakes are filled with chocolate, which just so happens to be this recipe's secret ingredient.
Best of all, you can get creative with this. Swap a milk chocolate bar out for dark chocolate or opt for creamy peanut butter or caramel filling instead.
There are endless ways to create a Syrniki, and we have a feeling you'll love all of them.
32. Cottage Cheese Tuna Salad
We highly recommend adding a little cottage cheese for additional flavor and creaminess if you love tuna salad.
Capers are a surprising secret ingredient because they add a lemony flavor that compliments the tuna fish. This recipe already calls for lemon juice, so the capers help marry all the flavors.
This tuna salad also requires celery, but you can substitute it for chopped cucumber or juicy bell pepper. Serve as a sandwich or open-faced.
33. Vegan Cottage Cheese Recipe
If you're a vegan, you usually will avoid cottage cheese. However, we have a vegan-friendly recipe for cottage cheese that you can eat by itself or include in any recipe.
Because it's a vegan recipe, the secret ingredient is silken tofu. This particular type of tofu will have an easier time crumbling, so it can have the right consistency of traditional cottage cheese.
The recipe calls for nutritional yeast, but you could use brewer's yeast or chickpea flour.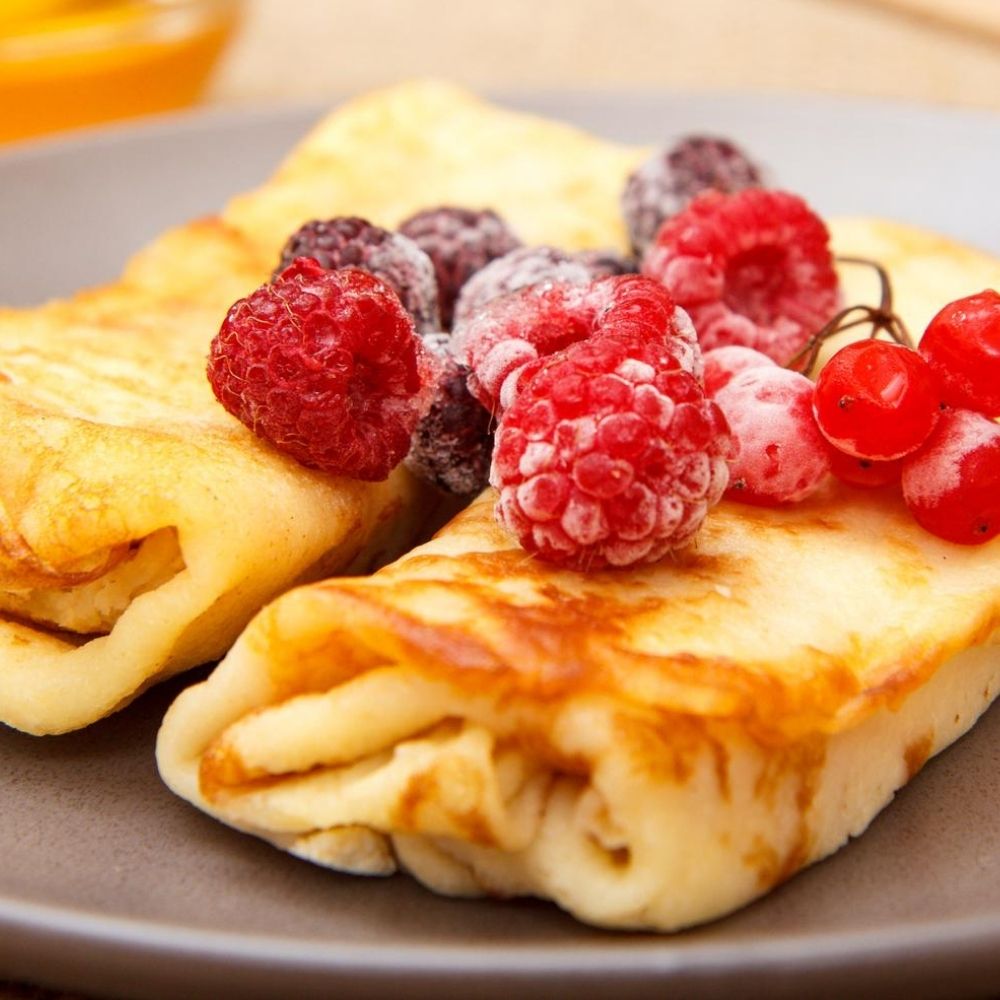 33 Best Cottage Cheese Recipes
Yield: 6

Prep Time: 30 minutes

Total Time: 30 minutes
Ingredients
1 c all-purpose flour
1 tbsp sugar
1/2 tsp salt
1 c sour cream
1 c 4% cottage cheese
4 eggs, room temperature, lightly beaten
blueberry syrup or Strawberry
Instructions
Mix flour, salt, and sugar in a large bowl. Gradually stir in the eggs, cottage cheese, and sour cream until fully blended.
Pour ¼ cupfuls in batches on a greased griddle. Once bubbles form on one side, flip them over and cook until golden brown.
Notes
Top with syrup and your choice of fresh fruit. (blueberry syrup or Strawberry)