This is definitely a recipe that surprised me when I first tried it. It's so yummy and you will love it but you will not know straight away what is in it. The name gives it away though: Hashbrown!
The Hashbrown gives a crispy flavor, together with the cheese and sour cream; you will have one of the creamiest dishes ever!
The time of preparations is ridiculously small, not even 10 minutes and you can put your feet up while it bakes to perfection. A recipe that I will make many and many times and a great dish to share with friends too. Enjoy!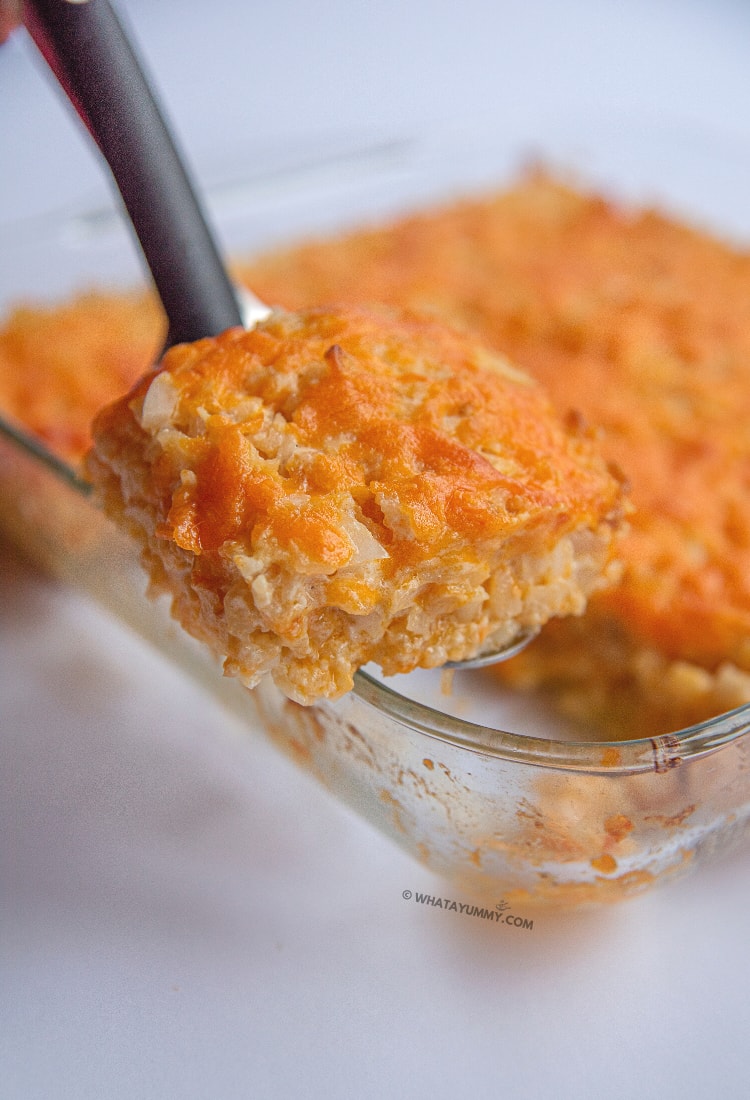 HOW TO MAKE CHEESY HASHBROWN CASSEROLE FROM SCRATCH?
To make Cheesy Hashbrown Casserole you won't need much:
First, grease a 9×11″ baking dish and preheat the oven to 350 F. Then, in a bowl mix onion, soup, black pepper, and all but one cup of the cheese.
Next, add sour cream and mix well to combine all the ingredients. Then, add hash browns and melted butter. Mix all again to incorporate the butter into the mixture.
Now you just need to transfer the mixture to the prepared dish. Spread the 1 cup of cheddar cheese, evenly. And last, bake it for 45-55 minutes until bubbly.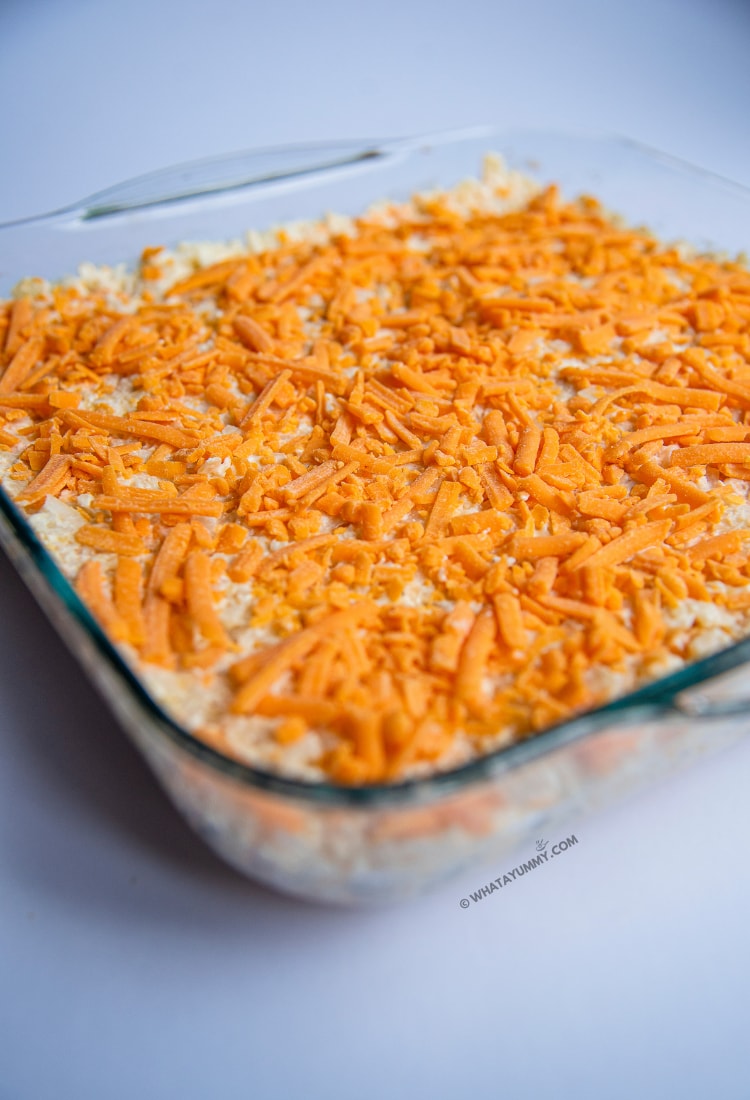 DO YOU HAVE TO THAW THE HASH BROWNS?
Yes you do, for the hashbrown to properly cook and absorb all the flavors in the seasoning, you must thaw it. The Cheesy Hashbrown casserole will not cook through and not taste the same, also you might end up having to put it back in the oven again.
HOW TO FREEZE HASHBROWN CASSEROLE?
To freeze Cheesy Hashbrown Casserole you must store it in a sealed container for up to 3 months. To reheat it, transfer it into a baking dish once it has defrosted and heat it for 25 minutes at 350 F.
In the microwave straight from the freezer for at least 10 minutes at medium temperature and 5 more minutes in high, let it rest for 3 minutes before serving.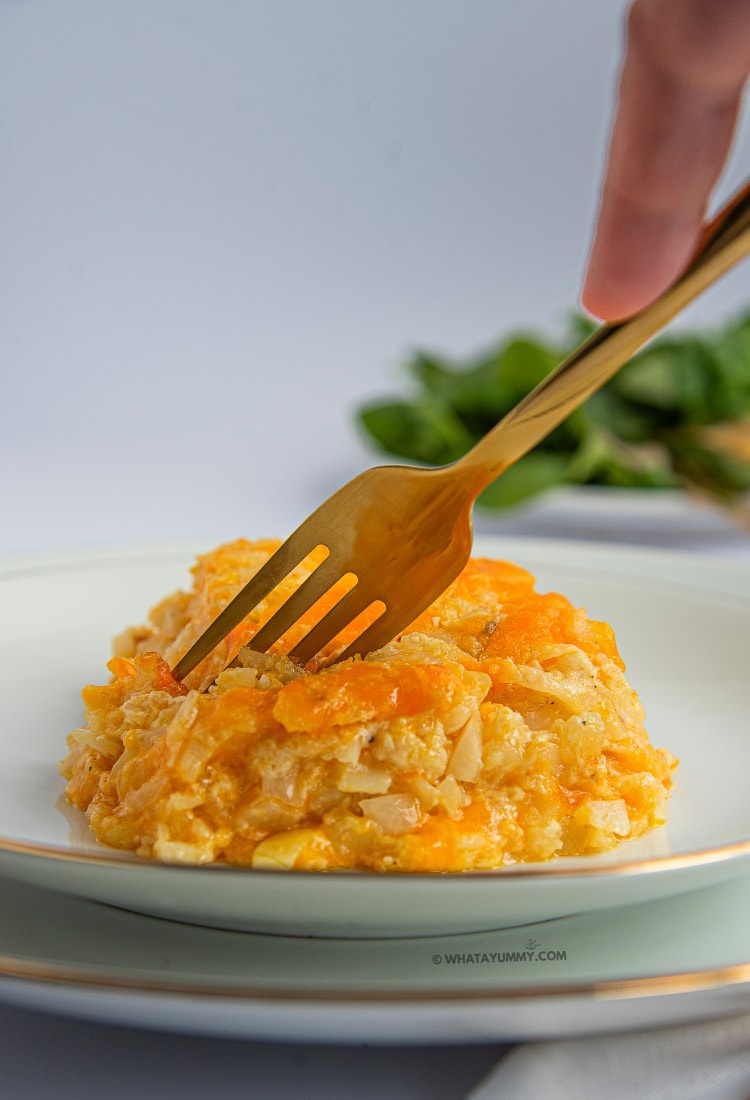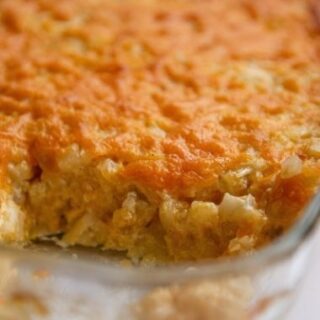 Cracker Barrel Hashbrown Casserole
Ingredients
1 bag about 30 oz Frozen Hash Browns, thawed
1 stick butter melted
1 can Cream of Chicken Soup
1 small Onion chopped
8 oz Shredded Cheddar Cheese
1 tsp salt
1/2 tsp Black Pepper
1 cup Sour Cream
Instructions
Grease 9x11" baking dish.
Preheat oven to 350 F.
In a bowl mix onion, soup, black pepper, and all but one cup of the cheese.
Add sour cream and mix well.
Add hash browns and melted butter. Mix well.
Transfer to prepared dish.
Bake 45-55 minutes until bubbly.