If you're looking for a warm Wintery meal, then look no further than this comforting chicken and noodle dish!
The chicken breasts are slow-cooked in a creamy, buttery sauce over a couple of hours to keep them moist and full of flavour, and the egg noodles also provide a perfect finish to this delicious dish. It will soon become a favourite in your home!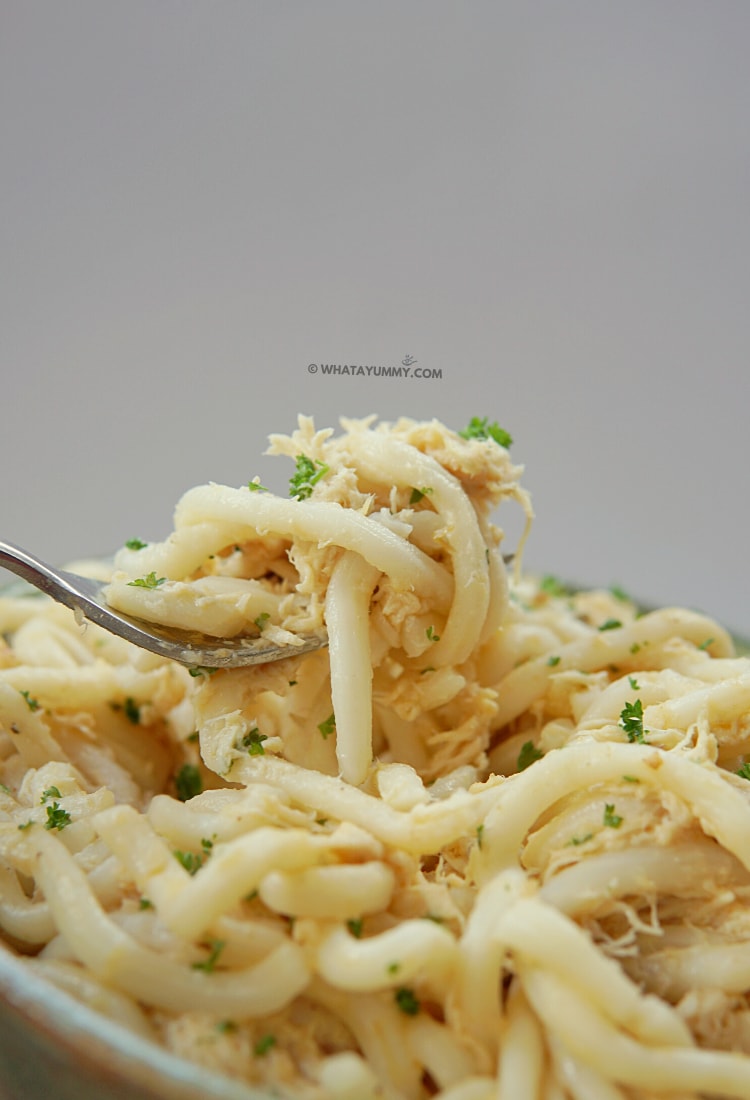 HOW DO YOU MAKE THESE COMFORTING CHICKEN NOODLES?
What is great about these comforting chicken noodles is that you can forget about the chicken and sauce while it cooks away for a couple of hours and that the final touches are quick and easy!
Once the chicken, soup, broth and butter have cooked away for 4 to 6 hours, you can shred the chicken into pieces and add it back into the sauce with the frozen noodles.
Leave it all to cook for 1 to 2 more hours until the noodles have thickened the sauce and are cooked through.
If you're using fresh noodles, you can thicken the sauce down first with some cornflour before adding the cooked noodles and chicken back into it.
You can also get creative with the chicken noodles recipe, you can add various vegetables and cheeses to switch it up and tailor it to your favoured flavour!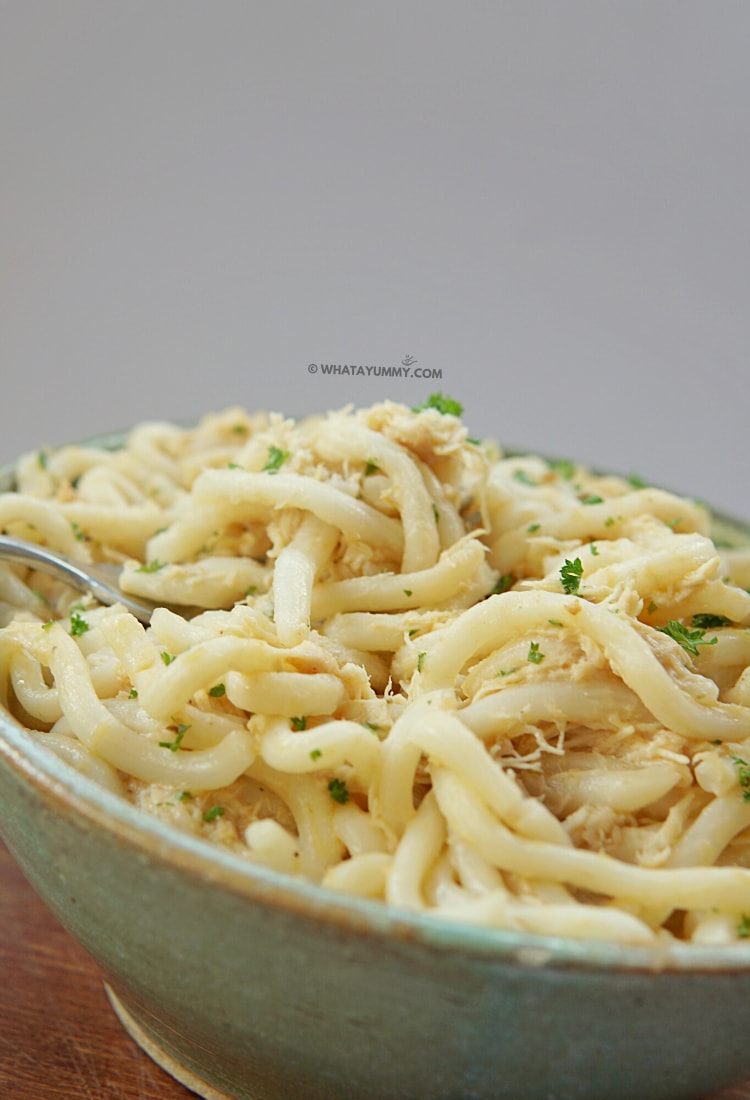 CAN YOU MAKE THE COMFORTING CHICKEN AND NOODLES IN A SLOW COOKER?
Using a slow cooker for this recipe is recommended. It will result in superbly tender, moist and flavourful chicken and a thick, creamy sauce to go along with it.
If you aren't able to use a slow cooker, then boiling the chicken in a pot on the stove will also work, but be careful to not overcook the chicken as it can become dry and tough! To achieve tender chicken cooked over the stove, bring a pot of water to the boil, add in your chicken and then switch off the stovetop.
Place the lid on the chicken and leave for 1½ hours to cook through. This method acts as a makeshift "slow cooker" if you don't have one in your home. If you're in a rush you can also boil the chicken in a pot of water for 15 to 20 minutes.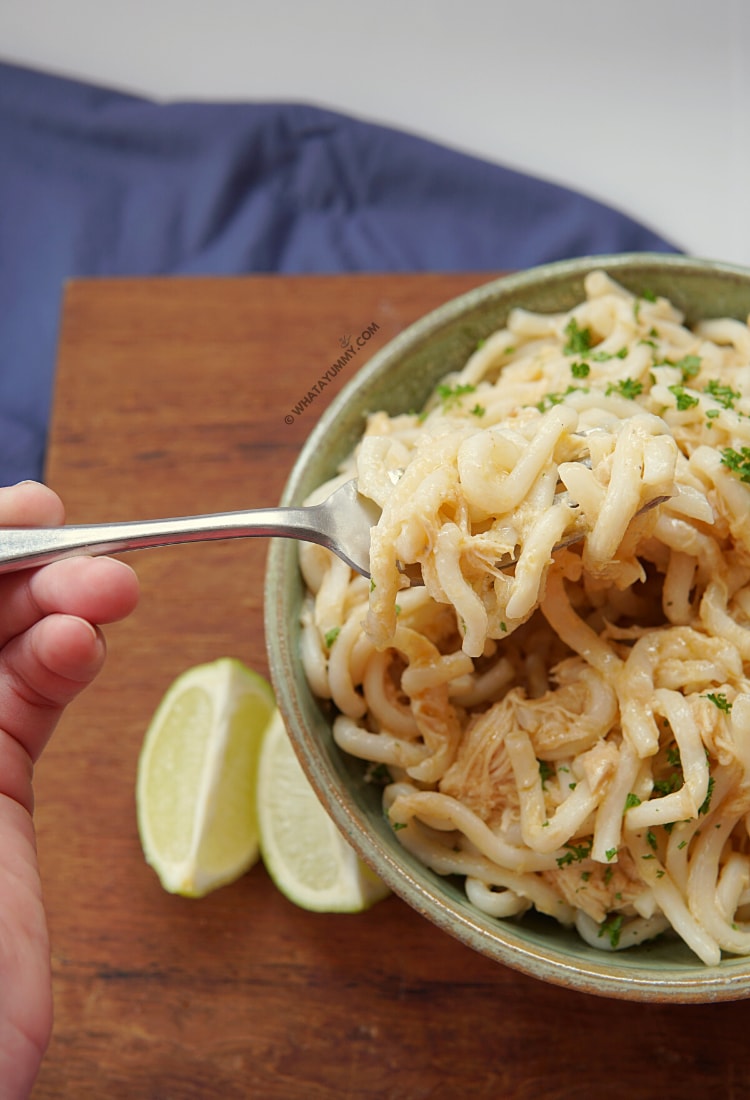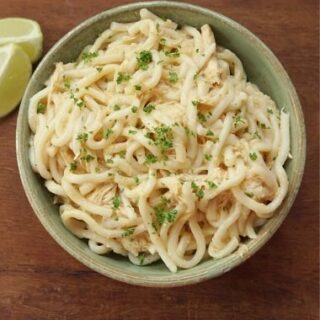 Comforting Chicken & Noodles
Total Time:
8 hours
30 minutes
Ingredients
6 small or 4 large boneless chicken breasts
1 packet frozen egg noodles or 1 packet of fresh noodles
2 can (14.7 each) cream of chicken soup
1 can chicken stock*
1 Bullion stock block (1 tsp)
½ cup butter, cut into pieces
*use cream of chicken soup can for measurement
Optional: vegetables such as carrots, celery
Instructions
Place your chicken thighs in the pot of a slow cooker and season them well.
Add your cream of chicken soup, chicken stock, bullion stock block, and butter to the chicken.
Cook on low for 4 to 6 hours until the chicken is moist and cooked through.
Once cooked, remove the chicken from the sauce and use two forks to shred it into thin pieces.
If you are using frozen egg noodles, then simply add them along with the shredded chicken back into the sauce and cook for a further hour or two. The frozen egg noodles will thicken the sauce as they cook.
If you are using fresh noodles and would like to thicken the sauce, empty it from the slow cooker and place it in a pot on the stove. Place two 2 teaspoons of cornflour in a cup and add a couple of spoons of the sauce to the cornflour. Mix it well with a spoon until incorporated and then add back to the main sauce in the pot. Make sure that the sauce boils as the cornflour needs the heat to activate and thicken. Cook down until the sauce is at your desired thickness, then add the shredded chicken. Cook the fresh noodles in boiling water, drain and then add to the finished sauce.
Finish off the dish by adding some chopped parsley and a squeeze of fresh lemon.