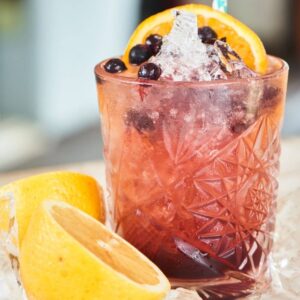 Once upon a time, there was a castle in the Loire Valley of France where guests gathered to enjoy a delightful berry and cognac liqueur.
The liqueur was so sweet and delicious that people savored it for hundreds of years…and continue to do so today.
Chambord liqueur was inspired by this French drink and named after the castle where it all began. I'm sure they made cocktails with Chambord back in the day, but now you must be wondering what cocktails can I make with Chambord?
Drinks made with Chambord range from kir royals to spritzes. It's a versatile addition that adds a splash of decadent, fruity fun to any beverage. But you don't need to live in a castle or be a fancy bartender to make a Chambord cocktail.
Try one of these many options to see for yourself!
Manhattans are somehow both light and complex. They have the sophistication to them despite how strong they actually are.
They have fruity, herbal, and vanilla notes– and when you add Chambord, the party really begins!
This is one of my favorite drinks to make with Chambord because the liqueur enhances the berry flavors. It adds to the depth of the cocktail without taking away from its classic taste.
If you're a fan of Manhattans, try your next one with Chambord!
Not only is Chambord French-inspired, but so is this delicious cocktail. And believe me when I say the French know how to do cocktails.
It's an easy drink to make, but your guests won't know based on its tasty flavor and beautiful pink hue.
Simply mix vodka, pineapple juice, Chambord liqueur, and voila! You've got yourself a beverage worth toasting to.
But drink responsibly…this Chambord cocktail packs a (berry) punch!
As far as Chambord mixed drinks go, this one is simple and spicy! The fizziness from the ginger beer and club soda make this combo a refreshing choice for a hot summer day.
The ginger beer uses natural ginger, adding a zesty finish to each sip. Garnish it off with a thin slice of ginger and some raspberries to bring the flavors to life.
If you enjoy the ginger and berries, you definitely won't get cham-bored with this drink!
Are you looking for Chambord recipes for the summer? This one will hit the spot! Light and refreshing, this raspberry-flavored beverage quenches your thirst while giving you a bubbly buzz from the booze.
Spritzes are the official drink of summer. Serve it at your summer BBQ, picnic, or that pool party.
The recipe calls for a dry white wine, but I'd recommend using brut sparkling wine instead. If you're going bubbly, you may as well go all the way!
Go ahead…upgrade that classic bramble!
A bramble combines gin, lemon juice, and simple syrup. However, instead of the usual crème de mûre, substitute it with Chambord instead! Chambord is slightly more complex and brings a greater variety of flavors to the mix.
Serve it in a rocks glass to keep it casual or martini glass for a fancier vibe. Garnish with a lemon wedge and raspberries to ring in the spring season.
Replace those bottomless brunch mimosas with a kir royal! But beware– instead of orange juice to balance out the booze, the berry liqueur only adds to the alcohol content.
Spruce up its appearance with an orange zest garnish. Drop some mixed berries into the bottom to enhance the tart flavors of the beverage.
It makes an excellent brunch libation. Whether going out to celebrate Sunday with friends or hosting a gathering a home, a Chambord kir royal makes any get-together feel a bit bubblier.
Are you a fan of gin? If so, this cocktail will call your name. Loudly.
It's very fitting that the Drink Kings borrowed a liqueur with a regal history to create this cocktail.
Lemon and egg white gives it a nice sour edge. It's fresh, light, and citrusy– making it the perfect summer cocktail.
If you aren't into gin for some reason, replace it with vodka. Both alcohols blend well with the ingredients and flavors.
Are you wondering what to mix with Chambord? Go for gin and lemon juice in this gin fizz.
Crisp and bright, this cocktail makes the perfect accompaniment for almost any meal. It won't overpower the flavors, and the sour lemon works as a light digestive. It can keep a light meal light or balance out a heavier meal.
The recipe recommends garnishing it with a thyme spring. Feel free to add a lemon wheel and raspberry as well.
Is tequila your alcohol of choice? I love tequila but have noticed that not everyone knows how to make cocktails with this strong, sometimes smokey liquor.
Margaritas are an excellent option. While the classic version never gets old, mixing it up can be fun! Chambord takes the place of Cointreau in these Chambord liquor cocktails. You are essentially replacing the slightly orange flavor with a berry one.
Use silver tequila to keep it light. Opt for reposado or gold tequila for that deeper, smokey tequila taste.
In search of Chambord holiday cocktails? This one has a rich, warming quality, making it an excellent choice for a Thanksgiving or Christmas drink.
Gin AND ginger make an excellent pairing. Gin's flavor has subtle hints of pine and herbs, while ginger has a not-so-subtle spice to it! Cardamom and honey add the kind of richness you expect during the holiday season. Pop a few anise pods and thyme springs to make the presentation pop.
This royal cocktail makes you feel fancy. Sip on the combo of champagne and Chambord at a house party or upscale bar.
While it's traditionally made with champagne, any dry sparkling wine can be used. You could also use a sparkling rose option. The light rosy color mixed with deep purple Chambord gives your kir royal a perfectly pink hue! It'll make an excellent Valentine's cocktail!
Garnish with the suggested orange twist, or substitute with a lemon twist and blackberry.
Are you looking to spice up your boozy brunch? How about giving the usual mimosa a French flare?!
I have the answer for you with this French mimosa!
The ingredients are in the name. Chambord and champagne are one of my favorite Chambord drinks. It's sweet and straightforward, and the bubbles hit your tongue in a playfully light way.
Drop some raspberries in the glass, letting them drop to the bottom. You'll get a delicious fruity treat once you finish the drink!
Looking for a blend of ingredients that is both super refreshing and strong? Chambord cocktails vodka, lemonade, and watermelon juice are the answer!
Watermelon juice on its own is called agua fresca. And fresh it is! It's the perfect summer fruit to mix into your summer cocktail. It won't weigh it down but provides a slightly sweet, fruity flavor.
Vodka will pack just the right punch. But feel free to pick your poison! Silver tequila or gin works well in this light and bright libation.
Do you want a cocktail to impress those guests? This bramble is easy to make but with a presentation that pops!
Simply shake up that simple syrup, lemon juice, and gin and pour it over ice. Slowly add the Chambord to the glass. The dark purple liqueur will drop to the bottom, adding a lovely layered look. It's simple yet elegant.
So go ahead and indulge…you deserve it!
Feeling fancy? Then this is the cocktail for you!
It goes by many names— kir royal, kir imperial, or French mimosa. However you call it, Chambord and champagne make the perfect pair.
This golden-pink potion is best made with a dry sparkling wine. The Chambord provides just enough sweetness. But if you prefer an even sweeter flavor, add both creme de cassis and Chambord for a berry sweet-tart taste!
As the French would say, à votre santé!
Chambord is an underrated liqueur in the world of cocktails. Yet, it's delightfully rich and fruity and pairs well with many cocktails.
Give your bar an upgrade by buying a bottle and mixing up some French-inspired cocktails. Enjoy!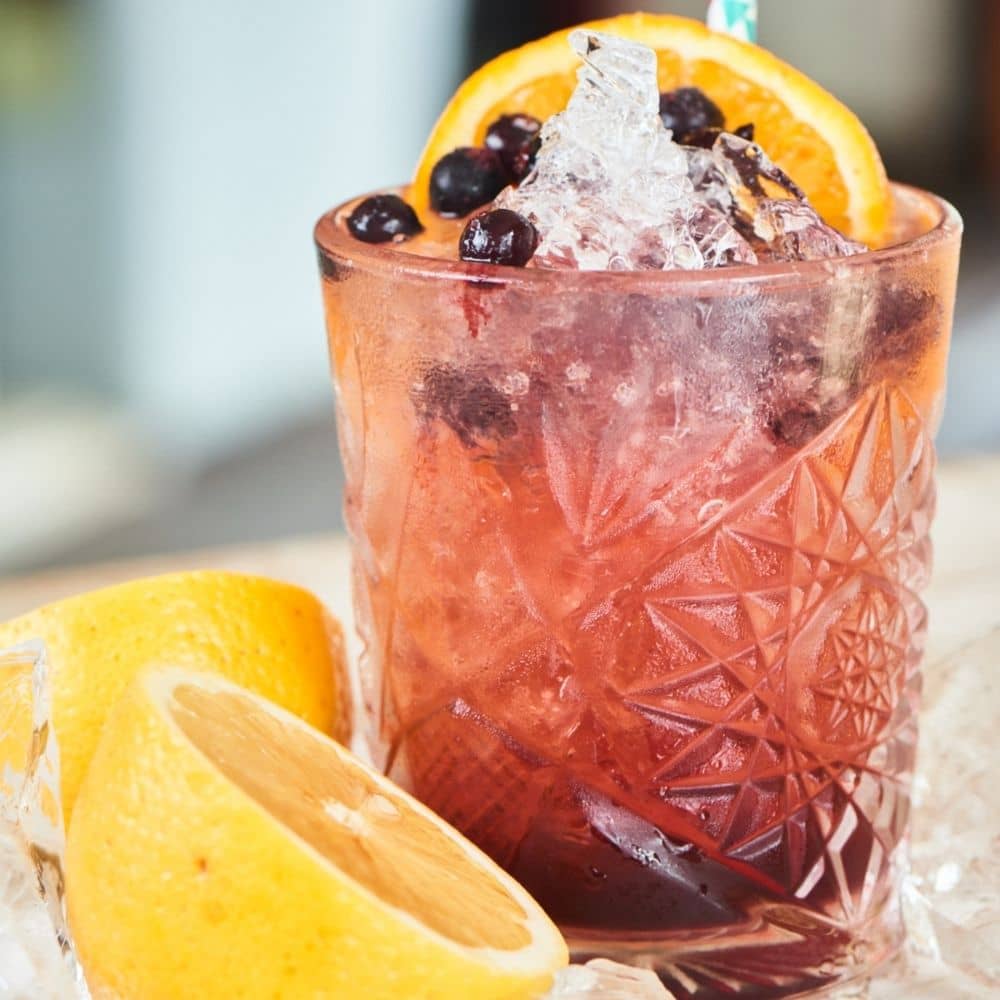 15 Classic Chambord Cocktails
Pineapple juice is the secret ingredient that sets this beverage apart. It cuts the strong alcohol flavor so you can enjoy the fruity flavors. Make it in under 5 minutes and serve chilled. Enjoy it with friends or as a solo treat! 
Ingredients
4 TBS vodka
2 TBS pineapple juice
1 TBS Chambord
Raspberries (Garnish)
Instructions
Add vodka, pineapple, Chambord, and ice to a cocktail shaker.
Shake it up and strain it into a glass over ice.
Garnish with raspberries as desired!