Food doesn't always have to cost an arm and a leg for it to taste great. Sometimes the best meals include ingredients that don't break the bank.
If you're looking for something cheap and simple to make for dinner, you're in luck because we just so happened to round up our 25 best cheap meal ideas your family will love.
Many of these recipes may surprise you. Between melty chicken enchiladas and tasty casseroles, there are endless recipes you can make for minimal cost (and effort), which is perfect for busy families on the go.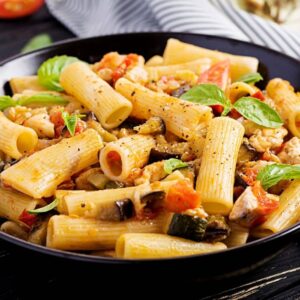 Next time you make a grocery list, jot down the ingredients for some of these recipes. Your family will love you for it, we promise.
Here are just a few of our favorite easy cheap dinner ideas for family:
1. Instant Pot Chicken Enchiladas
If you managed to score an Instant Pot last holiday season (or this past Black Friday), we have the perfect dinner recipe for you.
An Instant Pot can make a meal in minutes, so you don't have to sacrifice good food even if you don't have much time.
The secret ingredient is chicken stock, which adds a lot of flavor to the chicken and other ingredients.
If you don't have chicken stock, you can easily replace it with vegetable stock. This recipe is a crowd-pleaser for sure!
2. 20 Minute Ground Beef & Broccoli Stir Fry
Beef and broccoli is a classic combination, and a lot of that unique flavor has to do with the quarter cup of soy sauce.
Soy sauce can bring an Asian element to any dish and save you a lot of money by not ordering takeout. If you don't have soy sauce, you can easily substitute it with tamari.
This has a similar flavor profile to soy sauce. If you don't have either, you can also use Worcestershire sauce. If you have 20 minutes to spare, you can have this tasty meal for dinner.
3. Creamy Chicken Fettuccine Alfredo
Do you wish you could eat fettuccine alfredo every night?
If so, you and I could become besties because I could eat this meal every night and not get bored.
This obsession has to do with the heavy cream, which gives the noodles that extra layer of creaminess that you expect with a meal like this.
While this recipe calls for chicken, you could easily swap it out for steak instead. Toss in a little red wine with it, and you've got a new spin on an old favorite.
4. Doritos Nacho Bake
Are you struggling to get your kids to try something new?
This recipe might do the trick. After all, who doesn't love cheesy Doritos, right? The secret ingredient in this unique, flavorful recipe isn't the Doritos (though they're good); it's the taco seasoning.
This helps to balance out the strong Doritos flavor. And speaking of Doritos, you can get creative and use a Cool Ranch flavor or even omit the Doritos altogether in favor of Fritos.
These combinations taste great and make for cheap meal ideas for the family.
5. Garlic Olive Oil Pasta Recipe
I'll eat anything with garlic, so naturally, this recipe is right up my alley. And it will be up your alley, too, once you learn what's in it.
This easy-to-make pasta dish requires three basic ingredients: pasta, olive oil, and chopped garlic.
The garlic is really what sets the dish apart and elevates it from something simple to something simply delicious.
That's why garlic is this dish's secret ingredient! Even though this recipe calls for spaghetti or angel hair, you can easily swap it out for some farfalle or elbow macaroni!
6. Teriyaki Chicken Stir Fry
There's nothing more comforting than a big bowl of chicken stir fry.
The best part of this dish is that all the ingredients can be cooked together, so it's much more flavorful than other recipes.
While every ingredient is a star, the secret ingredient has got to be the mirin. Mirin is a sweet Japanese rice wine that makes teriyaki sauce taste.
The recipe calls for chicken, but beef would also taste great, so feel free to swap out ingredients as you see fit. Stir fry is all about creativity!
7. American Goulash Recipe
If you're looking for delicious dinner recipes, you've got to try this American Goulash. Goulash is a tasty meal that's simple to make.
The secret ingredient is Worcestershire sauce, which adds a bit of saltiness to the overall dish.
If you don't have Worcestershire sauce, you can easily swap it out for soy sauce to get a similar flavor profile.
This is a great meal for busy weeknights since the ingredients go in a crockpot and simmer. Plus, it tastes great for leftovers.
8. Instant Pot Hamburger Helper
Here's another Instant Pot recipe that's perfect for lazy weekend nights curled up on the couch.
If you're looking for cheap meal ideas for two, this recipe is perfect because it combines everyone's two favorite things: beef and cheddar!
The secret ingredient is vegetable stock, which helps make the elbow macaroni moist.
If you don't have vegetable stock, you can easily swap it out for beef or chicken stock. You can also swap out the cheddar cheese for mozzarella!
9. Baked Chicken and Zucchini Casserole
Getting your child to eat more vegetables is not always an easy task, so if you're looking for a unique and creative way to get them to eat their veggies, this recipe is the one for you.
The chicken helps balance out the acidity from the tomatoes, making them easier for your child to consume.
The secret ingredient is the mozzarella cheese that gets layered on top, making the veggies and turning them into an ooey-gooey, melty snack your child will love.
If you don't have zucchini, you can swap it out for another vegetable of your choice, like green peppers.
10. Instant Pot Frozen Beef Stew
Another Instant Pot recipe, only this time it's for some tasty beef stew! Who doesn't love a big bowl of savory beef stew on a cold, wintry night?
The secret ingredient that ties all the ingredients together is, of course, the beef broth.
It gives this recipe its signature taste, after all. If you don't have beef broth, you can swap it out for some vegetable or mushroom broth. Or, you can pour in a little bit of red or white wine.
11. Peanut Butter Chicken Recipe
Peanut butter…on chicken? Sounds weird, but hear me out. If you've ever had peanut chicken, this recipe isn't too far off.
The secret ingredient is peanut butter, which is, of course, the main star of the dish. However, not everyone can eat peanut butter due to allergies.
Just because you're allergic to peanuts doesn't mean you have to miss out on these wild and crazy flavors. Just substitute the peanut butter for an allergy-friendly alternative like almond or sunflower butter.
There are countless ways to make this recipe allergy-friendly for anyone who needs a little accommodation.
12. One Pan Spanish Chicken and Rice
Go ahead and try to make a better combo than chicken and rice. I can't think of one, right?
This classic combo is perfect for a night in and won't cost you a lot of time or money to make. Chicken broth is the secret ingredient because it helps make everything moist and juicy. Plus, it adds additional flavor to the rice.
If you don't have chicken broth, you can create your own by blending bouillon cubes and water. Or, you can swap it out for some vegetable broth. This is one of our favorite dinner ideas for the whole family!
13. Slow Cooker Honey Garlic Chicken
Are you looking for cheap healthy meals to make in the new year? If so, we highly recommend this recipe for honey garlic chicken.
The chicken is slow-cooked in this tasty sauce, which makes this dish so unique.
There are a lot of ingredients in this recipe that make it taste great, but one of the most important ones (and the secret ingredient) is sesame oil.
This sesame oil gives the honey, chicken, and garlic a little dash of flavor to bring everything together. This is one everyone will surely love every time you make it.
14. Sheet Pan Meal Prep Tofu
If you're looking for an inexpensive vegan meal, this is easy to make that tastes great. Tofu is so versatile, and there are countless ways to get it to be flavorful.
One of the ways involves this dish's secret ingredient – smoked paprika. This particular spice is packed with a flavor that's similar to barbeque.
This recipe calls for a side dish of cabbage, but feel free to incorporate any vegetable you prefer.
The same goes for the rice, so swap the brown rice out for white or vice versa.
15. One-Pot Cheesy Broccoli Chickpea Rice Casserole
If you're looking to make a healthy meal that won't break the bank, try this one that features chickpeas!
Chickpeas are chock full of Vitamin B and protein, and delicious food to help shed some unwanted pounds.
This recipe works for two reasons: 1. it's a relatively healthier alternative to traditional, fatty dinners, and 2.) it's a sneaky way to get your kids to eat their veggies.
The secret ingredient in this unique recipe is the chickpeas themselves, but feel free to swap them out with other veggies like lentils or cauliflower.
16. Mexican Red Bean Quinoa Casserole Meal Prep
Do you love Mexican food? Me too, which is why I love this red bean quinoa casserole recipe.
The flavors in this recipe are robust, partly due to the secret ingredient: cumin powder. Cumin powder has a real Earthy flavor and instantly adds depth to any meal it's added to.
The recipe also calls for kidney beans, but you can easily swap them out for another type of beans, such as borlotti beans or black beans.
17. Broccoli Lentil Stir Fry
If you're running low on time, this is the recipe for you. This recipe will only take you about 20 minutes to make, making it perfect for busy moms and dads on the go.
Sweet corn is the secret ingredient in this dish simply because it's not one you'd typically think to add to a bean-based stir fry. But, the addition of sweet corn adds a crunchy textural element that ties everything together.
The recipe calls for broccoli, but you can enjoy a similar flavor profile if you swap it out for cauliflower. If you're looking for cheap family meals that won't take a lot of time, this is one you shouldn't ignore.
18. Vegan Burrito Bowls Loaded
Who says vegans can't have fun? These burrito bowls are packed with flavor and a perfect addition to your next Taco Tuesday.
These bowls allow for A LOT of creativity in flavor, side dishes, and toppings.
However, if you're looking for a traditional burrito bowl, don't overlook onions as your secret ingredient.
This gives the other ingredients a lot of flavors, and best of all, it can be substituted for any onion you prefer, including yellow, white, and red. Dice it. Chop it. Shred-it. However, if you want to serve these ingredients is up to you!
19. Sheet Pan Sweet Potato Hash
Sheet pan meals are easy, especially since they require little to no prep work or additional kitchen items.
The secret ingredient in this hearty recipe is lemon juice. It's just the right amount of zest to keep things interesting.
If you don't have lemon juice, you can use a splash of lime juice, white wine, or orange juice to get those bright citrus flavors. Or, if you don't want to use sweet potatoes, swap them out for traditional potatoes or butternut squash. Get creative!
20. Ground Turkey Stuffed Peppers
Are you getting bored of traditional stuffed peppers? Try swapping the ground beef out for some ground turkey.
Not only is ground turkey a healthier alternative to beef, but it gives the peppers a new flavor. The best part about this recipe is that you can use any pepper you like.
Swap out green bell peppers for red, or get creative and use a poblano pepper for some extra heat. The secret ingredient is rice, so feel free to use any rice you like.
21. Fried Cabbage and Potatoes
While cabbage may not be the most popular vegetable on the market, this meal will have everyone at home asking for seconds.
The secret ingredient is the bacon, which offers a little bit of fat that works well with the other ingredients.
If you don't have bacon, you have a lot of options to choose from, including pork, lamb, and even chicken.
Don't be afraid to make this dish your own. It's a perfect dish for your upcoming holiday celebrations!
22. Crock-Pot Spaghetti
Are you looking for cheap dinner ideas that you can make with little to no effort? Turn to this tasty crockpot recipe.
The tomato sauce is made with cream cheese, making it more creamy and flavorful.
This is why it ranks as this dish's secret ingredient! If you don't have cream cheese, you can get a similar result by swapping it out for plain greek yogurt or a little sour cream. This recipe is perfect for leftovers, too!
23. Cheeseburger Macaroni Skillet
With this recipe, you can get the taste of boxed Hamburger Helper, but with a lot more control over what kind of ingredients are being used.
This skillet-based dish is easy to make and is one your kids will love, even if they're picky eaters!
The secret ingredient that makes the pasta and ground beef so juicy and flavorful is beef broth. But, if you don't have beef broth, don't worry.
You can easily swap it out for chicken broth. This is one dish you'll want to make every weekend!
24. BBQ Pulled Pork Sliders
So what if it's winter? BBQ sliders aren't just for summer anymore!
These sliders make perfect appetizers at birthday parties. Thanks to the vinegar, they're so flavorful, which is this recipe's secret ingredient.
Vinegar adds a unique element to this dish that ties all the other ingredients together. Plus, it helps balance out the flavors of the red cabbage.
If you don't have pork or aren't a fan of that type of meat, you can create something similar by swapping it out for some shredded chicken. It'll still taste great with the cabbage and vinegar!
25. Open-Faced Tuna Melt
Tuna melts are one of the most popular sandwiches, but an open-faced version gives it a modern feel.
Surprisingly, there are a lot of different flavors and spices that pair well with tuna – and lemon is one of them!
That's why it's our secret ingredient. It just gives it that extra something, you know?
The recipe calls for a tomato on top, but feel free to swap them out with a slice of avocado. There's a lot you can do with this open-faced sandwich that's perfect for a light lunch!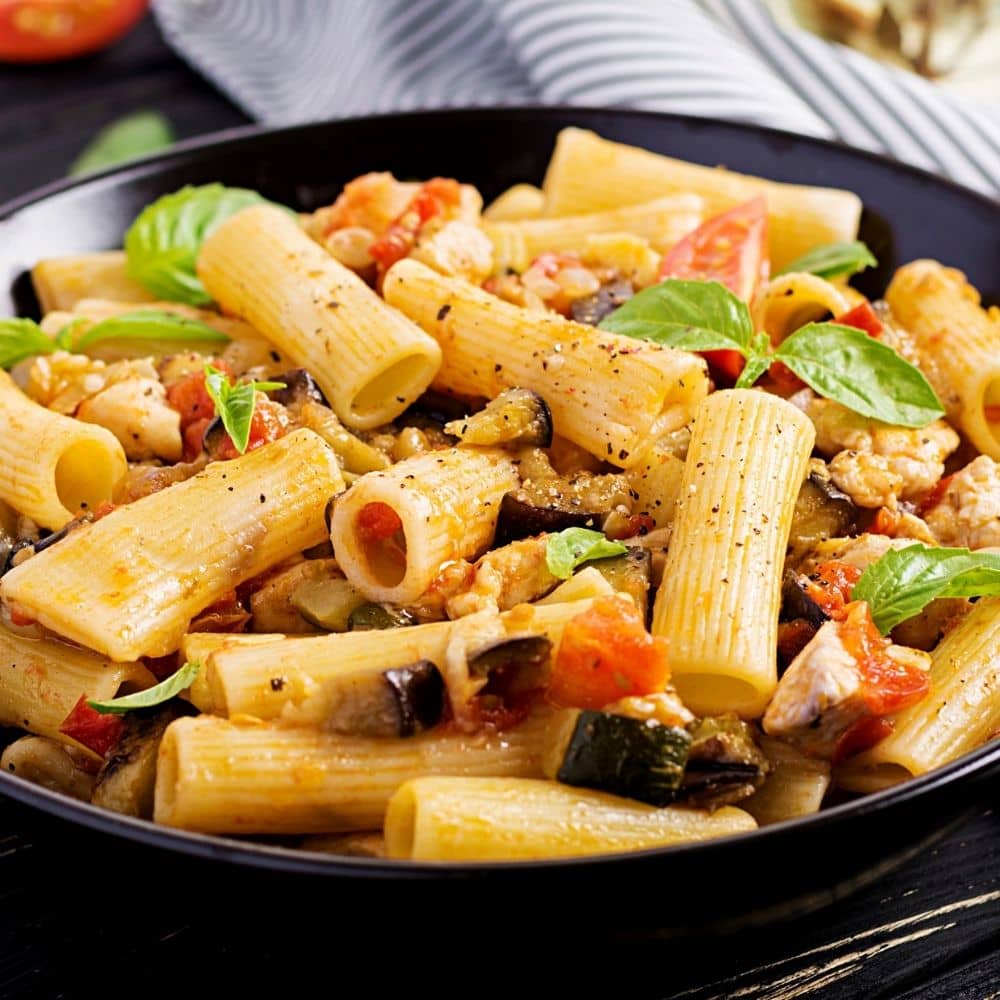 25+ Easy Cheap Dinner Ideas
Yield: 6

Prep Time: 20 minutes

Total Time: 20 minutes
Ingredients
1/3 c hickory smoke-flavored barbecue sauce
1/2 c peach preserves or apricot
1 tbsp corn syrup
1 tsp prepared mustard
1/4 tsp ground cloves
4 bone-in pork loin chops
1/2 tsp salt
1/2 tsp pepper
Instructions
Mix fruit preserves, corn syrup, mustard, barbeque sauce, and cloves in a small bowl.
Once blended, set to the side.
Add a pinch of salt and pepper to pork chops.
Add a small amount of oil to your grill. Add pork chops and either broil them 4-5 inches from the heat on each side or cover over medium heat.
Baste the pork chops with your sauce mix.
Let your meat rest for five minutes before serving.