Cakelets are perfect little pastries that you can make en masse for large gatherings or small families.
These bite-sized creations are perfect for a bit of taste of sweetness without needing to bake an entire cake.
Have you been looking for the right cakelet for your special occasion?
Do you want to impress everyone at your dinner party with a sweet treat after the main course? Once you try these recipes, you won't want to return to full-size cakes again.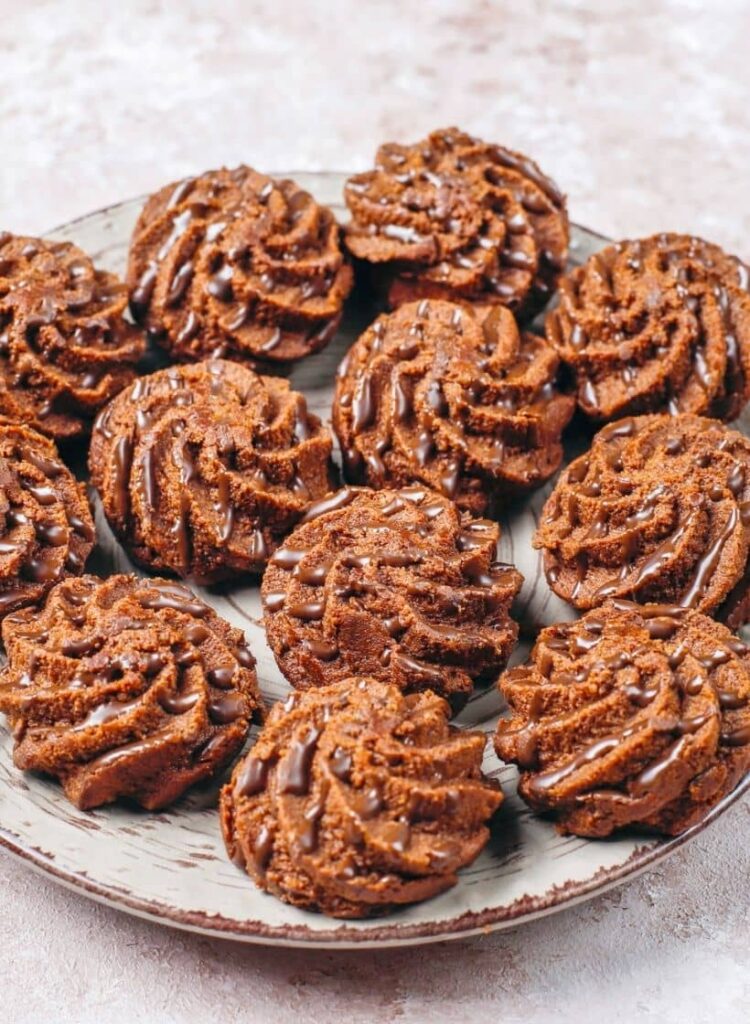 What is a Cakelet?
A cakelet is a miniature version of a larger cake. They are made with cake batter and shaped in fun and unique ways.
For example, you could make simple, circular cakelets or buy a special pan to make cakelets shaped like a Star of David or acorns. You can even make bundt cakelets!
Typically, cakelets are small enough to be a two-bite treat. They aren't usually very complicated and can be a little bit difficult to make since they can dry out easier than other, larger cakes.
How Long to Cook Cakelets?
Cakelets should be cooked until they are firm to the touch but not overly dry. The toothpick test is the best way to know if the cakelets are done.
However, if you don't want to test your cakelets, you can rely on time. Most cakelets will be done in about fifteen minutes.
Some cakelet pans will make this cooking time longer or shorter if the designs are deeper or shallow. Some ingredients dry out quicker than others.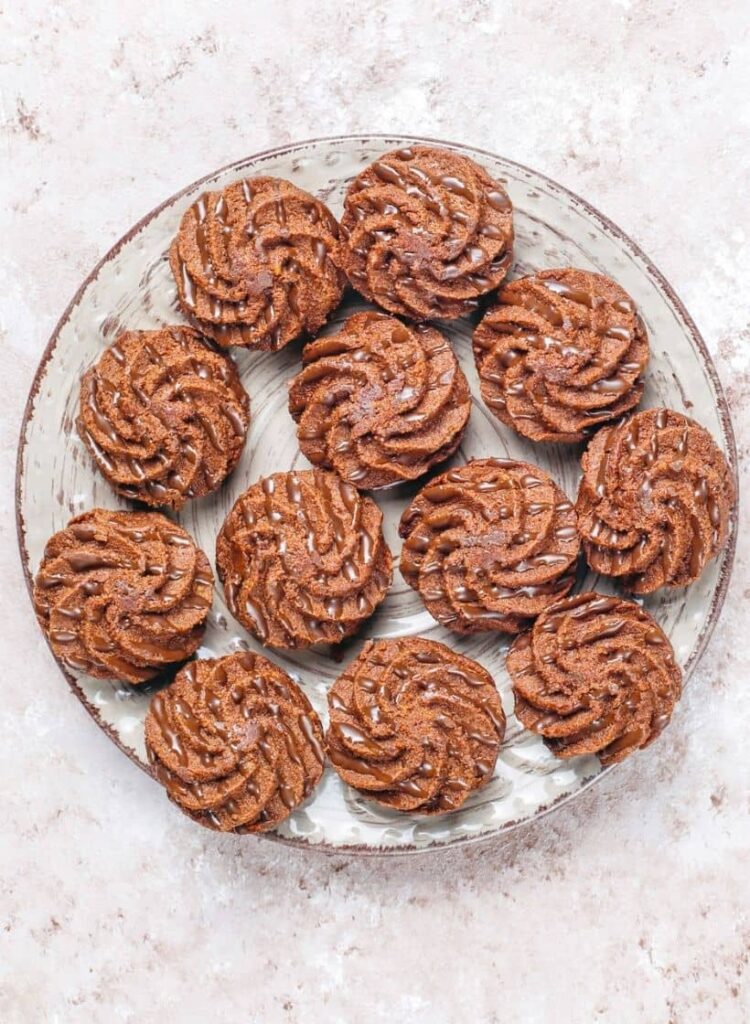 The Best Cakelets Recipes
These cakelet recipes are so easy to pull together that you could cook a main course simultaneously.
You could even get youngsters involved and give them a perfect kiddie-sized snack to reward them for their help.
1. Maple Pecan Cakelets
Nothing warms the heart like maple pecan treats. This recipe adds a chocolate dip component and turns them from plain little cakelets into a delightful fall treat.
They're even freezer safe so that you can hold onto them through the rest of the year!
The darker the syrup, the richer the taste, so go for the darkest Grade A maple syrup you can find.
The secret to any dish with maple is always to use real maple syrup. Nothing can imitate the buttery goodness of real maple syrup. Check the labels on your syrup before you buy it to make sure it's real.
2. Chocolate Gift Cakelets
Mm, cinnamon and chocolate: one of the best pairs to be made into a pastry. Put them in the shape of a present with a bow on top, and you've got yourself a winner!
These cakelets are perfect for a holiday event where presents are being exchanged. You could also use them for birthdays or even baby showers! The possibilities are endless.
Another significant part of this recipe is that it's not overly chocolate and won't hurt your teeth with sugar. It is well-balanced and will warm the heart of everyone who sees them.
3. Brown Butter Bourbon Spice Cakelets
Brown butter bourbon cakelets are perfect for a Mardi Gras or a fall dessert.
They are sweet with a buttery smoothness that is delectable. Top that off with a festive cakelet pan, and you have a perfect treat for autumn.
This recipe calls for a whole host of spices, but you could also use pumpkin pie spice mix to take down the time of measuring out each one.
Dipping the cakelets in the bourbon glaze is easy and will give you that perfect dripping look. Once the glaze hardens as the cakelets cool, you'll have a chic-looking treat!
4. Honey Apple Mini Bundt Cakes
There are so many bundt cakelet recipes out there, and it can be hard to know which one to choose.
These honey apple cakelets are perfect for Rosh Hashanah and stand out from the crowd.
Picking the right apple for this recipe is crucial for the best flavor. This recipe recommends using Fiji apples, but Honeycrisp or Gala apples will also work. They need to be sweet and can hold up during the baking process.
Garnish with thin almond slices, and you've made an extra sweet and delicious treat for the High Holidays.
5. Lemon Thyme Olive Oil Cakelets
Have you ever wanted a perfect little taste of Italy? Then these are the cakelets for you! These olive oil cakes are straight out of Sicily and have the perfect balance of citrusy goodness and savory thyme.
While these cakelets might seem like a less attractive flavor, they can win anyone over. They are not too sweet like other cakelets, but the lemon glaze adds enough sugar to cut through the bitterness.
They'll be a great conversation starter for any occasion, and all guests can find something to love about these cakelets.
6. Apple Cornbread Cakelets
Apple cornbread might not seem like a particularly appealing concept, but these cakelets are worth the time you put into them.
You can make them into any shape, but there are apple-shaped cakelet pans that would make them look even more delightful.
Tart green apples are the key to making these cakelets shine. Granny Smith, Braeburn, Honeycrisp, or Fuji apples will hold up well under the baking process, but the more tart, the better.
If you choose a particularly tart apple, you could compensate for the sugar by drizzling honey over the top.
7. Harvest Apple Cakelets with Maple Drizzle
Harvest apple cakes are a perfect way to get into the fall spirit. They'll warm your body and soul, and they are so easy to make!
Since all you need to do is drizzle the maple glaze over the cakelets, cleaning up is easier and gives you a beautiful effect.
Like so many mini cakelet recipes, these require a pan with small designs to pour into.
Nordicware, in particular, has a vast selection, and you can find designs for every holiday or event you can dream of.
8. Double Chocolate Hersheys Kiss Cakelets
Calling all chocolate lovers! There is so much chocolate in this recipe, and it will satisfy all of your cravings.
These cakelets are slightly different from the others on this list because they have a cookie shape instead of a formed one. This makes them really easy to hold and great for parties.
While it calls for a traditional Hersey's Kiss on top, you could substitute it with any of the holiday-themed versions out there.
Put the dark chocolate on top for Halloween, use a peppermint candy cane flavor for winter, or you could put a chocolate heart on for Valentine's Day.
9. Wintery Snowflake Cakelets
These are relatively plain so that you can make them for the pickiest eaters in your life.
You could also use this dough as a simple base for other cakelets you might want to make. It's incredibly versatile, and all you have to do is add different spices to get a basic cake type.
These cakelets have delicious chocolate chips that add the perfect extra sweetness. You could also add a simple glaze of powdered sugar to add even more sweetness.
10. Mandarin Upside-Down Cakelets
These beautiful cakelets are packed with orange flavors and brilliant colors.
They aren't overly sweet but have a rich citrus flavor and a hint of bitterness from the orange peel.
The colors in these cakelets are stunning. They are show-stopping, decadent, and perfect for summery events.
The secret to these cakelets' signature flavor is using high-quality orange blossom water.
You'll also need mandarins that are ripe and don't have too many blemishes. These will give you the perfect zest and slices for the baking process.
11. Honey Lemon Cakelets
The shape of these cakelets is their main draw, but if you love tea, honey, and lemons, these are the treat for you. They are perfect for a cottage care get-together with a cute beehive shape.
If you're a fan of Starbucks's Medicine Ball tea, you could add some fresh mint to the cake mix and adjust the flavor. You don't need too much, but it will major impact.
Choosing the right honey for the task is a great way to improve the flavor. Orange blossom honey will have a different flavor than clover or eucalyptus honey.
12. Maple Acorn Cakelets
These cute little cakelets are perfect for fall and are bite-sized for the perfect finger food size!
You can dip them in chocolate and partially roll them in walnuts or raw sugar to get some extra texture.
This recipe comes from Nordic Ware itself, so it's best to use their baking pans for these treats.
Not only do they come with a non-stick coating, but this recipe was also tested on Nordic Ware, so it will work and give you perfect cakelets in those pans.
13. Chocolate Chip Cookie Cakelets
Have you ever seen one of the large Toll House cookie cakes?
This cakelet recipe is a smaller version of that same premise. Each cakelet is packed with chocolate chips and delicious brown sugar cookie dough.
You could use store-bought icing to get that same sweet and slightly artificial flavor if you want the nostalgia.
Honestly, that's what childhood memories are made of, so if you want a trip down Nostalgia Lane, you might want to look into that.
14. Red Velvet Cakelets
Red Velvet is a classic flavor and is packed with all kinds of chocolatey goodness. A smooth cream cheese frosting is the perfect final touch.
There are a few unconventional ingredients for anyone who's never made Red Velvet before.
Who would think to use vinegar in a sweet dessert? However, these will all give you the distinctive Red Velvet flavor, and you can't exclude anything.
These little cakelets are no-fuss since they use a muffin pan for baking in. You can make these without breaking the bank on specialty, formed pans.
15. Pumpkin Chai Cakelets
Pumpkin chai cakelets are a perfect autumn treat for the tea lover in your life. Not only does this recipe pack in all kinds of pumpkin flavor, but it also brings in the flavor of masala chai.
The secret to a perfect chai is using fresh ground spices. Cardamom, allspice, cinnamon, nutmeg, and fresh ginger are excellent together for the recipe. You can get a fantastic texture if you have access to a mortar and pestle.
If you are grinding your spices fresh, you might want to gently toast them in a frying pan.
Heating your spices will unlock all kinds of new flavors that you may have never tasted before.
16. Apple Cinnamon Cakelets
Another excellent fall choice, these apple cinnamon cakelets are perfect for an after-school snack or a quick weekend pick-me-up. It's simple, fast, and you can get the kids involved with baking them.
If this recipe couldn't get any simpler, there's applesauce in it. If you wanted to add all kinds of other flavors, you could pick up one of the many different flavors of applesauce in your local grocery store.
Don't forget the buttermilk! This extra tangy flavor will bring these cakelets to the next level.
17. Strawberry and Rhubarb Filled Cakelets
Rhubarb is one of those ingredients I've always seen in the grocery store and wondered what you could even do with it.
Wonder no longer; these cakelets will have you looking out for rhubarb every time you need a sweet treat.
Mascarpone cheese is a crucial ingredient for the topping of these cakelets.
However, it can be hard to find in many US grocery stores. In a pinch, crème fraîche, cream cheese, or a plain low-fat Greek yogurt can be a good substitute.
You'll get the creaminess and the tanginess without losing the presentation.
18. Apricot and Honey Cakelets
This recipe is sweet but balanced. It won't hurt your teeth to enjoy these, and they'll brighten any mood.
Since the apricot is in the garnish, you could hypothetically replace it with any other fruit that matches orange blossom water.
Fresh, grilled apricots (or any other fruit) are crucial for this recipe.
You can't get the dried apricots in the grocery store for these cakelets. They are glazed in honey before grilling to really lock that flavor in. Yum!
19. Yuzu and Blackcurrant Cakelets
The vivid color of these cakelets comes from the blackcurrant powder that the author initially used.
Currants can be challenging to find in the United States, but once you try them, you'll understand why they are so popular internationally.
Since the ingredients in these cakelets can be hard to come by, there are several substitutions you might want to make.
You can use fresh lemon zest instead of yuzu, and a blend of freeze-dried berries can replace the blackcurrant powder. The real stuff is ideal, but you can mimic them in a pinch.
20. Pineapple Upside Down Cakelets
This author used a pineapple-shaped pan for these cakelets, and they are too cute! You could easily use other shapes, but themed cakelets are adorable.
Maraschino cherries are a classic companion for pineapple upside-down cakes and give them their iconic look.
If you're feeling particularly ambitious, you could use fresh pineapple instead of canned. However, canned pineapple is consistently sweet and ready to go once you drain the juice.
If you choose this recipe, keep in mind that it uses shortening instead of other fats.
You could substitute butter or margarine in, but you'd lose the signature creamy texture that shortening gives.
21. Fresh Ginger Carrot Cakelets
Last but not least, these fresh ginger and carrot cakelets are perfect treats for anyone who isn't a fan of the overly sweet dessert culture.
Did you know that carrots used to be used as a sweetener before sugar was widely available? Up through the 19th century, bakers often used carrots to replace fruits and other sweeteners because sugar was so expensive.
Most people couldn't afford it, but they could afford carrots. Fresh ginger is what really brings this recipe together.
Fresh ginger has a spiciness that ground ginger doesn't possess. It will really wake you up!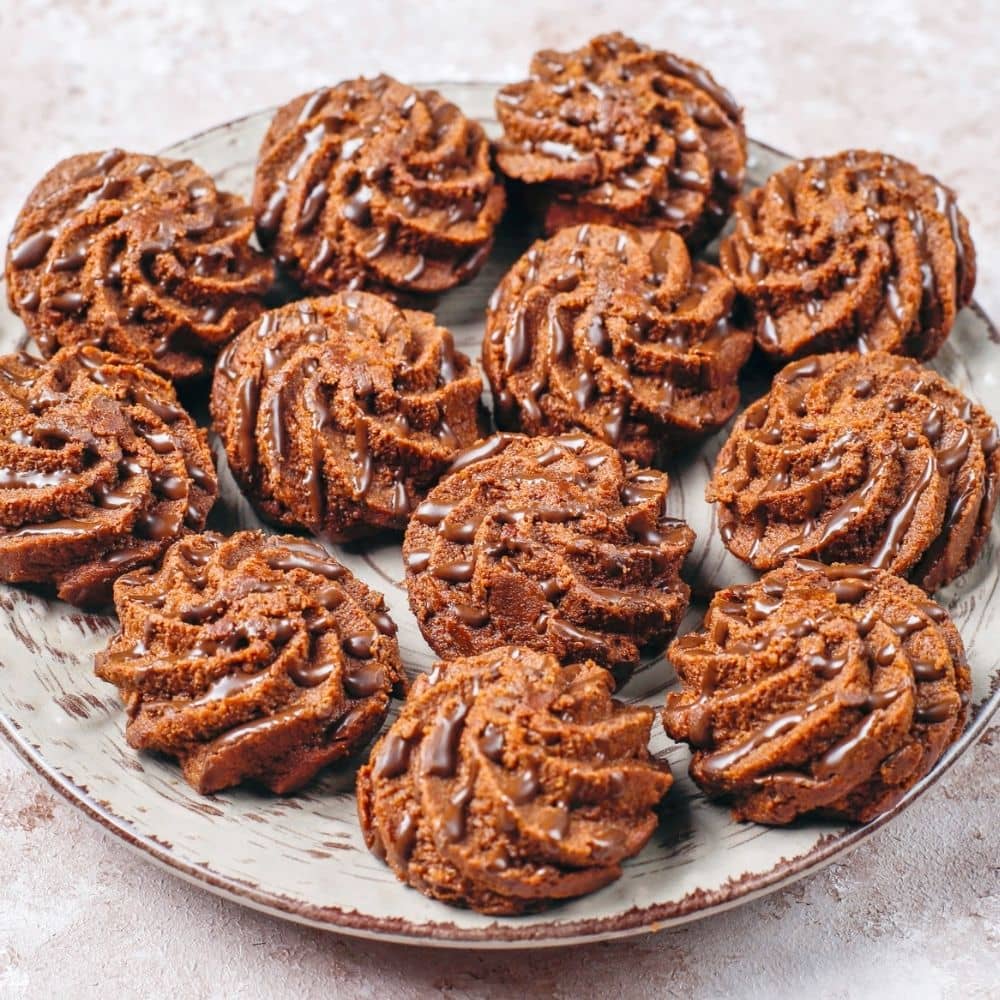 21 Delicious Cakelets Recipes
Prep Time: 30 minutes

Cook Time: 10 minutes

Total Time: 40 minutes

Have you been looking for the right cakelet for your special occasion?
Ingredients
2/ 3 c granulated sugar
1/ 3 c butter, softened
2 large eggs
2 tsp ground ginger
1 c flour
1/ 4 tsp baking soda
1/ 2 tsp ground cinnamon
1/ 4 tsp baking powder
1/ 3 c sour cream
brown food coloring
orange food coloring
1/ 4 tsp salt
1 oz bittersweet chocolate, melted
Instructions
Preheat your oven to 350 degrees Fahrenheit and grease and flour your pan.
Beat ⅓ cup of butter and ⅔ cup of sugar together until fluffy. Beat in two eggs.
Mix one cup of flour, 2 tsp. ground ginger, ½ tsp. ground cinnamon, ¼ tsp. baking soda, ¼ tsp. baking powder, and ¼ tsp. salt into the mix.
Mix in ⅓ cup of sour cream.
Once blended, divide the batter into four bowls. Don't add anything to the first bowl.
Add one or two drops of brown food coloring to the second bowl and mix until the color is blended.
Add one or two drops of orange food coloring to the third bowl and mix.
Add one ounce of melted bittersweet chocolate to the last bowl and mix thoroughly.
Use the bowls to fill each of the wells with one color batter. Make sure not to overfill.
Bake for 10-15 minutes or until a toothpick comes out clean.
Invert onto a cooling rack and allow to cool completely.
You could sandwich the cakelets together to create a complete shape or dip acorn tops into melted chocolate and dust with chopped nuts for presentation purposes.