These super fun Oreo Balls satisfy all your sweet cravings at once. There could not be a simpler recipe to create these pops of deliciousness.
Oreo Balls are the perfect treat that will easily impress any friend, family, or colleague for a special occasion; they are also perfect as an after-dinner treat!

HOW TO MAKE OREO BALLS?
Wondering how to make these tasty looking Oreo Balls? It's super easy.
Crush up your packet of Oreos by placing them all in a food processor and pulsing until the mixture resembles a fine crumb. Don't have a food processor? No worries!
Place them in a plastic bag and use a rolling pin or your fingers to break them up, or simply crush them in a bowl with a fork. Once the mixture resembles a crumb, add your room temperature cream cheese and mix well until it comes together in the form of a paste.
At this stage your mixture might be a bit sticky, so pop it in the freezer for 20 minutes to firm it up. Divide the mixture up and roll into equal-sized balls, then place the Oreo Balls in the freezer for at least 30 minutes before moving on. Once properly cold, dip the Oreo Balls in melted chocolate and return to the fridge to ensure the hardening of the chocolate.

HOW DO YOU DIP YOUR OREO BALLS IN CHOCOLATE?
This process can get kind of messy, so the best idea is to place some baking paper on your work surface, that way it will catch any stray chocolate drips!
Use a knife to cut up your chocolate, place it in a microwave-safe bowl, and heat for 30 seconds at a time, stirring at intervals.
When completely melted, place one of your frozen Oreo Balls on a fork and, using a dessert spoon in your other hand, spoon the chocolate over the Oreo Ball.
Use a knife to work away any extra chocolate that dangles off your fork, and to shimmy the Oreo Ball off the fork onto a separate sheet of baking paper.
You can also drop the Oreo Ball straight into the chocolate and fish it out with your fork, to achieve a more 'rustic' look.

WHAT KIND OF CHOCOLATE SHOULD YOU USE?
I recommend using dark chocolate like Beacon's Midnight Velvet or Cadbury's Bournville. The dark chocolate is not as sweet as milk chocolate and will give your Oreo Balls a more formal look.
When looking for white chocolate to use, I'd also recommend Nestlé's Milkybar white chocolate. To melt your chocolate, chop it up and place in microwave-safe bowls and heat for 30 seconds at a time, making sure to stir thoroughly after every session.
This way the chocolate will be runny enough to easily coat your Oreo Ball, but still thick enough to create a sturdy outside layer.

WHAT IF I WANT TO KEEP THEM FOR ANOTHER DAY?
Storing your Oreo Balls is super easy! If you'd like to freeze them, just place them in an airtight container and freeze for up to 2 months.
Oreo Balls are best kept in the fridge when casually eating them, to ensure the setting of the chocolate and to keep the cream cheese inside them fresh. Oreo Balls can keep in the fridge for up to two weeks.

TIPS FOR MAKING THE ULTIMATE OREO BALLS!
To achieve an even crumb, crush the Oreos in a food processor.
To ensure the easy working of the cream cheese, leave it out for an hour to let it come to room temperature.
For an aesthetic look, weigh each Oreo Ball as you roll it into its shape, I made mine 18 grams, the perfect bite-size. You can also use a tablespoon to measure out your mixture. Roll the ball in between your palms pressing lightly to create a smooth round finish.
Leave your Oreo Balls in the freezer for 1 hour to make sure they are easy to work with; if you are pressed for time, 30 minutes will do just fine!
Place the chocolate-covered Oreo Balls in the freezer or fridge for a further 10 minutes to firm them up.
Once the chocolate has hardened around the Oreo Balls, melt some white or dark chocolate (depending on the coating of your ball) and place it in a plastic Ziploc bag (or piping bag). Cut the corner off the bag and drizzle chocolate over the Oreo Balls for a decorative finish.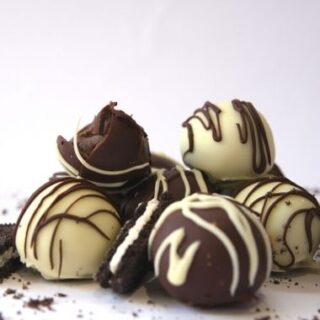 BEST OREO BALLS
If there ever was a biscuit best suited to make into balls and cover with chocolate, it would be the oreo balls with cream cheese!
Ingredients
1 15.25 oz Oreo cookie pack.
8 oz cream cheese, at room temperature.
1.5 cups dark chocolate.
1.5 cups white chocolate.
Instructions
Line a baking sheet pan with baking paper.
Place the Oreo cookies in a food processor and pulse to create a fine crumb. If you don't have a food processor, simply place them in a plastic bag and crush using a rolling pin or your fingers.
Scoop out the room temperature cream cheese into the crumb, work together with a spoon until the mixture resembles a paste. If the mixture is sticky, place in the freezer for 20 minutes to firm up.
Weigh out each Oreo ball on a scale to ensure even sizing. Make each ball 18 grams. If you don't have a scale, you can use a tablespoon to scoop out the mixture. Roll the Oreo ball in between your palms, applying a small amount of pressure to create a round shape. Place each ball on the baking sheet.
Place your rolled Oreo balls in the freezer for at least 30 minutes before covering in chocolate to ensure that the chocolate hardens when you coat the ball.
Chop up your white and dark chocolate and separate into microwave-safe bowls. Microwave for 30 seconds at a time, stirring at intervals until the chocolate has no more lumps and is fully melted.
Take your Oreo balls out of the freezer. Place one on a fork or off-set spatula and, using a spoon with your other hand, scoop the melted chocolate over the ball to coat it. Use a knife to tidy up the bottom of the ball. Shimmy the ball off the fork with your knife and gently place back on your baking paper. Do the same with the rest of the Oreo balls until they are all coated in alternate white or dark chocolate. Pop back in the freezer for 10 minutes.
Place a small amount of the melted white and dark chocolate in two separate plastic bags. Take your coated Oreo balls out of the freezer. Snip the corner off the white chocolate bag and carefully drizzle over the dark chocolate Oreo balls. Do the same with the dark chocolate piping bag and the white chocolate Oreo balls to create a decorative contrast.
Store your finished Oreo balls in the fridge and enjoy it.
Nutrition Information:
Amount Per Serving:
Calories:

136
Total Fat:

9g
Saturated Fat:

5g
Cholesterol:

13mg
Sodium:

45mg
Carbohydrates:

12g
Sugar:

12g
Protein:

1g